How We Moved to Belize and Made It Work, Part 1
From our recent chat with Michelle Jacobs, co-owner of the Melt Cafe on Ambergris Caye, Belize.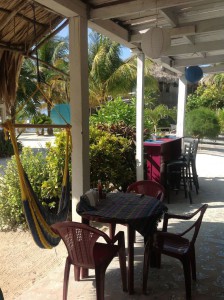 I am in love with Ambergris Caye. It's quaint, it's small. It's half a mile wide by maybe 12 miles in length. But a lot of it is undeveloped, so the roads are really bad. A lot of people said that I might get claustrophobic being on such a small island. I don't have to deal with traffic anymore. We don't have to deal with stuff. It's not all about stuff anymore. We have relationships here. We have friends here. We have more friends here and have met more people here than we have ever met or have ever been friends with. There are great people here and we have great fun hanging out with them.
It's a clean city. You see people raking and cleaning all over the place. It's a clean city. We have cobblestone roads and speed bumps and golf carts. We do have taxi cabs which are vans and they're crazy drivers. But it's fun having a golf cart. Not so much when it rains though. When it rains here, it's a swamp. There's water everywhere. It rains hard here.
When we first got here, it was hot. I didn't think I could handle the humidity, but with the water and the breeze that we have here, it's easy to handle.
Some people do get claustrophobic and it's just a little plane trip over to Mexico, to Miami, to Houston and get your feet back on US ground if that's what you need. But you don't need to. Belize doesn't make you leave every month. They just make you stamp your passport every month. You don't have to leave the country, and that is very convenient. A lot of places aren't like that.
There is one thing that that is different than I anticipated. It's really not important to me anymore, but some people need to know this: The water is beautiful out by the reef. However, close to the beach there's a lot of grass in the water. When people first come here they ask, 'Where do you swim?' If you've been other places in the Caribbean, like the Cayman Islands, the sand is white and the water is blue as blue can be. You can see your feet. It's not like that here. Ambergris Caye is a small, flat island with a lot of mangroves. Ambergris Caye is more for the active person that likes to scuba dive, to snorkel, to boat, to fish. You will learn about those places that don't have the grass and it's beautiful to swim. You just have to go out and explore."
You need to research how you gain residency if that is what you're looking for. Belize has this great program called the Qualified Retirement Program or QRP for anyone who is older than 45 and has a steady income of at least $2,000 a month. Through this program, Belize allows someone to bring in one container full of household goods. The container can be as big as you want. You can bring in a car, a boat, even a plane… and you will pay no duty on it. You pay only for the shipment of the goods. This is huge for some people. We know several people that are applying for that. It is a great option if you don't want to work because under QRP, you're not allowed to work.
We're going for our residency. I'm not giving up my residency in the United States, but I'm just trying to let Belize know that I want to live here and this is where I want to be. So I'll pay taxes and do all the things that the locals do. It's easy. It's not complicated. You can own a business without having a Belizean partner. Other countries  require you have to have a citizen as a partner. An American, a Canadian, a European, anybody can own a business here. You just have to get a license. Like it is in the States, you buy a business, you get a license, and you pay taxes. It's really no different.
As this interview continues, Michelle describes first-hand a number of issues new expats must deal with, plus she offers some great advice on taking the leap. Click here to read Part 2 of "How We Moved to Belize and Made It Work."
Here is probably the most extensive ebook on Everything You Ever Wanted To Know About Eliminating Your Taxes, Protecting Your Assets And Regaining Privacy Over Your Life And Investments. It is called The Ultimate Guide To Going Offshore.  Visit our bookstore to purchase it today!
Here are some articles on Belize and living there, I know you'll love them!
16 Reasons Why Belize is the Perfect Country to Move To
Experience the Insider community that takes your international lifestyle to the next level. Download your FREE guide
"18 Steps to Implementing Your Plan B" instantly!
5 Reasons Ambergris Caye Belize is a Caribbean Tropical Paradise
Snorkeling and Exploring the Waters of Belize
To contact our office, please go HERE

Like Our Articles?
Then make sure to check out our Bookstore... we have titles packed full of premium offshore intel. Instant Download - Print off for your private library before the government demands we take these down!