Enlightenment in Panama – Teak as Generational Wealth Stewardship
Our experts look forward to discussing  all options you have for wealth stewardship and provide you all the support you need.  Book a call today
It took me a while to settle on a location for our first teak plantation. For many reasons, the most relevant being a familiar legal system, our group ultimately settled on Panama. The other major factors included working in a similar time zone and a culture that is generally familiar to our own. Today, I'd like to tell the story of our first plantation exploration in Panama and explain why we love forestry, teak specifically, as a great way (perhaps, the best way) to steward our family wealth for future generations.
The search in Panama began in early 1999. Carol and I had just finished up living in San Pedro, Ambergris Caye, Belize, turning around a foreclosure resort property we bought in August of 1998. Being just married and pre-kids, we traveled to Panama to begin our search and focused first on the western side of the country in the Chiriqui Province, an area known for its main city of David, coffee production, tropical highlands, and long-time expat haven called Boquete.
Having only been to Panama twice previously, this was a new country for me and I had yet to get any real sense of the land. We had scheduled three days in the west and then two days back in Panama City to meet with a few lawyers and two forestry companies who could plant and manage the plantation. We flew into Panama City, changed airports, and continued onto David to begin our search.    
Looking back, I realize just how silly and naive I was at the time. I spoke no Spanish and arrived expecting to find real estate agents who spoke English. My wife and I laughed as I told her about writing this article. She reminded me that we tried to look up "real estate" in the David Yellow Pages in our hotel room. I didn't even know the word for real estate in Spanish (FYI, it's Bienes raíces). To add insult to injury, David at the time was a very small city with very few expats. So, finding an agent who spoke English proved difficult.
However, never to be discouraged, we talked to the front desk manager and he arranged a translator for us – and the next day we managed to locate a real estate agent who could take us to see a few farms. We spent a day touring some "interesting" properties, everything from a red clay floodplain with withering stilted teak trees (cheap for a reason), to a bucolic property along a river with a gringo price to match. We decided that we would need to broaden the search area to find anything that fit the budget.
A side trip up to Boquete revealed the highlands to us and gave us some basis for property type and price comparisons going forward. We also found an English-speaking real estate agent there who helped to provide a lot of backstory on the country, region, and even teak plantations in the area.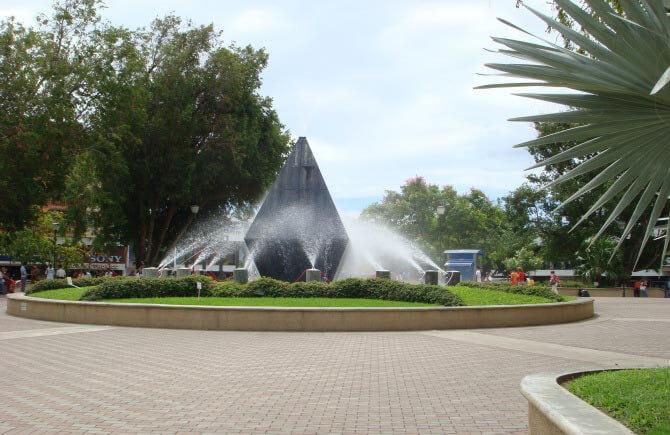 David, Panama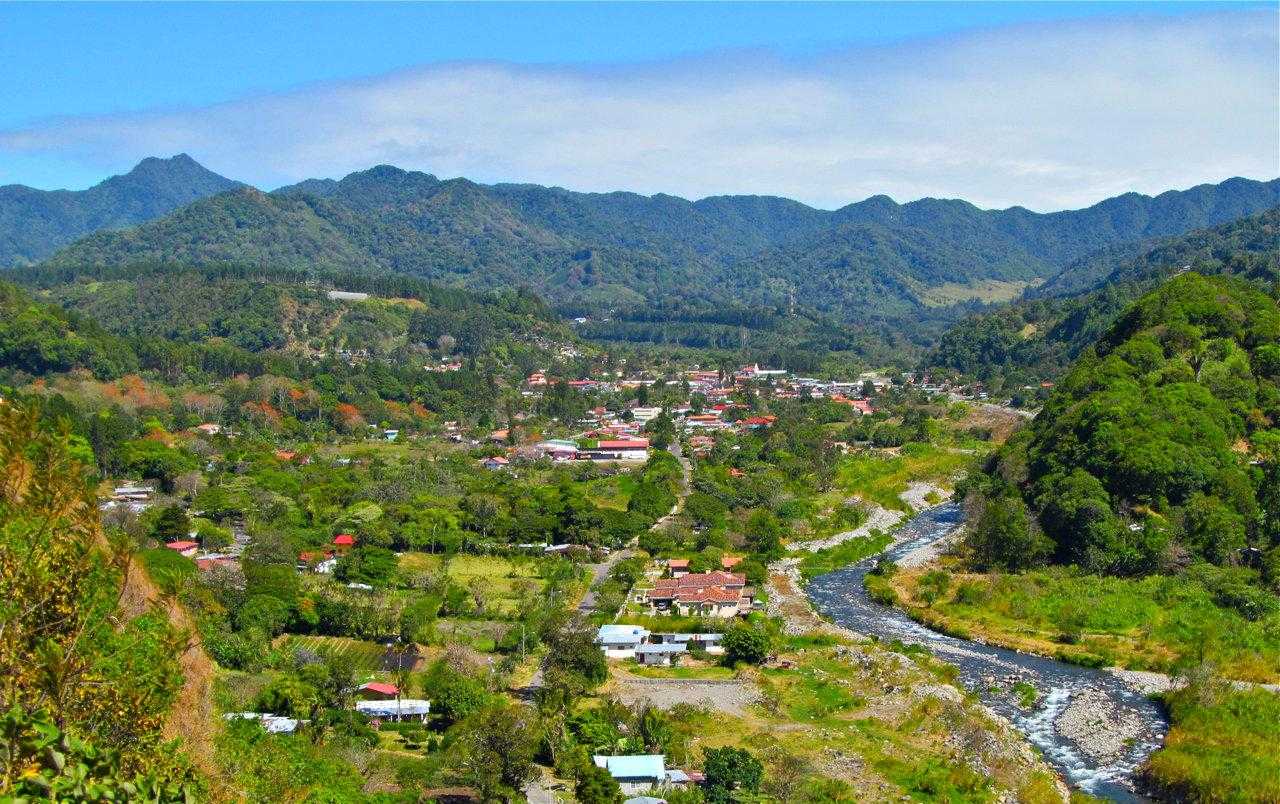 Boquete, Panama
Back in Panama City, we had our meetings with the lawyers and forestry companies. The big takeaway from this trip was that we didn't know anything about teak plantations, very little about Panama, and that I was going to have to do a whole lot more research to get to a point where I could begin to evaluate the opportunity. Next stop…Library of Congress in Washington, D.C.
Living in the D.C. area made it easy to spend a few days at the Library of Congress doing research on the teak industry. While reading articles and books on the subject, I noticed that there were repeated references to two books written in the early 1900s. I requested these and found them to be a treasure trove of information. They were books written by some Brits describing over 150 years of plantation history and analytics in Southeast Asia.
FREE GUIDE! Get Essential Information on Protecting Your Assets
18 STEPS TO IMPLEMENTING YOUR PLAN B
The statistics were incredible. They had every possible combination of soil type, climate, elevation, latitude, rainfall by month, dry season variation, thinning rate, harvest cycle, and production data possible. Hundreds of charts showing what produced the best yields over what time periods. They had also done the analysis of the charts to produce some thumbnail observations.
Teak, "Tectona Grandis" in Latin, grows best at an elevation less than 700 meters, in well-drained alluvial soil, a sustained dry season, and in temperatures ranging between 75 and 96 degrees Fahrenheit. Panama, and specifically the Darien Province, lines up well for the climate and elevation factors, and depending on the specific property, the soil types and drainage. Knowing this data also allowed me to better evaluate the forestry management companies, for if they knew these things, too, they could likely be trusted as a credible industry player.
So, back to Panama to see more properties and interview the forestry companies again, this time armed with new knowledge…yes, book knowledge, but hopefully enough to be able to ask the right questions and know if the answers lined up with historical fact. We also had asked one of the companies to show us some farms that might be good for a plantation as well…and they did. What an adventure. 
Carol and I set out at the crack of dawn with Jacobo and Luis, two employees of the company GeoForestal, to drive into the Darien and scout for farms. We were in a 4-door pickup with a small "back seat" for the long day trip packed with a cooler of water, sandwiches, and chips. After driving east for an hour, we reached the end of the paved section of the Pan-American Highway, at a little town called Chimborazo. We stopped at a local place for breakfast, Chicheme Itzel, with a palapa roof and several jaguar skins in the rafters. This was a favorite of Jacobo, as we came to find out, stopping there many more times over the years.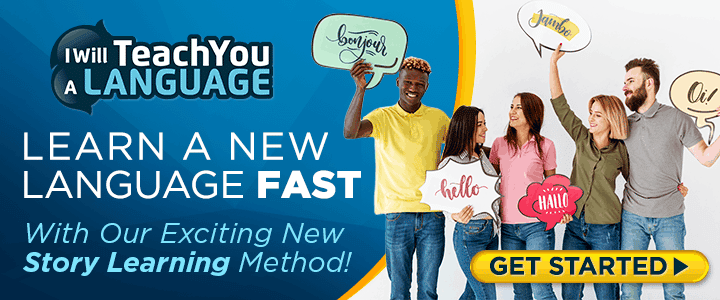 After a nice meal, we hit the unpaved section of the road for the next 90 miles and many long bumpy hours of washboard road. Along the way, Luis would stop the truck and pop into a store or home and inquire if anyone was selling a farm nearby. On a few occasions, Luis and Jacobo would be gone for 15-20 minutes, having a juice or coffee with the homeowner. On one specific occasion, Carol and I had to lie down across the back seat, in a sweltering truck, for what seemed like days so as not be seen while the boys enjoyed a refreshment inside. The process worked, and by mid-afternoon, we had located a farmer who wanted to sell his cattle pasture and move to Panama City to be closer to his daughter. 
We did not get to see the farm that day, but Jacobo arranged for us to come back another time and walk the farm and make an offer. The price was incredibly low, at just $1000 per hectare. But there was a problem…the land was ROP, Rights of Possession. This means that the land was not titled in the formal sense. It was not registered in the Escritura Publica, but the farmer did have possession and the rights to sell it. However, our group wanted title, and so we asked our lawyer to work with the farmer to get it titled before we bought it. We paid for the process, of course, but the farmer had every incentive to get the process done as quickly as possible. Quickly turned out to be about 4 months, which was stunning.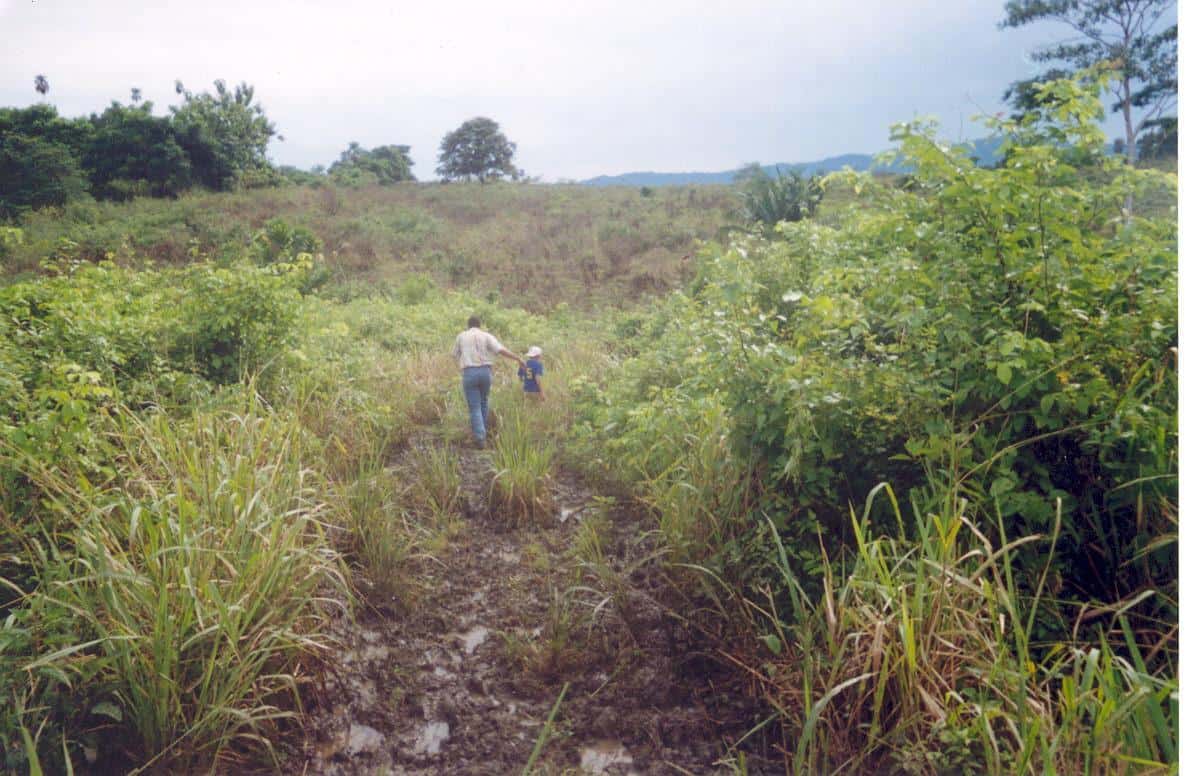 Farm as we purchased it.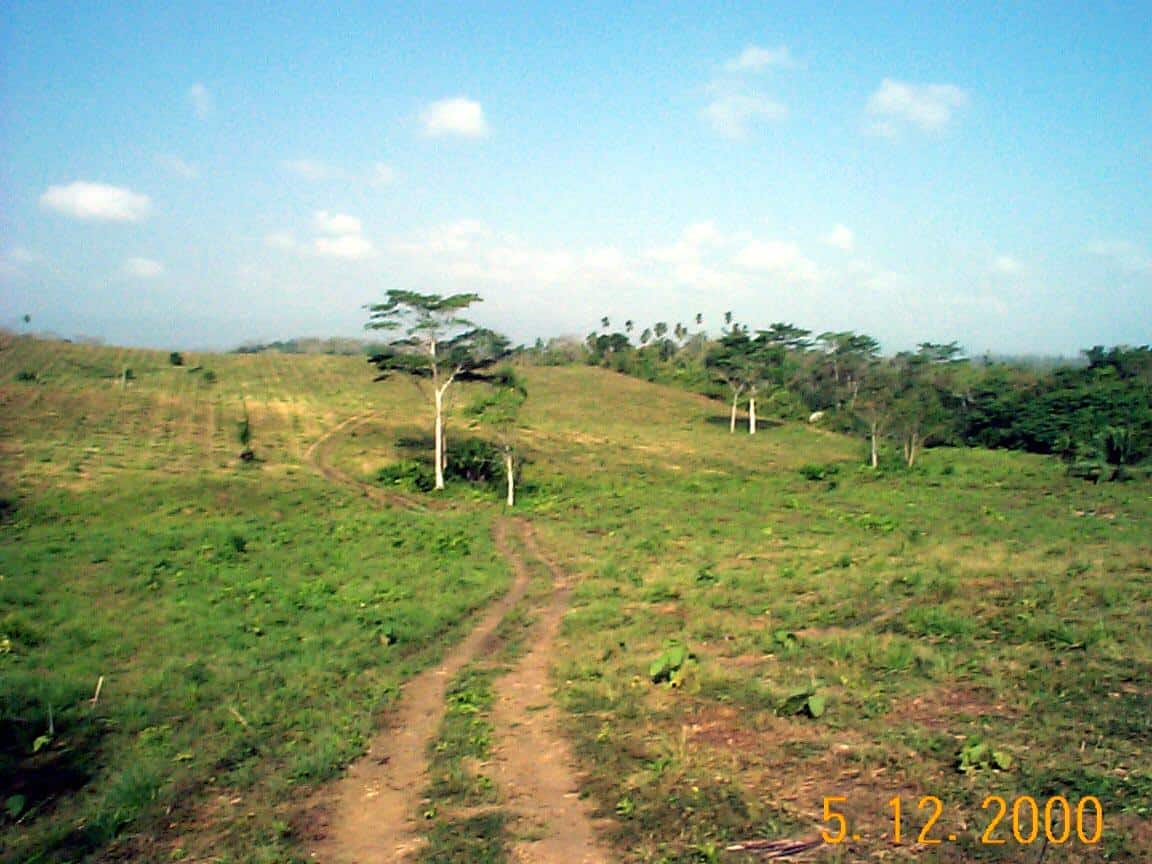 Farm after clearing and planting.
By the way, Luis and Jacobo both said to me many times, "The Pan-American Highway is going to get paved all the way to Meteti." I think I probably said, "Yeah right," a few times. I know I thought it. Well, low and behold, the highway is now paved. Our 100-acre plantation sits on a paved Pan-American Highway. I would not have taken that bet, but it's a great bonus for sure.
 Once we had title to the property, GeoForestal, whom we hired to plant and manage the plantation, began the process of clearing the brush, marking the field, and planting the seedlings. There were several reasons to choose Jacobo and his team. Firstly, they have a huge nursery in Penonome, where they produce the seedlings for other plantation managers, covering about 75% of the reforestation projects in the country.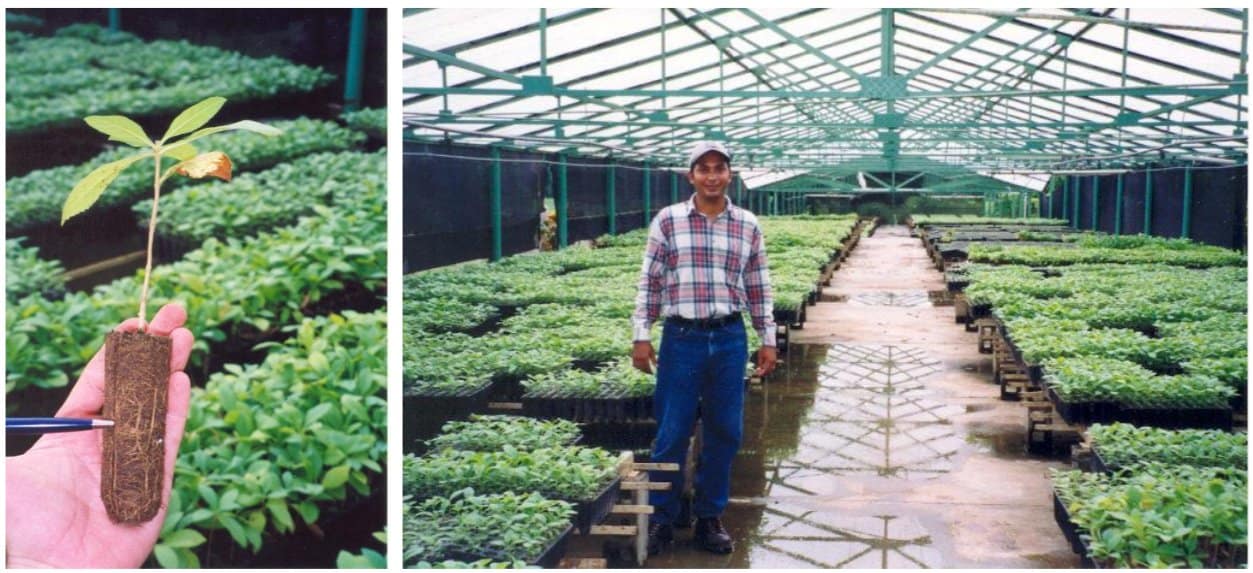 Seedlings in GeoForestal Penonome Nursery
Secondly, they answered the questions about teak and knew the business inside and out. Thirdly, these guys were up front and proactive. They took great care of us, provided a ton of information, and even offered to help us find a property for the plantation. They were, and are, good people – something critically important when you are making an investment with a 25-year timeline. Nineteen years into this, both are still with the company and Jacobo is now a partner and GM.

Hardwood Teak Plantation
This idea of a 25-year timeline scares away a lot of investors. But why? The reality is that locking up some of our assets for a long period of time makes a lot of sense. The top 1%, the wealthiest families on the planet, have locked up vast portions of their wealth for time frames even longer than this. What do they know that the average investor doesn't? Lots of things, I'm sure, but one of them is the critical importance of being out of the cash flow game for some part of their wealth. As I discussed in last week's article, I specifically wanted about a third of my family's assets to be locked up long-term and produce cash flow on a staggered basis. This is not only a good thing, it's a great thing. Here's why:
Forestry, and specifically teak in this case, produces harvests on a 25-year or longer cycle. What this does is provide lump sum distributions of return on a periodic basis, where those funds can be used to pay for education, starting a business, or contributing back to the corpus of the trust or family foundation. A forestry investment is not an "ATM" left by great Grandpa and Grandma that can be tapped non-stop for $10,000 shoes and other similar "necessities." Sure, any one generation can access it, even squander it in any way they may choose, but with 25-year cycles, the next generation will surely have clearer heads and the windfall profits will be put to better use.

Long cycle investments also protect against short-term fluctuations in the markets and provide a long-term basis of stability to wealth. Cash flow is current and may vary widely over the years, but wealth is foundational and meant to be sustained for centuries. Teak and other forestry investments give lasting stability to the portfolio and, when in extended periods of economic recession, continue to "perform" in the sense that the trees keep on growing, adding compounding value to their worth until, when in an upcycle economy, they can be harvested and sold for even greater gain.
A final reason to invest in forestry is the conservation reason. For some, this is reason enough, but as a conservationist, I hold balance to be critically important. Natural resources are, like wealth, to be stewarded. They are finite gifts given over to our care and protection. We need these resources to survive, to grow, and to thrive – and it's one of our jobs to ensure that they do.
However, with increasing population pressures around the globe, deforestation is increasing with it. Teak, specifically, is being harvested 8-10 times faster than it is being replanted. Habitats for wildlife are shrinking in many parts of the planet. The balance of living things could be in jeopardy and, if a tipping point is reached, catastrophe could be one possible outcome. Reforestation investments relieve pressure on the wild forests of the world by fulfilling growing demand sustainably. More is needed, obviously, and the market forces will adjust to the new need. 
But in the meantime, because of the long cycle harvests, a race to market is impossible. Investment now both reduces the demand for old-growth teak and generates a commodity with substantially increasing value in the short to mid-term. Long term, there may or may not be new players, but given the long cycle (and an aversion most average investors have for that), chances are good that teak values will remain high for generations.
These are a few of the main reasons I chose to plant 100 acres of teak in 1999 and continue to plant new teak today. When I'm in my 80s and still planting new trees, I'll know that I'm doing that for my great grandkids I'll never meet. This is legacy. This is leaving something to the future, both in money and in spirit. 
Locking up money for 25 years is a great thing, for so many reasons. But my bottom line, then in 1999 and now in 2018, is the same. If I need the money in 25 years, I'm going to be really glad I did this. If I don't need the money in 25 years, I'm going to be really glad I did this. Bob Buford, the author of Halftime, describes "success" as what we do for ourselves and "significance" as what we do for others. Teak plantations may be the best of both worlds. How awesome is that?


If you're interested in learning more about teak investment, click here.
Here is probably the most extensive article on Everything You Ever Wanted To Know About Eliminating Your Taxes, Protecting Your Assets And Regaining Privacy Over Your Life And Investments. It is called The Ultimate Guide To Going Offshore. You can download this epic post for your personal library.
Click here to learn more about: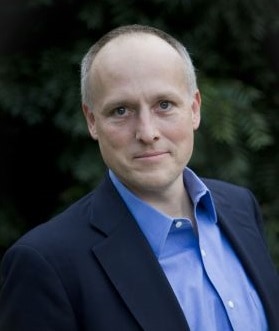 Michael K. Cobb is the CEO and co-founder of ECI Developments which has properties throughout Latin America. He speaks all over the world on international real estate and is a board member of the National Association of Realtors.


Like Our Articles?
Then make sure to check out our Bookstore... we have titles packed full of premium offshore intel. Instant Download - Print off for your private library before the government demands we take these down!