Following is Part 2 in this series, Top 10 Countries with the Best Healthcare, Treatment, and Wellness Facilities. Medical tourism is one of the many great reasons to buy foreign property. Thousands of people come to Austria, Bulgaria, Germany, Israel, Slovakia, Slovenia,Turkey, France, Czech Republic, Switzerland, and other such countries which have resorts with hot springs, good health facilities with qualified professionals, and a refreshing climate to improve their health. Here are the links to Part 3, and to Part 1 . 
Germany
Germany has been famous for its high-quality healthcare for a long time. Many prominent people including the writers Nikolay Gogol and Chinghiz Aitmatov, the Bolshoi Theater Ballet Director Sergey Filin, and the actors Elizabeth Taylor, Suzanne Somers, Anthony Quinn, and William Holden received treatment there.
Baden-Baden became a popular resort back in the nineteenth century: in the summer, the town population would quadruple, thanks to the tourists from the UK, Russia, the U.S., and France

In addition, Germany is the European leader in spa treatment. The resorts located in the southern regions are known for their thermal waters, mineral springs, and therapeutic muds. In the eighteenth and nineteenth centuries, all of the European nobility would frequent them. Today the country has about 900 resort hotels specializing in hydrotherapy, mud therapy, massages, and other treatments.
Most German and Austrian resorts have the word "Bad," meaning "bath" or "mineral water resort," in their names. The most famous German resorts are Badenweiler, in the state of Baden-Württemberg, Baden-Baden, Bad Kissingen, Bad Reichenhall in Bavaria (Bayern), Bad Kreuznach in Rhineland-Palatinate (Rheinland-Pfalz), Bad Nauheim, Bad Homburg vor der Höhe, Wiesbaden in Hessen, and Bad Elster in Saxony (Sachsen).
Baden-Baden is the most popular resort among Russian nationals who want to receive treatment in Germany. There is a wide variety of property for those who plan on settling down in Germany or coming regularly to the country to improve their health. The prices for flats in Baden-Baden start at €100,000. Property in Germany costs €2,000-5,000 per sq m.
Israel
Receiving treatment in Israel is popular among foreign nationals, especially the citizens of Cyprus, Russia, the U.S., and Ukraine. Medical tourism annually brings at least $40-60M to this Middle Eastern country.
Israel has an abundance of highly-qualified professionals, its hospitals are equipped with modern facilities, and the pharmaceutical enterprises produce high-quality medications. Israeli medical centres specialize in cardiology, neurosurgery, oncology, organ transplantation, urology, and in vitro fertilization.
The most popular natural health resort of the country is at the Dead Sea, one of the saltiest bodies of water on the planet, where it is impossible to sink. The sea is also famous for its sulfidic muds that contain bromine, iodine, and other substances beneficial to the body. Over a dozen dermatological clinics, which treat skin diseases, arthropathies, and chronic arthritides, are located around the Dead Sea. Even the local air and sunshine are beneficial to the body: the air helps to cure respiratory illnesses, and the sea's position below sea level and high atmospheric pressure shield visitors from sun poisoning, ameliorate hypertension, and allow for extended periods of heliotherapy.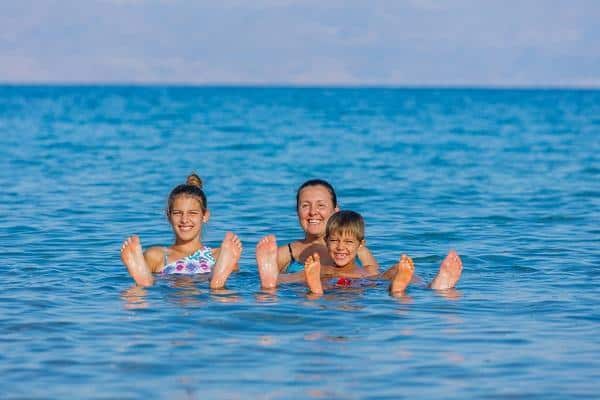 The Dead Sea possesses recuperative power: its concentration of mineral substances is six to seven-times higher than that of the Mediterranean
Experience the Insider community that takes your international lifestyle to the next level. Download your FREE guide
"18 Steps to Implementing Your Plan B" instantly!
The town of Ein Bokek, which offers treatment of skin diseases as well as locomotor and cardiovascular system ailments, is located along the southern stretches of the Dead Sea. Ein Bokek borders another two resort towns: Neve Zohar and Hamei Zohar. Ein Gedi, an oasis in the Judean Desert, famous for its sulfur springs, is situated on the west coast of the Dead Sea. Arad, where asthma and bronchitis can be cured, is located 25 km to the west from the sea.
Many foreign citizens cannot imagine their lives without Israeli medicine. Buying residential property in the country makes sense for those who want to continually use the services of the local physicians. Average property prices in Israel range between €3,000 and €7,000 per sq m. The prices for spacious flats in good districts range from €300,000 to several million euros.
Slovakia
Slovakia has almost 1,500 mineral and hot springs at 22 health resorts. Water is used there for balneotherapeutic purposes: balmy, pearl, thermal, and carbon dioxide baths, along with mud therapy, are offered to visitors.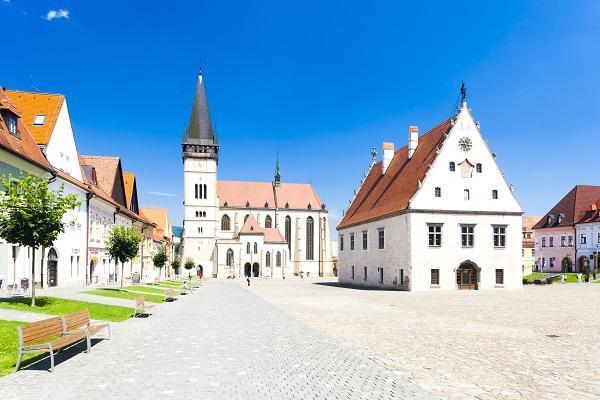 The town of Bardejov is listed among the UNESCO World Heritage Sites

The medieval town of Bardejov, which is home to the Bardejovské Kúpele mineral springs, is located in the east of Slovakia. Along the middle reaches of the Váh River, and near the Carpathians,  the resorts of Nimnica, Piešťany, Trenčianské Teplice, Bojnice, Vyšné Ružbachy, Rajecké Teplice, Sklené Teplice, Sliač and Turčianske Teplice are located.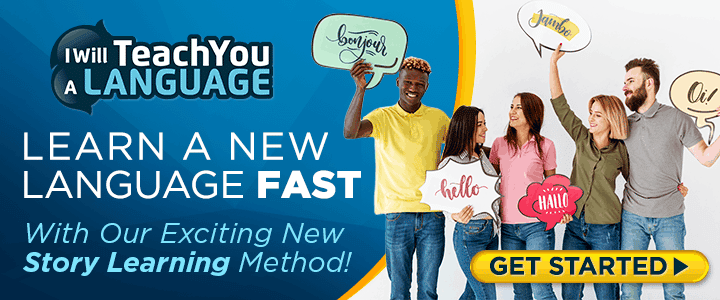 Slovakia also has climatic health resorts: Nový Smokovec, Tatranská Polianka, Tatranská Lomnica, Štrbské Pleso. The villages of Bešeňová and Liptovský Ján have thermal beaches. The local mineral springs are recommended for treating many diseases. In the High Tatras (Nový Smokovec, Štrbské Pleso), the centres for treatment of different allergies and asthmas are located.
As is well-known, those who live in a home environment recover the quickest. If you want to receive treatment in Bardejov, you can buy a detached house for €100,000–250,000 or a flat for €50,000–60,000. The average square metre price for apartments in Slovakia ranges from €800 to €2,500.
Slovenia
In Slovenia, there are 15 therapeutic centres where health-promoting activities are combined with active leisure such as skiing, golfing and rafting. The country's unique geographical location allows for sunbathing near the Adriatic Sea on one of the beaches of Izola, Koper, Piran, or Portorož just a couple of hours after enjoying the mountains. Portorož, whose name means "port of roses," offers treatments for the gynecological, neurological, and skin and locomotor system-related diseases and disorders, as well as stress and obesity. These treatments include massage, seaweed compresses, mud therapy, combined physiotherapy, baths, inhalations, antirheumatic, and anti-cellulite programmes.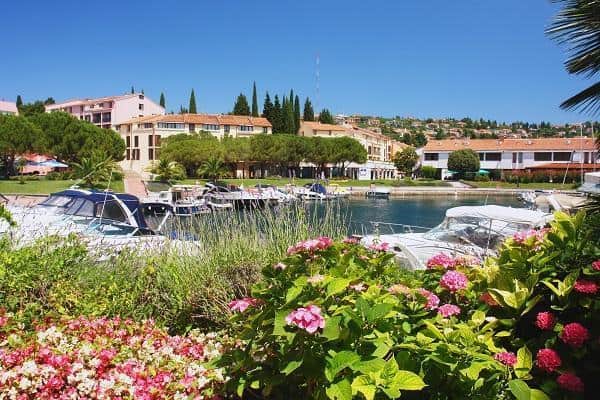 Portorož is one of the most popular Adriatic resorts
Other famous Slovenian health resorts are Dobrna, Dolenjske Toplice, Laško, Moravske Toplice, Strunjan, Terme Čatež, and Šmarješke Toplice; the resort of Radenci supplied the Austrian Court and Vatican with mineral water in the nineteenth century. Average property prices in Slovenia range between €1,000 and €2,900 per sq m.
Here is another great article: Most Powerful Passports Worldwide for Visa-Free Access
Here is a great article: What's it like to Retire in Austria, Enjoy!
For further information, check out this podcast from The Expat Money Show with Mikkel Thorup   026: Stephan Spencer – How The Best SEO Experts In The World Stays Competitive talk about stem cell therapy and higher consciousness
Conclusion
I hope you enjoyed Part 1: Top 10 Countries with the Best Healthcare, Treatment, and Wellness Facilities. Here is the link to Part 3, and to Part 1 . 
To be Continued…

Like Our Articles?
Then make sure to check out our Bookstore... we have titles packed full of premium offshore intel. Instant Download - Print off for your private library before the government demands we take these down!