Taipei, Taiwan – An Introduction to Asia
As I look back at my travels and adventures over the years, the places I've found to be the most interesting, the most diverse, and the most exciting are all in Asia.
For me, it has always been the prospect of an Asian adventure that has gotten me excited about getting on a plane.
I've spent significant time in parts of China, Japan (Tokyo and Yokohama), Hong Kong, Taiwan, and Thailand. China is larger than life. Yokohama is a beautiful city and reminds me of my hometown, San Diego, California. Tokyo brings new meaning to the words stress and pressure. Hong Kong is truly the city that never sleeps and makes New York look lazy.
If you're new to Asia, the place to start is Taipei, Taiwan. I think of it as the gateway to Asia for the uninitiated… Asia light if you will.
Taiwan, officially the Republic of China, is an island off the southeastern coast of China (the People's Republic of China). Mandarin is the official language, but Taiwanese is spoken commonly. The island is about 14,000 square miles, with a population of 23.3 million.
Taiwan has an interesting history. It was colonized in the 17th century by the Dutch and Spanish, who were expelled by the Chinese in 1661, who then held the island for well over 200 years. Taiwan was ceded to Japan in 1895 after the first Sino-Japanese war.
The Republic of China (ROC) was the governing party of China at the end of World War II (1945), when Japan returned the island to China. In 1949, communist forces took control of mainland China, founding the People's Republic of China (PRC), and the ROC government moved to Taiwan.
Today, the PRC claims sovereignty over Taiwan, and the ROC claims the same over all of mainland China. This makes for interesting political wrangling and is important in island politics, but it has not seemed to affect Taiwan's economy or created any cause for concern since the late 1980s.
Because of the political dynamics, Taiwan has grown up as a country with more interaction with the Western world than with China or Japan. This means that English is relatively common. Many road, train, and other signs are in Chinese and English, most business at banks and stores can be conducted in English, it is possible to find an English-speaking taxi driver, and there is a sizable expat and English-speaking business community in Taipei.
I speak no Chinese (well, I know how to say "Hello pretty girl"), but, in all my visits, I've had no trouble communicating or getting around.
The city of Taipei has a great food scene, with countless restaurants that I would put at the top of my favorites list, and I prefer the sushi in Taiwan to that found in Tokyo (this may seem slanderous to aficionados, but read on). The quality of the fish is similar, but Taipei is willing to try different combinations and rolls, while Tokyo believes any divergence from tradition heretical.
The city also has a vibrant shopping district and an energetic night life. My two favorite spots for both are Taipei Tower 101 and The Living Core Mall.
FREE GUIDE! Get Essential Information on Protecting Your Assets
18 STEPS TO IMPLEMENTING YOUR PLAN B
Tower 101 is a 101-story building with shopping, offices, living, and everything in between. I watched it being built over the years (my usual hotel was nearby), and it was the world's tallest building from its opening in 2004 through 2010. Every upscale brand imaginable is represented, and the striking structure is also home to many bars, nightclubs and restaurants. Note that even mall food court noodle shops and restaurants in Taiwan, as in Japan, are a great experience. Mall food in these places is not like what you find in U.S. malls. It is well-prepared, high-quality fare for a decent price.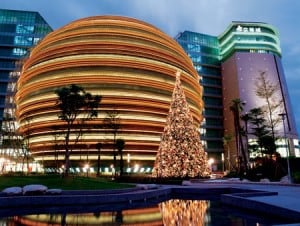 Tower 101 is high-end. I prefer the Living Mall. This 12 story building is round (yes, like a ball) and was draped in a curtain that made it look like a soccer ball when the 2002 World Cup was in Asia. I watched a few of the Korean matches on a giant screen in the "soccer ball mall," which was an experience I will never forget.
The restaurants are mostly reasonably priced (now that the U.S. steakhouse Lawry's has moved out), and the nightclubs are always hopping in this 24-hour party mall that was featured in the U.S. television show Amazing Race, season 19, when two of the contestants had to bungee jump inside the soccer ball.
T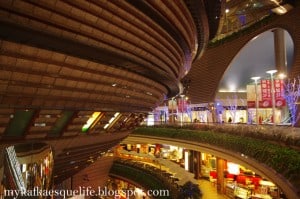 aiwan is the best "starter" city for a gringo looking to experience Asia. The culture is somewhere between that of China and that of the United States, English is relatively common, and yet it's an exciting and exotic place to be, a place I always look forward to.

Like Our Articles?
Then make sure to check out our Bookstore... we have titles packed full of premium offshore intel. Instant Download - Print off for your private library before the government demands we take these down!