Sintra is an active town with a high quality of life offering an exuberant yet relaxed lifestyle. Sintra is close to Lisbon, so it's easy to get back to the capital to take in the big city entertainment when the urge arises. Sintra has some of the most well-known attractions in Portugal, giving the town a lavish feel with colourful homes and castles such as Pena National Palace. 
There are pros and cons of living in Sintra, as there are anywhere in the world. Some pros are the best scenery we experienced in Portugal. Set in the imposing Serra De Sintra mountain range or Serra stretching to the Atlantic Ocean, the granite mountains rise over the hilly landscape distinct from its surroundings.
Sintra has a mild climate and is famous as a Lisbon tourist retreat. The meandering streets offer a different level of adventure as you navigate the town and come across restaurants, shops, and Ginja samples galore. Ginja is a Portuguese liqueur made by infusing ginja berries (sour cherry) in alcohol and adding sugar with other ingredients such as cloves and cinnamon sticks. Sintra is a great place for history lovers. Structures of the Knights Templar still stand guard over the town. Restaurants have romantic outdoor seating areas offering an allure to sit and people-watch from afar into the evening hours.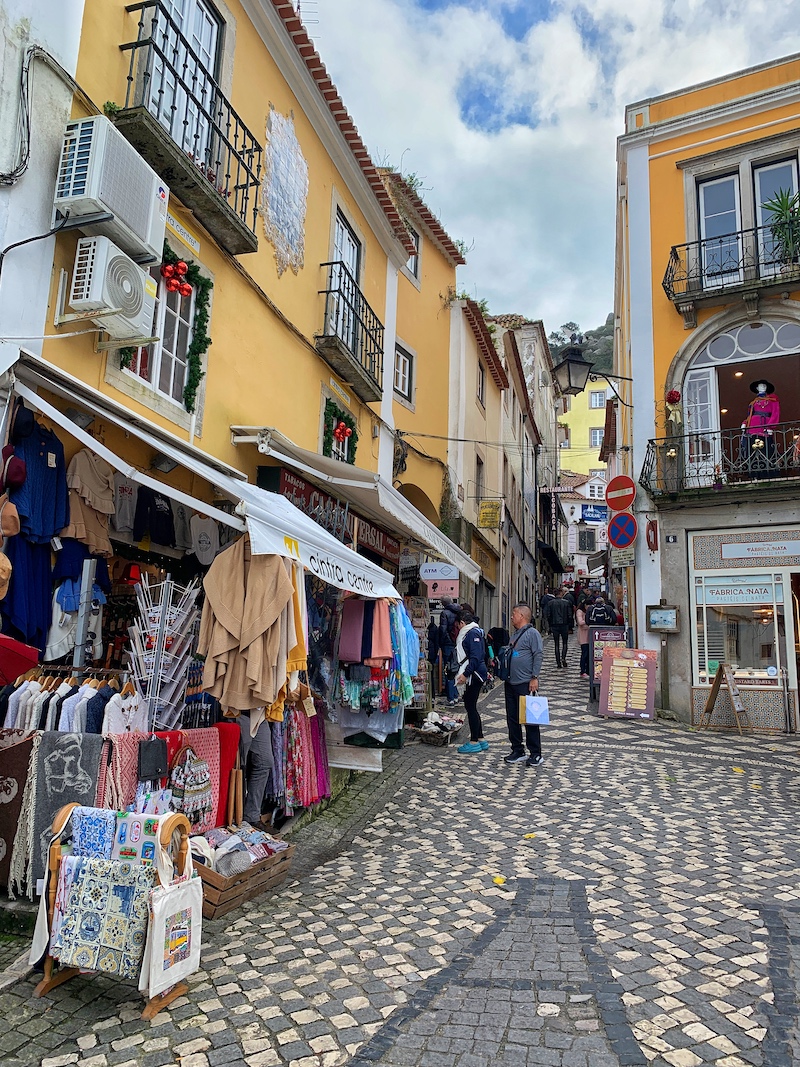 Cons are transportation inside the town itself. Parking is a nightmare. The town is quite touristy with all the attractions, which may be a con, depending on if you seek solitude or activity. I've lived in a tourist town, and the high season can be challenging when visitors take over, but you adjust. We were there in the low season, and the streets were busy with heavy vehicle and foot traffic.
Affordability
Here is a monthly breakdown of the prices of goods an average person can expect. The cost of living is all relative to lifestyle:
Eating Out
Lunch menu
€7.77
Dinner in a restaurant, 

for 2

€32.80
Beer in a pub, 

0.5 L or 16 fl oz

€1.80
Cappuccino
€1.39
Rent & Utilities
1 bedroom apartment in the city centre, 

40 m2 or 430 ft2

€574.05
Economical 1-bedroom apartment, 

40 m2 or 430 ft2

€433.33
3-bedroom apartment in the city centre, 

80 m2 or 860 ft2

€1006.45
Economical 3-bedroom apartment, 

80 m2 or 860 ft2

€763.23
Utility bill one person, 

electricity, heating, water, etc.

€66.63
Utility bill for a family, 

electricity, heating, water, etc.

€103.45
Internet plan, 

50 Mbps+ 1 month unlimited

€33.27
Apartment price to buy in the city centre, 

1 m2 or 10 ft2

€2848.05
House price to buy in suburbs, 

1 m2 or 10 ft2

€1909.88
Transportation
Local transport ticket
€1.71
Monthly ticket local transport
€38.03
Taxi ride, 

8 km or 5 mi

€9.69
Gas/petrol, 

1 L or 0.26 gal

€1.91
Groceries
Milk, 

1 L or 1 qt

€0.73
Bread, 

0.5 kg or 1.1 lb

€1.07
Rice, 

1 kg or 2.2 lb

€1.03
Eggs, 

x12

€2.01
Cheese, 

1 kg or 2.2 lb

€7.71
Chicken breast, 

1 kg or 2.2 lb

€5.56
Round steak, 

1 kg or 2.2 lb

€9.51
Apples, 

1 kg or 2.2 lb

€1.67
Banana, 

1 kg or 2.2 lb

€1.20
Oranges, 

1 kg or 2.2 lb

€1.36
Tomato, 

1 kg or 2.2 lb

€1.63
Potato, 

1 kg or 2.2 lb

€1.03
Onion, 

1 kg or 2.2 lb

€1.11
Water, 

1 L or 1 qt

€0.34
Coca-Cola/Pepsi, 

2 L or 67.6 fl oz

€2.08
Wine (mid-priced), 

750 mL bottle

€4.27
Beer, 

0.5 L or 16 fl oz

€1.12
Cigarette pack
€5.09
Cold medicine, 

1 week

€5.37
Hair shampoo
€4.68
Toilet paper, 

4 rolls

€1.62
Toothpaste, 

1 tube

€2.22
*Prices provided by Livingcost.org as of March 2023 are accurate based on observations while in the country. More comparisons for Sintra can be found here. Prices are converted from USD to EUR (1 USD = 0.93 EUR)
Climate in Sintra
Sintra is known to be cooler than many parts of Portugal due to a higher elevation set in the woodland of the Serra de Sintra. In Sintra, the summers are warm, dry, and mostly clear; the winters are cold, wet, and partly cloudy; and it is windy year-round. When climbing the Moorish Castle walls, be cautious of wind gusts. Be prepared to have your breath taken away literally and figuratively. 
The clearest month of the year in Sintra is July, so this may be when you want to visit if you plan to take in the attractions. Of course, this is when everyone else descends on Sintra, too. The fortifications are high up in the mountain range. If it is overcast, your view will be severely hindered. I was in Sintra in December, the cloudiest month of the year, and nothing was visible below when visiting Pena Palace. Over the year, the temperature typically varies from 9°C (48°F) to 26°C (79°F) and is rarely below 6°C (42°F) or above 32°C (89°F).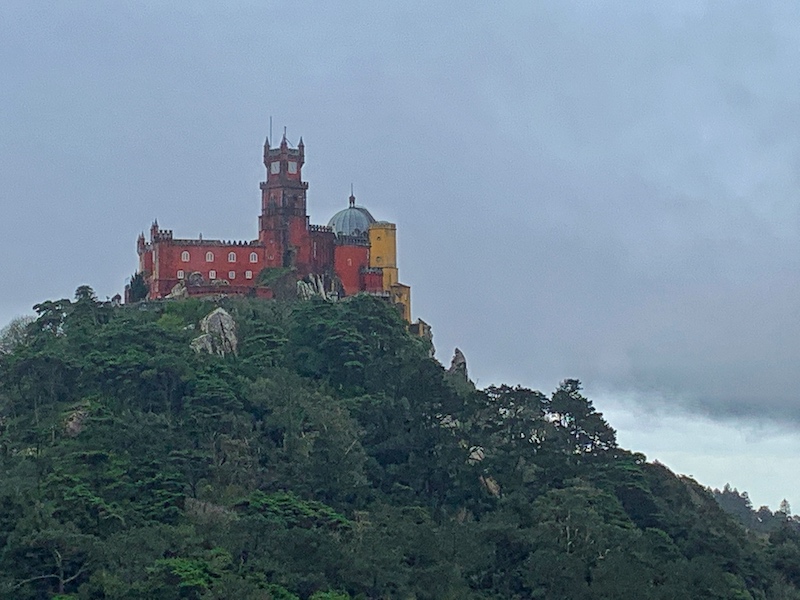 Average Temperature and Rainfall in Sintra
FREE GUIDE! Get Essential Information on Protecting Your Assets
18 STEPS TO IMPLEMENTING YOUR PLAN B
The warm season lasts three months, from June 21 to September 26, with an average daily high temperature above 23°C (74°F). The hottest month of the year in Sintra is August, with an average high of 26°C (78°F) and low of 18°C (65°F). Perfectly comfortable temperatures to explore the sites.
The cool season lasts three and a half months, from November 21 to March 8, with an average daily high temperature below 16°C (61°F). The coldest month of the year in Sintra is January, with an average low of 9°C (48°F) and a high of 14°C (57°F).
The wetter season lasts seven and a half months, from September 27 to May 16, with a greater than 16 percent chance of any given day being a wet day. The month with the wettest days in Sintra is November, with an average of almost nine days with at least 0.04 inches of precipitation.
The drier season lasts four months, from May 16 to September 27. The month with the fewest wet days in Sintra is July, with an average of 0.5 days with at least 0.04 inches of precipitation.
Wet days are distinguished from those experiencing rain alone, snow alone, or a mixture of the two. The month with the most days of rain alone in Sintra is November, with an average of almost nine days. The most common form of precipitation throughout the year is rain alone, with a peak probability of 30 percent at the end of October.
Sintra experiences significant seasonal variation in monthly rainfall.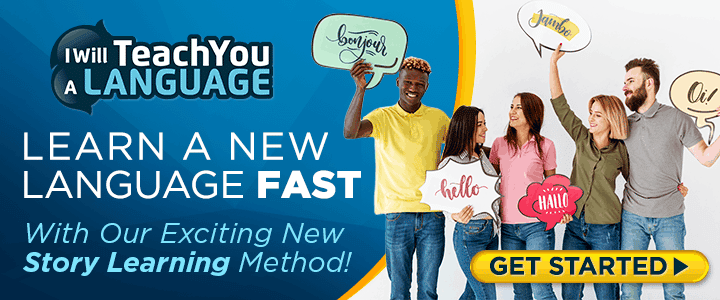 The rainy period of the year lasts for nine months, from September 5 to June 9. The month with the most rain in Sintra is November, with an average rainfall of 3.1 inches.
The rainless period of the year lasts for three months, from June 9 to September 5. The month with the least rain in Sintra is July, with an average rainfall of 0.1 inches.
*Weather statistics retrieved from weatherspark.com. 
Getting Around Sintra
One would think Sintra would have an excellent public transportation system within the town because of the abundance of tourists—this is not the case. 
Tuk-tuks, beware. They will overcharge you, take longer routes to get more money from you, and do their best to make it an "experience", so says a local. Depending on your taste for danger, this could be a fun thing. Take it from the words of the man helping people onto the shuttle up to Pena Palace, "You couldn't pay me to get in one. They are too reckless."
Explore the main town on foot. Because Sintra is ancient, many locations are walkable. If you are a hiker with strong lungs, you can hike up to the Moorish Castle and Pena Palace, but you will need to be in shape to do this. Plan for an entire day. Consider taking the bus. If you want, you can hike down to the town after visiting attractions—also not for the faint of heart. The "trails" are steep and can get washed out from the rain. Make sure you have sturdy footwear. We walked back down to town from the Moorish Castle. The hike down took 40 minutes, and the sketchy trail was not well-marked.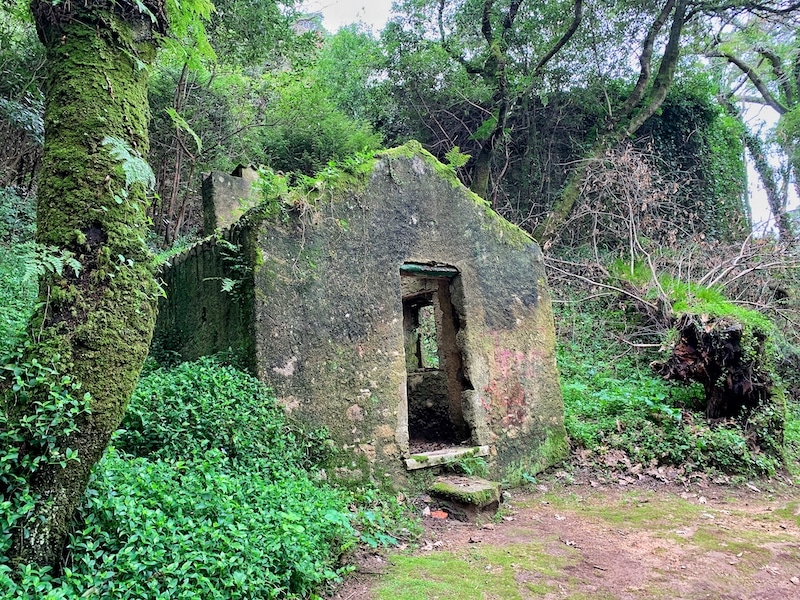 Abandoned building on our hike down from the Moorish Castle
Buses are intriguing, too. Bus 434 has the option to buy a hop-on-hop-off pass for €11.50 per person, which is valid for 24 hours. This bus is also on the Pena Palace route. Do note: if the bus driver considers his bus full (which is not full by the standards of other countries) then they will not stop and pass on by the bus stop, even if people are waiting to get on. We were waiting at one bus stop for the 434, and it drove right by. A driver in a car pulled up behind the bus and offered to take us to Pena Palace for €5 per person, one way—a shrewd idea on his part to follow the buses and pick up the leftovers. The fare is the same for the Moorish Castle as they are on the same route and close together. Another designated hop-on-hop-off bus offers tickets for €20 per person. There are no set bus schedules.
Buses are getting a lot of attention in this article, and not in a good way… The 435 is a smaller bus that stops to take people out to Monserrate. We waited for 50 minutes, and only one bus drove by. Of course, he didn't stop. We walked to the tourist information building to get intel on the bus situation. Turns out the 435 is a private company, and they are unreliable. 
Only approved drivers can enter the historic centre; however, this area is where the GPS will take drivers looking to exit Sintra on the way to Monserrate. How do I know this? Our 50-minute wait at the 435 was made entertaining by all the annoyed tourists trying to go down a street with no access. Police officers barricade the street, refusing people entry without a permit. Many people waved their arms in frustration and argued with the police, only to be sent away. When it was time for us to visit Monserrate and leave town, we knew to follow the road out of town and not turn right. 
Attractions & Lifestyle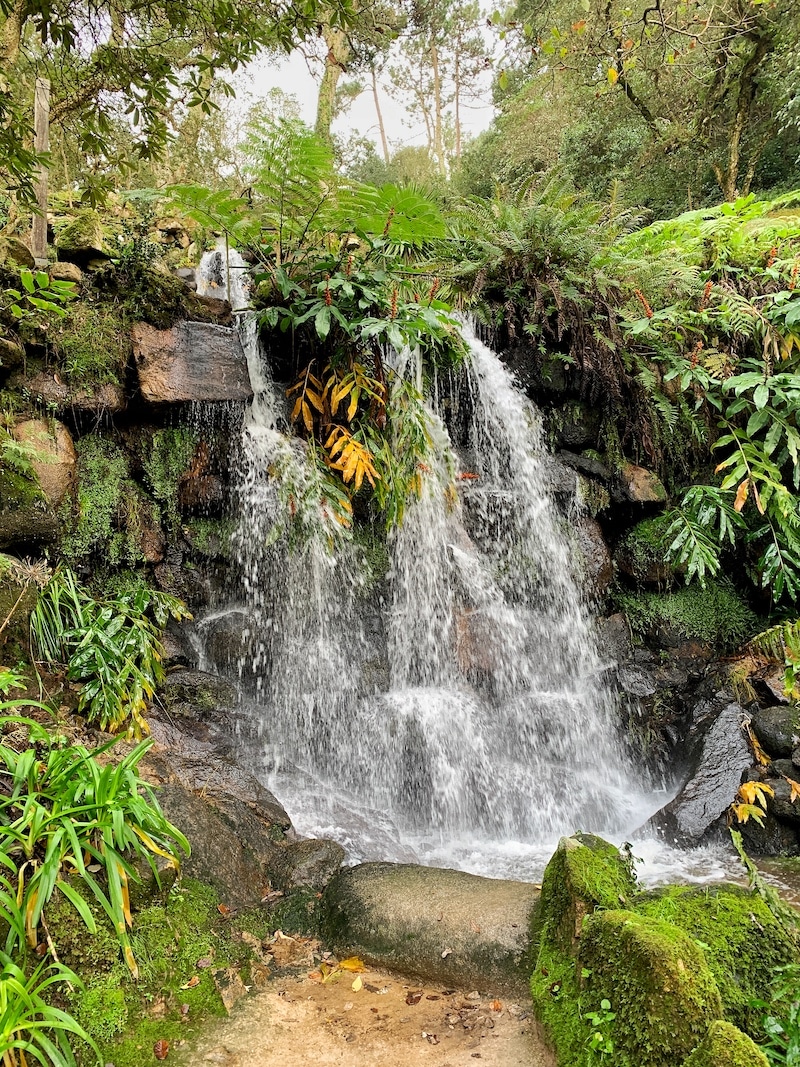 Gardens at Monserrate
Sintra is a busy town, even during the off-season. Imagine what the streets are like in high season as wide-eyed tourists gape at the architecture and scenery, stopping for selfies to post on social. Restaurants were full within 10 minutes of opening. Because of the touristy aspect of Sintra, we didn't find it as laid back as other areas of Portugal. Living in Sintra would be more for people who love being around people, don't mind crowds, and seek higher energy. A life in Sintra would not be a life of boredom, especially with historical sites like the ones below and incredible gardens to visit anytime you please.
Pena National Palace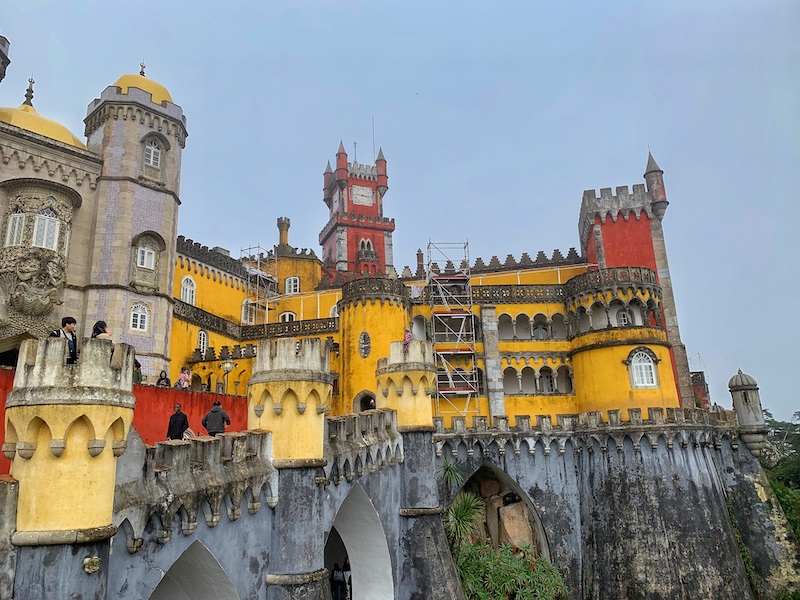 In 1838, King Ferdinand II purchased the former Hieronymite Monastery of Our Lady of Pena, located on the second highest point in the Sintra mountains. He then restored and expanded the project resulting in the Pena Palace. His vision brought to life memories of Portuguese exploration voyages, influences of the Middle Ages, and Classical and Manueline architecture along a diverse range of other themes and motivations. Pena Palace reflects a taste for the sublime, grandiose landscapes and the magnificence of nature regarding the fragility of the human condition. Feelings particular to Romanticism are strewn throughout the palace.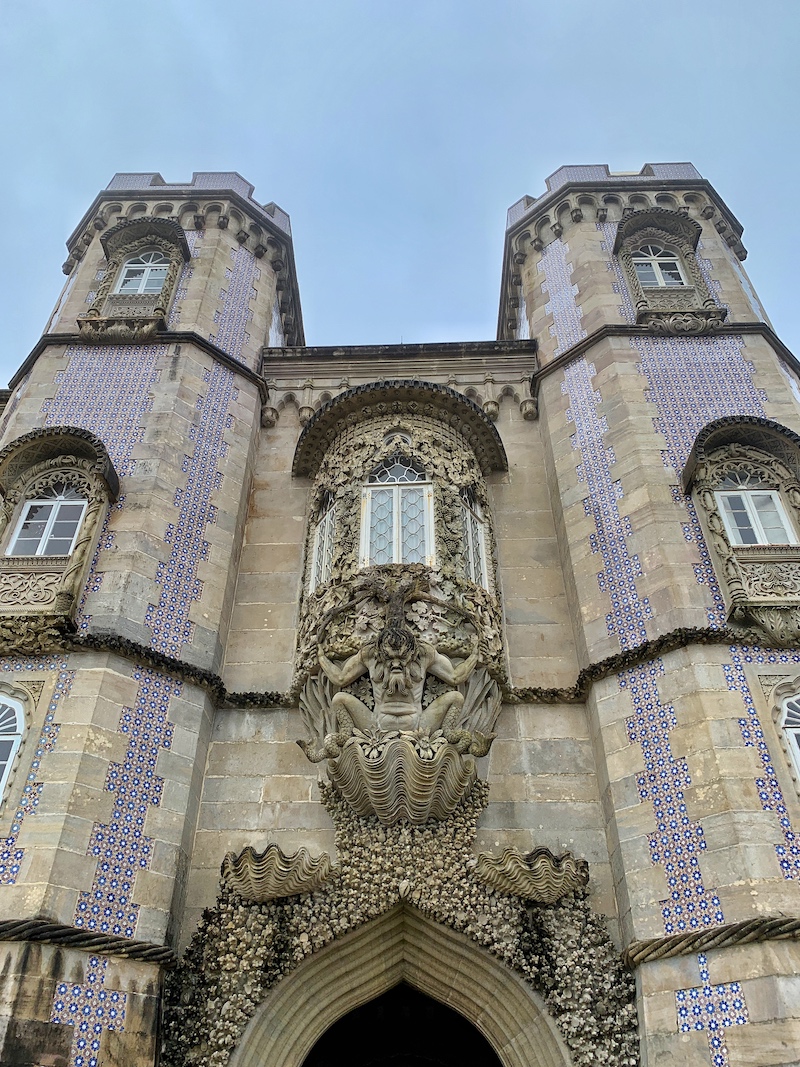 Triton Gate
You must take the 434 bus to reach Pena Palace as you cannot park at the attraction. You can drive up as far as you like but prepare to wait in traffic where you will not see the tail end in your rear-view mirror. Parking is limited along the side of the roads, but then you will need to be prepared to walk uphill. 
Arrive as early as you can—when the gates open, if possible. The traffic and lineups will affect your arrival time. Our tickets were for the 9:30 am entry, the earliest I could get. It was 10:30 by the time we got to the actual palace. There are lineups in the offseason, even in poor weather. Do yourself a favour and buy tickets beforehand online so you can skip the admission line when you arrive. Note: once entering the main gates of the attraction, you will need to wait in another line to take the shuttle up to the palace. There are options to purchase the shuttle ticket ahead of time with your entry ticket. Do it to make life easier. If you opt not to, the shuttle is €3 per person, and they only take cash. Again, you can walk, but be careful, especially if it is raining. The streets are cobblestone, which is not a joy to walk on in good condition. Cobblestones are great for pictures, but no one shows videos featuring the wipeouts and skinned knees. 
Quinta da Regaleira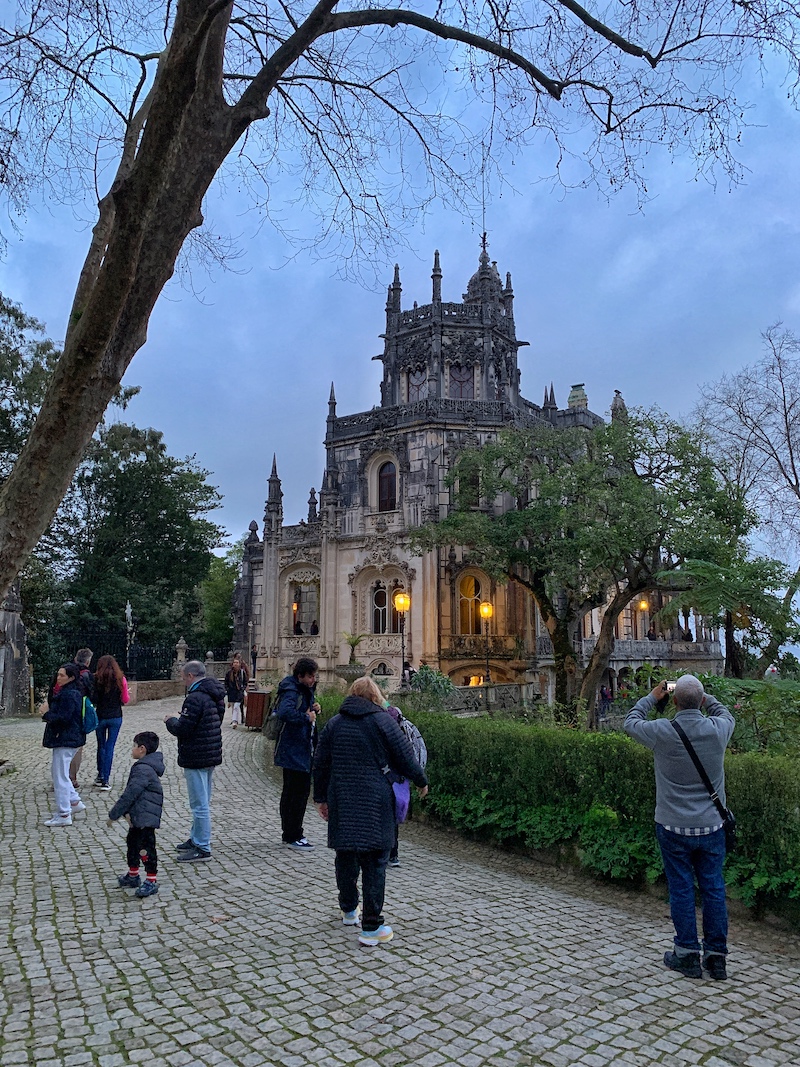 It is a must to take a guided tour of this estate, or you will have no idea of the scope and magnitude of this story-filled sprawling attraction. And, quite frankly, you could get lost. 
Everything built on this majestic estate has a meaning. António Augusto de Carvalho Monteiro, aka CM, was the owner of the Quinta da Regaleira. CM bought the property in 1892, and construction began in 1904 and was mostly completed by 1910. He was a diamond producer and was also involved in whale production.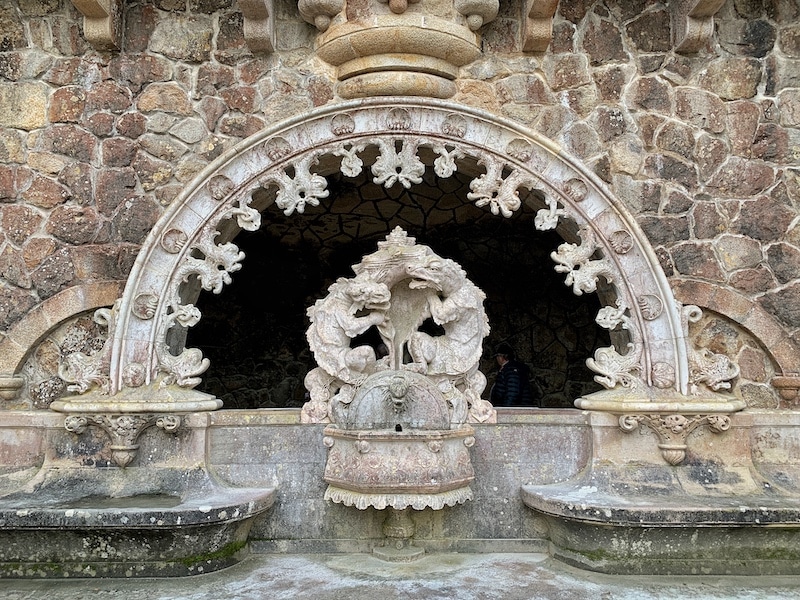 Fountain with a shell depicting the birthing canal
When CM bought the property, the only structure standing was the Templar's Tower circa the 1100s. He let his imagination run wild on this property—it's like stepping into another dimension. You'll feel like Alice in Wonderland exploring a vortex in history.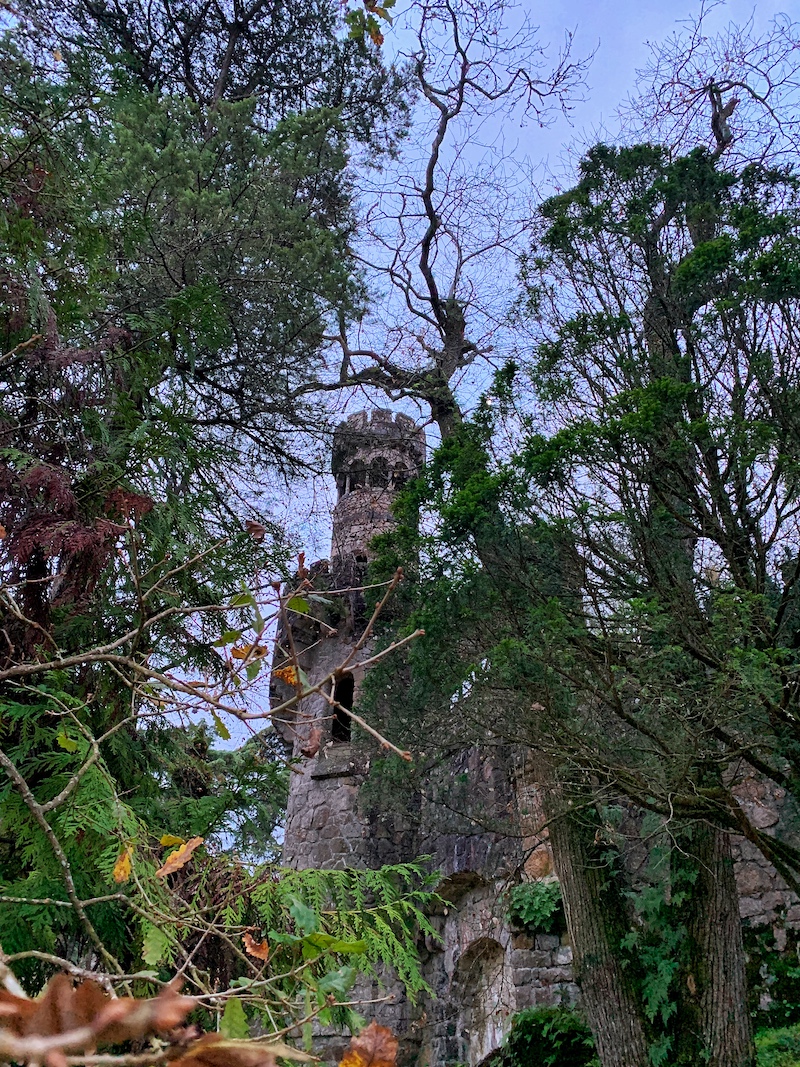 The Templar's Tower
Most notable is the Initiation Well, which isn't a well, but an inverted tower built to represent the birthing canal. There are three exits at the bottom when you descend the stairs—a test of the individual's character. Which will you choose? The one on the left where you can hear water? The one on the right where you can see the light? Or the one in the middle which is the darkest? There is only one exit, and it is the hardest and longest escape route. CM was huge into symbolization, and the correct exit reflects the truth of taking the hardest path is how you grow.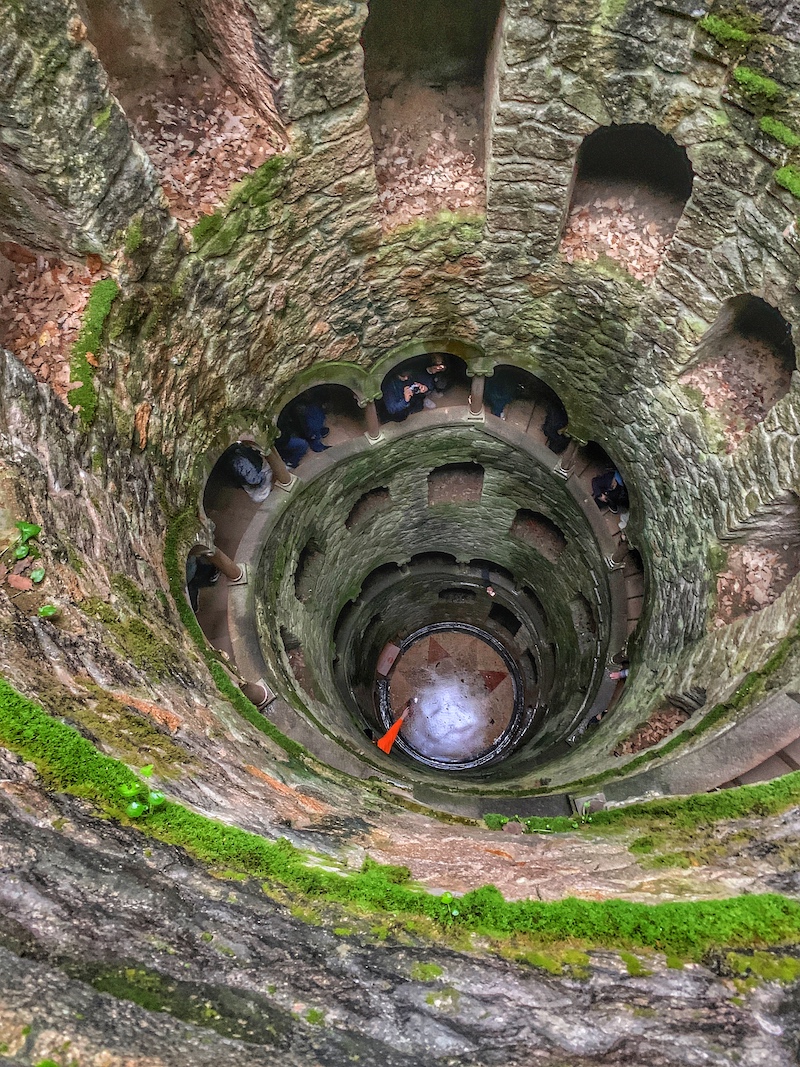 All the wealth in CM's world could not be preserved, though. CM had one sole heir, a son, who had a gambling problem and lost everything. A Japanese couple bought the property but had no plan, and the property fell into ruin. The town of Sintra bought it, and then the government of Portugal became the final and current owner.
Moorish Castle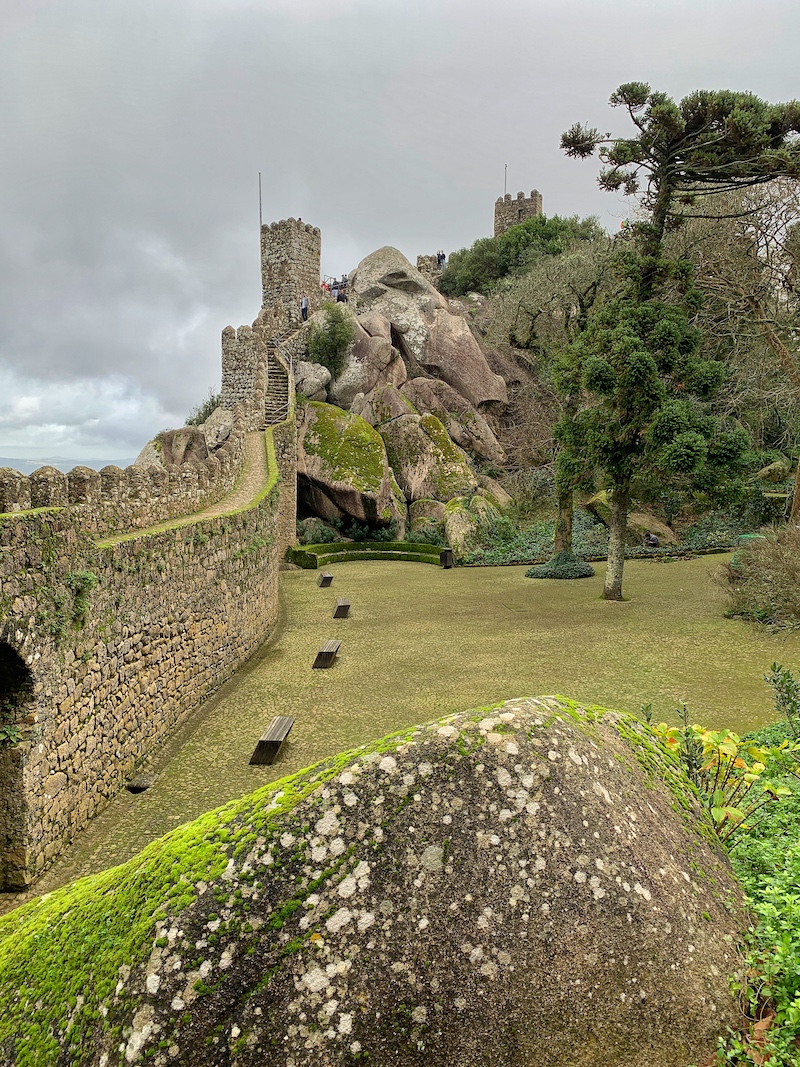 This formidable military fortress was built around the 10th century by the Muslim occupiers of the Iberian Peninsula. It acted as a watchtower over the Atlantic Coast and the northern territories, functioning as an observation post of the city of Lisbon. The Knight's Templar, with an army of 2,000 strong, helped the Portuguese defeat the Moors.
To get the best view of Pena Palace, take the stairs up to the top of the highest turret in the castle, the Royal Tower. You will have spectacular views of Sintra, Lisbon and the surrounding flatland.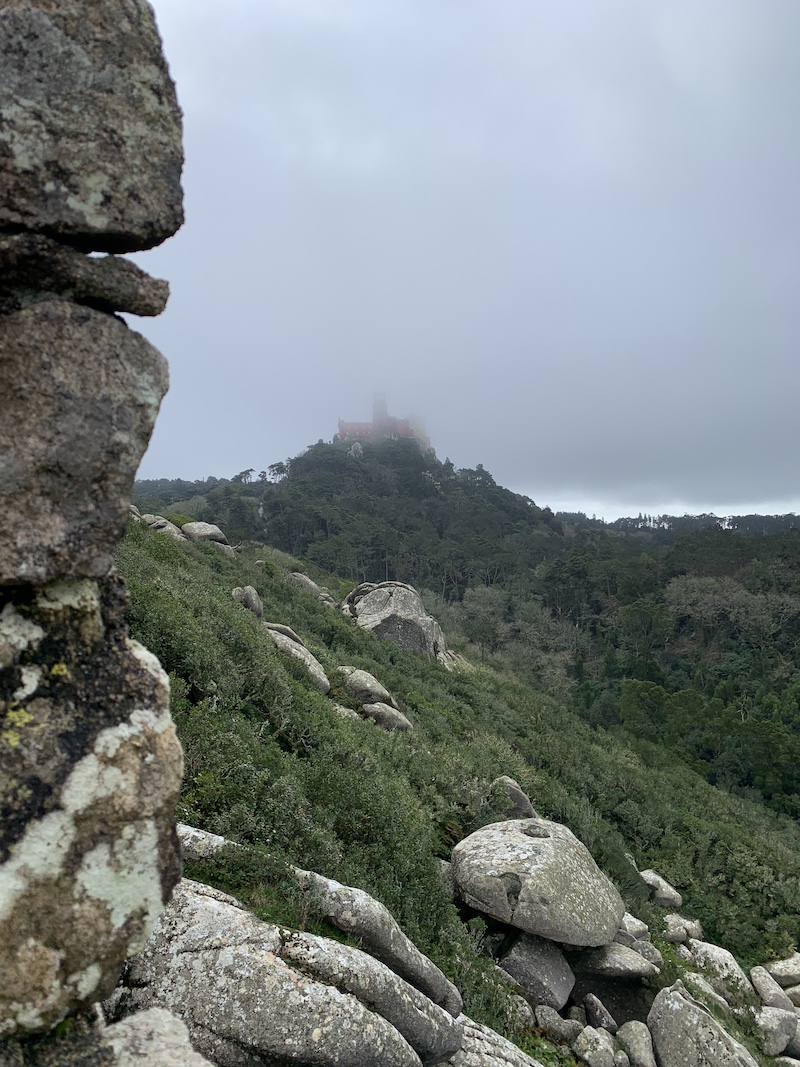 The view of Pena Palace from the Moorish Castle
The castle is a great place to get some exercise climbing stairs to experience the best views of Sintra. Beware the wind gusts; it's high up there. For those who don't want to climb the walls, there is a small garden to relax and meditate on the significance of the past. There are also many excellent interpretive signs explaining the different areas of the fortress.
Monserrate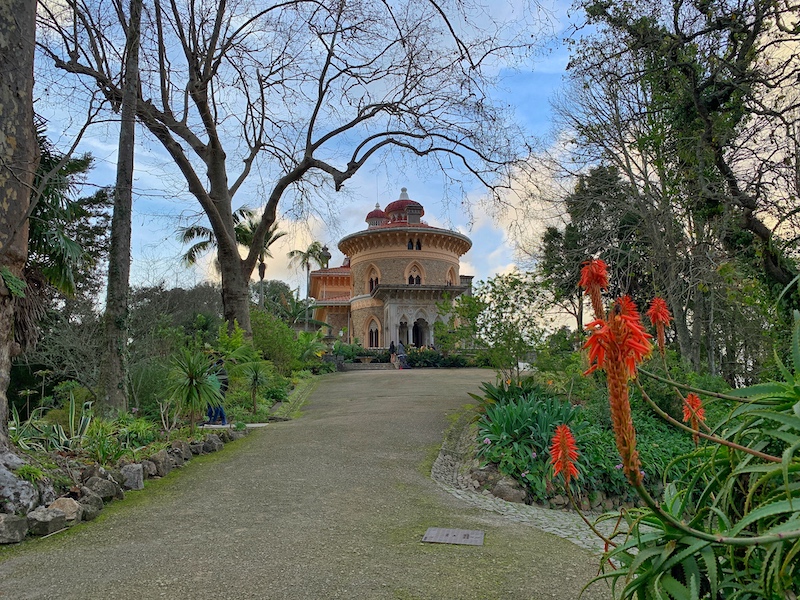 "Monserrate is the most authentic of any attractions in Sintra." These were the words of our guide at Quinta da Regaleira. The profound rehabilitation under English architect James T. Knowles in 1856 of this incredible country estate is an architecture lover's dream. The palace was the summer residence of the Francis Cook family, millionaires in the English textile trade. Built on the ruins of the neo-Gothic mansion constructed by Gerard de Visme, it is an impeccable testament to the eclectic spirit of the 19th century.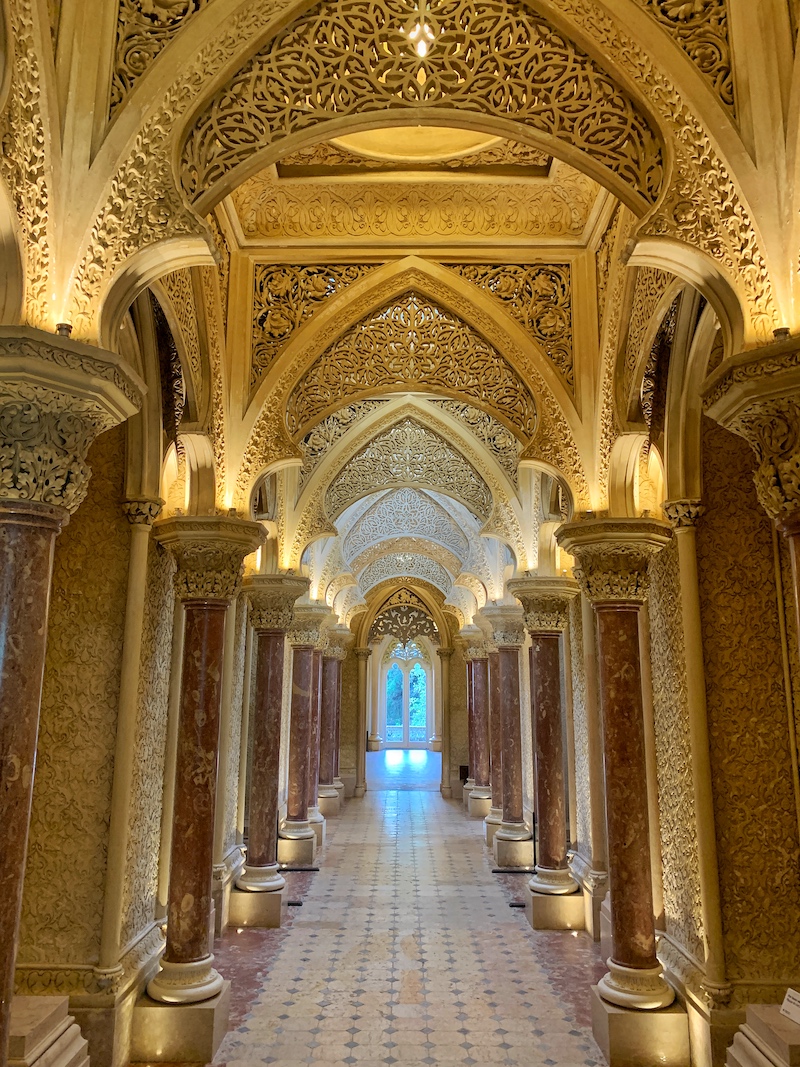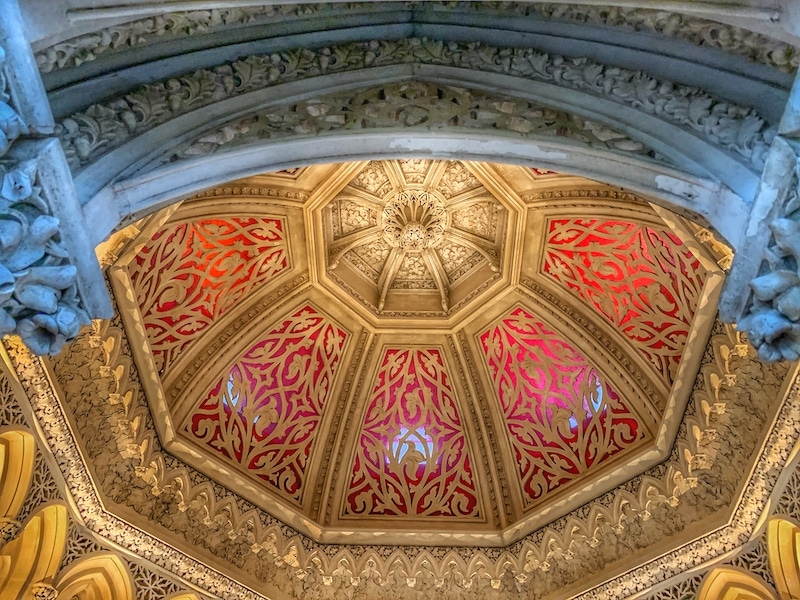 Monserrate is not as busy as other attractions in Sintra. Expansive gardens boast different themes, even a Mexican garden.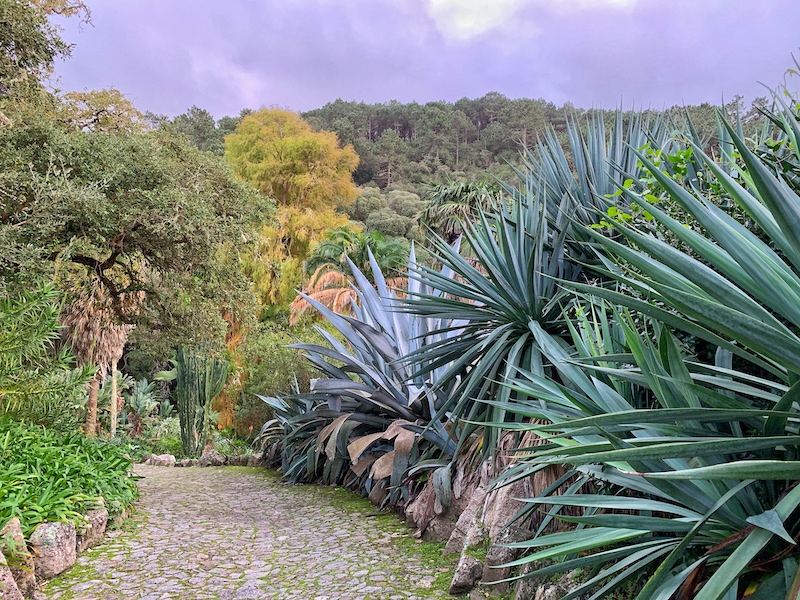 If you have a car, drive out to Monserrate as there are plenty of parking spaces at the entrance. Tuk-tuks don't like to go there because it is too far (4 km or 2.5 miles). If you convince a driver to take you, it will set you back €15 per person. There is also no hop-on-hop-off bus option to go to Monserrate. 
You, Gotta, Eat Here
We asked our friends, Jack Wheeler and Rebel Holiday, American expats living in Portugal, where to eat in Sintra. One of their favourite haunts is Tasca Saloia, serving traditional Portuguese food. It's easy to find right across from the Sintra National Palace. We arrived when they opened, a good thing because the restaurant was full within 10 minutes. You will find this common in Portugal at good restaurants. If you don't get there early at lunch, you won't get a seat. Dinner without reservations? Forget it. 
The vibe in this place is as if you are sitting in a huge family kitchen. The owner walks around and greets people, handing out free slices of prosciutto to the curious who walk up to the animal leg set in a vice ready to be carved for the guests. Be prepared for the best prosciutto ever. Flavourful, salty, tender, melt-in-your-mouth, divine ancient curing methods can't be beaten. A large plate of chorizo was being hand-turned over a blaze at another table, sizzling as diners anxiously awaited their delight.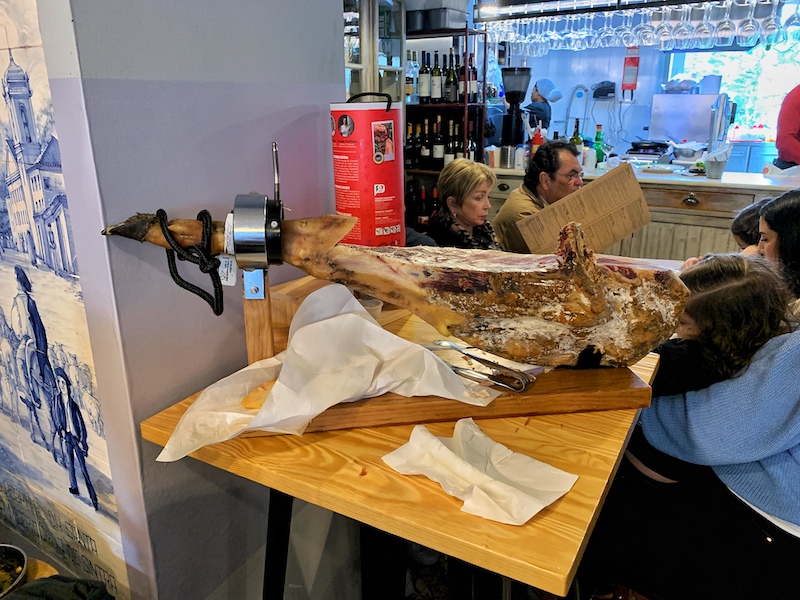 Try the grilled octopus with fries covered in rich, garlic-infused olive oil. If it's cold outside, indulge in a cup of hot, mulled wine filled with citrus fruit and a cinnamon stick.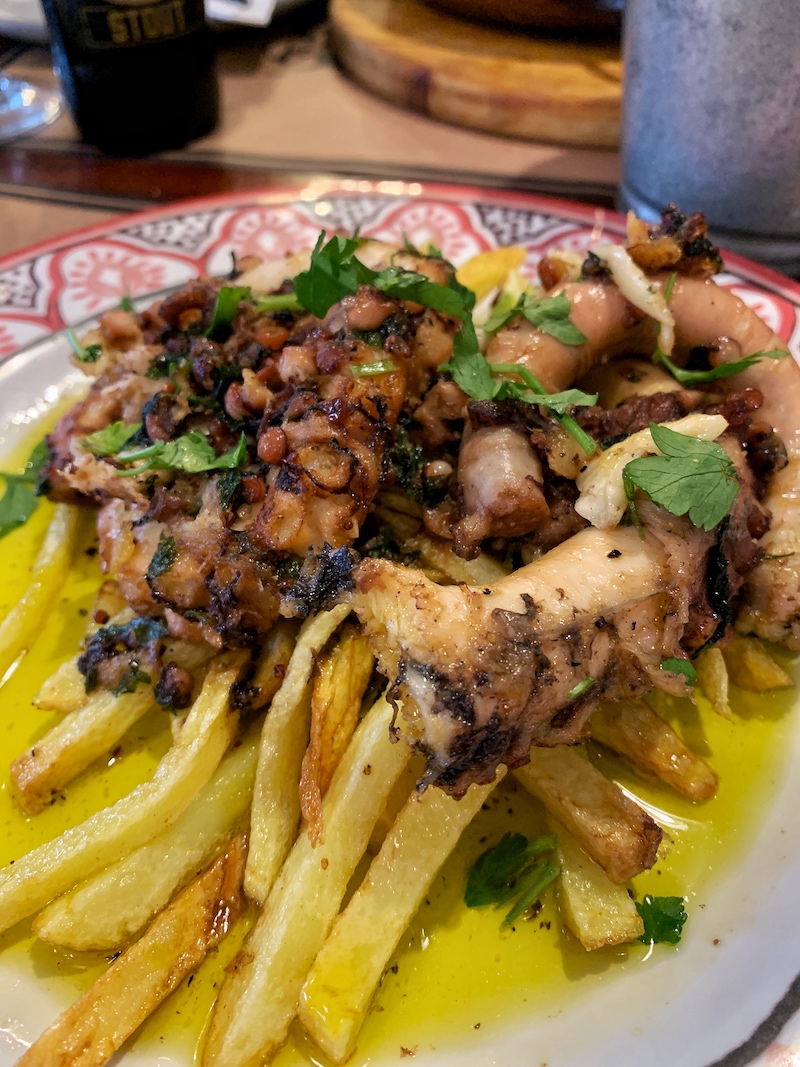 Is Sintra, Portugal a Good Place to Live?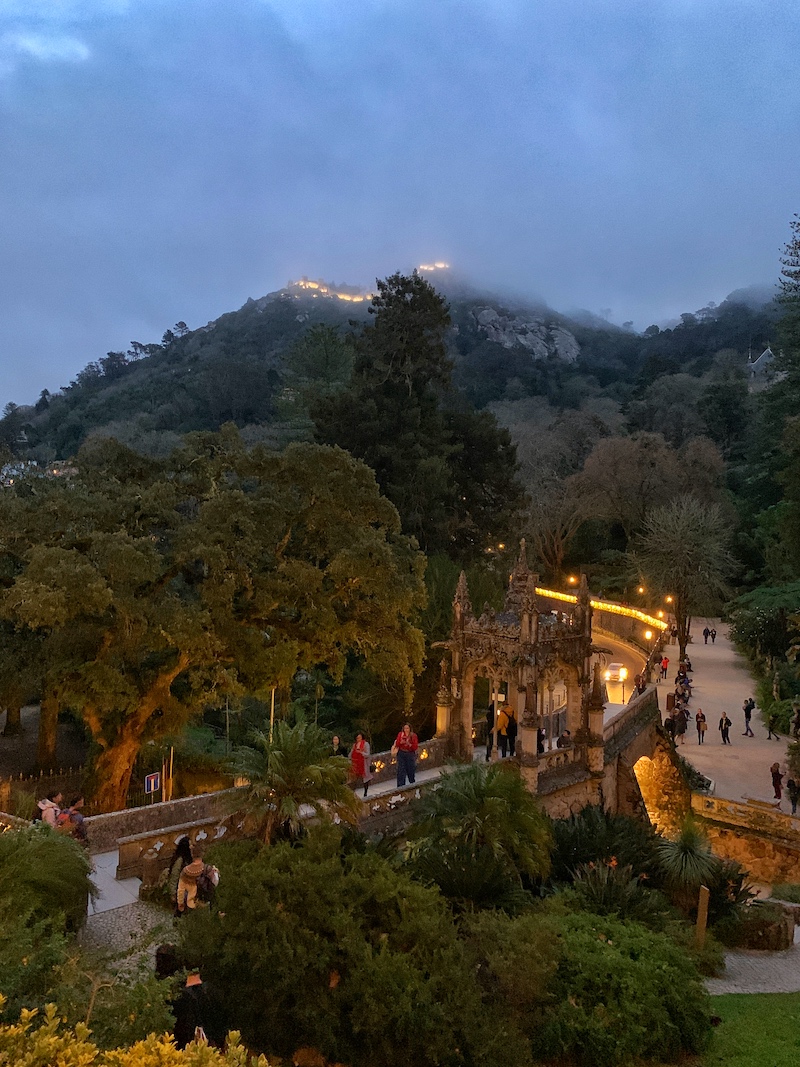 Sintra with the Moorish Castle illuminated on the hilltop
The romance of Sintra is alive with mountains covered in mist and castles lit up at night. It's filled with restaurants owned for generations serving delicacies on plates that never stop arriving at your table. Lavish country estates with garden wonderlands beckon exploration. Sintra has restored 16th-century villas of renewed life as B&Bs for modest and luxurious tastes. Breakfasts of freshly baked bread, compotes, fruit, juices, coffee, local cheeses, and meats ensure fuel for the day. Sintra is an incredibly affordable destination for those seeking culture, history, and adventure. 
Is Sintra a good place to live? Go. See for yourself and be the judge.
For deep, personal stories of Charlotte's real-life expat lifestyle adventures and from people living your dream, subscribe to Escape Artist Insiders magazine today! 
All photos provided by Charlotte Tweed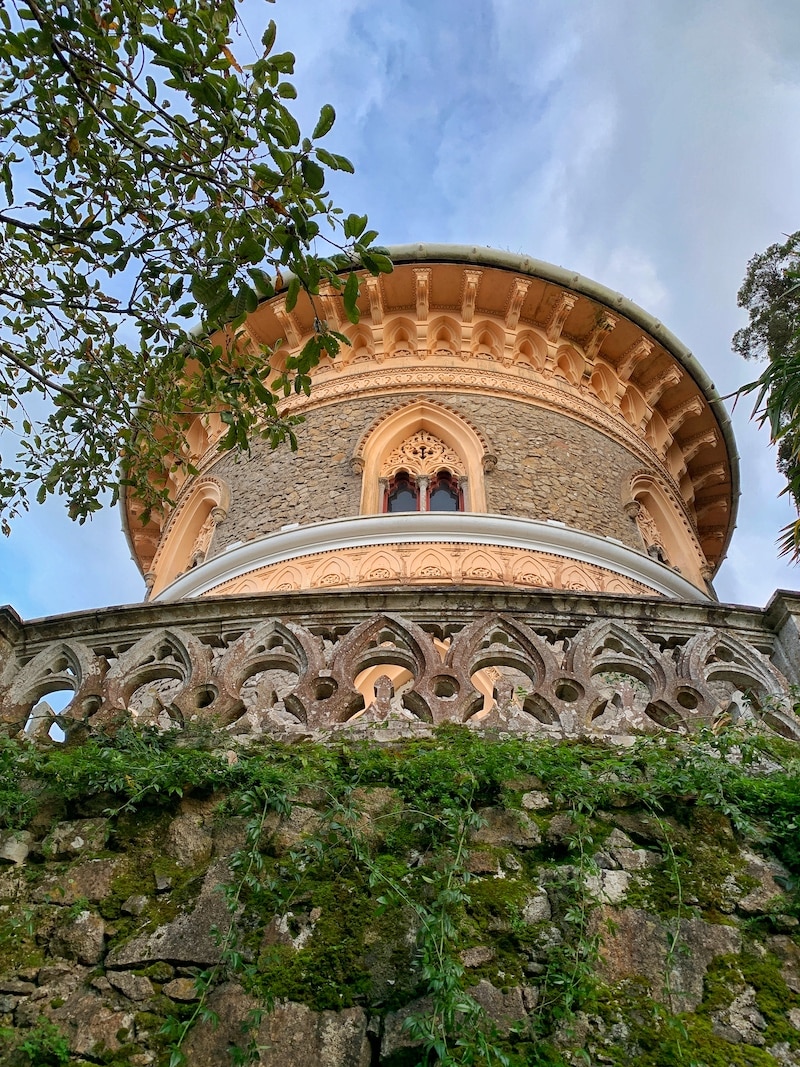 Monserrate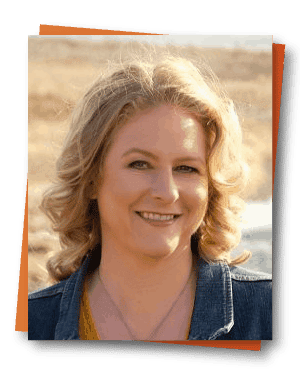 Charlotte Tweed is an adventurous soul with a goal to take you on a journey where you don't just visit—you live it. Graduating with a Travel and Tourism Honours diploma, Charlotte began her expat journey on June 15, 2021. After travelling through multiple countries, Charlotte now calls Mexico home. Reading, writing, and researching the best expat destinations in the world are how she fills her days. As a published author, her mission is to transform your life with expat travel—one destination, one adventure, one story at a time.


Like Our Articles?
Then make sure to check out our Bookstore... we have titles packed full of premium offshore intel. Instant Download - Print off for your private library before the government demands we take these down!