Living in Lisbon, Portugal
Have you noticed Portugal is at the centre of the world map?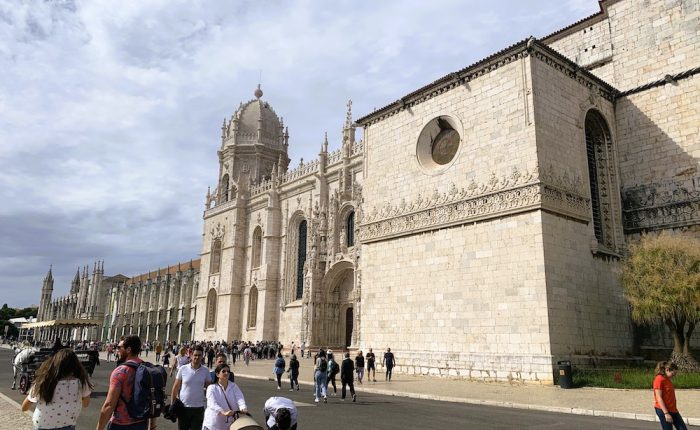 Jerónimos Monastery
First stop in Portugal: Lisbon. With a metro population of 3,001,000, Lisbon is a touristy city with a classic European feel. Cobblestone streets. Gothic, Roman, and Baroque architecture. Pastries with centuries of taste testing under its belt. Lisbon's cosmopolitan overtones meld with a rich history of exploration.
If you're interested in exploring any Citizenship-by-Investment programs or more information on the Lisbon, reach out to us today!

History Bite
Have you noticed Portugal is at the centre of the world map? The great explorers originated from Portugal, and the Portuguese still believe they are at the centre of the world. In the 15th century, a little kingdom in the westernmost continent of Europe with a population of approximately one million transformed the world by launching the era of maritime exploration. 
The European Age of Discovery and Exploration began.
Prince Henry the Navigator led Portugal during most of the 15th century in searching for a route to Asia by sailing south around Africa. 
One of the most famous Portuguese-born explorers was Fernão de Magalhães (Ferdinand Magellan), who instigated and organized the first circumnavigation of the globe from 1519 to 1522. (History, A&E Television Networks, 2023)
In the last decade of the 15th century Christopher Columbus, hailing from Genoa, Italy, set out on a westerly course across the Atlantic Ocean to search for an alternative route to the Indies. He inadvertently "discovered" a new continent on his journies. Columbus had received his training in navigation in Lisbon; although neither Portuguese-born nor sponsored, Columbus was Portuguese trained. Columbus moved to Lisbon in 1476 and lived there for several years, seeking the support of Portuguese King John II to help fund his explorations. While there, he gathered nautical and geographic intelligence from the returning sailors. The king declined Columbus' proposal to sail west and find the Indies, so Columbus sought help from the king's rivals, Ferdinand and Isabella of Spain.
Portugal's feats of navigation, exploration, and conquest made it the most prosperous nation in the world in the 16th century.
As the Portuguese ventured into the Atlantic Ocean, they encountered the Azores, a group of islands more than 1448 kilometres (900 miles) west of their homeland. Around 1427, Portuguese sailors reached the islands. In 1439, Portuguese immigrants established a thriving peasant agriculture producing sugar and wine, which evolved into wheat and other crops. The Azores were critical in providing vital supplies for ships returning from Africa, Asia, and the Americas. During the 19th and early 20th centuries, when the islands had become overpopulated, the Azores (rather than mainland Portugal) provided more than 70 percent of Portuguese immigrants to the United States. Many Azoreans also emigrated to Canada.

Affordability
Lisbon is considered one of the more expensive cities to live in Portugal. Overall, Portugal is considered more affordable than Europe, but prices are rising, according to locals.
A family of four can expect monthly costs, without rent, to be around €2316.60. At the time of writing, the USD is nearly par with the euro, making this a great time to visit or purchase property in Europe (1 USD = 0.93 EUR).
Experience the Insider community that takes your international lifestyle to the next level. Download your FREE guide
"18 Steps to Implementing Your Plan B" instantly!
A single person can expect costs, without rent, to be around €656. Here is a monthly breakdown of the prices of goods an average person can expect. Remember, the cost of living is all relative to lifestyle.
RESTAURANTS

Meal, Inexpensive Restaurant

12.00 €

Meal for 2 People, Mid-range Restaurant, Three-course

50.00 €

McMeal at McDonald's (or Equivalent Combo Meal)

7.50 €

Domestic Beer (0.5-litre draught)

2.50 €

Imported Beer (0.33-litre bottle)

3.25 €

Cappuccino (regular)

1.87 €

Coke/Pepsi (0.33-litre bottle)

1.57 €

Water (0.33-liter bottle)

1.14 €
GROCERIES/MARKETS

Milk (regular), (1 litre)

0.87 €

Loaf of Fresh White Bread (500g)

1.31 €

Rice (white), (1kg)

1.26 €

Eggs (regular) (12)

2.61 €

Local Cheese (1kg)

8.89 €

Chicken Fillets (1kg)

6.82 €

Beef Round (1kg) (or Equivalent Back Leg Red Meat)

10.36 €

Apples (1kg)

1.92 €

Banana (1kg)

1.26 €

Oranges (1kg)

1.45 €

Tomato (1kg)

1.96 €

Potato (1kg)

1.23 €

Onion (1kg)

1.22 €

Lettuce (1 head)

1.19 €

Water (1.5-liter bottle)

0.81 €

Bottle of Wine (Mid-Range)

4.50 €

Domestic Beer (0.5-litre bottle)

1.22 €

Imported Beer (0.33-litre bottle)

1.96 €

Cigarettes 20 Pack (Marlboro)

5.30 €
TRANSPORTATION

One-way Ticket (Local Transport)

1.85 €

Monthly Pass (Regular Price)

40.00 €

Taxi Start (Normal Tariff)

3.50 €

Taxi 1km (Normal Tariff)

0.50 €

Taxi 1 hour Waiting (Normal Tariff)

14.90 €

Gasoline (1 litre)

1.95 €
UTILITIES

Basic (Electricity, Heating, Cooling, Water, Garbage) for 85m2 Apartment

128.48 €

1 min. of Prepaid Mobile Tariff Local (No Discounts or Plans)

0.21 €

Internet (60 Mbps or More, Unlimited Data, Cable/ADSL)

35.89 €
RENT

Apartment (1 bedroom) in City Centre

1,207.48 €

Apartment (1 bedroom) Outside of Centre

778.73 €

Apartment (3 bedrooms) in City Centre

2,109.15 €

Apartment (3 bedrooms) Outside of Centre

1,266.35 €
*Prices provided by Numbeo.com as of January 2023 are accurate based on observations while in the country. More comparisons for Lisbon can be found here.
Climate in Lisbon
Lisbon welcomed me in October and January. October was lovely with the sunshine and a nice, light breeze. Weather was not stellar in January with a lot of rain and fog causing flight delays. While speaking with a flight attendant on one flight, she said the amount of rain was unusually high this winter. Portugal suffered severe drought conditions last year resulting in water rationing. Water could only be used in the morning for showering and breakfast and then again at dinnertime. You were not allowed to use water during midday. What a turnaround with heavy rains and flash flooding this winter. 
"We asked for rain, and the heavens answered, I'll give you rain." Her words and eyes were heavy as she recounted flooding incidents causing the death of an elderly lady in a lower-level apartment and how a man had to have his windows smashed out of his car by rescuers as he became submerged in a tunnel.
Even though there was a lot of rain in January, temperatures were pleasant in the daytime, hovering around 15°C (59°F) and dropping to around 10°C (50°F) when the sun went down. Temperature is also relative. What some consider hot or cold does not translate to others. When a destination claims "springlike temperatures year-round," check the wind and rain expected in the region. Wind and rain drastically affect how the temperature impacts the human body and your experience at the destination.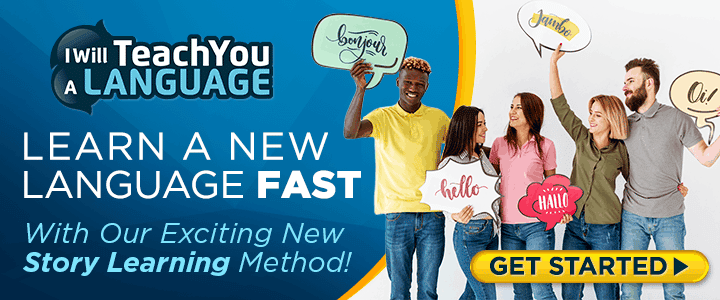 Average Temperature and Rainfall in Lisbon
The warm season lasts three months, from June to September, with an average daily high temperature above 26°C (78°F). The hottest month of the year in Lisbon is August, with an average high of 28°C (83°F) and low of 18°C (65°F).
The cool season lasts for close to four months, from November to March, with an average daily high temperature below 17°C (63°F). The coldest month of the year in Lisbon is January, with an average low of 8°C (47°F) and a high of 14°C (58°F).
The rainy period lasts for nine months, from September to June, with a sliding 31-day rainfall of at least 0.5 inches. The month with the most rain in Lisbon is November, with an average rainfall of 3.1 inches.
The rainless period of the year lasts for three months, from June to September. The month with the least rain in Lisbon is July, with an average rainfall of 0.1 inches. Note: Lisbon experiences significant seasonal variation in monthly rainfall.
More good news for some, snow is unlikely in Lisbon.
Lisbon's average hourly wind speed experiences mild seasonal variation over the year. 
*Weather statistics retrieved from weatherspark.com. 
Political Stability
Politics plays a major role in why many people are moving or looking to relocate. The world is in turmoil, a fact hard to overlook. With that being said, Portugal is quite stable compared to other countries at this time. The borders of the country have remained unchanged since the 12th century… in Europe… think about that for a moment. The Portuguese are a strong, stable, confident, and proud group of people—their borders reflect the same attitude.
Attractions & Lifestyle
Lisbon has a variety of neighbourhoods offering a walkable lifestyle. It is not uncommon for people to use public transportation rather than owning a car. Feet are great to get where you need to go. Tram 28 is the oldest in Lisbon (inaugurated in 1914) and offers the best way to get around the Old Lisbon neighbourhood to see the major attractions. You can access the tram 24 hours for €10 when you purchase a public transportation card. The card includes access to the trams, metro, funiculars, public buses, and the Santa Justa Lift. 
Food and wine are a large part of Portuguese culture. Expect to indulge in incredible cheeses, pastries, and port wines. Slow-cooked meats melt in your mouth topped with creamy mashed potatoes smothered in savoury gravy. One thing to note when dining in Lisbon, and Portugal in general, is to make dinner reservations. The best restaurants fill up fast and are often booked in advance. Restaurants usually open from noon to 4:00 pm and close until 7:00 pm, or even a bit later.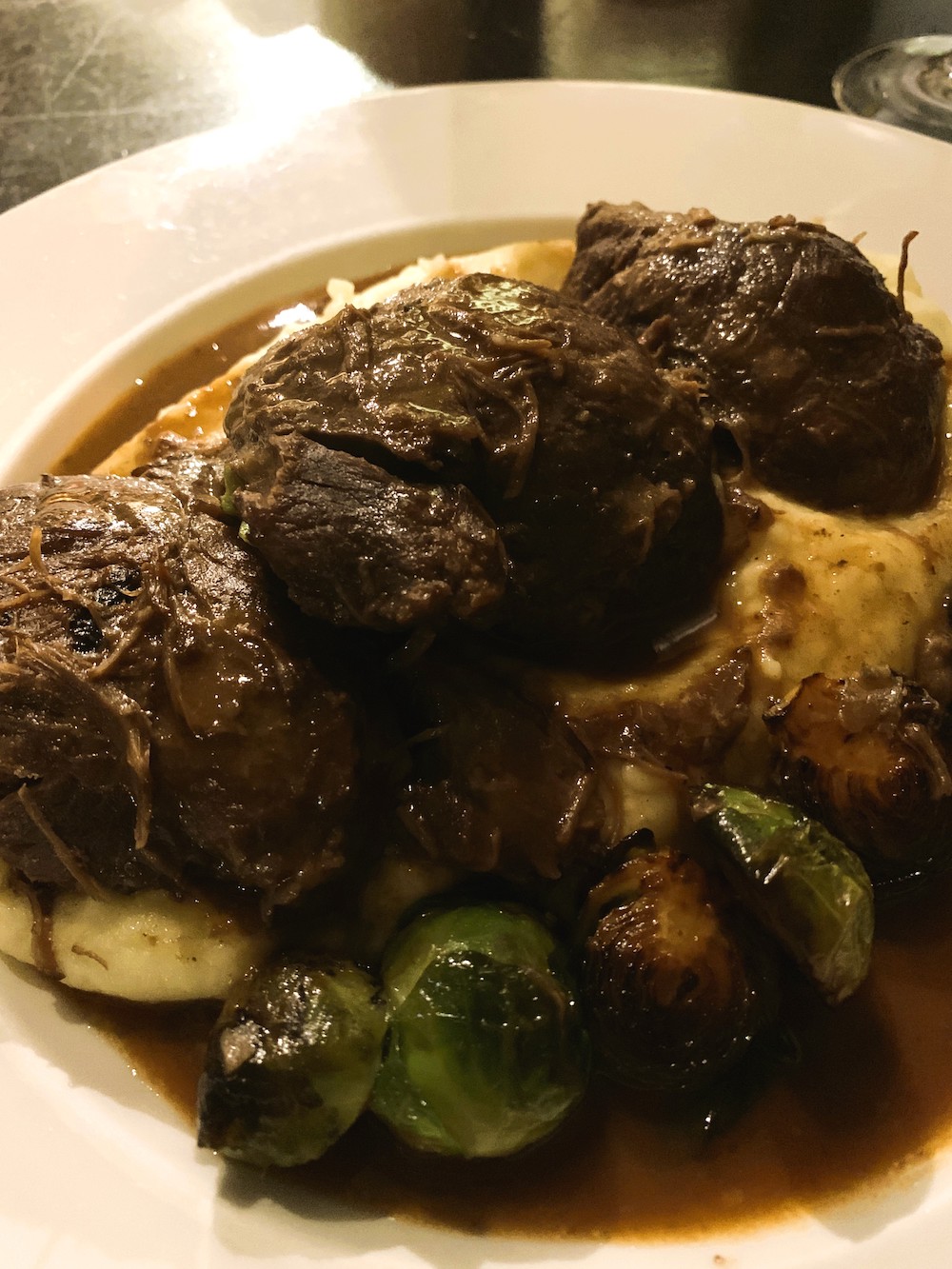 Roasted Pork Cheeks with Mashed Potatoes
If you are going to be a walk-in, be there by 7:00 pm, or you will likely not get a table. The culture is not based on fast food; rather dining is an experience meant to be relished and shared with friends and family. Dinner often lasts two hours or longer. Reservations are important; when the people arrive at 7:00 pm, they don't leave until after 9:00 pm, so the tables don't turn like they do in Canada and the United States. It is also not uncommon for a restaurant to not open at all, with no reason given. Save yourself the frustration and disappointment; book ahead.
Strolling along the piers, shopping, coffee (Portugal is known to have some of the best coffee in the world), bars, and music are all popular lifestyle choices in the country. There are numerous historical monuments to explore. And of course, spending quality time with friends and family. 
Monument to the Discoveries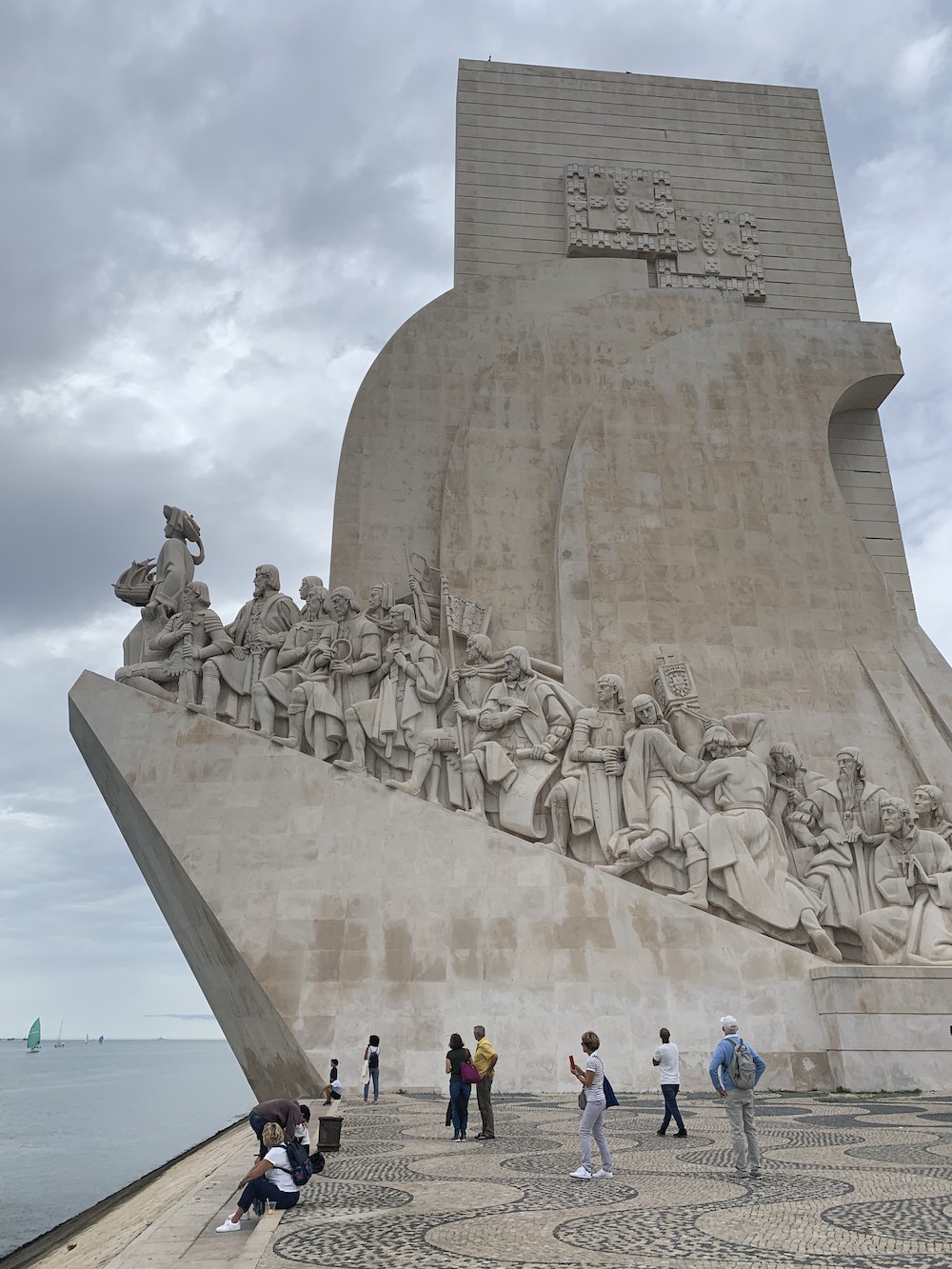 Standing as a sentinel over the Tagus River, the Monument to the Discoveries depicts great explorers of the past who bravely sailed the seas to lands unknown. Thirty-two significant characters of the Portuguese overseas expansion and cultural names from the age of the Discoveries adorn the monument. All are portrayed with symbols indicating their identity: navigators, cartographers, warriors, colonizers, missionaries, chroniclers, and artists.
Belém Tower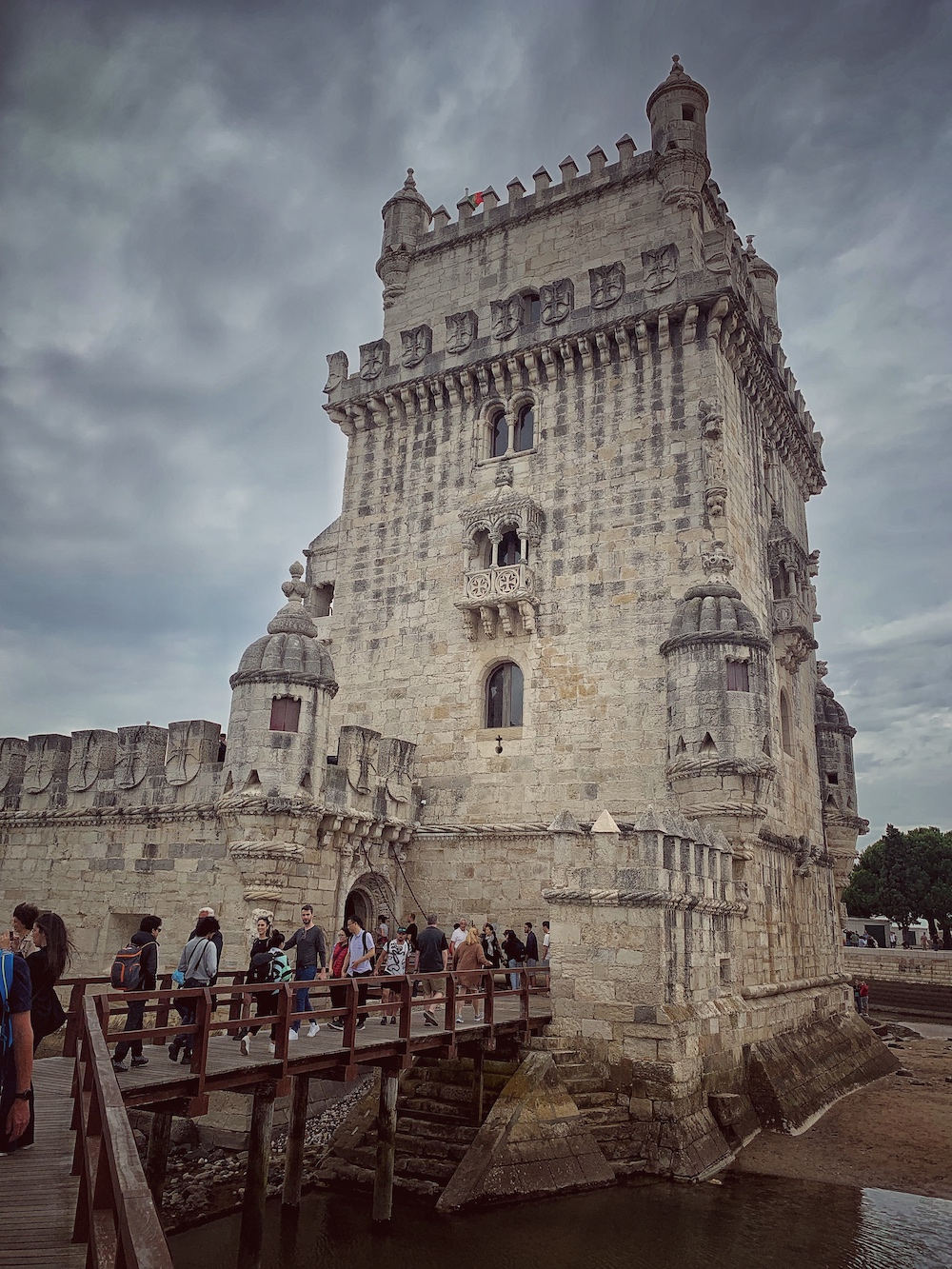 One of the most recognizable landmarks of Lisbon, the Belém Tower, was built between 1514 and 1520. Belém is Bethlehem in Portuguese. Also on the Tagus River, the tower was used to defend the city in medieval times. It is near the Monument to the Discoveries and Jerónimos Monastery making it easy to see them all on the same day. You do have to purchase tickets for the tower ahead of time online or at a visitor centre in the park near the tower. Don't stand in line and wait right at the tower, you'll be sent to the ticket counter only to start your wait in line all over again. 
Jerónimos Monastery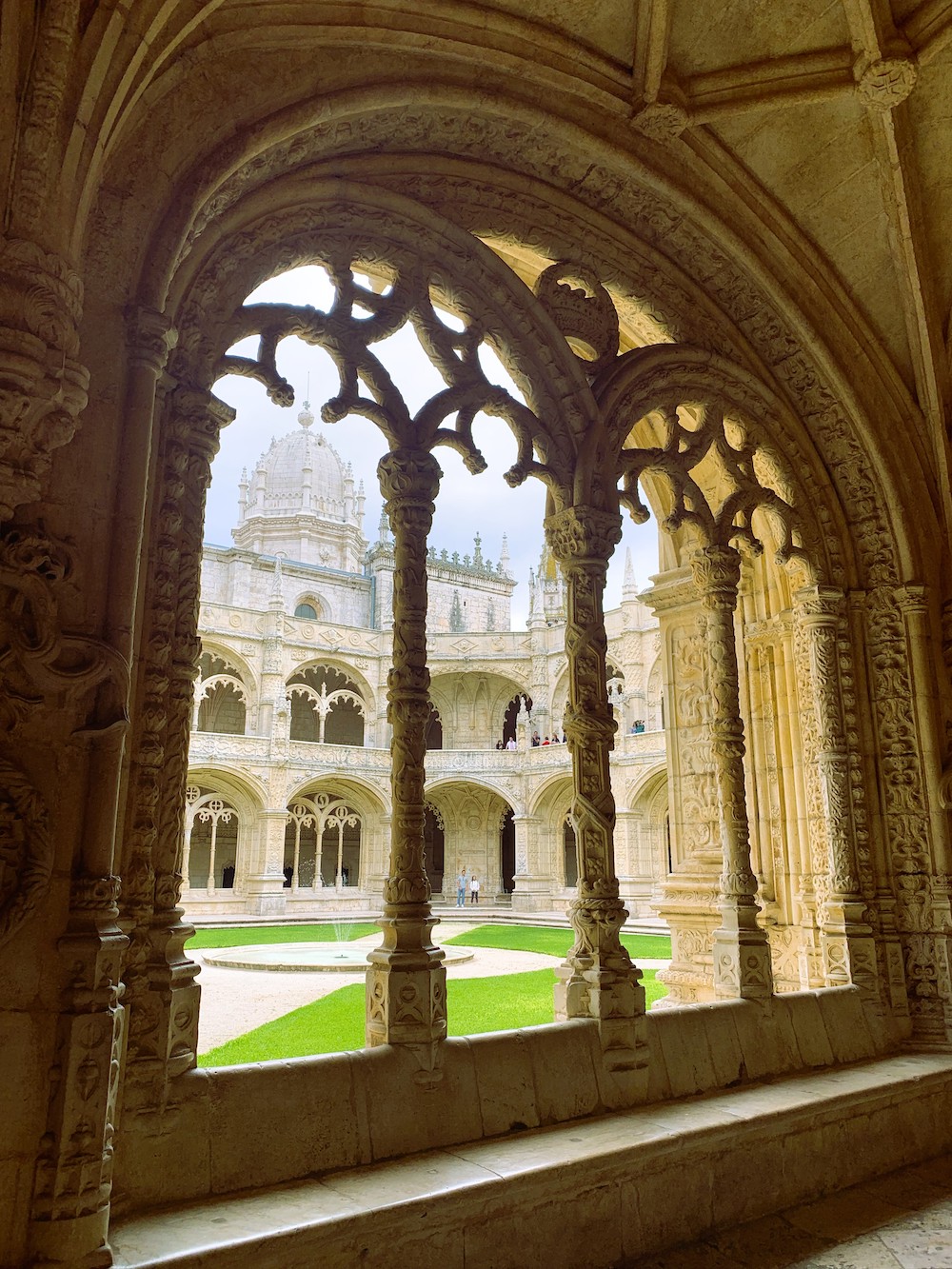 Wow factor. Jerónimos Monastery was my favourite attraction in Lisbon. Stunningly gorgeous with detail you can stare at all day, the cloister and church are a sight to behold. The two-storey cloister's decorative ornamentation and symbolism gave me goosebumps. The church, which is free to visit, seems to go on forever with its six incredibly sculpted columns. Tickets for the monastery also need to be purchased ahead of time.  
Pastéis de Belém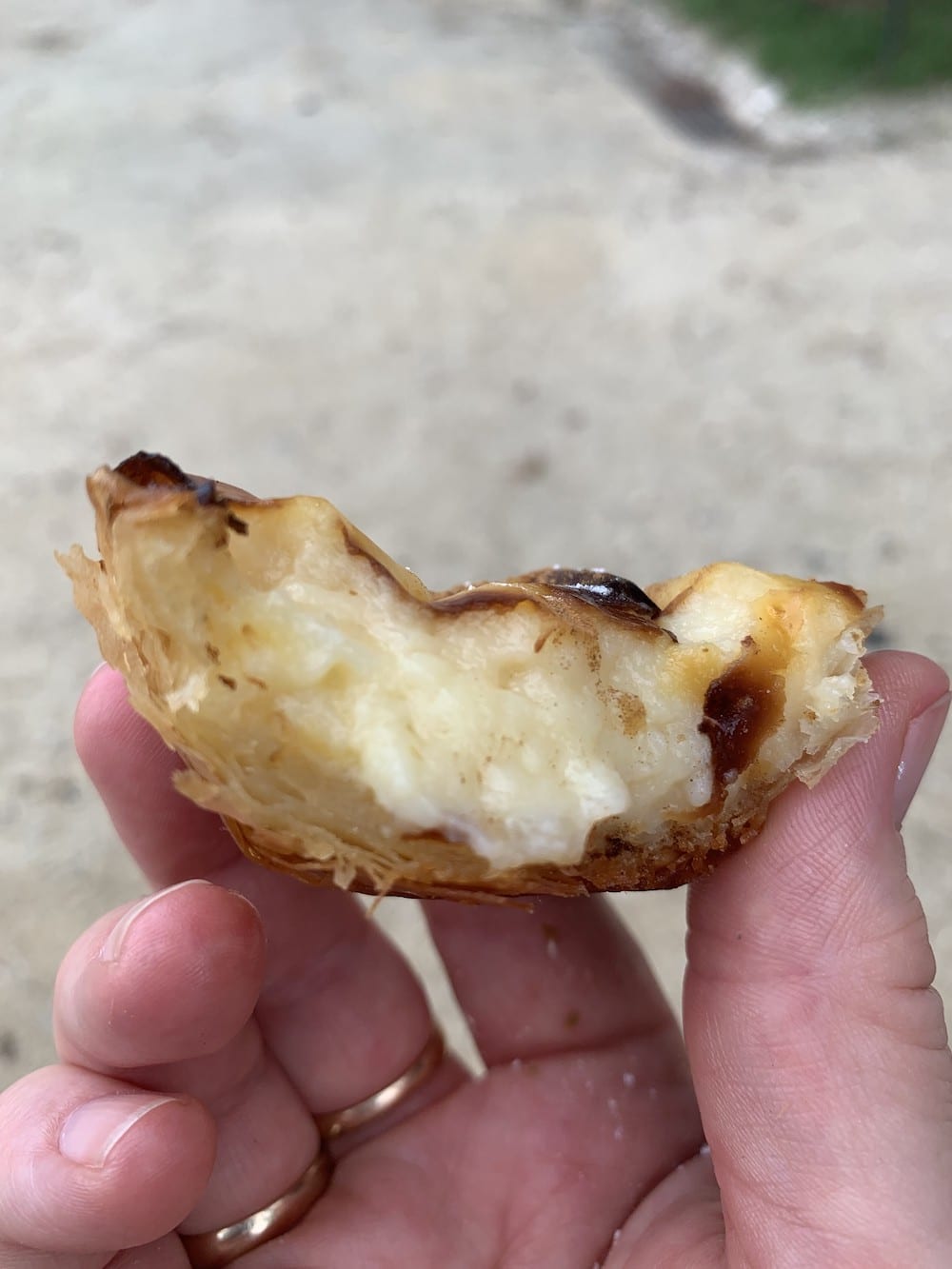 After seeing all the above sites in the Belém district, walk a few more blocks to wait in another line for a completely different experience. The Belém pastries are famous and will initiate you into the ancient Portuguese sweets culture. Founded in 1837, the bakery has three separate lineups for service. One on demand, where you make your way into the bakery to buy your artisanal pastry. The second is a call-ahead pick-up door. The third is table seating in the bakery. We opted for door number one and took our pastries to the nearby park to devour. The lady in front of us said the pastries were worth the wait, and she was right.
The base is like tender, flaky, yet perfectly crispy phyllo pastry, with a creamy, not-too-sweet custard filling. The combination is topped with a golden-brown, caramelized finish. Do yourself a favour and buy yourself more than one.
Lisbon Cathedral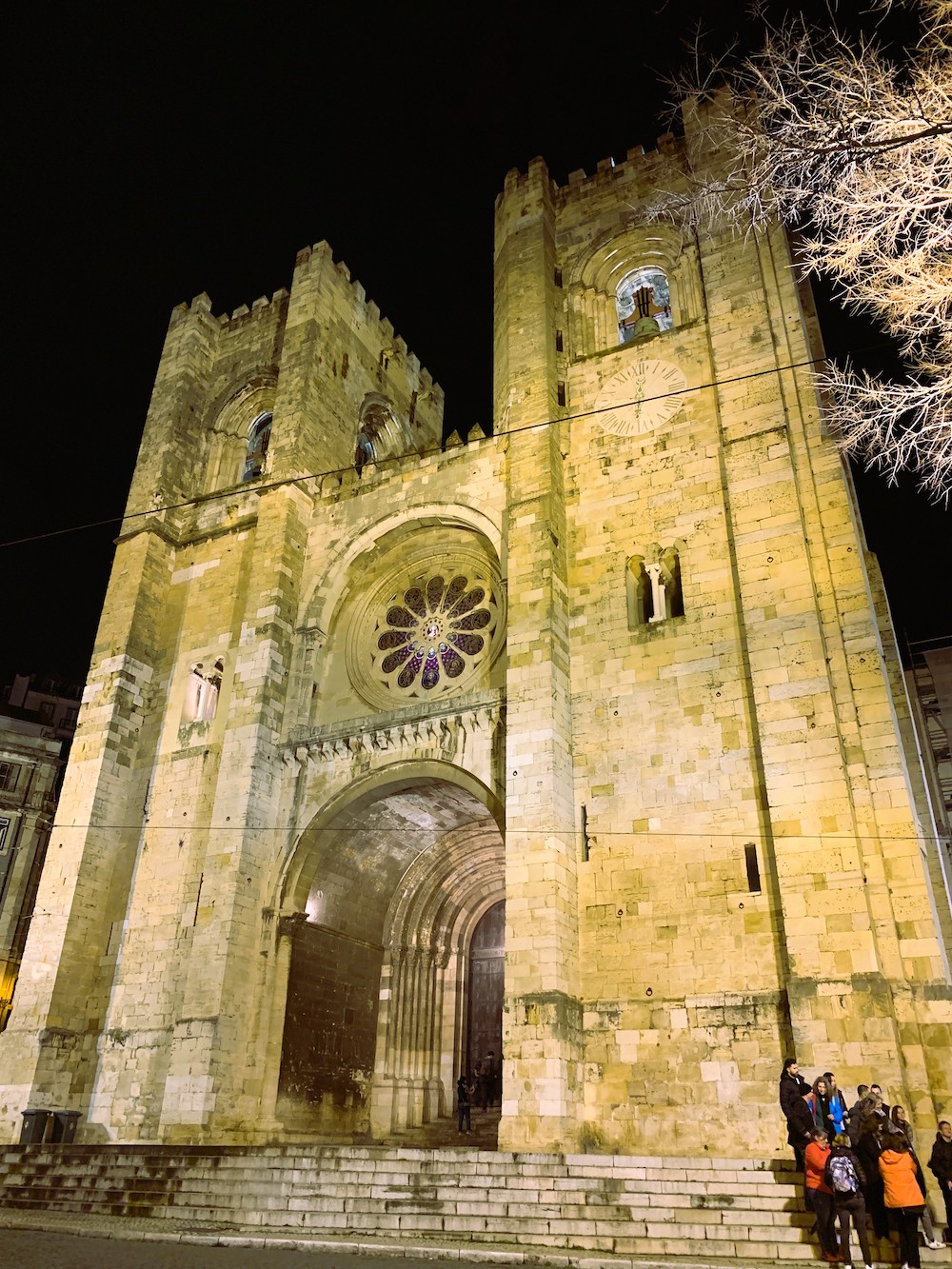 The Lisbon Cathedral, or the Sé de Lisboa, is the oldest church in the city dating back to the 12th century. From the outside, the church resembles a medieval fortress. The central rose window steals the show. Don't miss the balcony where you can go outside and see the window up close. I arrived 45 minutes before closing time, and the attendant assured me there would be enough time to see the entire cathedral if I paid the €5 entrance fee. Time was a little rushed as they began shutting the lights off and closed 15 minutes early. As noted earlier, establishments open and close whenever they please in Portugal. 
Rua Da Prata "Street of Silver"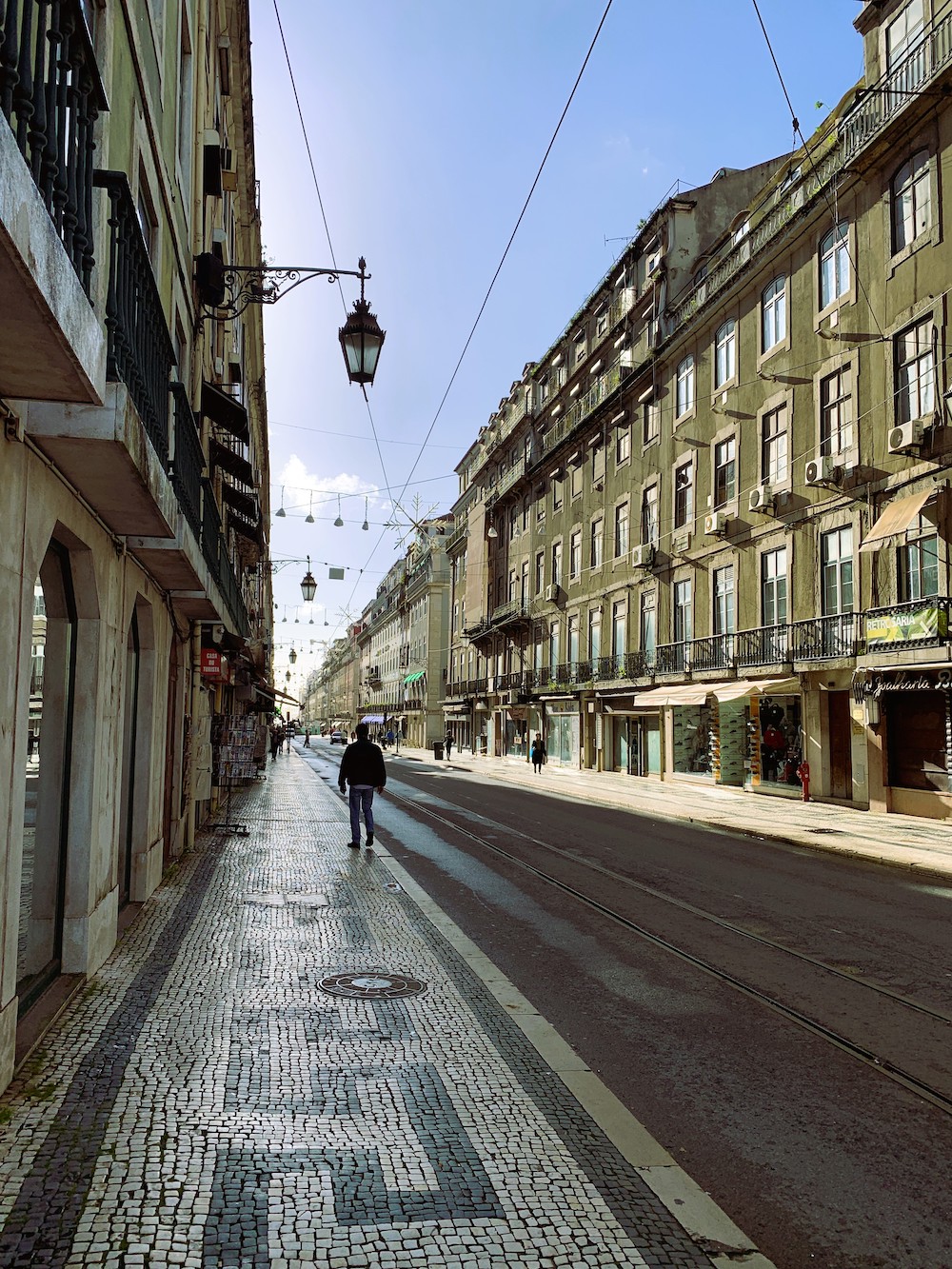 On the surface, Rua Da Prata, two blocks over from the famous Rua Augusta, looks like a regular European street. Underneath, archeologists have discovered a 2,000-year-old Roman street with ancient shops and cafés like what is above. Many people do not realize Lisbon is 1,000 years older than Rome. 
Rua Augusta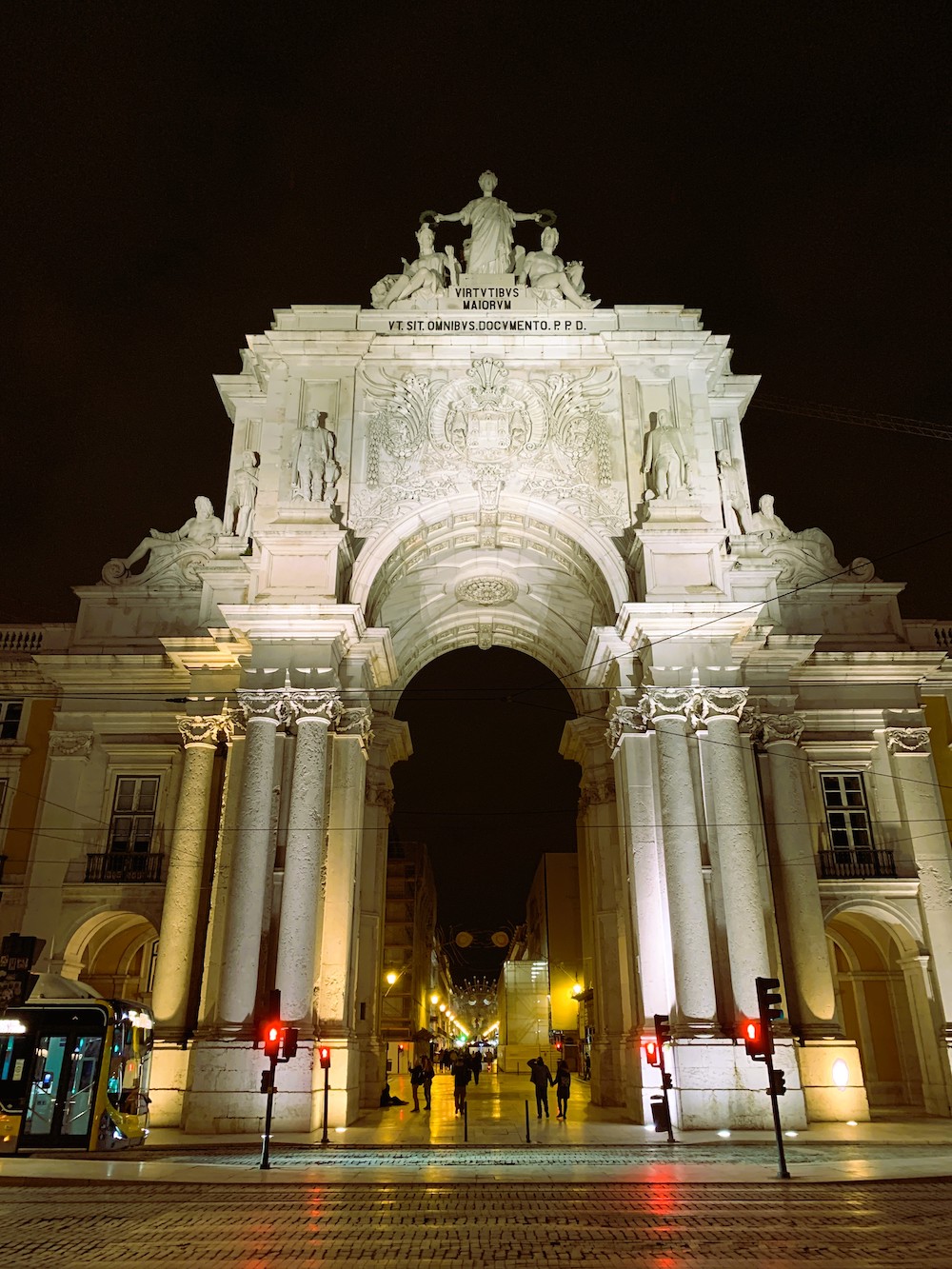 The Rua Augusta Arch is a memorial-type stone historical building and visitor attraction in Lisbon on the Praça do Comércio (Commerce Square). The square was built to commemorate the city's reconstruction after the 1755 earthquake.
The arch welcomes you to the street via Commerce Square. The street is alive with shops, outdoor restaurants, and cafes. Get energized from the life of the city on a beautiful walk on white cobblestones. Sit down and enjoy a coffee while watching the day and people go by. Then head to a different street to dine as this street tends to be overpriced with a lower quality of taste (more advice from locals). 
Commerce Square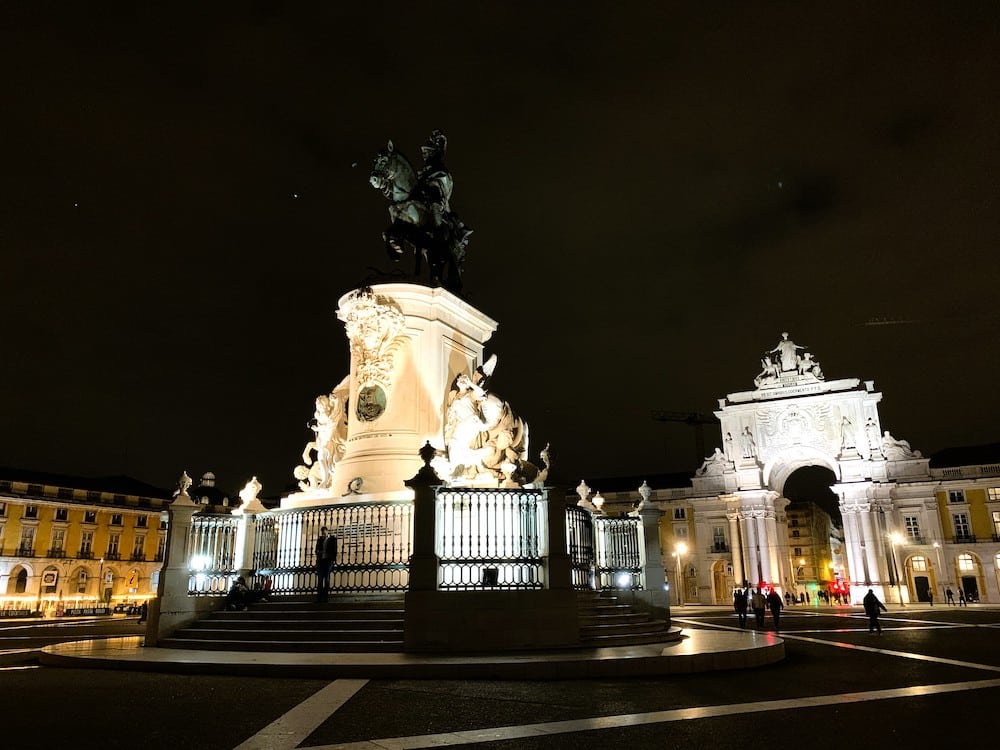 Lisbon's most important square, Commerce Square, was built on the site where the old Royal Palace used to exist before it was destroyed by the 1755 earthquake. The square was the entrance to the city and the key to maritime trade. The south end of the plaza is open and leads to the Tagus River. If you are looking to get away from the crowds and enjoy some space to soak in the surroundings, take some time to enjoy this massive square.
St. George's Castle (São Jorge Castle)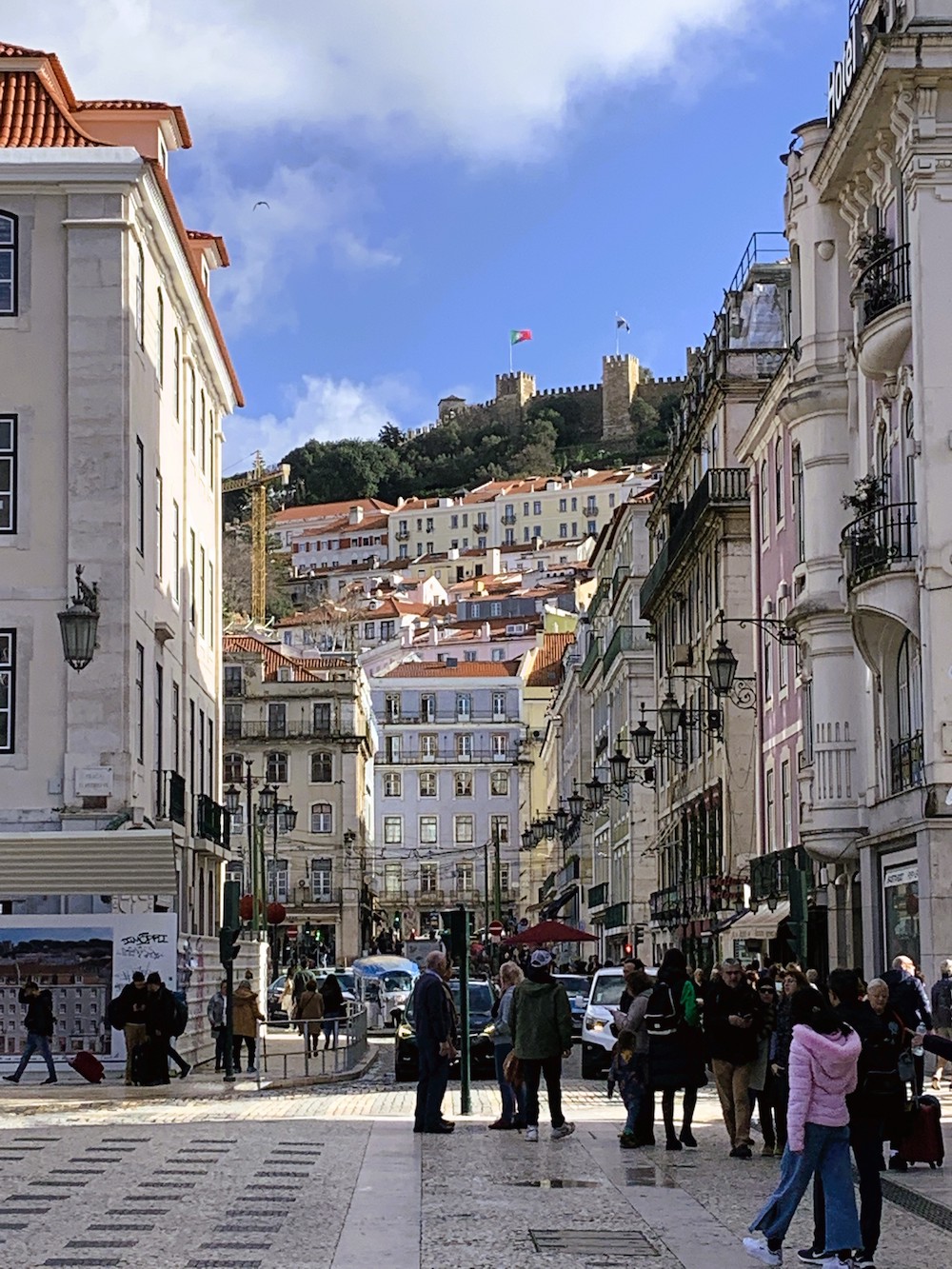 The castle began as a smaller fortress built in the fifth century and was modified and enlarged over time by the Moors. St. George's Castle reached its maximum splendour during the 13th century and lasted until the 16th century when it was occupied by both the Kings of Portugal and the Bishop. ("São Jorge Castle – Hours, prices and how to get there – Lisbon")
Sadly, due to flight delays, plans to visit the castle were thwarted. Even well-travelled people cannot always anticipate what is going to happen. The three hours set aside to visit the castle went up in smoke when we were rerouted to Porto to refuel since our plane could no longer sustain circling Lisbon due to heavy rains and fog. 
We could see parts of the castle from the Lisbon streets; however, the high buildings, block views from street level. Another time, São Jorge, another time…
Rossio Square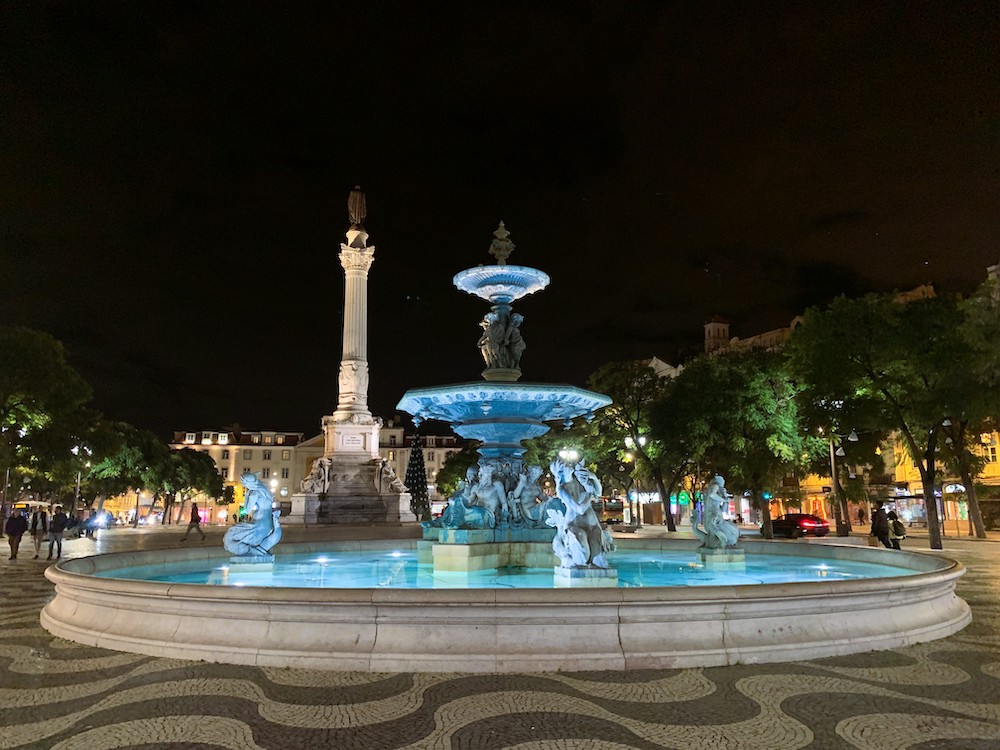 One of the liveliest and prettiest squares in Lisbon is Rossio Square. Restaurants and bars welcome locals and visitors alike. The square features monuments and fountains and is illuminated by night. In the center of Rossio Square sits the Column of Pedro IV of Portugal, known as "the Soldier King".
Café Nicola has become one of the most famous coffee shops in Lisbon. It has a beautiful art deco façade and opened over 200 years ago.
Santa Justa Lift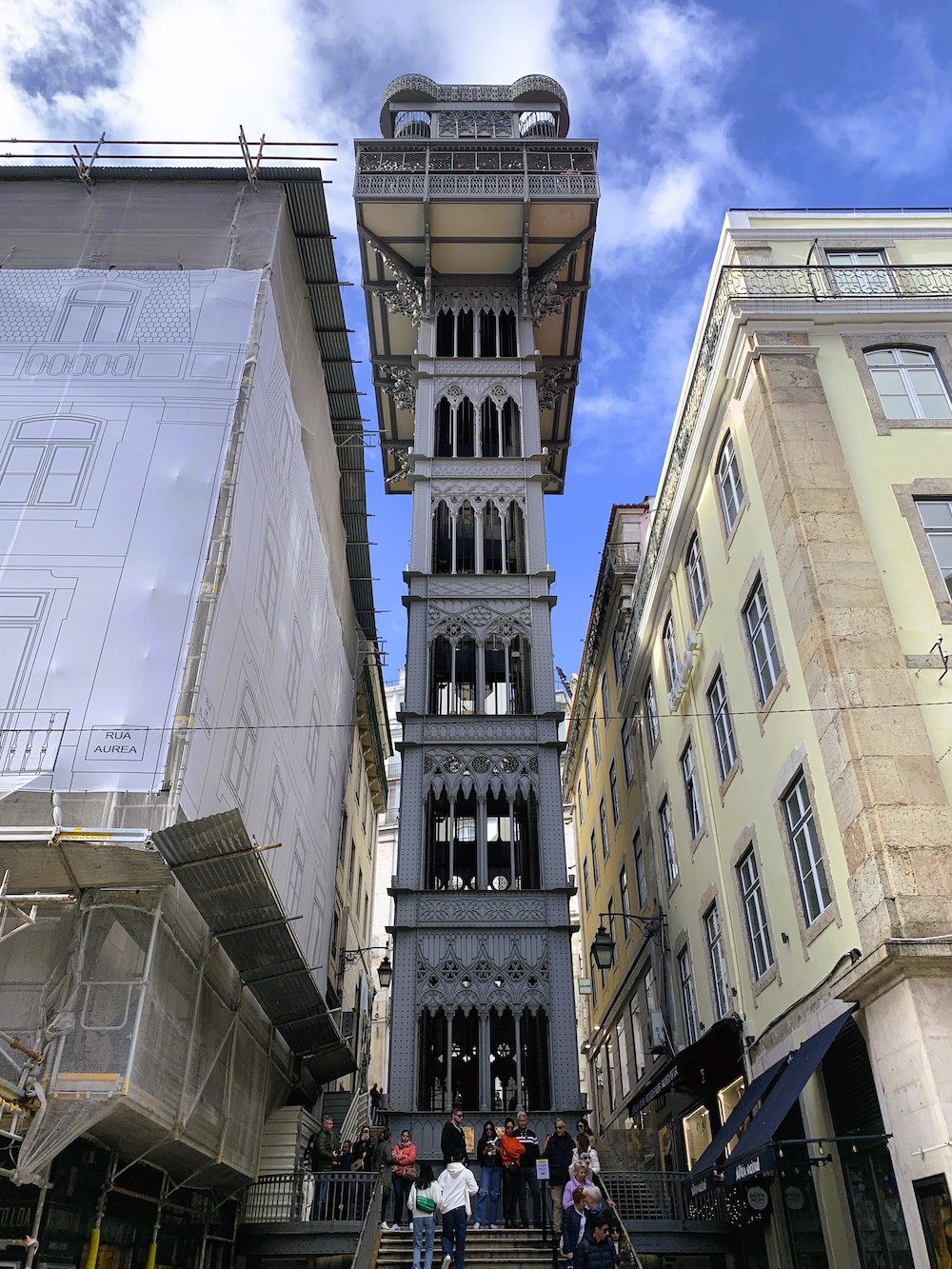 The Santa Justa Lift is not a mere tower monument as it appears from the exterior. It is an elevator and is the fastest way to get from the Baixa neighbourhood to the Bairro Alto district. The lift has been considered part of the Lisbon transportation system since July 10, 1902. Before it existed, it was difficult to travel from lower to upper Lisbon and vice versa.
Fado
Fado is the musical expression of Lisbon and Portugal. The word "Fado" comes from "fatum" in Latin, which means destiny. The frustration and fatalism felt by the inhabitants of Lisbon's humble fishing neighbourhoods, ports, and taverns are reflected in this melancholic and nostalgic music. ("Fado Music – Authentic Fado Restaurants in Lisbon") Fado is the history and scarred soul of Portugal put to the poetry of song. So moving is this music that people who do not consider themselves emotional will find tears rolling down their cheeks, even if they cannot understand the words. The songs are often about women or the sea, encompassing longing and nostalgia—remembrance of what was lost, the country that could have been.
Lisbon, Portugal, a City with Character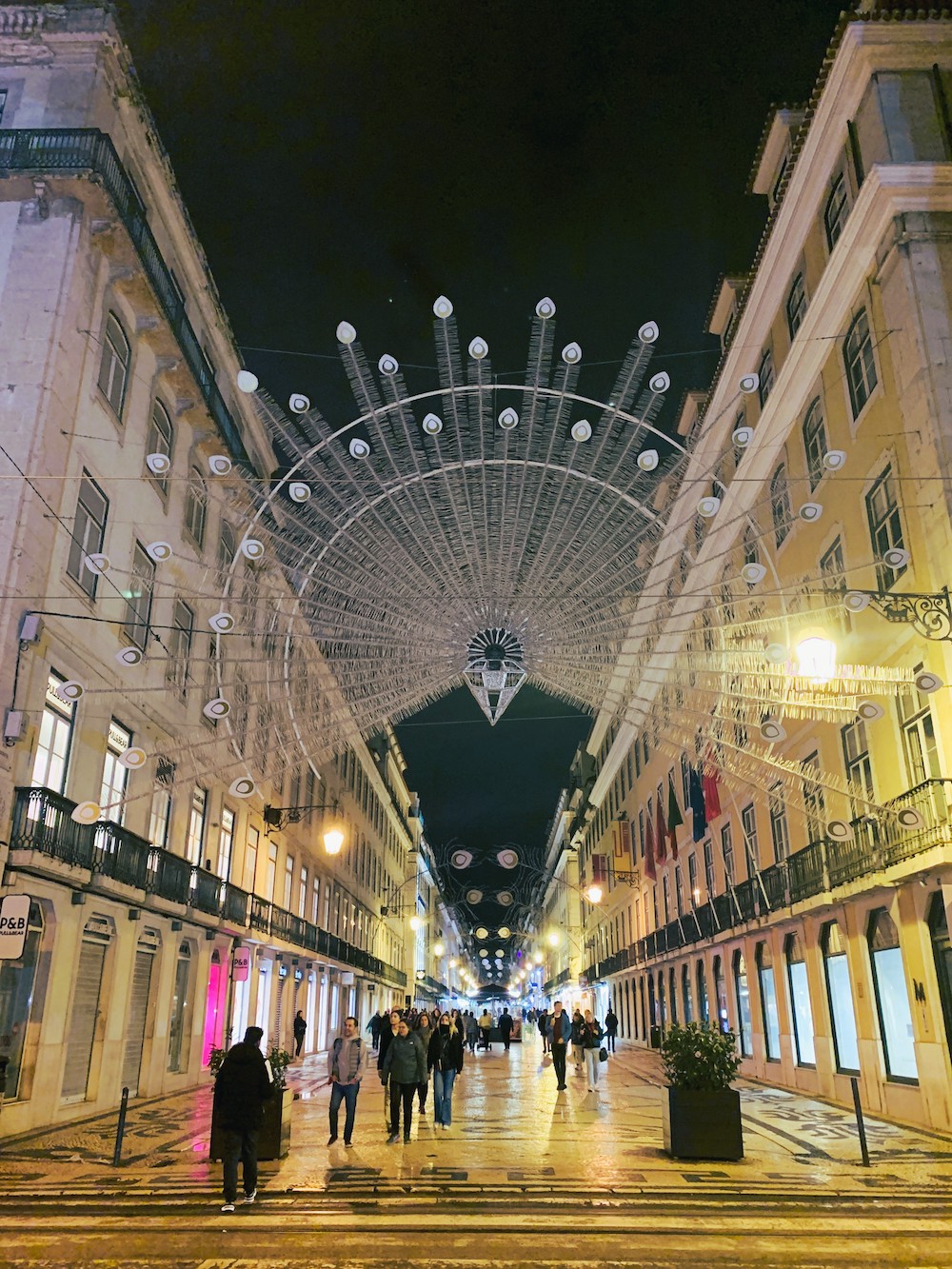 Rua Augusta
Lisbon, the capital of Portugal, is a good choice for those seeking a combination of modernity and history. People are helpful and English is widely spoken. The streets are clean and walkable, yet there is a lot of graffiti. Different neighbourhoods offer different experiences and cultures. Quality of life in Portugal is lauded, yet one concern is rising prices. Locals feel they are getting priced out of the housing market as wages are not increasing with the cost of living. 
If this article intrigues you, book a ticket to Lisbon and start exploring. Only you can decide which country and city are right for what you envision your future to be. Portugal also has a Golden Visa program you may qualify for, opening a gateway to Europe. Contact our experts for more information on the Portugal Golden Visa.

All photos provided by Charlotte Tweed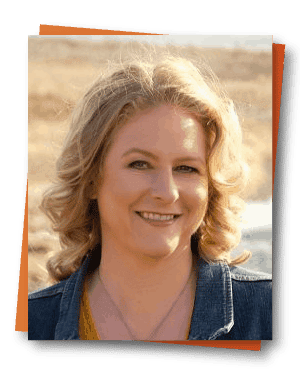 Charlotte Tweed is an adventurous soul with a goal to take you on a journey where you don't just visit—you live it. Graduating with a Travel and Tourism Honours diploma, Charlotte began her expat journey on June 15, 2021. After travelling through multiple countries, Charlotte now calls Mexico home. Reading, writing, and researching the best expat destinations in the world are how she fills her days. As a published author, her mission is to transform your life with expat travel—one destination, one adventure, one story at a time.


Like Our Articles?
Then make sure to check out our Bookstore... we have titles packed full of premium offshore intel. Instant Download - Print off for your private library before the government demands we take these down!