Escape in Retirement to Tasmania, Australia
Born in Sydney, Australia, and a city girl, I travelled to Canada in my youth for an adventure and ended up married to a Canadian whom I met in Vancouver, BC. I thought he was a City man, but I soon discovered I had met an EscapeArtist. At every opportunity we were escaping our city jobs and going camping and trout fishing in lakes in the wilderness outside the city, or taking off in our sailboat to the Islands in the Gulf of Georgia.
Now forty-plus years later we find ourselves on a 50-acre hobby farm near Fingal in the South Esk Valley in North Eastern Tasmania. We tried city living in Brisbane, Queensland, but to escape the noise and to find fresh air, a lack of traffic, unspoiled and empty beaches, and relatively cheap living, we moved to Tasmania.
Being a resident part pensioner here means we have very little in the way of health care costs. All attention from the local doctor and hospital is free, as is ambulance transport. There is little cost with medications. Our property tax rates are about $1200 per annum, and apart from electricity and gas there is no other major outlay except fuel for the vehicles if one wishes to travel to the city of Launceston which is 120 km distant.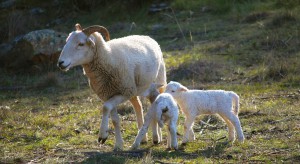 On the farm we grow vegetables and have 25 fruit trees, yielding nectarines, peaches, apples and cherries. We run Wiltshire Horned sheep which are a breed known to produce the best tasting meat.  My ten hens lay well and I look forward to the raspberry season every year. Were I younger I could try cheese making, rug hooking, spinning, weaving, you name it, but I have taken instead to acrylic painting and writing. Many of our neighbours are reliant on solar power for their electricity and enjoy being free of the grid and even more independent from society at large.
Tasmania is Australia's Island State. Airfares are cheap to the mainland, but the vehicular ferry to Melbourne, which takes 12 hours to cross Bass Strait, is not so cheap. People can take their cars or camper vans and rent a cabin on the voyage. Costs are per vehicle size – both width and length. This limits the number of tourists to Tasmania, but many come by air and rent cars for a tour. The Tasmanian climate is seasonal, with chilly winters and mild summers. When we first arrived from the mainland people said, "Mainlanders often do not make it through the winter!" But we laughed, having "made it" through many winters in Canada. I enjoy a log fire, but even more so if I know there is more sophisticated heating available as well!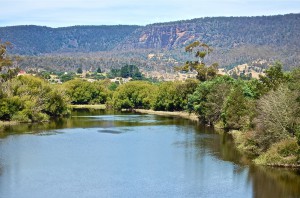 The Esk Valley is not highly populated. Fingal and St. Marys are tiny towns nestled between the major farming area in the Midlands and the coastal beaches. Fingal is still a coal mining and sheep farming town, and St Marys attracts people who enjoy an alternate lifestyle. Tasmania on the whole is a place where artists gather. (Australia's largest craft fair is held in Deloraine each year.) Driving around the island, a tourist can visit cheese factories, berry farms, lavender farms, and wineries.  Australia's largest chocolate factory, Cadbury, is near Hobart, the capital. Wineries abound in the North of the Island, especially on the banks of the Tamar River, a huge waterway which empties into Bass Strait. Beer and whiskey are also produced here, and the quality of each is exceptional.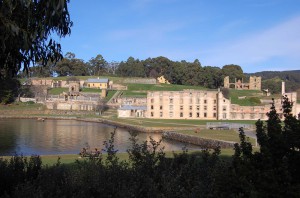 Australia's first and worst convicts were sent to Tasmania in the early 1800's. The Penal Colony of Port Arthur is now a tourist attraction, as are the female convict "factories" where early miscreant women sent from England were housed until they were found employment on farms or in the households of early settlers. There are many old stone convict-built bridges and houses to see, and several historic homes open to the public for viewing. A new major tourist attraction in Hobart is the Museum of Old and New Art, privately owned by a multimillionaire Tasmanian who made his fortune in gambling. MONA is now of international fame.
Visiting or living in Tasmania is a trip into the past. With the laid back lifestyle, the small population and the many interesting and scenic attractions it is a worthwhile journey. There is a huge number of national parks to visit, including mountains to climb, sea walks and wilderness treks. The most famous is the Cradle Mountain Lake-St. Clair walk which takes several days. Huts for hikers are located along the trail and there are luxury lodges to welcome the hiker at each end. There is fresh water and deep sea fishing for sportsmen and also a world famous golf course, Barnbugle Dunes, on the north east coast. The west coast of the island is wild wilderness with a dangerous coastline and largely uninhabited. In several areas access roads lead to remote rivers and forests largely untrod by man.
Coming to Tasmania has meant for us a return to a simple life in a small and welcoming community, where people appreciate newcomers who admire their land and lifestyle, and who are willing to join in and make a contribution. The friendliness and helpfulness of the people has been the one major factor that has made a success of our ultimate "escape."
I hope you got value from this article: Escape in Retirement to Tasmania, Australia. For information on Asset Protection or moving your business to Australia, please contact our office HERE. I've also added some really great articles for you to read:
Best 5 Ways to Explore Australia in 2020
FREE GUIDE! Get Essential Information on Protecting Your Assets
18 STEPS TO IMPLEMENTING YOUR PLAN B
Quick Guide for Expats Moving to Australia
Investment Opportunities by Sector in Australia
The Steps to Becoming a Perpetual Traveller: a Guide to Flag Theory

Like Our Articles?
Then make sure to check out our Bookstore... we have titles packed full of premium offshore intel. Instant Download - Print off for your private library before the government demands we take these down!