HIMALAYA HELICOPTER EXPEDITION III
Designed and Led by Dr. Jack Wheeler
All photos below taken by Jack Wheeler
Jack Wheeler's Himalaya Helicopter Expedition last Spring and Fall was so spectacularly successful that we are offering it again this Spring.  There should be no doubt whatsoever:  This is one of the greatest adventures available on earth today.
Mountaineers call the highest mountains in the world achttausender, German for "eight-thousanders," or mountains over 8,000 meters (26,247 feet) high.  There are 14 of them on the Roof of the World (nowhere else), and they are the most magnificent mountains on earth.  To be in the presence of any one of them is an unforgettable experience.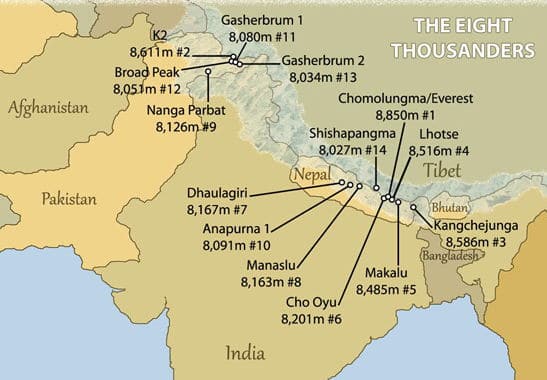 To reach any one, you must trek for many days, over extremely rough mountainous terrain, at very high altitude.  You must be in exceptional physical condition to do so.
As you can see in the map, the majority of 8,000ers are in the Himalayas of Nepal – 8 in all.  To trek to the base camp of any of these 8 (Everest, Lhotse, Cho Oyu, Makalu, Kanchenjunga, Manaslu, Annapurna, and Dhaulagiri) is a major undertaking of extreme physical effort, time, and money.  Each are pinnacles of Himalayan trekking.
For this reason, almost no one, not even the most ambitious trekkers, has ever been to all of them.  But this coming Spring, when the sky is sparkling clear and conditions for fabulous photography are pristine, in just one week, Jack will take you to the base camps of all eight 8,000 meter peaks in Nepal by helicopter, piloted by the most experienced mountain rescue pilots in the world.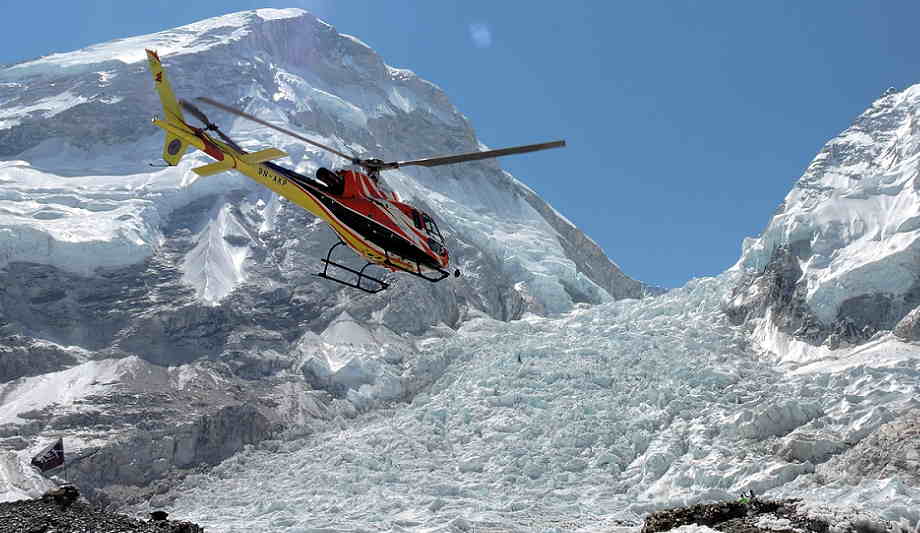 Our Eurocopter landing at Khumbu Icefall Mount Everest Base Camp at 17,500 feet
And that's not all.  
Jack has secured a rarely-given permit to reach Upper Mustang and the Hidden Kingdom of Lo by helicopter.  Here is the last remaining true traditional Tibetan culture on earth.  It is normally a trek of two weeks to get there.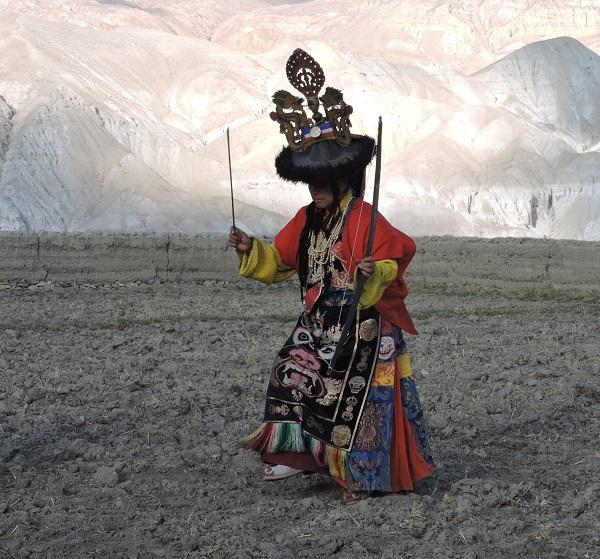 FREE GUIDE! Get Essential Information on Protecting Your Assets
18 STEPS TO IMPLEMENTING YOUR PLAN B
This a completely unique, ultimate world class adventure.  To be a part of it, please call or email us immediately to discuss your qualifications.  Expedition members must be of unfailingly good cheer, have a boundless gratitude for being alive, a determination to fill their life with extraordinary experiences, and be in normal good health.
Day One, Saturday April 1:
Arrive in Kathmandu, Nepal.  Transfer to Nepal's most famous luxury hotel, The Yak & Yeti.  Day of leisure.  Late afternoon, thorough gear check.  Welcome Reception & Dinner in the evening, followed by full briefing by Dr. Wheeler.
Note:  All expedition members are required to arrive in Kathmandu by this day.  Kathmandu is at a moderate altitude of 4,600ft.  You may wish to arrive earlier, but there is usually no difficulty for anyone in normal health at this altitude.
Day Two, Sunday April 2:  
In the morning we board our helicopters for the flight to the Everest region.  We have two high-altitude Eurocopter AS 350 B3 turbocharged helicopters.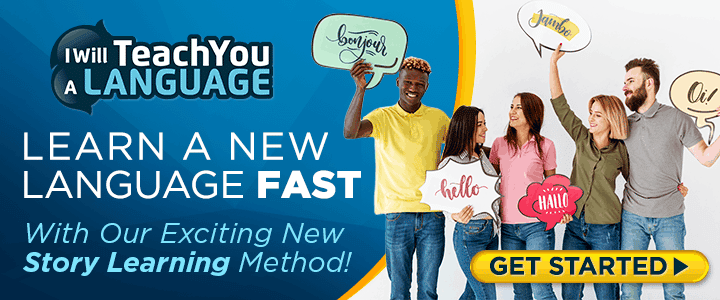 These are mountain rescue helicopters flown by pilots skilled at rescuing climbers and trekkers in need of medical evacuation from the highest mountains on the planet.  Each helicopter holds 4 of us plus a Sherpa guide.  Note: everyone will have their own portable oxygen bottle on board and at the base camps.
It will take about 45 minutes to reach the airstrip at Lukla, the launching point for treks to Everest and the Khumbu region.  After a cup of coffee and refueling, we follow the Dudh Kosi River straight into the heart of the Himalayas to its source at the foot of the huge Ngozumpa glacier.  
The Ngozumpa is the longest (22 miles) glacier in the entire Himalayas. Along its side is a series of glacial melt lakes called the Gokyo Lakes, considered sacred by Hindus where pilgrims come to bathe.  The views are stupendous.
When we reach the farthest lake, there is an amazing sight – the Base Camp of Cho Oyu (the "Turquoise Goddess" in Tibetan) towering above us: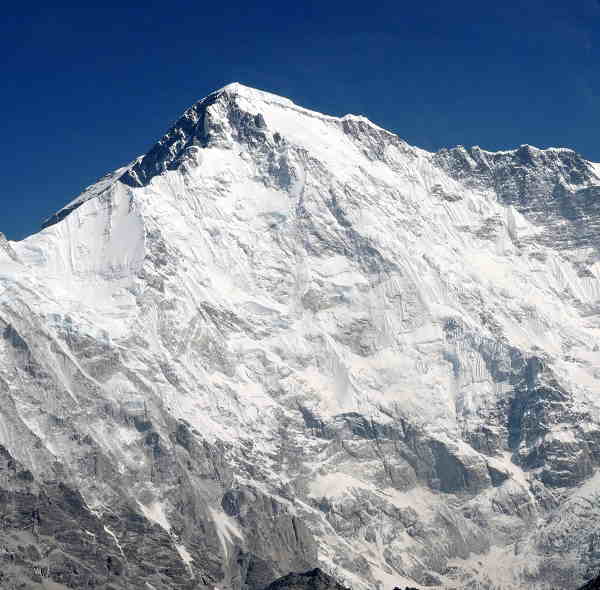 Cho Oyu, 6th highest mountain in the world at 8,201 meters/26,906 ft
Nearby is a fortuitous promontory called Scoundrel's View.  Looking across the glacier through a gap in the mountains, we see Everest in all her glory: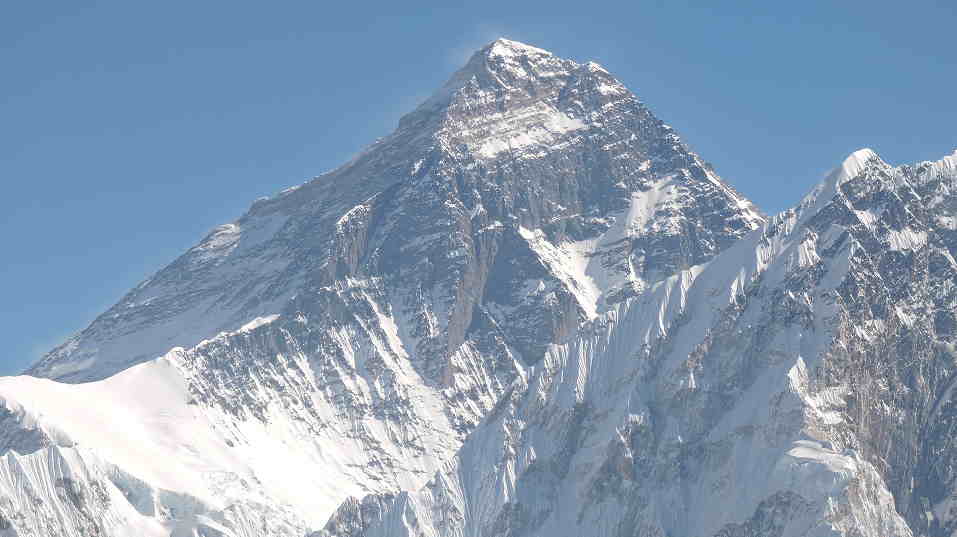 Mount Everest, world's highest mountain at 8,850 meters/29,028 ft
Everest was named after Sir George Everest (1790-1866), Britain's Royal Surveyor of India.  Tibetans call it Chomolungma, the "Mother Goddess of the Snows," while Sherpas of Nepal call it Sagarmatha, "Mother of the Universe."
From Scoundrel's View at Cho Oyu, we fly over a 19,000 foot pass called Cho La to Everest Base Camp (EBC) at the base of the Khumbu Ice Fall.  Ironically,  you never see Everest on the trek to its base camp – other mountains block the view.
The mountain you see behind the helicopter in the first photo above is the West Shoulder of Everest – Everest itself is hidden.  But our helicopters, upon leaving EBC, rise up to give us a view of Everest no one ever sees by foot: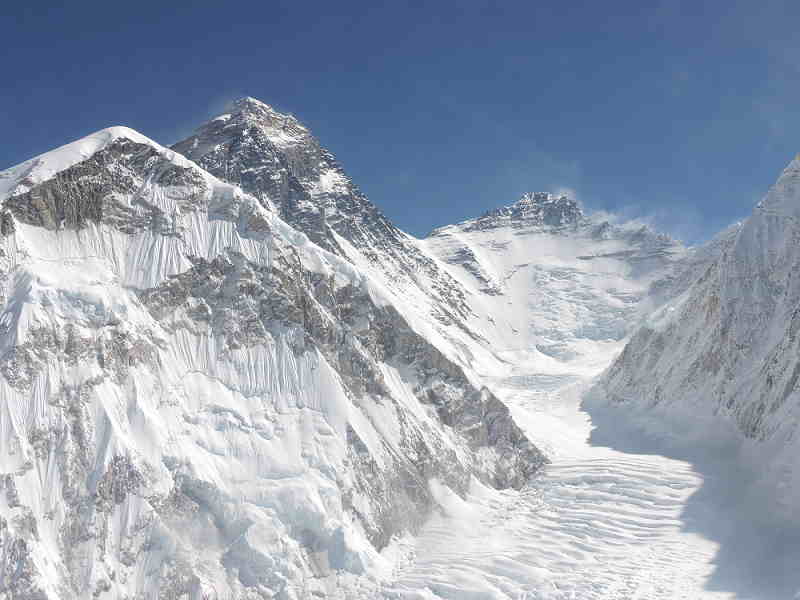 The West Shoulder is on the left, behind is the entire Everest Southwest Face.  In the center is Lhotse ("South Peak" in Tibetan).  In the middle is the climbers' route of the Western Cwm above the Khumbu Ice Fall.  Thus EBC is also the base camp for Lhotse.  No trekker ever sees the Western Cwm, Everest, and Lhotse – you only get this view from a helicopter.  Here's the view of Lhotse you'll get close up: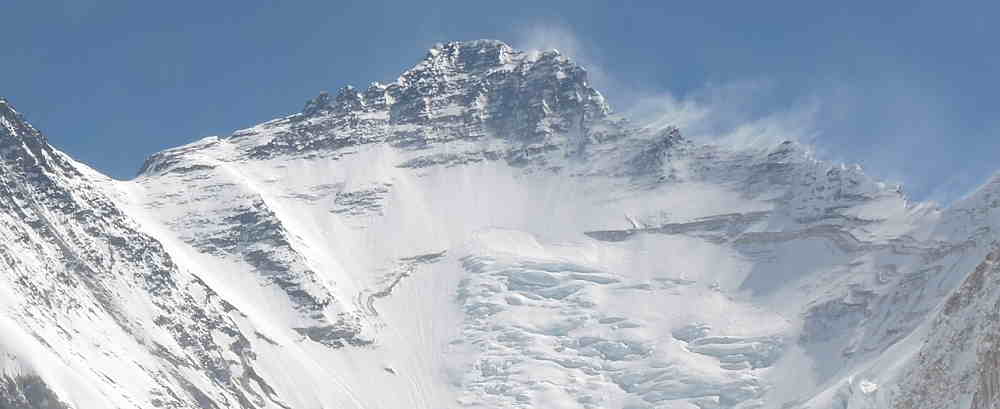 Lhotse, 4th highest mountain in the world at 8,516 meters/27,940 ft
Returning to Lukla, we land at the famous Tibetan Buddhist Tengboche Monastery.  We'll have time for a visit and a cup of yak butter tea with the Nyingmapa (Red Hat) lamas.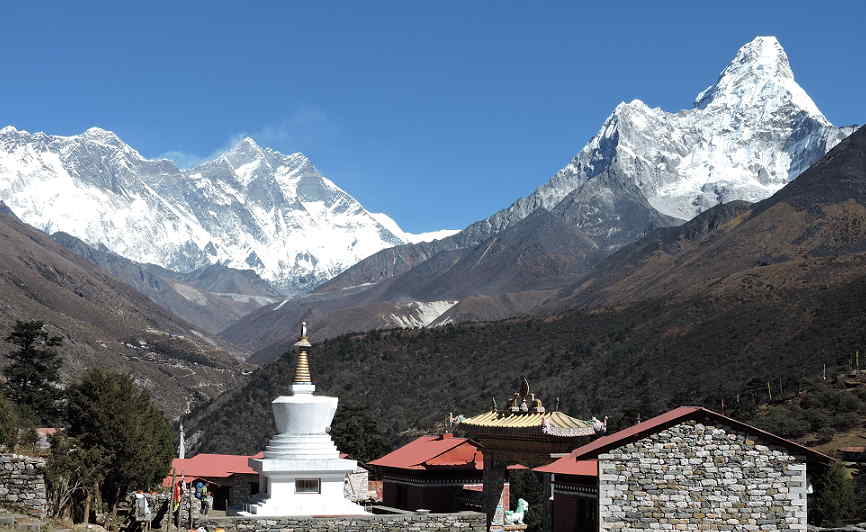 Tengboche Tibetan Monastery
That's Ama Dablam on the right, the Lhotse-Nupse Wall on the left.  You can see the tip of the Mount Everest summit peeking above and beyond the Wall.
We return to Lukla to spend the night at the Everest Summit Lodge (9,300 ft).  We'll stop in Lukla's Irish Pub to celebrate our extraordinary day with a pint of Guinness or a wee dram of Bushmill's.  Here's the Khumbu trekking map.  It would have taken well over a month to trek all of this – and we've just done it in nine hours!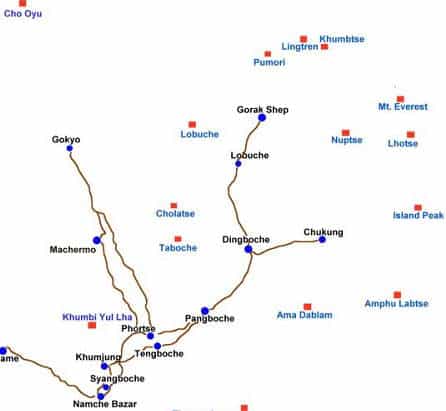 Day Three, Monday April 3:
The approach to the world's 5th highest mountain, Makalu ("The Great Black" from Sanskrit, as the abode of the Black God, Shiva),  is lengthy and circuitous.  But the journey is well worth it, since you get to pass through what's called the Valley of Eternity.
We proceed up the valley, getting narrower and higher until we reach the tongue of the Barun Glacier directly below the gigantic South Face of Makalu:  Makalu Base Camp at just under 16,000 ft.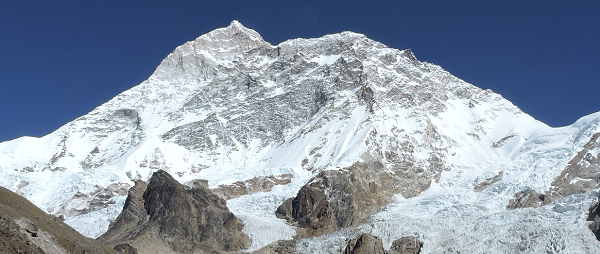 Makalu, 5th highest mountain in the world at 8,485 meters/27,838 ft
On the other side of the ridge line is Chinese Tibet.  You'll be celebrating just like we did last Fall: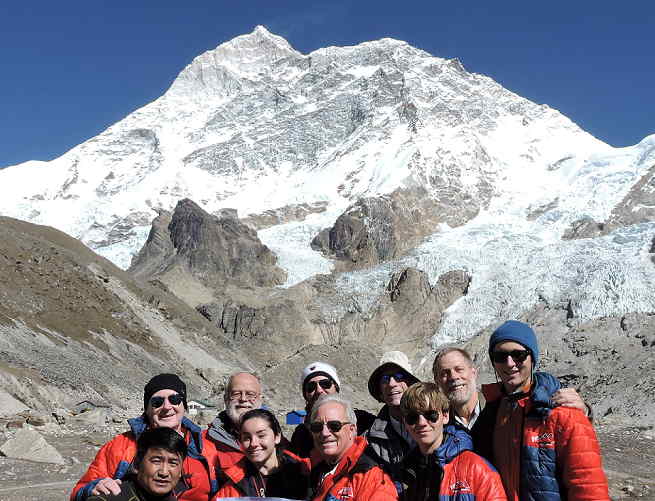 We memorialize this with our photos and return to the Valley of Eternity for a sumptuous picnic lunch.  Then we head east to the 3rd highest mountain in the world.
Kanchenjunga  means "Five Treasures of Snow" in Tibetan for its five main peaks.  Lying in the far northeast corner of Nepal, the entire massif of Kangchenjunga Himal has 16 peaks over 23,000 feet and 170 glaciers.  Here are all five, with Kanchenjunga Main in the back center.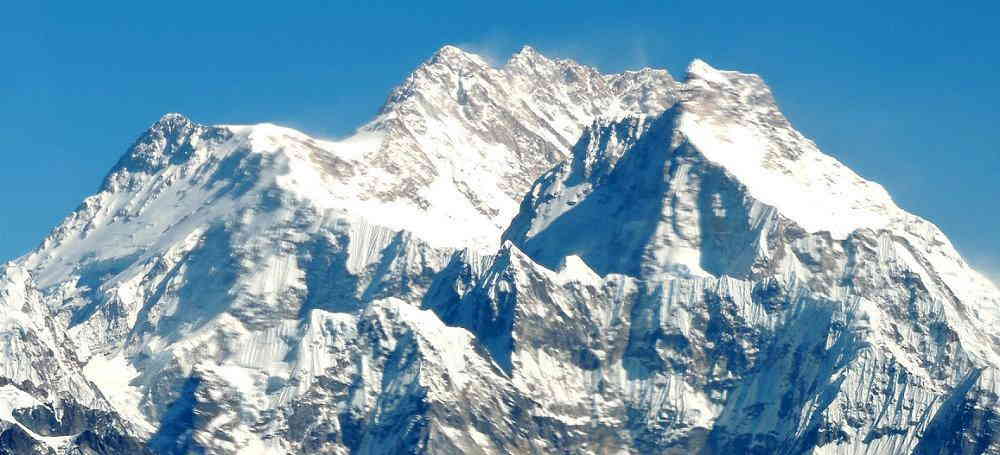 Kanchenjunga, 3rd highest mountain in the world, 8,586 meters/28,169 ft
The Yalung Kang Glacier base camp is at the far right of the photo.  It is from here that we get the staggering sight of the Southwest Face dropping 12,000 feet from summit to glacier.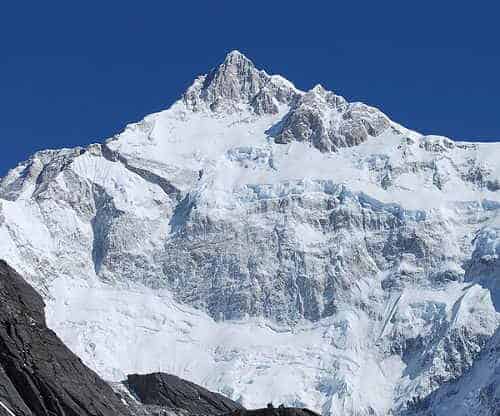 Kanchenjunga Summit – Southwest Face
Kanchenjunga, even though it is the 3rd highest mountain in the world, is the most remote, least known, least climbed, yet arguably the most spectacular of the Himalayan 8000ers.  Now it is a part of our lives.
We return to Kathmandu to celebrate and get a good night's sleep at the Yak & Yeti.  
Day Four, Tuesday April 4:
We lift off into the morning light and fly north to Manaslu (Mountain of the Spirit in Sanskrit).  We first get a view from our helicopter flying at 19,000 feet: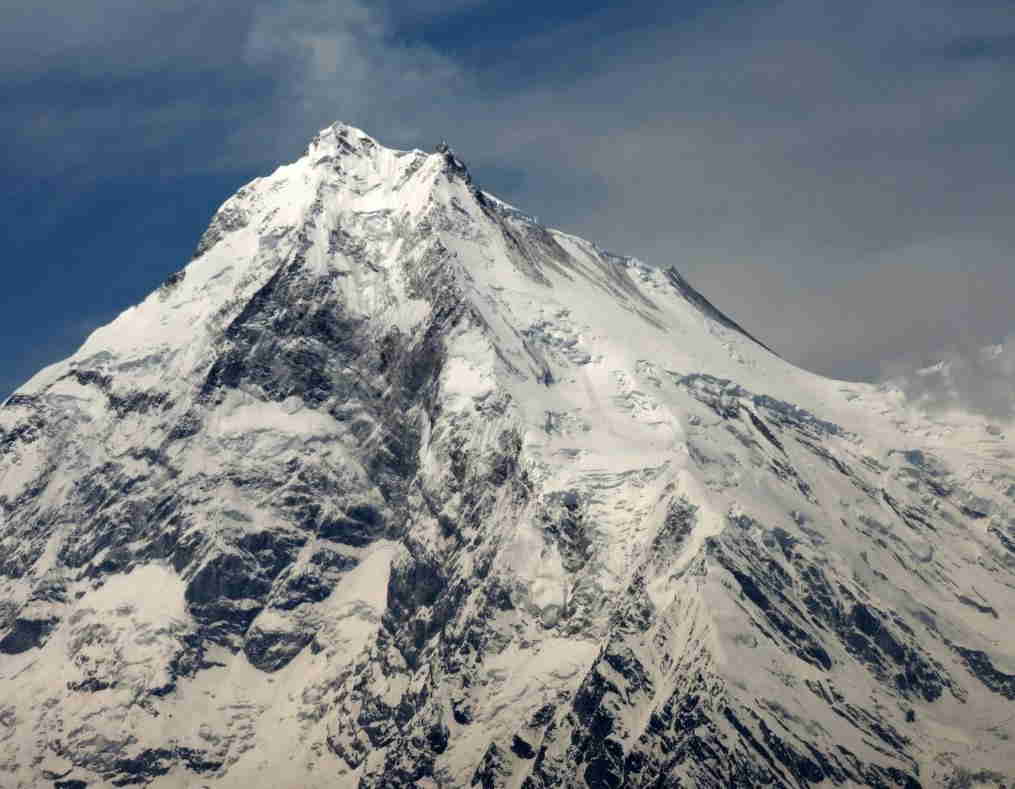 Manaslu – 8th highest mountain on earth at 8,163 meters/27,819 ft
Then of the summit peak coming in to the base camp: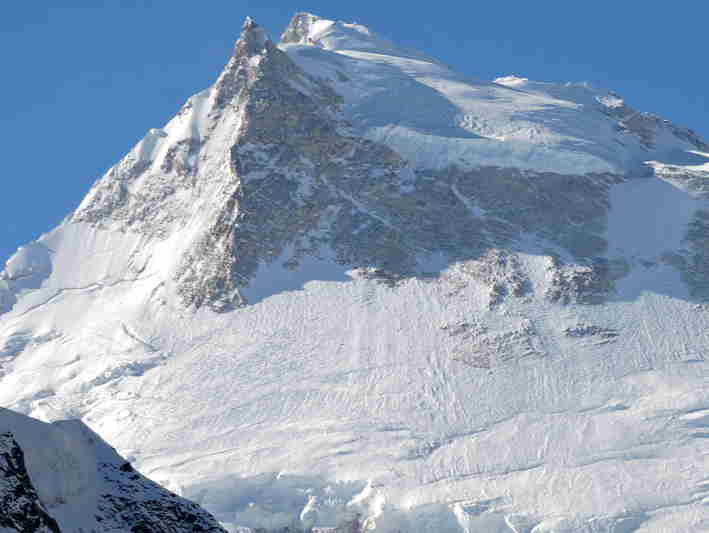 After a visit to the Tibetan village of Sama, we fly down a spectacular gorge to pass the famous Annapurna Circuit trekking route.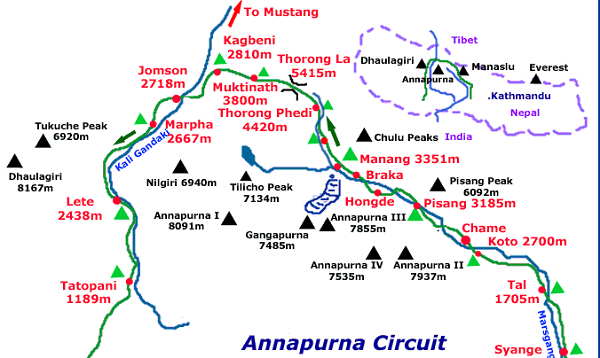 We peel off at Manang to marvel at the ethereal blue of Lake Tilicho (just north of Tilicho Peak on the map), the world's highest lake at 16,138 feet.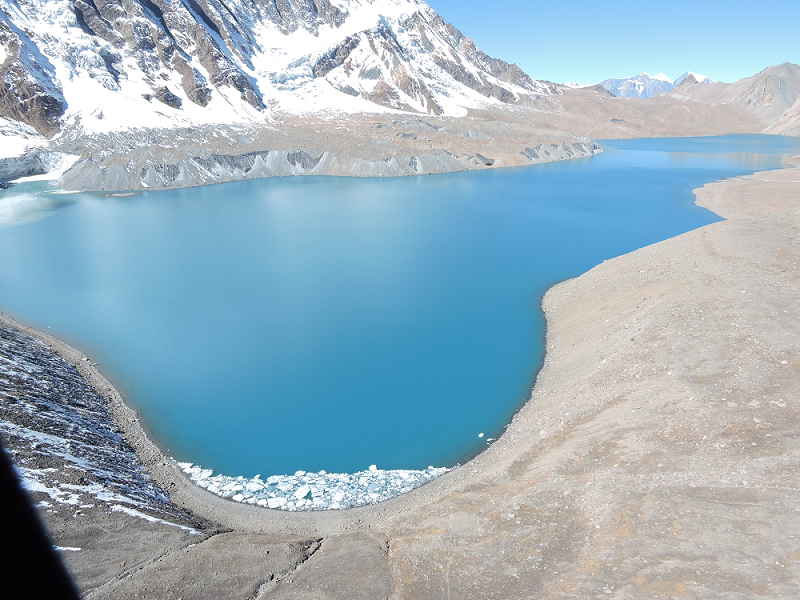 From here we enter the Kali Gandaki Gorge (the world's deepest), following it all the way up into the region of Mustang.  Next to the border of Chinese Tibet lies the Hidden Kingdom of Lo.  The people of Lo are Tibetans who retain the last vestiges of traditional Tibetan life on earth, unchanged for centuries.
Closed to all foreigners until recently, it takes trekkers two weeks to get there and back, walking on yak trails at 12,000 feet or higher.  We have been given an exclusive permit to fly our helicopters to the capital of Lo, the Walled City of Lo Manthang. 

Founded in 1380 by the first King of Lo, Ame Pal, Lo Manthang is a UN World Heritage Site as the best preserved medieval walled city in the world.  Many of its still-standing structures date from the late 1300s-early 1400s, including the King's Palace, Jhampa, and Thubchen Gompas.  
We explore the ancient city and visit all its ancient temples, such as Thubchen Gompa: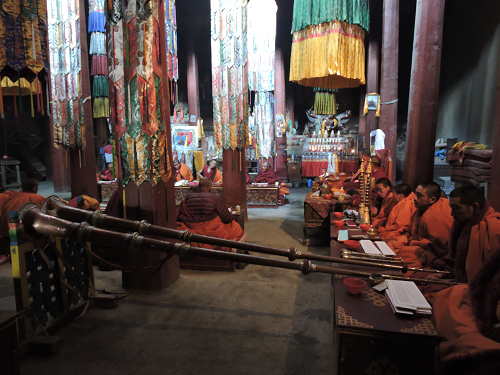 Then we relax at the comfortable Lotus Holiday Inn hotel – no connection with the U.S. hotel chain, but it is owned by the royal family.
Day Five, Wednesday April 5:
Today we venture out of the Walled City to explore the Kingdom of Lo by jeep.  We visit the stunning Nyphu Cave Gompa built into the side of a soaring cliff…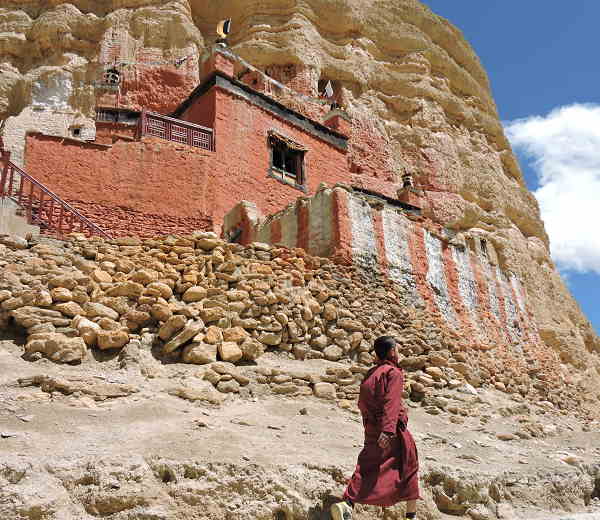 From there, we visit the remotest village in the Kingdom of Lo, Chosar, with the Jhong Sky Caves. It's a network of over 40 rooms where ancient Tibetans lived thousands of years ago.  We can easily climb up to explore them.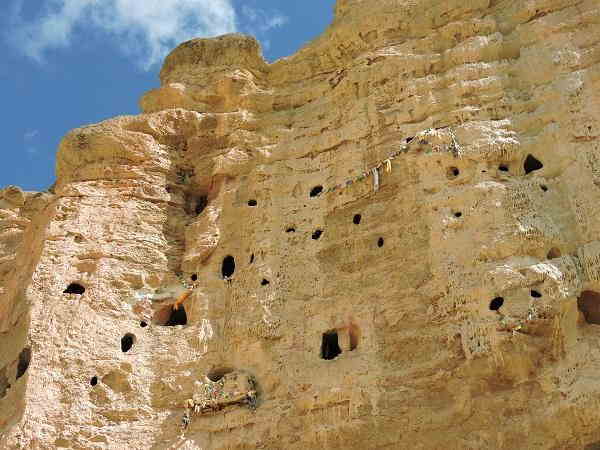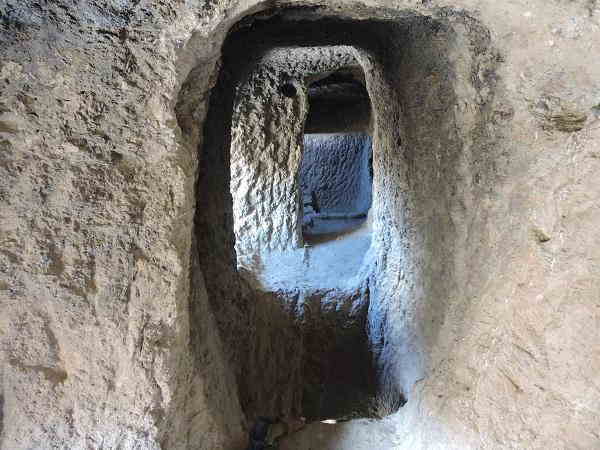 We then visit a Tibetan nomad encampment, where they'll welcome us inside their tents for a cup of yak butter tea.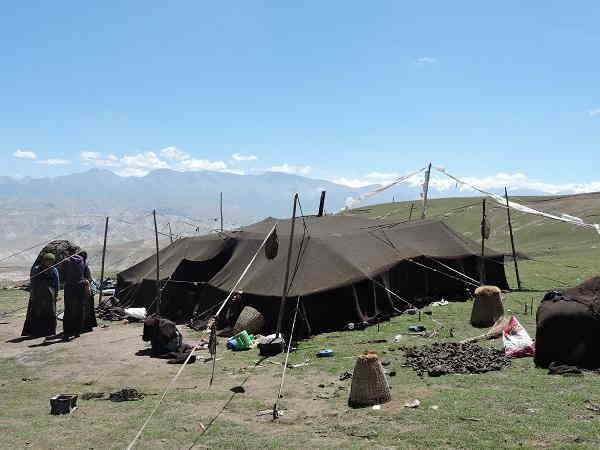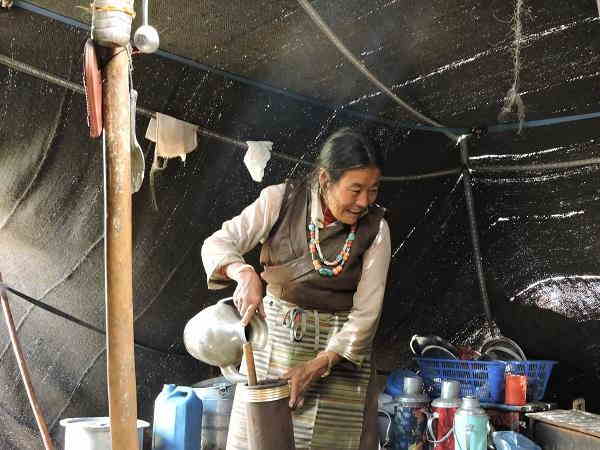 We return to Lo Manthang to witness a Puja ceremonial Tibetan dance.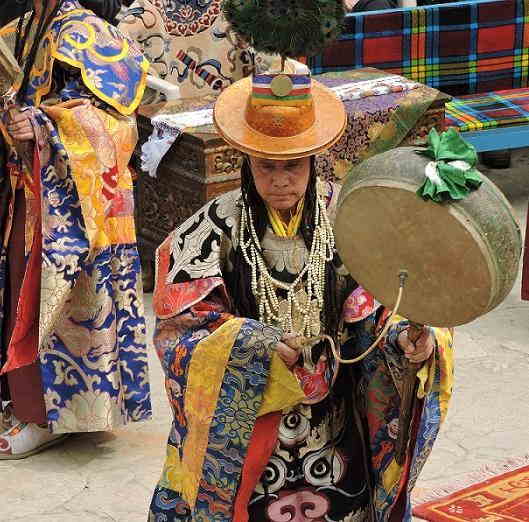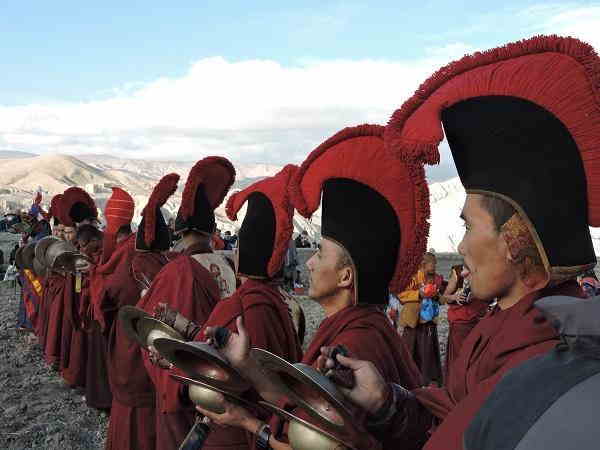 Day Six, Thursday April 6:
Today we are off to Dhaulagiri ("Dazzling White Girl" in Sanskrit).  We get our first view as we depart Mustang.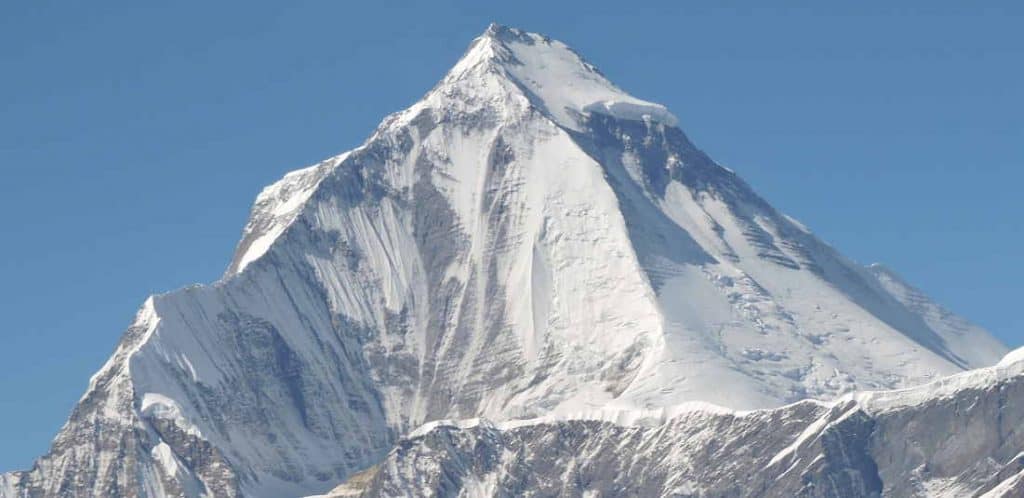 Dhaulagiri North and East Face, 7th highest mountain in the world at 8,167 meters/26,788 ft
We turn right here to traverse the French Pass to land at the Dhaulagiri Base Camp below the West Face: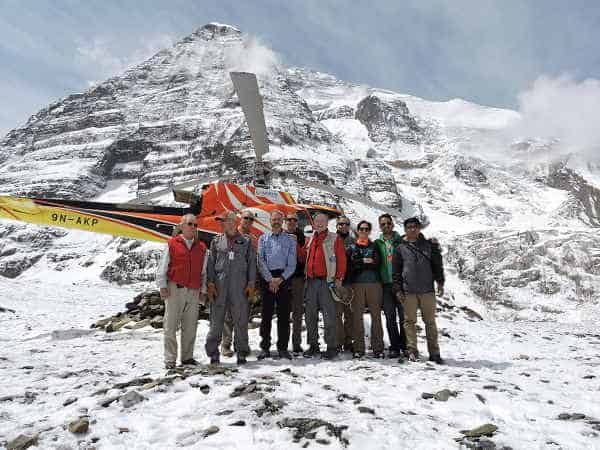 Again, as always, we want to take time not just for photos, but to meet and talk with climbers and their guides, the extraordinary people capable of summiting the great peaks of the world.
We have seen Dhaulagiri's East, North, and West Faces. Now we fly close past the South Face for one of the most magnificent sights in the Himalayas.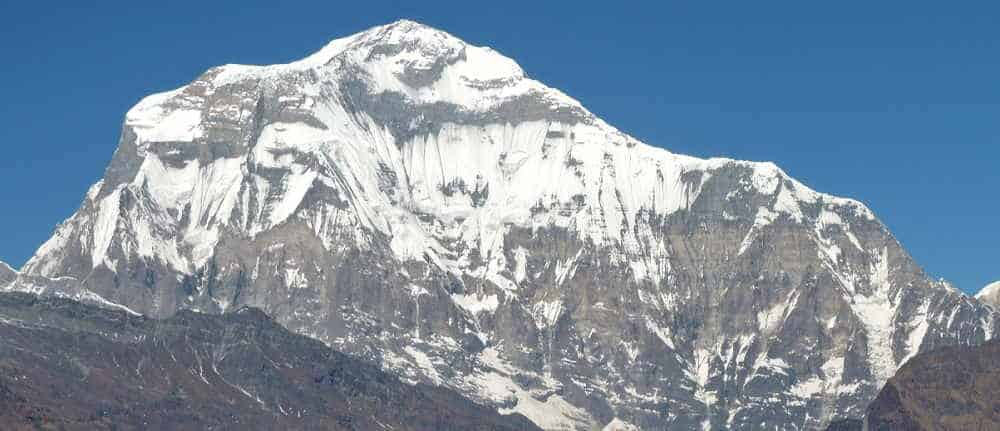 We have one more 8,000er to go:  Annapurna.  
The most legendary trek in all the Himalayas is to the Annapurna Sanctuary, a 13,000 foot-high basin surrounded by a gigantic cirque of Himalayan peaks.  No foreigners were allowed entry by the native Gurung yak herders until the mid-1950s, as they believe it is the home of their Naga serpent gods.  
And suddenly, there we are, in the heart of the Sanctuary with Annapurna I looming in front of us…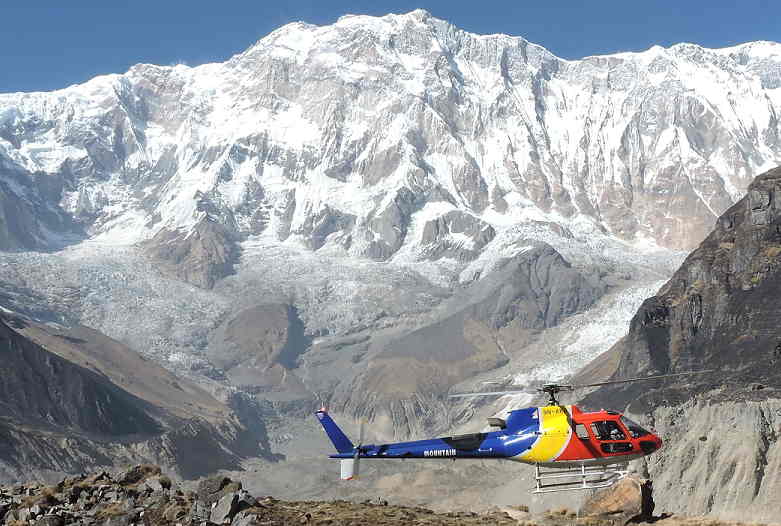 We're going to spend a while and won't want to leave.  The choppers will fly us around the cirque with enough photo ops to use up several memory cards.  The Sanctuary Base Camp has comfortable facilities, so we can relax and enjoy the magnificence with our favorite beverage and a very nice lunch.
We have now been to the base camps of, and stood in the presence of, all eight 8000ers in Nepal – something almost no one has done.  And if they did, it took them months and months of trekking at extreme effort and cost.  We have done it in less than a week.  It's an adventure very few lifetimes have ever had.
W now make our way to Nepal's second largest city and capital of the Gurkhas, Pokhara.  We check in to the Waterfront Resort on the lake.  Time to relax and have fun.
Day Seven, Friday April 7:
Pokhara is captivating, fascinating, beautiful – and the adventure sports capital of Nepal.  Relax by the lake, go paragliding, or do anything in between.  The goal is to enjoy yourself as much as you can.  This is your day to do it.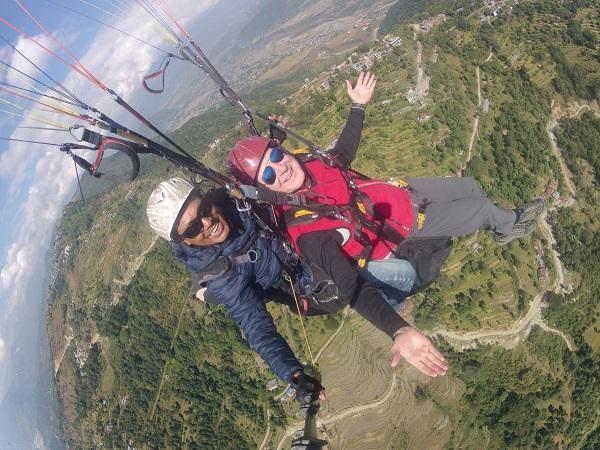 At day's end, we fly back to Kathmandu and the Yak & Yeti. We celebrate our amazing adventure with a sumptuous Farewell Dinner.  Then we'll retire to the bar to plan our next adventure.
Day Eight, Saturday April 8:
This is Departure Day.  It's adieu until we meet again.
HIMALAYA HELICOPTER EXPEDITION DETAILS
Dates:  Saturday to Saturday: April 01-08, 2017
Cost per person: $19,000
Payment, Cancellation, and Refund
*Balance in full due upon application for participation.  
*Refund of deposit and balance in full on the condition of a fully-paid acceptable replacement for you.
Important Note: When applying for participation, you must affirm that you are in sufficiently good health to be at altitudes of around 12,000 feet overnight.

Cost includes: Personal portable oxygen cylinder. All helicopter flights, all domestic flights, all ground transportation, transfers, government fees/permits, and activities as specified in the itinerary with local English-speaking, medically-trained guides. All meals (breakfast/lunch/dinner including properly boiled water, tea, coffee) with group from dinner Saturday to breakfast Saturday (see dates above). All accommodation from Saturday night through the following Friday night. No single supplement surcharge.
Cost does not include: International airfare to/from Nepal or visa fees ($25 USD airport on arrival). Meals, services, and activities not with group or in itinerary; personal expenditures such as laundry, communications, gratuities, etc.; beer, wine, or other alcoholic drinks. 
Important caveat: Every effort will be made to adhere to the itinerary above. Due to the vagaries of travel in this region and of adventure travel in general, the itinerary may be altered in any way necessary. Participants are expected to accept this, and to maintain a cheerful attitude on an adventure such as this.
Contact:
Only 8 adventurers can join Jack on the Himalaya Helicopter Expedition.  To be one of them, please contact us immediately.  Life is short – the time for a Great Adventure is now.  Email: jack@wheelerexpeditions.com
Jack really hopes you'll be with him at Annapurna – and every other Himalayan giant in April.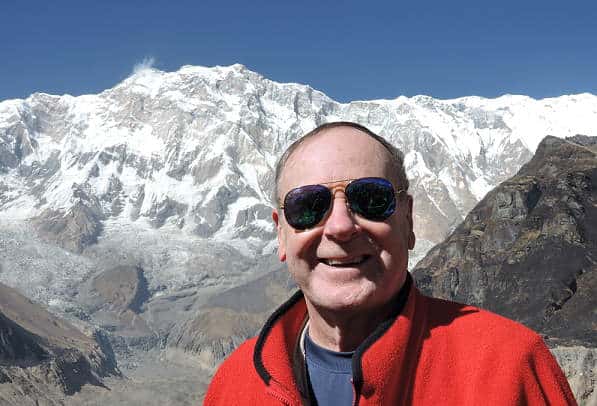 Jack Wheeler at the Annapurna Sanctuary
©2019 Jack Wheeler – republished with permission

Like Our Articles?
Then make sure to check out our Bookstore... we have titles packed full of premium offshore intel. Instant Download - Print off for your private library before the government demands we take these down!