10 Fun Christmas Traditions Celebrated Around The World
For a couple of weeks every year the world takes on a magic glow
Christmas Day is Celebrated All Around the World in Many Different Ways
Although traditionally a Christian holiday, people from all cultures now celebrate Christmas.
Give Your Family the Powerful Gift of Dual Citizenship This Holiday Season
Dual citizenship is one of the most powerful tools you have when traveling. Being a dual citizen means you're a national of two countries.  Dual citizenship gives you a handful of travel benefits too.  Imagine the looks on their faces on Christmas morning when they open up a card and inside is the itinerary to explore Christmas traditions around the world.
Our experts look forward to discussing all options you have for dual citizenship!  Contact us today to arrange for a consultation.


There is No One Way of Celebrating Christmas
The observance of Christmas around the world varies by country. The day of Christmas, and in some cases the day before and the day after, are recognized by many national governments and cultures worldwide, including in areas where Christianity is a minority religion.
Every culture that celebrates Christmas also has its own festive ways to make the holiday special. Some of those involve dishes or treats that only appear once a year. Others give gifts that carry a particular meaning, and still others decorate in a particular way, hold festivals, parades or parties to ring in the season.
Japan: KFC for Christmas Dinner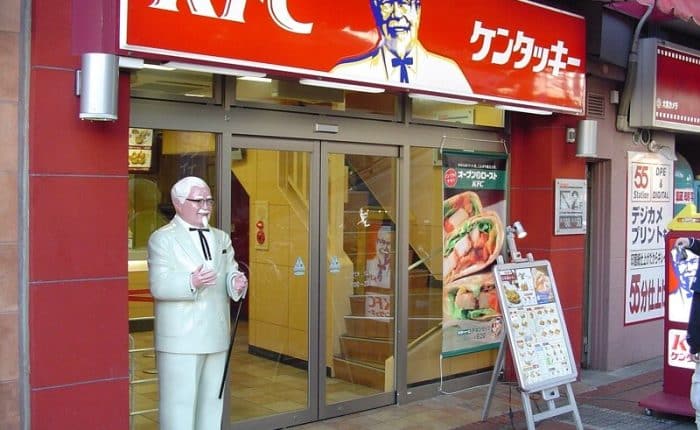 In Japan, celebrating Christmas is still relatively new. It's only been widely recognized for the past couple of decades, and is typically seen as a time to spread joy and cheer, or even a romantic couple's day.  Yup that's right, one of the most shocking things people find about Japanese Christmas is that it's a couple orientated holiday instead of being for families!
Another thing people find shocking is instead of the traditional Christmas meal (which consists of roast turkey for UK people!) Japanese people eat KFC! Why?  Back in 1974, the American fast food restaurant KFC released a festive marketing campaign in Japan. The seemingly simple slogan "Kurisumasu ni wa kentakkii!" (Kentucky for Christmas!) spawned a national tradition that still thrives to this day.
Although Christmas isn't a national holiday in Japan, families from all over the country head to their local KFC for a special Christmas Eve meal.

Poland: People Share a Pre-Dinner Wafer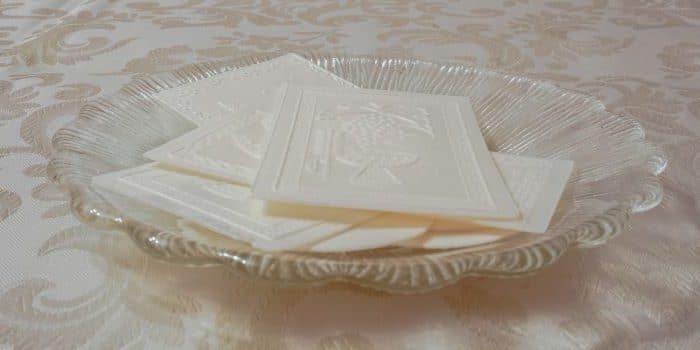 Nothing says "I love you," at least in my Polish-American family, quite like the sharing of a thin, flat, tasteless wafer called an oplatek at Christmas.
In Poland, and many Polish communities worldwide, Christmas Eve dinner or (Wigilia) begins with sharing the Oplatek. The paper-thin square wafer is made of flour and water has an image of the Nativity on it. Everyone at the table breaks off a piece and shares a holiday greeting before passing it along.
Experience the Insider community that takes your international lifestyle to the next level. Download your FREE guide
"18 Steps to Implementing Your Plan B" instantly!
Ethnographers believe that the tradition may have gotten its start with the sharing of a ritual flatbread called podplomyk, Knab says. Pieces of the thin bread, usually baked before other loaves of dough were placed in the oven, were shared with members of the household, and with neighbors, as a gesture of goodwill.
"Bread was very hard to come by" in the Middle Ages, Knab says. "Sharing of this bread was a caring kind of exchange."
Sometimes, even pets get in on the fun.
Iceland:  The Yule Lads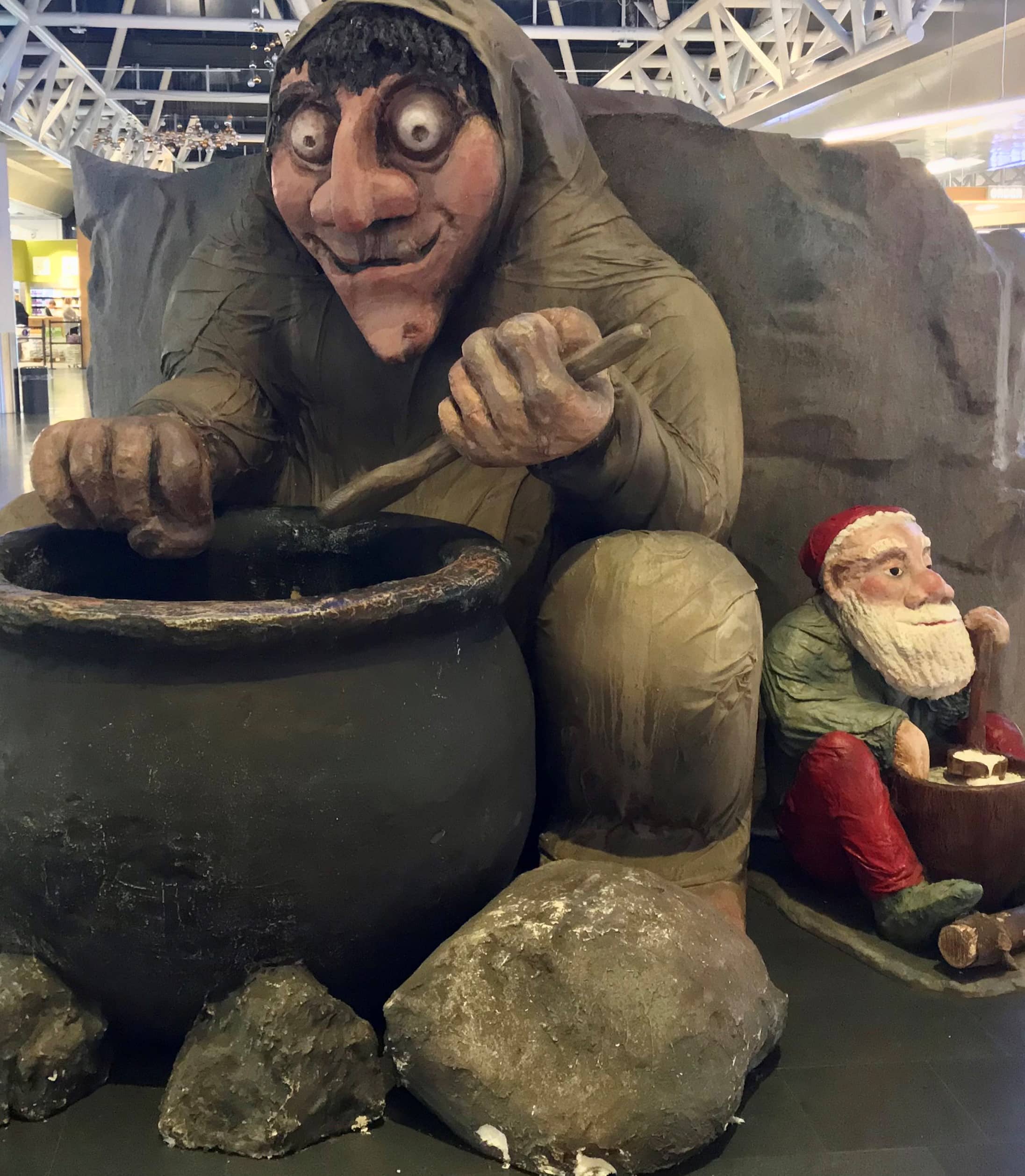 Icelandic kids don't just get one Santa Claus, they get 13 mischievous trolls roaming the country in the fortnight before Christmas. Like Snow White's seven dwarves, each of the 13 'jólasveinar' (Yule Lads) has his own personality – including Doorway-Sniffer, Spoon-Licker, Sausage-Swiper, Candle-Stealer, Curd-Gobbler, and the ominously named Window-Peeper. Each takes turns visiting children who leave shoes in their bedroom window, dropping off pressies for the good kids and rotting potatoes for the bad ones.
Norway: Hide Your Broom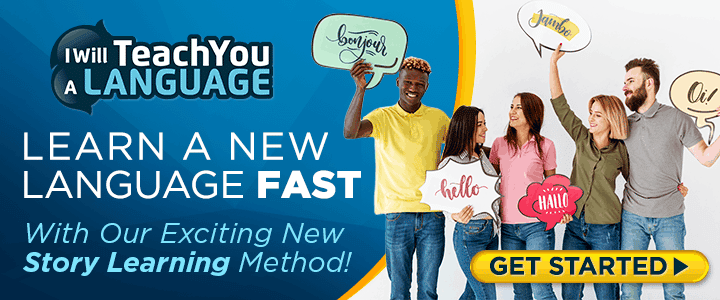 Norwegians believe that Christmas Eve coincides with the arrival of evil spirits and witches. It is only logical then, that Norwegian householders hide all their brooms before they go to sleep.
After all, nothing spoils Christmas quicker than finding your broom in broken pieces at the foot of a tree, trashed by some joy-riding witch.
Greece: Christmas Trees and Boats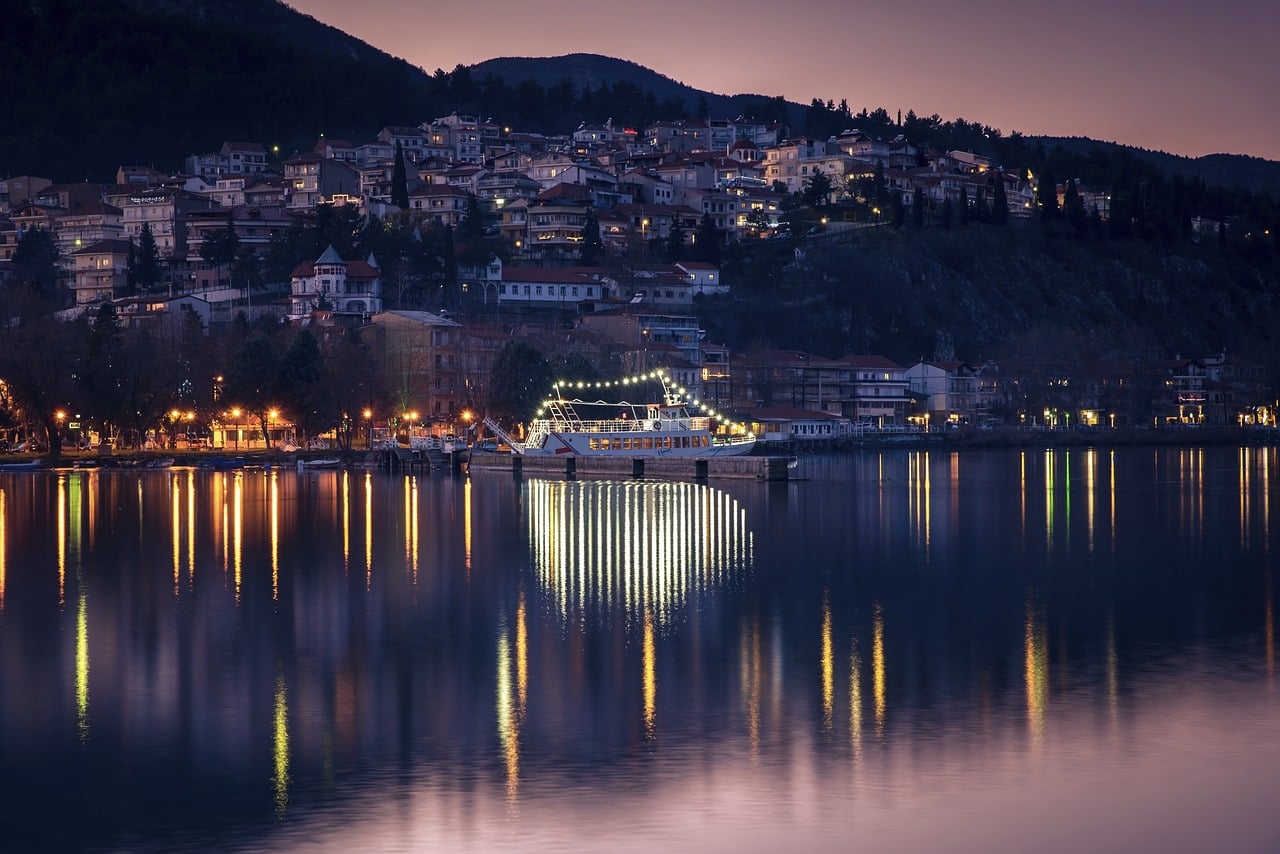 In the seafaring country of Greece, decorating Christmas trees and boats has been popular for centuries. The first known Christmas tree in Greece was put up by King Otto 1833 next to a large decorated boat, which families traditionally erected to celebrate men's return from sea voyages.
An old traditional custom on Greece's islands and its coastal regions dictates that people should decorate a boat rather than an evergreen tree at Christmastime.
Despite this, nowadays, almost every Greek city and household does decorate a Christmas tree, but there are still a number of public spaces in Greece where one can see a Christmas boat right next to a tree.
The tradition of the "Karavaki," which is Greek for "small boat," is deeply rooted in the folkways of a country with a symbiotic relationship to the sea.
Today, in cities like Athens and Thessaloniki, large lit-up boats appear alongside trees.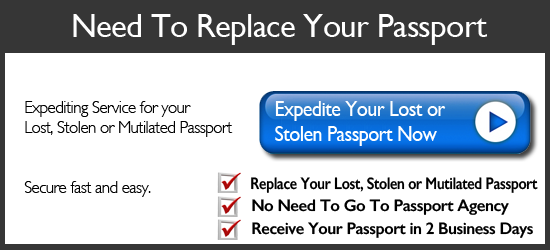 Ethiopia: Christmas Processions

The most remarkable fact about Ethiopia is that they still follow the Julian calendar and therefore observe Christmas on 7th January and not on December 25! Christmas, according to the orthodox Ethiopian Church, is termed as "Ganna". The Christmas celebrations in Ethiopia are conducted in all ancient and modern churches with much fervor. People fast on Christmas Eve which is 6th January, which is broken the next day. Following the tradition each individual enters the church with a candle in his or her hand and is also dressed in white robes. Unlike many other parts of the world, Christmas is not much commercialized in Ethiopia. The focus is more on the family gatherings and the spiritual aspects of the festival. People spend a lot of time praying the Lord and singing in his reverence. A strict observance of fast itself tells of their profound spiritual association with Christmas.
Germany: Christmas Markets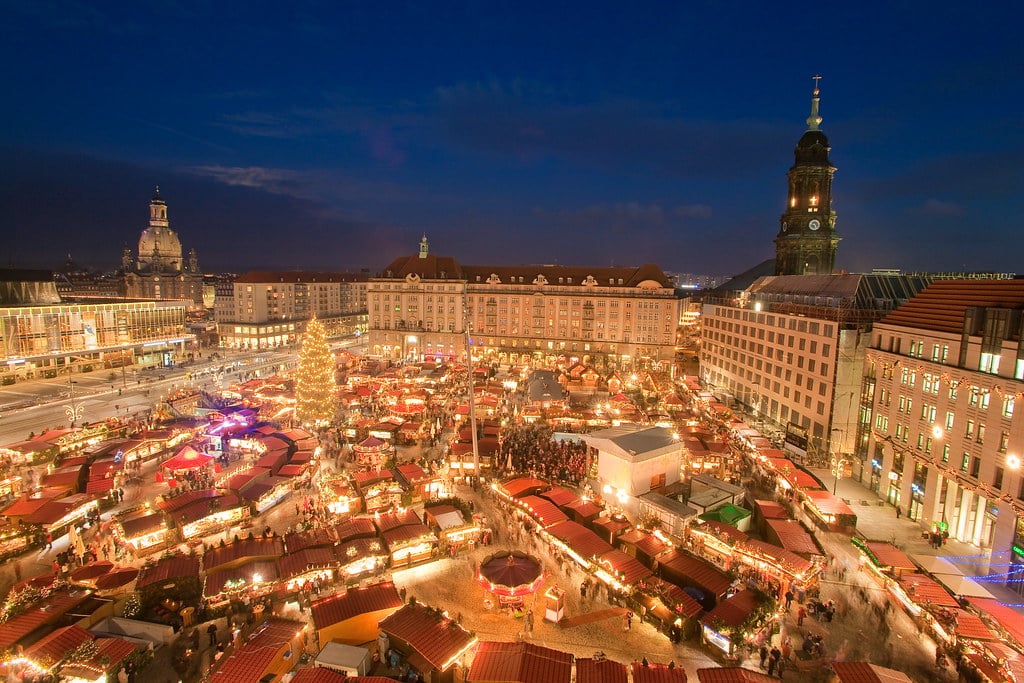 Granted, the magic of Christmas markets has spread to many other countries and continents, but the origins of Christmas markets can be traced back to the German-speaking part of Europe in the Middle Ages.  Probably the most iconic Germany Christmas Tradition is the famed Christmas Markets (Weihnachtsmarkt). In large open plazas or market squares, small wooden huts appear with vendors selling locally made jewelry, crafts, holiday decor, and toys.
The air is alive with the sounds of carolers or holiday musicians and the smells of hot mulled wine (Glühwein), crepes, sausages, and roasted chestnuts (Kastanien, Maronen or Maroni). Twinkling christmas lights illuminate the night sky to the delight of young and old alike.
WEIHNACHTS MARKT SAUSAGES
Simply put: there is nothing quite like the magic of the German Christmas Markets.
There is a bit of debate on the exact start of the German Christmas tradition. However, Dresden's Strietzelmarkt may have been the first real Christmas Market, dating from 1434. The Dresdner Striezelmarkt, considered the first genuine Christmas market in the world, has roots dating all the way back to 1434, when it was just a one-day event. Aside from its massive size — there are well over 200 stalls — other notable features include the world's tallest step pyramid and a Ferris wheel with views over the market. It's no wonder nearly three million people visit the Dresdner Striezelmarkt each year.
Although you can warm yourself from the inside out with hot mulled wine (Glühwein) and hot cocoa, it's best to bundle up while strolling through these outdoor markets.
Portugal: I Feed Dead People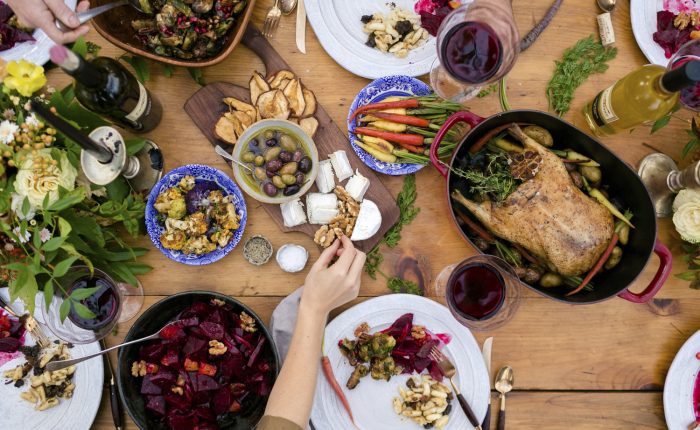 In Portugal, you should feed your dead relatives at Christmas
Christmas is much more solemn than other places in the world where Pagan roots still run deep. Aside from setting up the nativity scene and attending church services, many families in Portugal also have a consoda.
In the early hours of Christmas morning, families partake in a huge feast, making sure to leave additional places for alminhas a penar or the souls of the dead. The consoda is reminiscent of the Mexican holiday Día de Muertos in November with its respect and acknowledgment of ancestors and family members that are no longer with us. It is believed that if families offer gifts to their deceased family members, the following year will be good to them.
Another aspect of consoda is leaving breadcrumbs in the hearth. This goes back to the ancient tradition of leaving seeds with the dead in the hopes of having a bountiful harvest.
So if you're celebrating Christmas without all of your family and loved ones with you, perhaps you can incorporate the customs of consoda into your celebration (I know I will).

Austria: Krampus Hunts for Naughty Children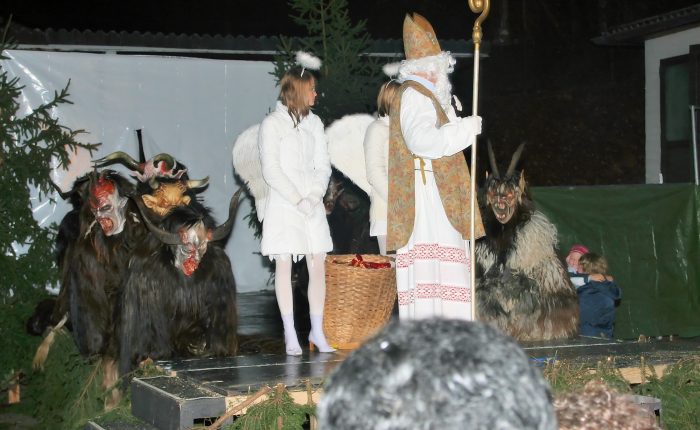 Every year in early December, children in Austria get ready for St. Nicholas to visit them. If they've been good, he'll reward them with presents and treats. But if they've been bad, they'll get a lot more than a lump of coal—they'll have to face Krampus.   Austrian kids who end up on Santa's naughty list also have to worry about Krampus: a horned, hairy beast that snatches misbehaving children in his wicker basket, serving as Saint Nicholas' creepy enforcer. Many towns in Austria (and neighbouring countries), especially the alpine villages around Salzburg and Tyrol, celebrate Krampusnacht on December 5th, when dozens of men dressed as the half-goat demon parade through the streets brandishing sticks and terrorising children.
Interestingly enough, in Germany, St. Nicholas Day and Krampusnacht fall within 24 hours of one another. Since the two legendary figures are said to work side-by-side, well-behaved children are treated to visits from St. Nicholas during the day, while poorly-behaved children believe the threat of Krampus might come around instead. In Europe, Krampus can be found in the following Christmas parades:
Austria
Bavaria and other parts of Germany
Slovenia
South Tyrol in Italy
Croatia
Hungary
Czech Republic: Foretelling the Future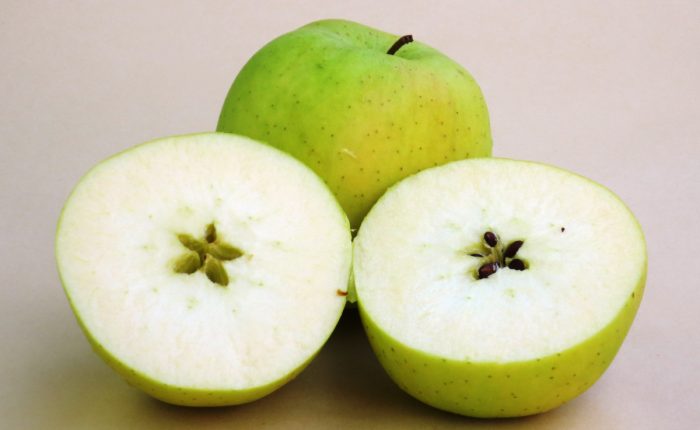 Common foods and items are used on Christmas Eve day to foretell your fortune for the coming year. For example, an old tradition says an unmarried girl should throw a shoe over her shoulder. If the shoe falls pointing towards a nearby door, marriage is on the cards for the coming year.
Another way to foretell whether your coming year will be lucky or unlucky is to cut an apple in half. You take an apple and cut it lengthwise, which means, not the usual way. In the middle, you see a symbol. If you're going to be healthy next year, you will see a star. If some health issues may occur to you, there'd be a symbol of a cross or of, how Czechs call it, "červíček", "a little worm".
Make Your Own Christmas Traditions and Memories
Some Christmas traditions have lasted for centuries.  Christ­mas tra­di­tions around the world vary huge­ly by states, cities, towns and even vil­lages.
Once you learn about what happens in other countries, you may even want to start some of these traditions into your own home. And others, you might want to skip!
Whether you are enjoy­ing the fes­tive sea­son at home or you are going to be cel­e­brat­ing Christ­mas and New Year in a foreign land make some long lasting memories.
Our team has years of experience and is ready to guide and assist you. Arrange a consultation today, our experts are ready to assist you.


Here is more helpful articles on dual citizenship:
Dual Nationality – What it Means
The Difference Between Residency and Citizenship

Like Our Articles?
Then make sure to check out our Bookstore... we have titles packed full of premium offshore intel. Instant Download - Print off for your private library before the government demands we take these down!