Gran Pacifica is a Nicaragua real estate beachfront development in an up-and-coming property market, yet undiscovered by the masses. Nicaragua is a land of immense natural beauty and rich culture. One can spend their days hiking up volcanoes, surfing in some of the best surf spots in Central America, or even playing a few rounds on a golf course. And then spend their nights listening to authentic Latin music or watching the sun luxuriously set into the ocean. If that sounds good to you – then you will like this Nicaragua beachfront real estate development.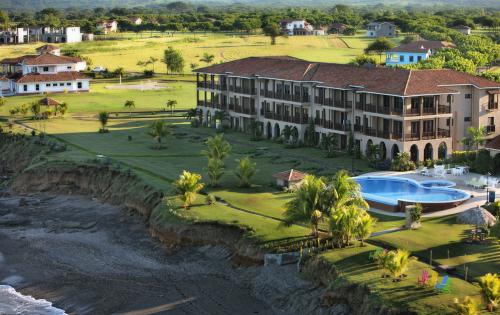 Nicaragua beachfront real estate is appealing to real estate buyers for a number of reasons. One reason is the incredible affordability of Nicaragua beachfront real estate. Nicaragua is one of the cheapest real estate markets in all of the Americas. And, of course, we're not talking about real estate high up in the mountains, inaccessible from the rest of society. No. We're talking about high-quality, Nicaragua beachfront real estate for sale located close to major cities and towns. One excellent example of this is Gran Pacifica Beach and Golf Course Resort.
Gran Pacifica Nicaragua Real Estate Beachfront Development Features:
3.5 Miles of Private Beach
Golf course with a Club House
Beachfront Homes, Condos, Land
Gated Community
Rental Pool and Management for Vacation Rentals
Gran Pacifica Beach and Golf Resort is a North American beachfront resort community located along Nicaragua's Pacific Coast. While at Gran Pacifica, you will get the tranquility of being in a removed beach resort community. At the same time, Gran Pacifica is located a mere one-hour drive from Nicaragua's capital city, Managua. This allows for residents and vacationers of Gran Pacifica to enjoy both the quiet life that a resort can provide, while at the same time being close to all of the amenities and luxuries of a major city. One of the things that makes Gran Pacifica really stand out, however, is that it is more than just a resort…it is a community.
Employing New Urbanism designs in the master plan, Gran Pacifica is engineered to foster friendship and community building. All roads have sidewalks on both sides. This encourages walking through the community instead of driving everywhere, a much more community-oriented way to get around. In addition, every house has a porch, and every porch is no more than 20 feet from the curb. This all comes together to encourage neighbors to meet one another, talk, and form friendships.
Gran Pacifica caters largely to North Americans, most often citizens of the United States or Canada. As such, it is built to North American building standards. This means that every home has both hot and cold running water, every home has fiber optics installed for cable and lightning fast internet capabilities, there is a well-designed, reliable sewage system in place in the resort, and other basic infrastructures (such as reliable electricity and a quality road system) are in place as well. In addition, the resort has 24/7 security monitoring the entrance gate and key points around the resort, as well as roaming guards. All of these infrastructure aspects are often taken for granted in North America, but when one buys real estate in Central America, they will find that they are a bit harder to come by. Buyers can rest easily, knowing that high-quality infrastructure is in place at Gran Pacifica, and they can enjoy all of the comforts of life in a developed country while staying at Gran Pacifica.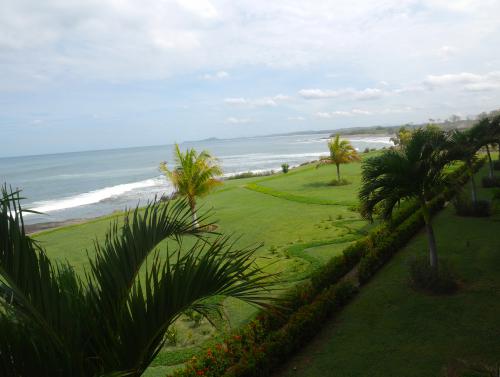 Beyond the well thought out, high-quality build of the resort, there is an abundance of activities and amenities available at Gran Pacifica. The resort features 3.5 miles of private beaches. The beaches have areas that are both ideal for swimming as well as surfing, with some of the best surf breaks in the region being found at Gran Pacifica. Gran Pacifica's Meat Grinder, for example, is rated as one of the best surfing spots in the area.
Gran Pacifica features other great amenities, such as an on-site golf course, complete with a Golf Club House. The Emerald 9 is a magnificent golf course that encircles the residential grounds of Gran Pacifica. The course can be played as 13 different holes during an 18-hole round of golf, using different tees and alternate fairways on the first two and last two holes. Gran Pacifica also features Swedish massage services, both half and full hour sessions. Horseback rides along the beach or through the property are available as well.
One of the most exciting aspects of owning a home at Gran Pacifica, whether it be for lifestyle or investment, is the incredible return that one will get. Nicaragua is a truly undervalued real estate market, but one that is growing every day. Buying real estate at Gran Pacifica allows investors to get in at the beginning of this upward trending market. In addition, property owners at Gran Pacifica have the option of entering their homes into a rental pool. This means that your Gran Pacifica property can be benefiting you even while you're not using it!
A future expansion at Gran Pacifica Nicaragua Real Estate Beachfront…
… will be Playa Pacifica, will be a major condominium complex and will be designed to be an optimal investment return. Condos at Playa Pacifica will be 1, 2, or 3 bedrooms and will feature all of the amenities that guests want, without unnecessary frills. This means that investors can put down minimal investment funds, while still getting great returns.
Nicaragua features all of the attractions that more popular destinations, such as its neighbor Costa Rica, do, including beautiful beaches and mountains. At the same time, however, Nicaragua is much safer (it's actually the second-safest country in the Americas), as well as being much more affordable than overdeveloped Costa Rica. All of this culminates in Nicaragua being a country that is far more desirable to a potential real estate buyer. Whether a person is interested in buying real estate in Nicaragua for the lifestyle or the investment, they will be certain to find a better value here than they would in any other country in the region.
If you're interested in buying international real estate, Gran Pacifica Beach and Golf Course Resort should be on the top of your list. You can acquire high-quality, North American standard homes at incredibly affordable rates, with significant potential for capital appreciation and steady rental revenue – what's not to love? If you'd like to learn more about this incredible Nicaragua beachfront real estate development – Gran Pacifica, you can look over the Nicaragua beachfront real estate listing below or get in contact with us below.