Property Listings for Sale in the Dominican Republic
If 1,000 miles of pristine beach isn't enough to lure you to the Dominican Republic, it's ok, we've got plenty more to entice you. Or, rather, the Dominican Republic has plenty more to entice you. Whether you are looking for ocean view villas in the mountains, beachfront living on the Caribbean, a condo resort experience, or a Spanish colonial home – the Dominican Republic real estate market offers you many choices…
In fact, the Dominican Republic has already enticed a rather hefty expat population to this unhurried, relaxed lifestyle that is simply begging to be enjoyed to the fullest.
Of course, the cost of living hasn't hurt the influx of expats looking for homes, land and investment properties in the Dominican Republic. A budget of $1,200 a month can give you a fairly comfortable lifestyle here, and if you can afford more, well, life gets even better as you'll find the cost of living to be generous to the exchange of your local currency. So Dominican Republic real estate can truly be a bargain compared to North America or Europe.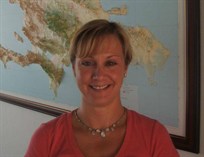 Joanne Hammond
Dominican Republic
joanne.remaxdr@gmail.com
Dominican Republic Buyer's Agent. Contact Joanne to find your property.
As we mentioned, you certainly won't have to worry about being the only expat in town. Walk into any establishment on the Samana Peninsula, for example, and you'll be welcomed by as many expats as you will locals. And this mix doesn't just add to the diversity here, it adds to the culture as well. With expats from Europe and North America, you'll have access to the comforts of home – and the homes of others who have migrated here from around the world.
As home to the oldest European settlement in the New World (Santo Domingo), you'll find wondrous history on nearly every corner. But, with that history comes a sense of sophistication that has brought the Dominican Republic into modern times with modern shopping, museums, dining, entertainment and other amenities that fit perfectly into this multicultural, Caribbean paradise.
With easy air access from anywhere in the world, and a long list of varied Dominican Republic real estate for living, vacationing and investing, it's no wonder so many have chosen to make the move here on a permanent or semi-permanent basis. If you're interested in making your real estate dollars go as far as they can, it would be a wise idea to visit the Dominican Republic and let us show you, first-hand, just how far your dollars – and your lifestyle – can truly take you.
Dominican Republic Real Estate For Sale and Rent