Updated September 19th, 2021
Guide to Buying Belize Real Estate as a Foreigner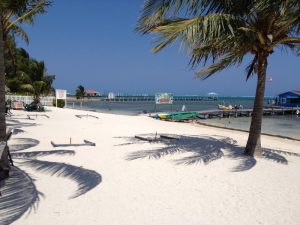 The Belize real estate market is hot, and it's only been heating up during the Covid-19 pandemic. And no, it's not the sunny beaches and tropical climate that are causing things to heat up in this Central American nation's real estate market. Tourism is growing by leaps and bounds on Ambergris Caye the country's top tourism destination – making the Ambergris Caye real estate market one of the best places to buy Belize real estate. Buying real estate in Belize now can see very impressive gains in the coming years.  The popularity of Tiny Homes in Belize have taken foreign investors by storm.  ECI Development's new TES Village highlights the best of tiny homes in Belize.
In addition, the fact that the country's currency is pegged at a 2:1 exchange rate with the US dollar, the fact that English is the national language of Belize, and that the country is only a 2-3 hour plane ride from many major North American air hubs, all comes together to make Belize an especially attractive real estate market to get involved in for investors.
(One of our advertisers is offering Ambergris Caye condos for sale at pre-construction pricing – and 6.9% financing is available. Plus the developer is offering 2 COMPLIMENTARY Qualified Retired Persons Program Residencies for buyers who qualify. Find out more.)
One aspect of buying real estate in Belize that makes it especially attractive to foreigners is that non-nationals enjoy the same legal rights as nationals. This is in contrast to many other countries, such as Mexico, where foreigners can still buy real estate but must jump through a few extra hoops to do so. (You can read more here about buying real estate in Mexico as a foreigner). As a foreigner, buying real estate in Belize is as simple as buying real estate in your home country. There are still several things that one must know, however, when buying Belize real estate. Read on to find out all you need to know when buying real estate in Belize.
What You'll Need to Buy Belize Real Estate

When buying real estate in Belize, it is imperative that you get yourself both a Belize buyer's agent as well as an Belize real estate attorney. You will need both to ensure that you are getting a good deal, as well as to make sure that everything is proper and legal.
When working with an Belize attorney, it is highly recommended that the attorney performs a title search. This is recommended for all Belize real estate purchases, whether it is just land, land and property, or even just property that is part of a Belize development with other foreign owners. Title searches are simple and relatively cheap, at around $250 each, and are used to ensure that the real estate in question is not involved in any legal disputes and can legally be sold to you. It is also recommended that buyers and sellers use separate attorneys.
When working with a Belize real estate agent, it is recommended to use them as a resource to make sure you are getting exactly what you want. Make sure the location is what you want, that it's the proper type of building (house, condo, etc.), and any other concerns you have. Belize real estate agents know the local area, and they can find you the most ideal property for your wants/needs.
Buying real estate in Belize is fairly minimal in terms of time commitment, with it typically taking 30-90 days for a real estate purchase to be completed. Another benefit is that you do not need to be in Belize to make an offer on a property, or to complete a closing. This makes buying real estate in Belize as a foreigner especially easy and appealing. However, it should be noted that it is strongly recommended to make at least one trip to physically see the Belize real estate you are buying, and to never buy real estate that you haven't seen at least once in person.
The Costs for Buying Real Estate in Belize

Real estate in Belize is incredibly affordable. Despite a massive boom in real estate prices in the past decade, it is still possible for one to purchase a piece of real estate in Belize for significantly less than they would pay in the United States, Canada, or Europe for an equivalent piece of property. This is especially true in more rural areas of the country, such as the far northern regions of Ambergris Caye and on the mainland.
When buying real estate in Belize, you will likely encounter the following fees:
Government Stamp Transfer Tax: a little under 5% of purchase price
Attorney's fees: 1-2% of purchase price
Title search (through attorney): $250
General Sales Tax (for new residential properties): 12.5% of purchase price
Once a price has been negotiated and both sides enter into an agreement, a deposit of 10% is typically paid, and the real estate is taken off of the market.
The Benefits of Belize Real Estate

There are many reasons one would want to be buying real estate in Belize. One of the most prominent would probably be that there is no capital gains tax. That's right, absolutely none. In addition to this, property taxes are incredibly low, with a house or condo worth $250,000 having property taxes typically in the region of $375-$1000 per year. In more rural areas, property taxes can be as low as $6 per year. That's right, just $6 per year in property taxes. These two features combined make Belize an incredibly attractive place for those looking to buy a Belize real estate investment. As a long-term investment, Belize becomes even more attractive. This is because there is also no local inheritance tax. Once again, low taxes are one of the most noticeable benefits of why buying real estate in Belize is such an attractive option.  There is also an easy path to residency through real estate in Belize.
In addition to these benefits, buying real estate in Belize is attractive because of its familiarity to US and Canadian markets. The Belizean dollar is pegged at a fixed 2:1 ratio with the US dollar. Going along with this, property prices in Belize are typically quoted using US dollars, making it even easier to understand how much you're paying. Because English is the national language of Belize, all contracts will be written in English, making them clearer for North American buyers. And finally, the Belizean government has very stable real estate laws, so there is no fear that real estate ownership laws will change quickly or randomly.
A Few Other Things to Consider
"Deed Restrictions" can occasionally be placed upon a property. These, in conjuncture with the property's zoning, can place restrictions on how the land can be used, how tall a structure built on that land can be, etc. Have your attorney look into these issues and make sure you are agreeable to them, if they apply.
A Title Free and Clear is the simplest way of owning real estate in Belize. This means that the ownership is put under your name. If you prefer, you can also have the property title be put under the name of a corporation (IBC), LLC, or Belize Trust. Belize is a great jurisdiction for asset protection. If you would like more information on corporate structures in Belize for owning property please contact David Pierce our .
Foreigners will find that an array of financing options are available to them when buying real estate in Belize. International banks in Belize offer financing for real estate, as do local banks. With either, you will typically be able to borrow 50% of the value of the real estate, with a minimum of 10% being put down.
For those interested in buying an apartment, townhouse, condominium, etc., Belize uses strata principles to govern these types of ownership, much as the majority of the first world jurisdictions do. Again, the real estate laws in Belize are very similar to first world jurisdictions, making Belize an especially easy market for foreigners to buy into.
Belize is a very attractive real estate market. Prices have been going up consistently over the past decade in this country, especially on the tourist hot-spot of Ambergris Caye. It is also a very similar market to first world jurisdictions, such as the United States, as well as being incredibly close geographically to the US. Finally, the very low taxes involved with real estate ownership in Belize culminate to make Belize a top-tier real estate destination.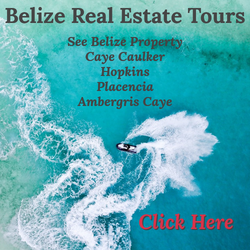 If you're interested in buying real estate in Belize, getting in touch with a Belize real estate buyer's agent, or learning more about asset protection in Belize please contact us here.
Please look over the Belize real estate listings below. And feel free to list your real estate in Belize here.
If interested in Tiny Homes in Belize, get in touch with us to walk you through the process. 
Finally – we offer a Belize Real Estate Discovery Tour – these are 4 or 7 day property tours to see real estate in Belize – Ambergris Caye, Caye Caulker, Hopkins, and Placencia. See more here Belize Real Estate Tour.