The Most Magical Atlantic Paradise of All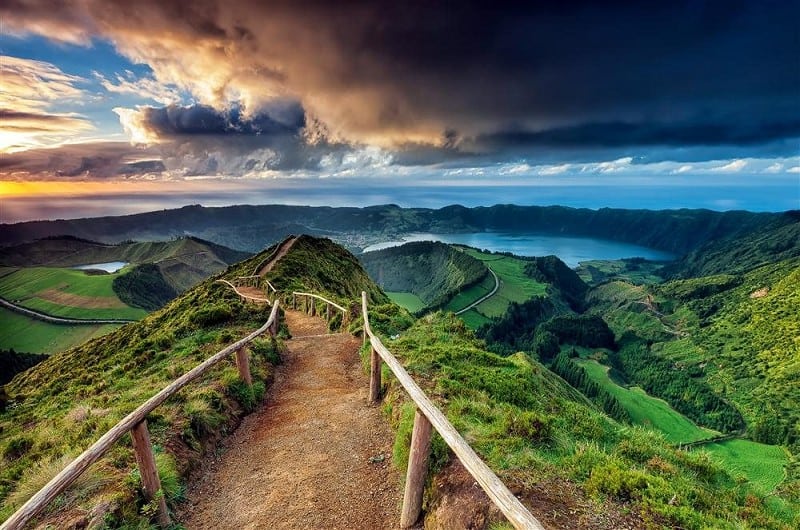 There is a magical island where everything grows – forests of fir, cedar, and sycamore trees along with forests of giant tropical tree ferns, fields of corn, fields of taro (the starchy staple of Polynesia – Hawaiian poi is made from taro), and every kind of flower in riotous abundance.
Orchards produce every kind of fruit from tropical to citrus. Herds of cows produce every dairy product including fabulous cheeses – and great steaks. Due to its unique ocean location, the sea swarms with fish and seafood. The sport fishing, such as for blue marlin, is fantastic. So is the trout fishing in the mountain streams.
So is the golf, the sailing, the scuba-diving, the surfing, the hiking on mountain trails to hidden waterfalls and hot springs. The coastline is dotted with beaches, picturesque fishing villages, and tiny coves with natural rock swimming pools. The interior is dotted with crater lakes, among which is one of the most beautiful lakes in the world.
Temperatures are in the mid-60s in the winter and mid-70s in the summer, the sun shines most every day, when it rains it usually pours for 15 minutes then out comes the sun again. There are neither snakes nor mosquitoes. Nor is there any pollution – the air is sparkling clear, the land preserved spotlessly clean by the islanders. The place is so peaceful it's virtually crime-free.
The beer the islanders make is good, the wine even better. The islanders are friendly, hospitable, devoutly Christian, and proud members of Western Civilization. A great many speak English, but there are not a great many of them. They number 140,000 spread out over 300 spectacularly scenic square miles.
They love drinking ,parties, cheerful festivals, and bright colors – with their charming homes painted the color of key lime pie, raspberry mousse, or oceanic blue, and gaudily decorating prayer chapels called Imperios.
They love liberty so much they've had this motto emblazoned on their coat of arms for centuries:  Antes morrer livres que em paz sujeitos –  Rather die free than live in peaceful subjugation.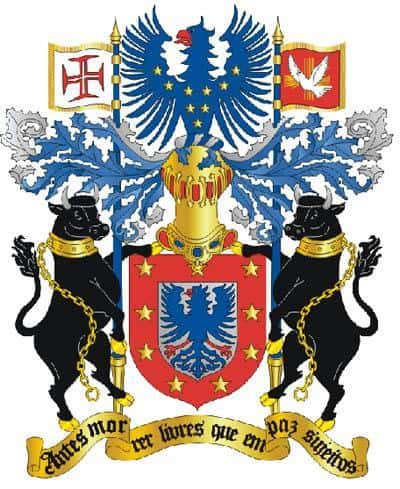 For the past two weeks, we explored The Atlantic Paradise of Madeira, then The Atlantic Paradise of Faial. Our grand finale this week is the most magical of all:
It's a short 50-minute flight from Faial, right in the Azores.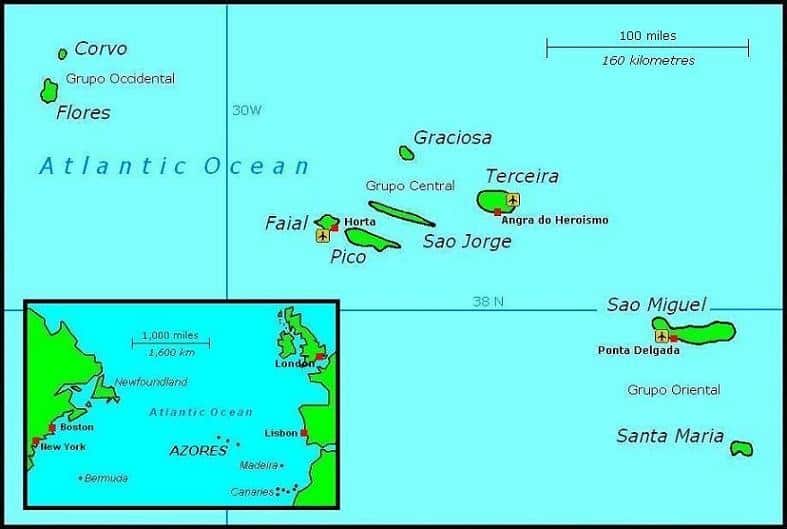 We check into the brand new Azor Hotel overlooking the harbor marina in Ponta Delgada. It's a very pretty place, especially at dusk when we take a stroll through it before a seaview dinner.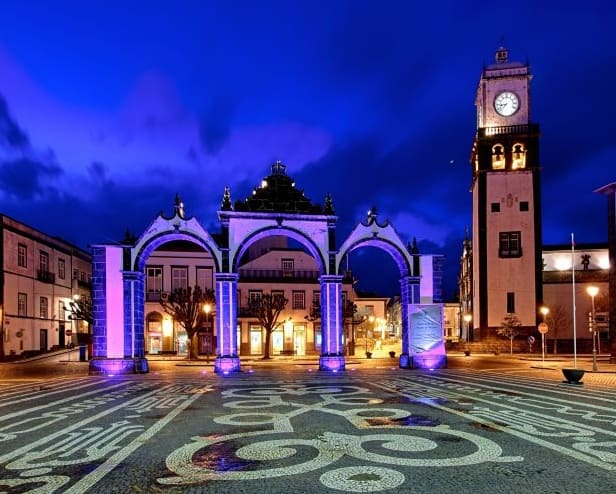 Get ready for the magic that you'll be infused with for the next few days. Today, we're on a private drive to the photographic wonders of Sete Cidades. Enroute, we stop at the Pico do Carvao to see how this is an island of volcanic cones, lakes, and craters.
FREE GUIDE! Get Essential Information on Protecting Your Assets
18 STEPS TO IMPLEMENTING YOUR PLAN B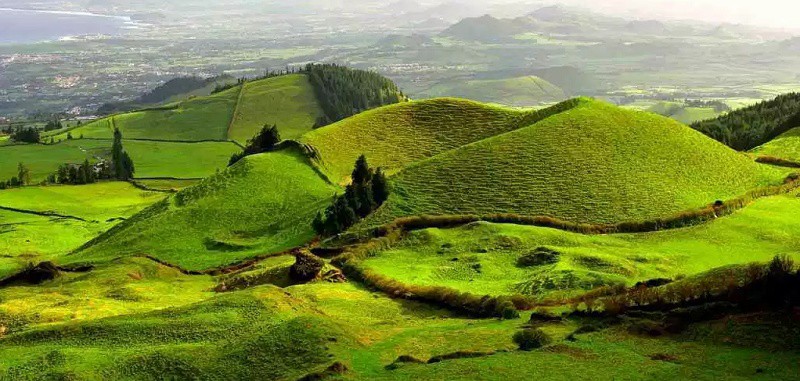 Sete Cidades means "Seven Cities," referring to the seven volcanic craters and lagoons within one large caldera at the western end of the island. There is an iconic trail leading to the famous viewpoint called the Miradouro Boca do Inferno.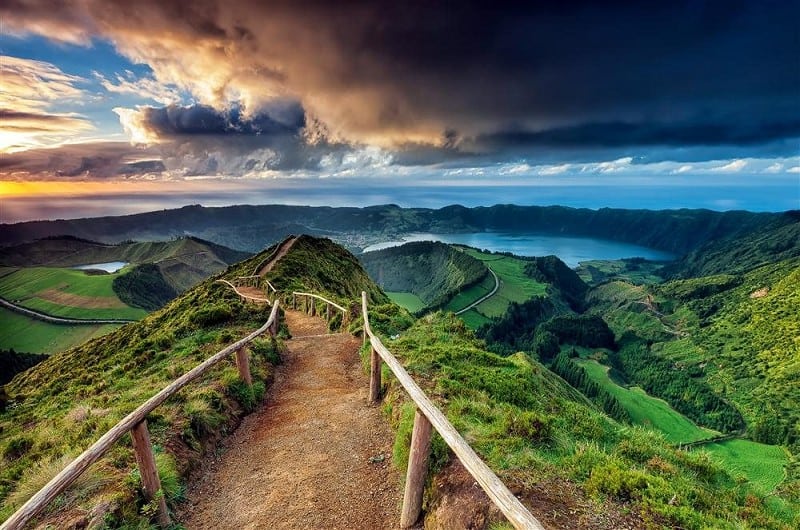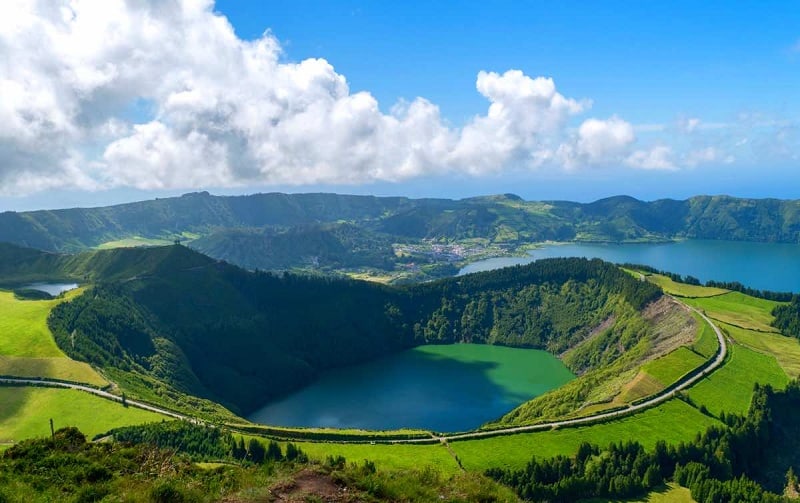 Most iconic of all is Miradouro do Rei, the King's View, of the Green and Blue twin lagoons.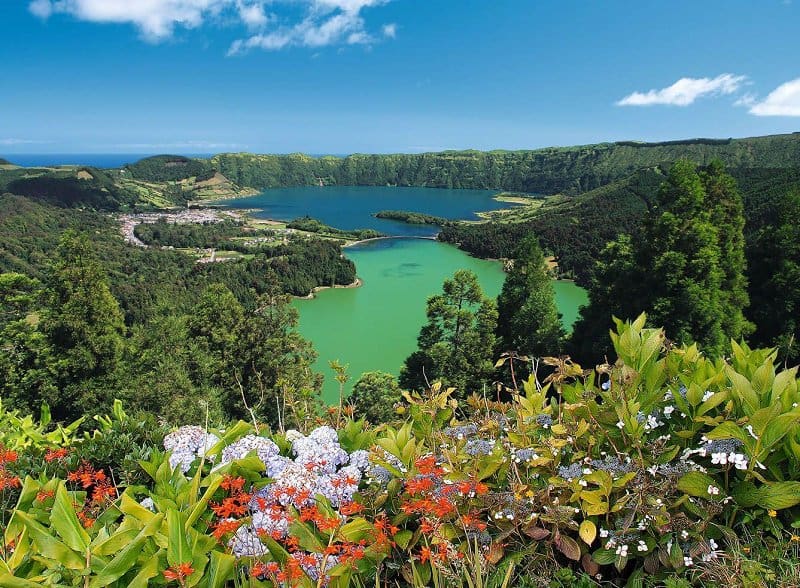 After our visit through the entire caldera, we drive along the north coast, noting how the road is lined with flowers. Perhaps nowhere on Earth is there so many flowers as in the Azores.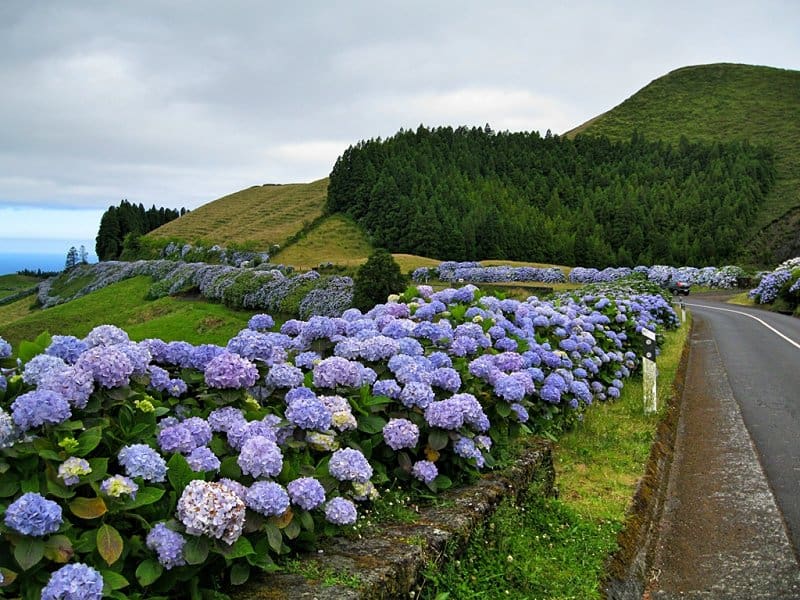 We reach the beautiful garden city of Ribeira Grande for an ocean view lunch.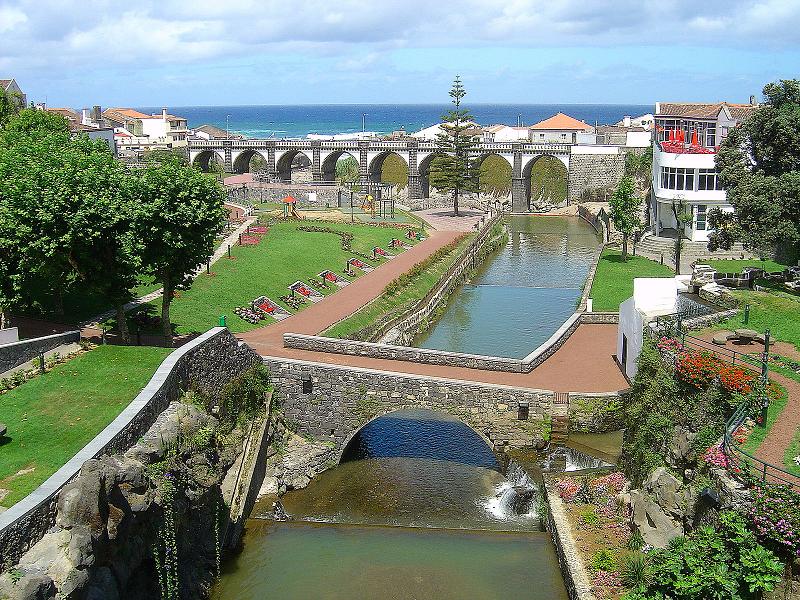 We then get to relax at a magical spot hidden in a tropical forest nearby where a waterfall pours out of a hot spring into a thermal pool: Caldeira Velha. Time for a nice warm soak.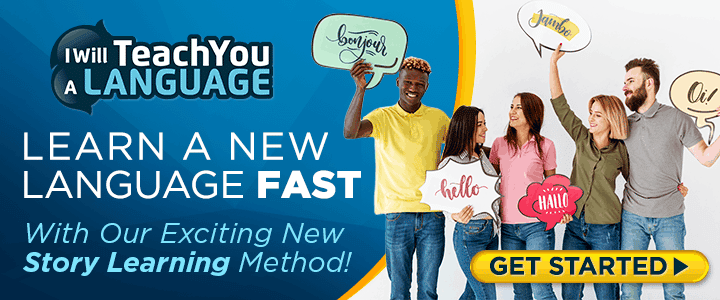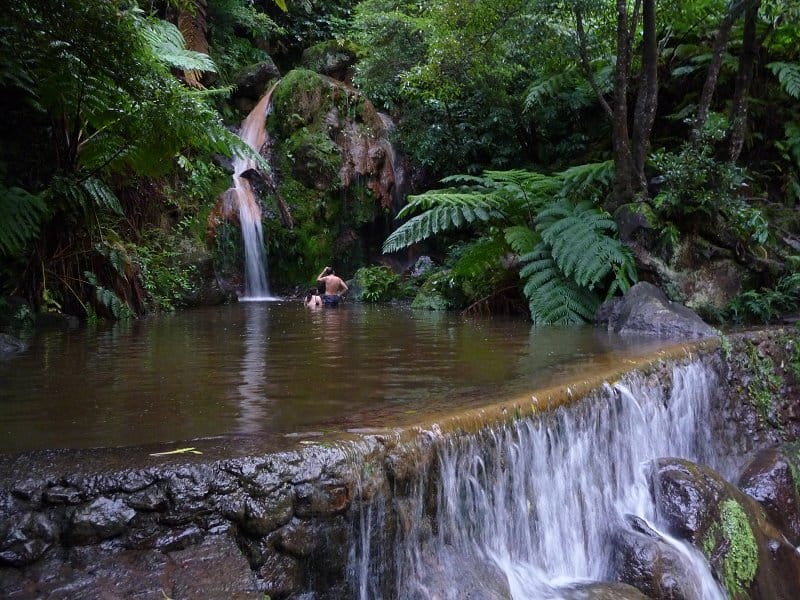 On the way back to Ponta Delgada, we take time to linger at the idyllic Lagoa do Fogo – Fire Lake. It's simply mesmerizing.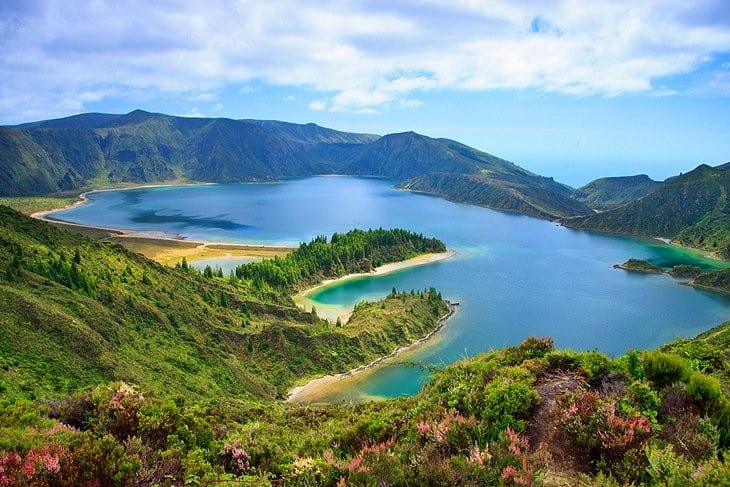 We start the next day by exploring the Gruta do Carvão, a huge multi-colored ancient lava tube created 12,000 years ago – walking through it is breathtaking.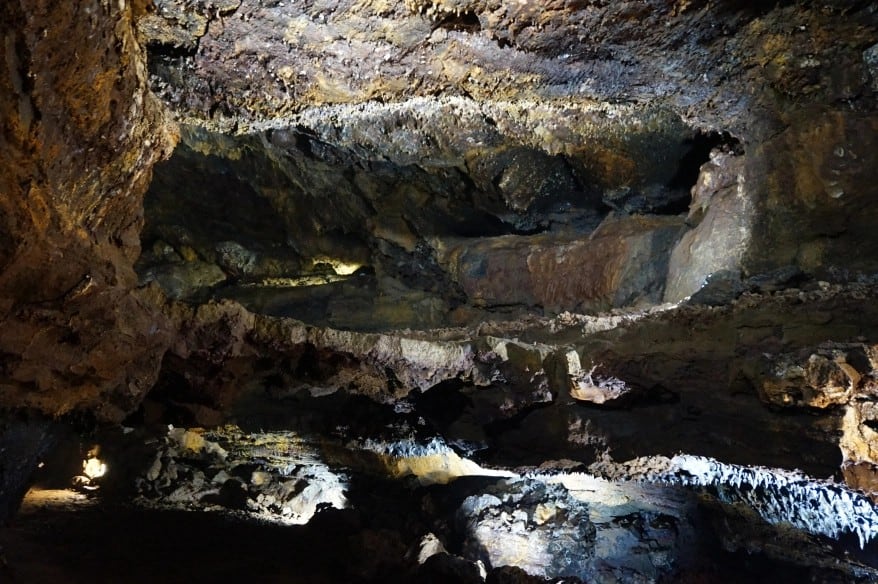 Now it's time to get out to sea. Right off the south coast at Vila Franca do Campo, we sail to Princess Ring Islet – yes, this really exists. Here's a drone shot.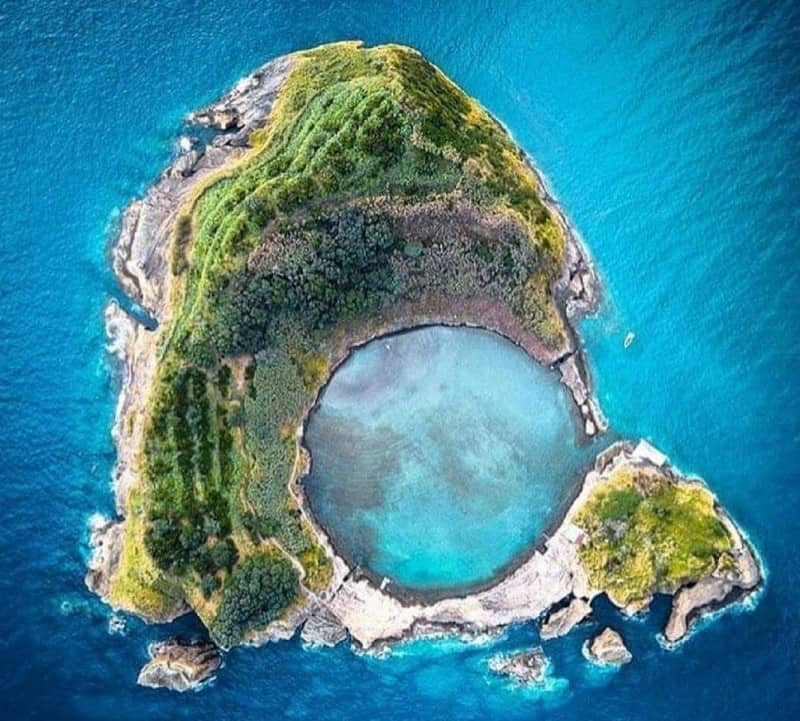 We'll explore sea caves along its outer rim and go snorkeling inside the crater lake teeming with tropical fish like an aquarium. Nothing but fun.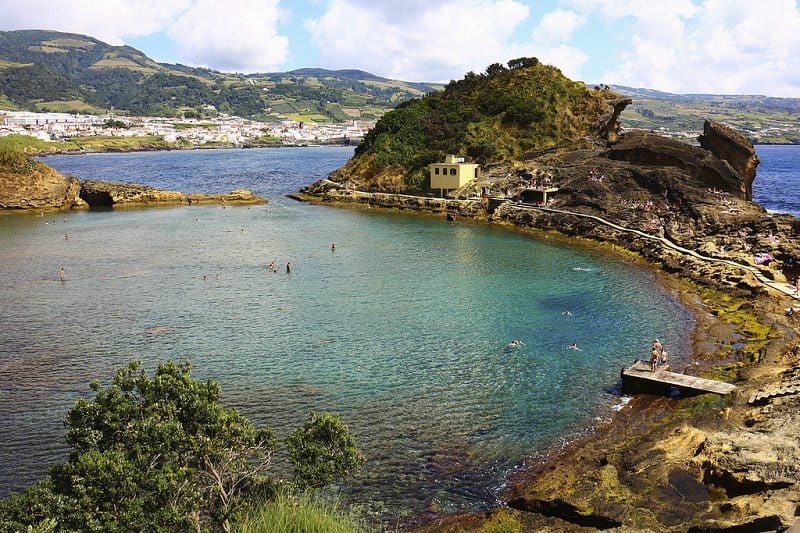 By noon, we get to have lunch in a furnace – actually a volcanic wonderland of thermal pools, mineral baths, hot springs, boiling fumaroles and mini-geysers called Furnas.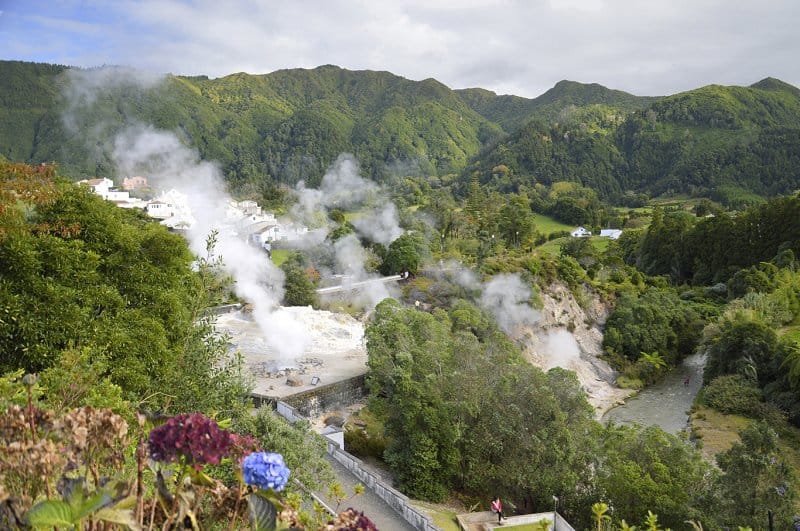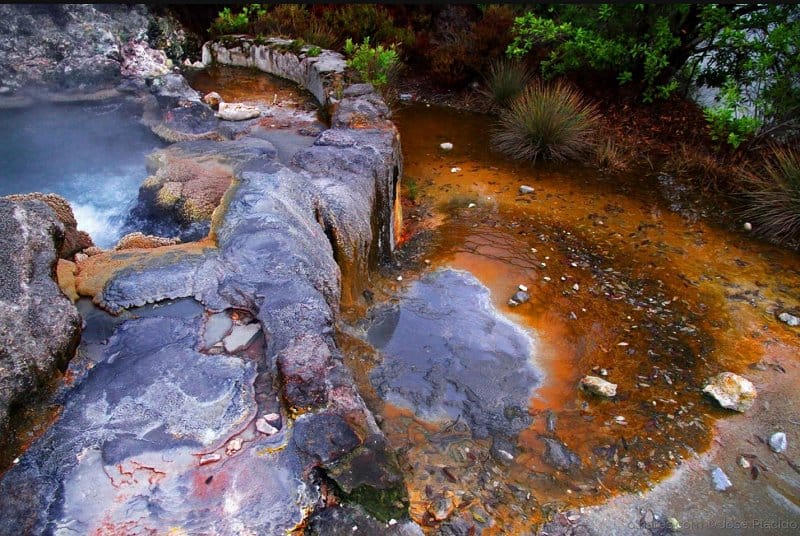 It is here that the emblematic meal of the Azores is cooked – Cozido das Furnas. A selection of meats, vegetables, and spices are placed in a large pot, covered, and lowered into a volcanic steam vent to be slowly cooked for several hours. What emerges is a uniquely delicious dish – which is on the menu for lunch today. Volcano cooking at its best!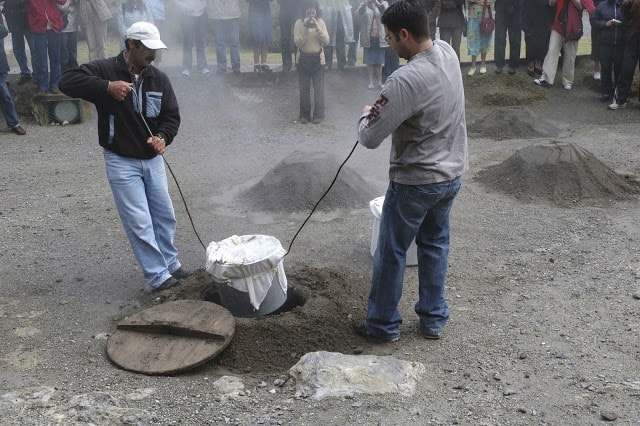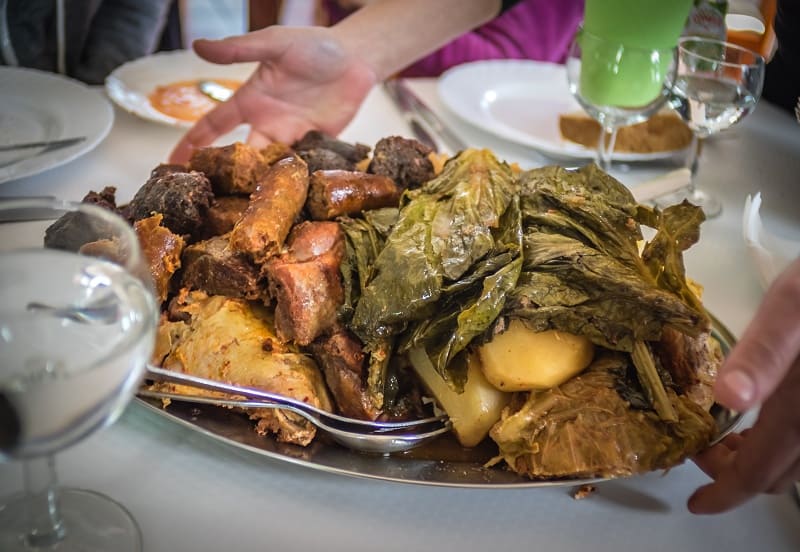 Amidst all the volcanism, we find a haven of beauty and serenity, the Terra Nostra botanical garden well over two hundred years old. 1775 may seem like a long time ago, but not to the Portuguese who first settled Sao Miguel (there were no native inhabitants of the Azores) in 1449!
With over 2,000 different kinds of trees and flowering plants from everywhere on earth, plus geothermal streams and pools, immaculately cared for and manicured, Terra Nostra is considered one of the most astoundingly beautiful botanical gardens in the world. This is a place in which to linger and luxuriate – and let the soothingly warm mineral waters dissolve your cares away.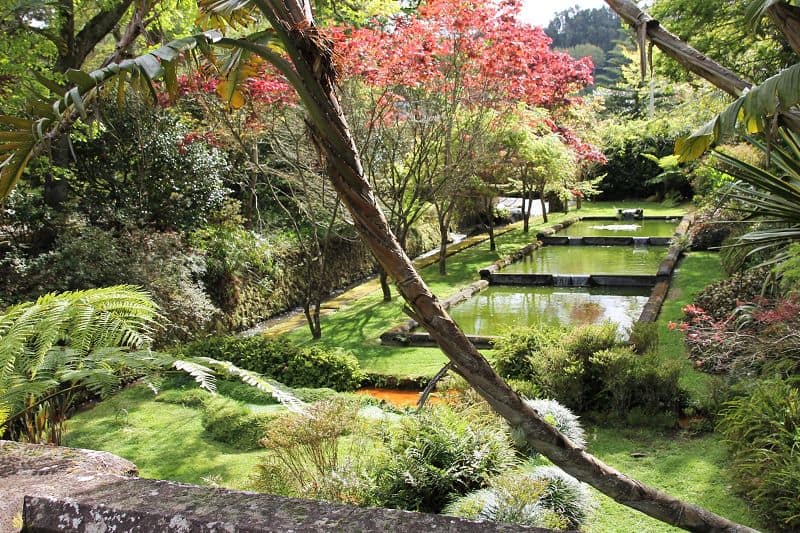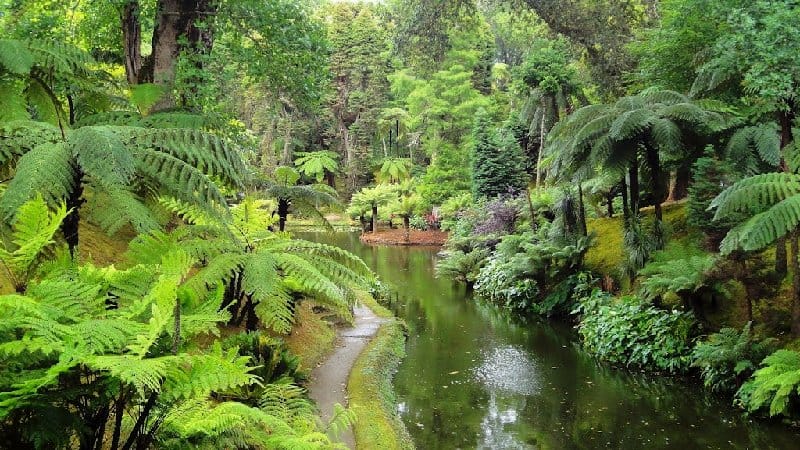 We arrive back at the Azor in time for a sundowner or two at the hotel rooftop pool before dinner.
Our third day is yours to make it as special as you want. There are so many different things to do on this island that it really is mind-boggling. The variety is so extensive that there's no one-size-fits-all.  Here's a small sample out of many, from high-adrenaline to tranquil.
You can rappel down a waterfall…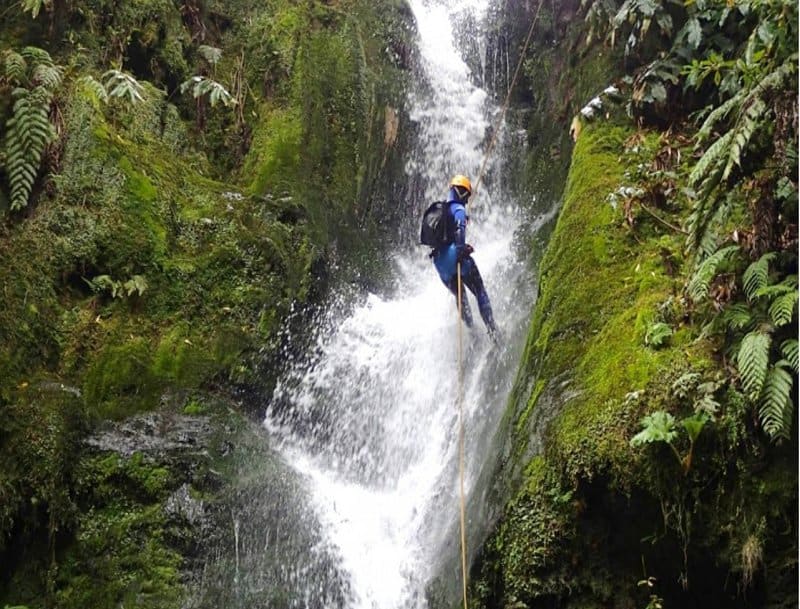 Fly a motorized parasail over the island…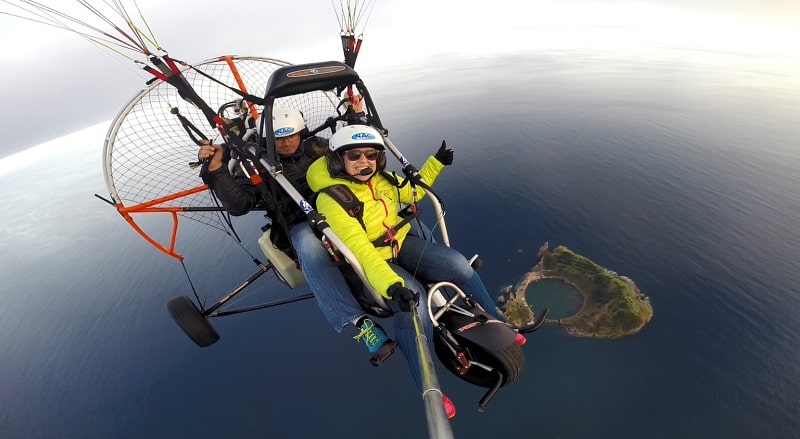 Go big game fishing, some of the best in the world…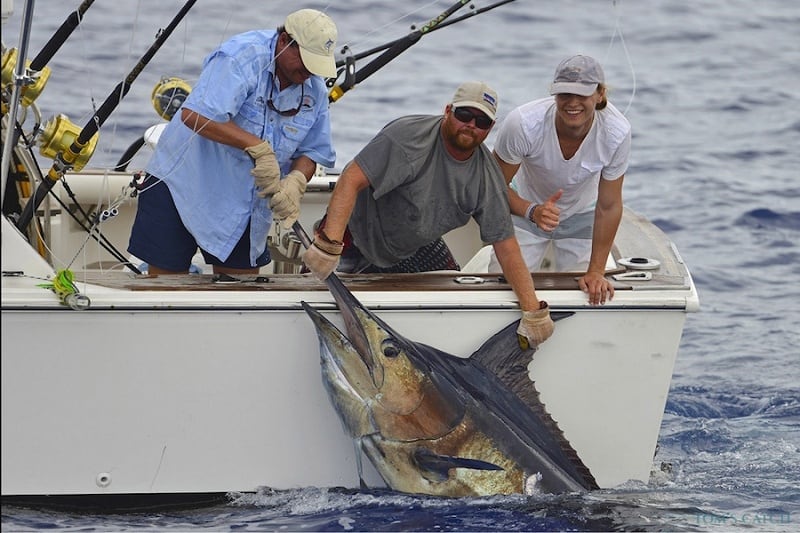 Or scuba dive, fabulous for that too…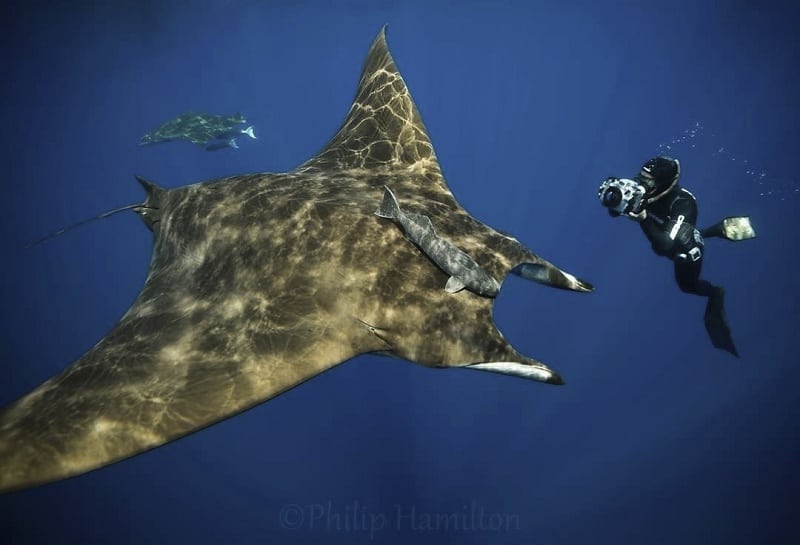 Then again, you could go on a flower-strewn coastline walk…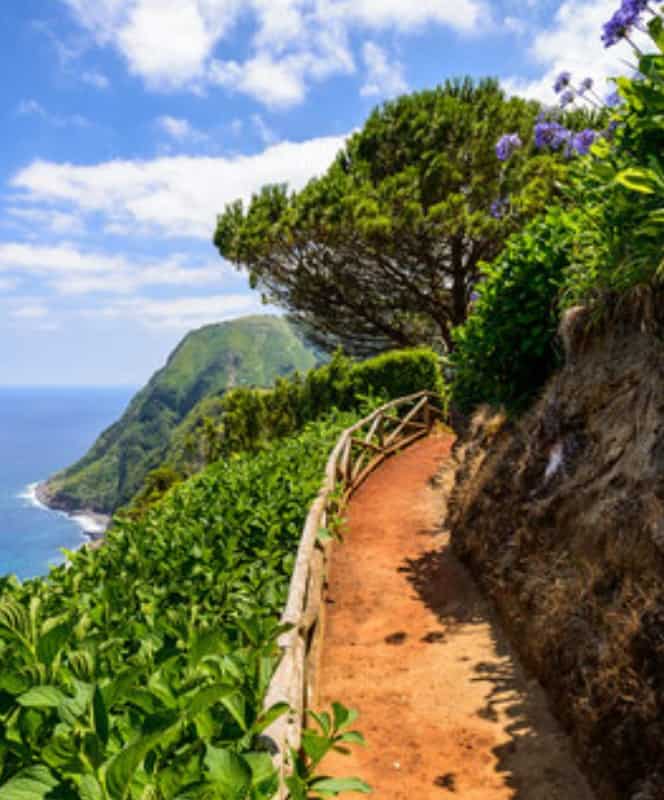 Soak up some rays at a postcard-perfect beach…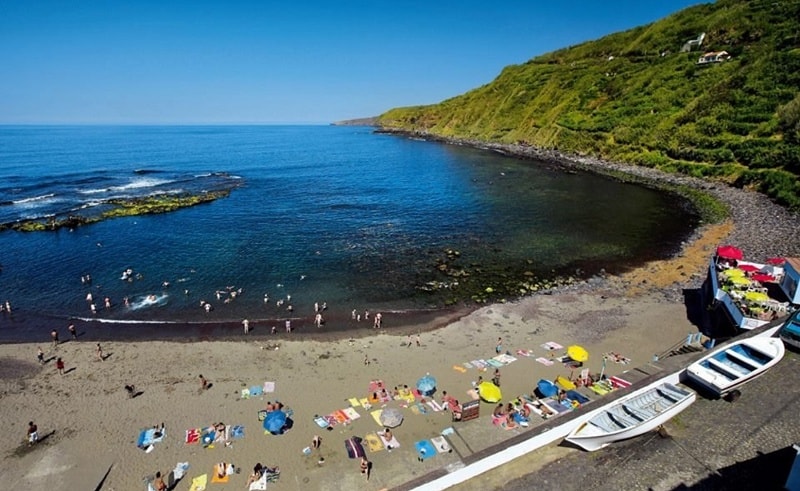 Or get a massage in a tropical forest…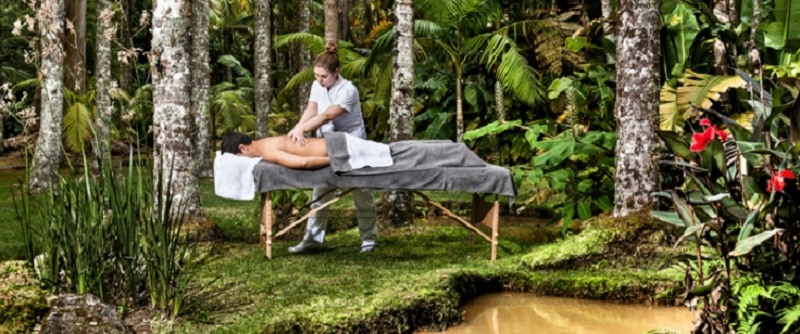 There's lots more. You just have one job today – have the most fun you can by doing what you want. We'll want to hear all about it when we reassemble for our Farewell Dinner celebration that night.
This is our last day – but we're not done yet! The flight back to Boston doesn't leave until 3:45 p.m. This gives us all morning for a quick drive up to Ribeira Grande to witness the extraordinary spectacle of the Cavalhadas de São Pedro.  
It is St. Peter's Day, and for over 500 years (the town was founded in 1507), the people have been celebrating it with a medieval procession of gaily dressed knights, lancers, stewards, and clowns on caparisoned horseback with trumpets blaring.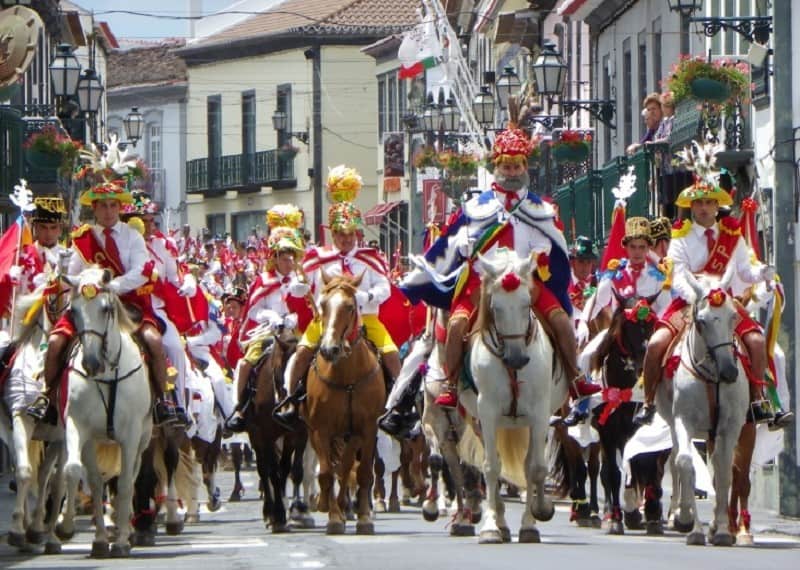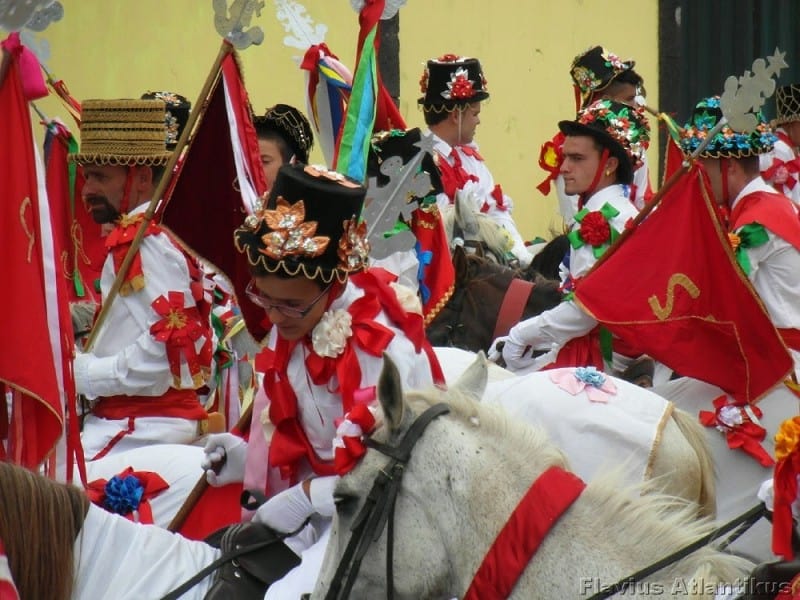 It's a festive celebration with five centuries of tradition, food, wine, and happiness galore. We get to join right in – one final wonderful time in our Atlantic Paradises.
We'll return home filled with so many memories of all we discovered and experienced in these magical places. Memories so vivid they will always be a part of our lives.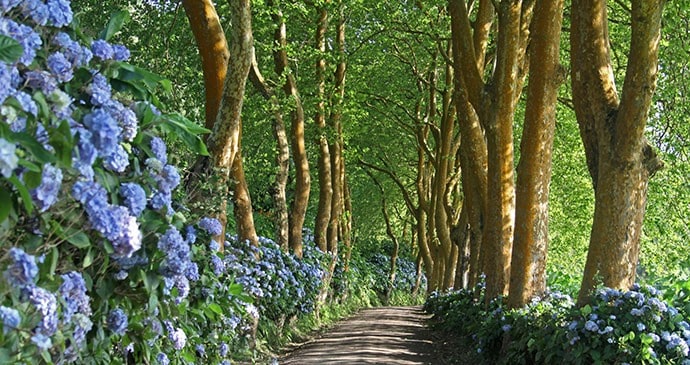 Here is probably the most extensive ebook on Everything You Ever Wanted To Know About Eliminating Your Taxes, Protecting Your Assets And Regaining Privacy Over Your Life And Investments. It is called The Ultimate Guide To Going Offshore. 
©2019 Jack Wheeler – republished with permission

Like Our Articles?
Then make sure to check out our Bookstore... we have titles packed full of premium offshore intel. Instant Download - Print off for your private library before the government demands we take these down!