If You Only Do One Thing in Belize
Since I arrived on the island a few weeks ago, I've had an overwhelming amount of vacationers and locals tell me that I need to go snorkeling. "If you can only do one thing on the island, make sure you go snorkeling!" There are many activities to partake in here in San Pedro, Belize, including an abundance of water sports. Belize is one of the top spots for snorkeling and diving, with destinations such as the Blue Hole. While there is also kayaking and paddle boarding, snorkeling is the one activity that was unanimously recommended.
Recently, during a work event, I was given the opportunity to snorkel for not only my first time on the island, but my first time ever. It was an amazing experience and I would like to share it with you.
I was with a group of about nine people, most of whom had snorkeled before, and all of whom were older than I was. Our captain, Chip, was the brother of a coworker, so we knew we were in good hands. With him he had his first mate "Coochie" and son, Eddie. When we got on the boat, I was very excited because this was the first water activity I would partake in since I arrived on the island, and I've always been fond of boats.
We boated over to Hol Chan Marine Reserve, about 4 miles off the coast of San Pedro, where he gave us a bit of information about the reserve. It was roughly 2 p.m. and the sun was shining down on us. The water was a shade of turquoise I swear I didn't know existed before that day. Hol Chan, Mayan for "little channel" is a about 3 square miles and focuses on a 25-yard cut through the reef. Established in 1987, the reserve has become the most popular area for snorkeling and diving in San Pedro. Prideful in the beauty of the country, the Belizean government has created legislation protecting both marine and terrestrial wildlife, including the reef, and it was an honor to visit the reserve.
After our brief history lesson, we got our snorkel gear on and jumped into the water. It was a day of about 80 degrees, so the sea water felt good. After acclimating myself to breathing with my face in the water, I began to look around. It was shallow directly next to the boat and there wasn't very much around except for two little fish underneath the boat. As we were guided to the reef, the water got deeper and the wildlife became more abundant. Schools of fish were swimming around my feet. The turquoise water was alive with marine life and I was part of it.
The animal that I was most excited about was the turtle. I have always been keen on sea turtles, and I never thought I would come that close to one.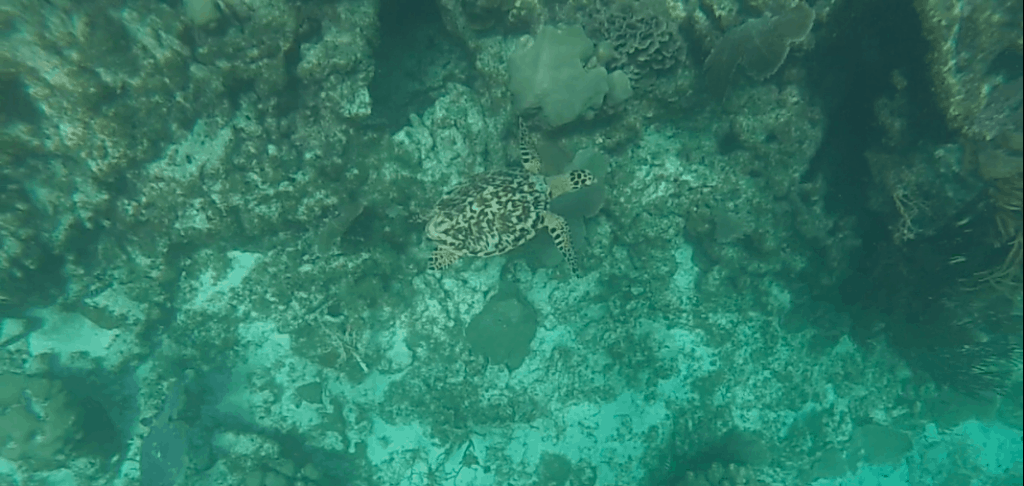 I was carrying around a GoPro I had been borrowing from a coworker to track the trip, and Coochie decided he wanted to help me out. He took the camera from my hand and dove down into the water, entering a small cave. He disappeared for about 30 seconds, which seemed like a long time to me. I couldn't believe he dove as deep has he did. When I tried doing anything like that, the pressure in my goggles was too much for my eyes to handle or I needed to return to the surface to catch my breath. He finally reappeared from the cave. I was excited to see what he captured on the camera.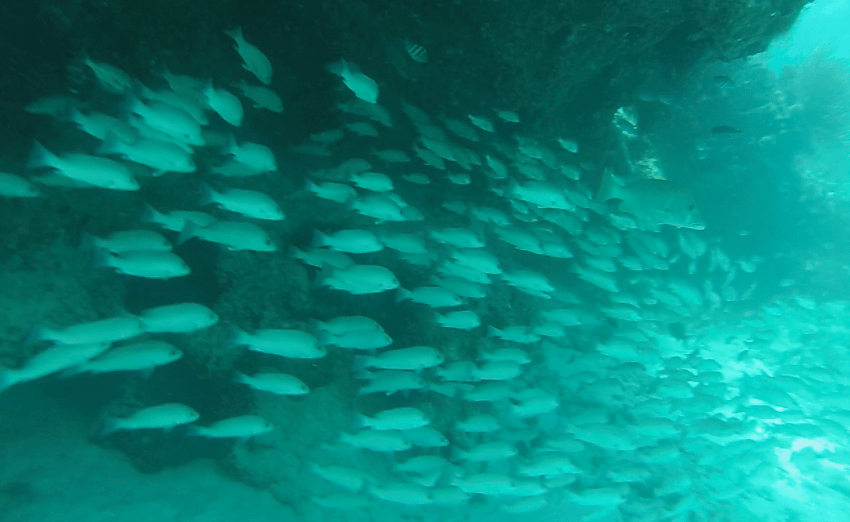 After about a half an hour of swimming around, the group headed back to the boat. We all exchanged stories of what we saw, excited to move to the next destination, Shark Ray Alley. I, personally, was very excited to swim among the nurse sharks. I've seen nurse sharks many times at the zoo, in those small tanks that allow you to touch various small sea creatures, but I knew it would be nothing like those.
Chip caught some small fish earlier to feed to the sharks and warned us not to get too close to the sharks while they were eating to avoid losing a finger or two. This made me nervous yet excited me even more. We got to the destination and I was the second one in the water. The sharks and rays were everywhere. Chip threw in some food and we watched as the sharks frenzied.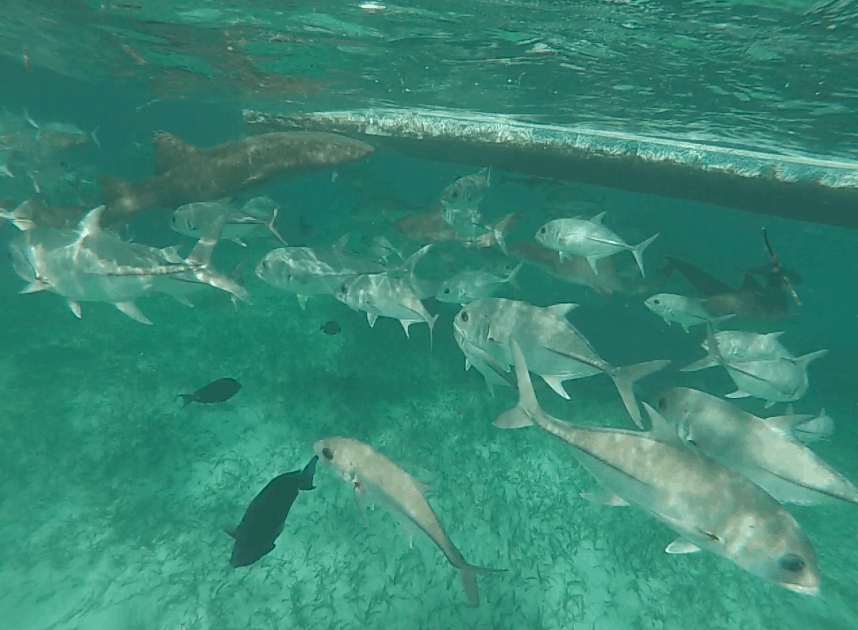 Experience the Insider community that takes your international lifestyle to the next level. Download your FREE guide
"18 Steps to Implementing Your Plan B" instantly!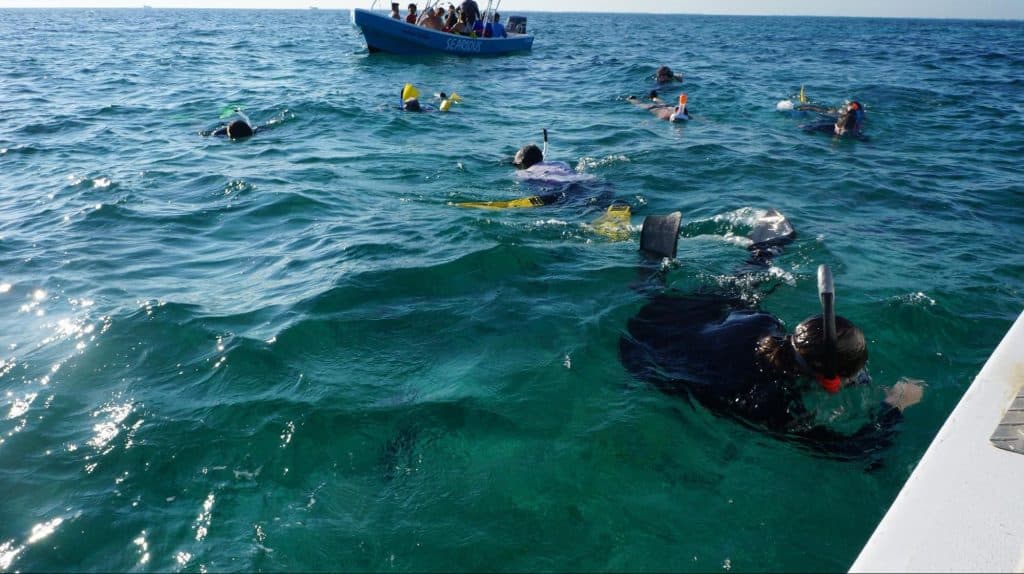 At this point I had swallowed too much of the salty sea water and wasn't feeling great, so I hopped out of the water to watch everyone else. One man I was with, Paul, got to hold a ray and touch a shark. When he got out he exclaimed with a thick Boston accent that he just had, "The best day EVAH!" which became the mantra for the rest of the experience. Watching everyone return to the boat with the child-like wonder reminded me of how amazing Belize is and how lucky I am to be here. Without trying to sound like a broken record, if you can only do one thing while you're in Belize, make sure you go snorkeling!
Here are a few articles about Belize that I hope you'll enjoy reading:
Belize: A Country of Environmental Action
5 Benefits of Tourism in San Pedro, Belize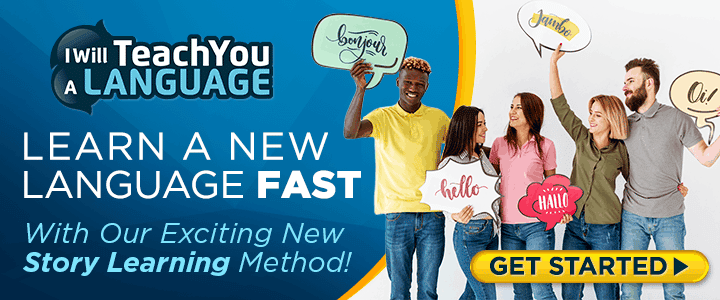 Top 4 Places for Expats to Live in Belize

Like Our Articles?
Then make sure to check out our Bookstore... we have titles packed full of premium offshore intel. Instant Download - Print off for your private library before the government demands we take these down!