How to Establish a Business in Belize
There is something special about Belize, and it's not just tourists who have figured that out. Beyond the beaches and the clear water and the sunshine, Belize offers a lot of financial benefits to business owners and investors alike.
Belize can be the ideal environment for a new business, but it is still important to know what you're getting into and what the startup process entails. If you're considering starting a Belize business, these tips can guide you through the process, offer tips, and help you get established in this amazing Central American country. 
IBC vs. Local Business
The very first thing you need to consider is what kind of business you want to open in Belize. There are two main categories of businesses in Belize, and yours will need to fit into either one or the other.
The first is known as an IBC, or International Business Company. Thanks to the International Business Companies Act of 1990, foreign nationals can now establish an IBC in Belize with ease. However, an IBC is limited in its scope. An IBC can't do business with locals in Belize. That means that you can run a foreign financial firm in Belize, or you could run an investment company headquartered in Belize. However, you can't open a café on Ambergris Caye and call it an IBC.
Starting an IBC is advantageous to foreign investors for a lot of reasons. As long as you're not doing business with local Belize residents, then an IBC offers you privacy, incredible tax benefits, and impressive asset protection.
If the IBC business model doesn't fit your needs, then consider starting a more traditional business in Belize. Unfortunately, choosing this route can be a little trickier, especially for foreigners who don't hold residency or citizenship in Belize. However, it is definitely possible.
A traditional business in Belize might include a bar, a restaurant, or a gift shop, among countless other business ideas. Make sure you know the difference between these two types of businesses and take the time to determine what kind of business best correlates with your desired outcome.
Open an International Bank Account 
In order to have an operational business in Belize, you need to have a bank account within the country. Through the Central Bank of Belize, there are both local banks and international banks. Foreigners can open a local bank account, but it can't be done instantly. Instead, foreigners need to apply for permission and then wait about six months until they are granted admission to a local bank. 
The process of opening an offshore bank account is much easier. Foreigners can open a bank account with an international bank in Belize in a day or two. International banks in Belize allow you to maintain your balance in a foreign currency, such as the U.S. Dollar, and they also provide a range of valuable services such as real estate loans and investment options.
Starting an International Business Company in Belize
If you decide to start an IBC in Belize, there are a few steps that you should be aware of in advance. First, you'll need to pick a name for your company. If your preferred name is already taken, you may need to provide a few alternatives until you can find something that is both suitable and available. Then, you'll need to fill in the official paperwork required to become an IBC. This includes details about any shareholders or the company's directors. 
Next, you'll need to submit a formal declaration of ownership. In doing so, you'll also need to provide information verifying your identity, your address, and the fact that you own the company being established in Belize. If you have any foreign documents that aren't completed in English, they will need to be translated and notarized.
Once the paperwork is complete, you can pay the registration fee. This is a reasonable fee contingent on the size of the IBC you want to establish. You may need to wait for confirmation of the IBC, but it can happen in as little as 24 hours. 
Establishing a Local Business in Belize
Establishing a business in Belize that is not an IBC can take quite a bit longer. On average, it takes about seven weeks to establish a business that will operate within Belize and buy or sell products and services from local citizens and residents. To open a traditional business operating in Belize, you'll need to start with a physical location for your business. Then, you can register your company or re-register an existing overseas company so that it can operate in Belize. 
Next, you'll need to apply for trade licenses and work permits, if necessary. You also need to register with the Social Security Board of Belize and the General Sales Tax program. Last, but certainly not least, you'll need to get a tax identification number, or TIN. Every single one of these steps takes times, with the trade license typically taking the longest at an average of two weeks. By getting organized in advance, you can have a business up and running in under two months. 
Establishing any kind of business in Belize takes time, but the process is transparent. Belize is an inviting destination for foreign investors and entrepreneurs, and the low cost of living and high quality of life is a definite draw. Be sure to do your homework and work with a reputable bank when you're ready to establish your new business from Belize.
Here are a few articles on Belize that you will enjoy reading:
16 Reasons Why Belize Is the Perfect Country to Move To
Panama vs Belize – International Business Company Formation
Belize vs Panama – Which Offshore Foundation Should You Use
Ultimate Guide to Going Offshore
About The Author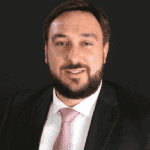 Luigi Wewege is the President of Caye International Bank, headquartered in Belize, Central America. Outside of the bank, he serves as an Instructor at the FinTech School in California, which provides online training courses on the latest technological and innovation developments within the Financial Services industry. Luigi is also the published author of The Digital Banking Revolution, now in its third edition.

Like Our Articles?
Then make sure to check out our Bookstore... we have titles packed full of premium offshore intel. Instant Download - Print off for your private library before the government demands we take these down!