Authentic Italy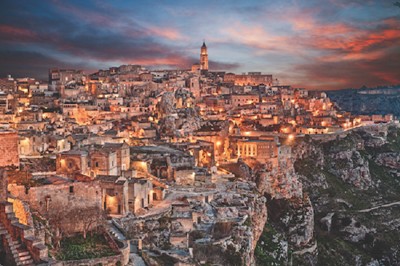 My wife, Rebel, and I were having dinner with Italian friends in Rome recently, who asked, "Why not a Wheeler Expedition in Italy?"
I answered, "We'd love to, but it has to be an adventure to really cool places in Italy that folks who've been to Rome-Venice-Tuscany don't know about and would love to go to if they did. It has to be to the real authentic Italy for a true experience of a lifetime."
Our friends smiled – to us and each other. "We've been exploring just those places for years – it's our hobby. We'd start in the Apennines, of course, Italy's mountain spine, to Abruzzo…"
And that is how, after many months of exploring and planning, Rebel and I with our Italian friends created the unique and extraordinary adventure of Authentic Italy. I'd like to invite you to experience the Italy you've dreamed of and you'll never ever forget.
No use wasting time. Relax or see Rome at the end of our adventure. Arrange to arrive in Rome by mid-morning this coming Saturday, September 28, and you'll be whisked up into the heart of Abruzzo to the preserved fortified medieval village of Santo Stefano di Sessanio.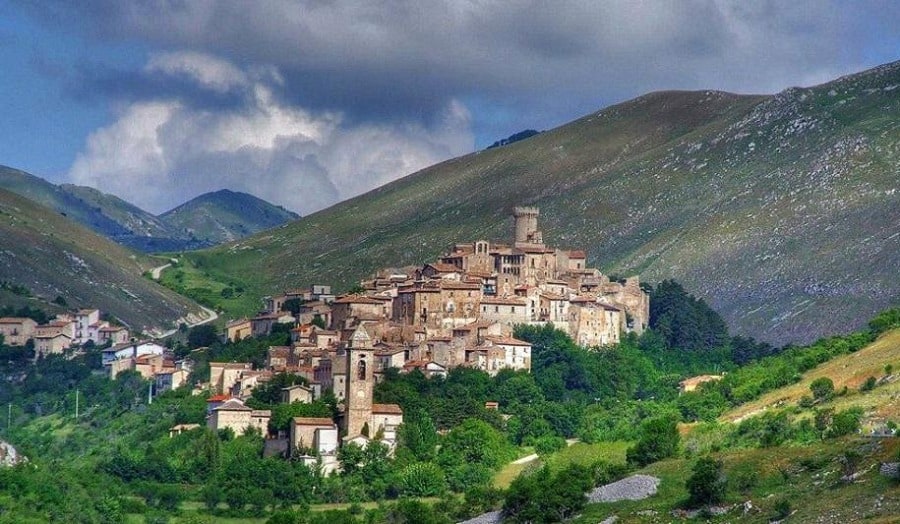 Here we find a medieval clifftop village dating back to the time of the Romans — with cobbled, quirky streets, arches, tiny passages, it's a world apart from any city or town in the modern world, with no TV, internet, or fast food.  
We check-in at the peaceful and charmingly restored former 500-year-old monastery, the Convento di San Colombo.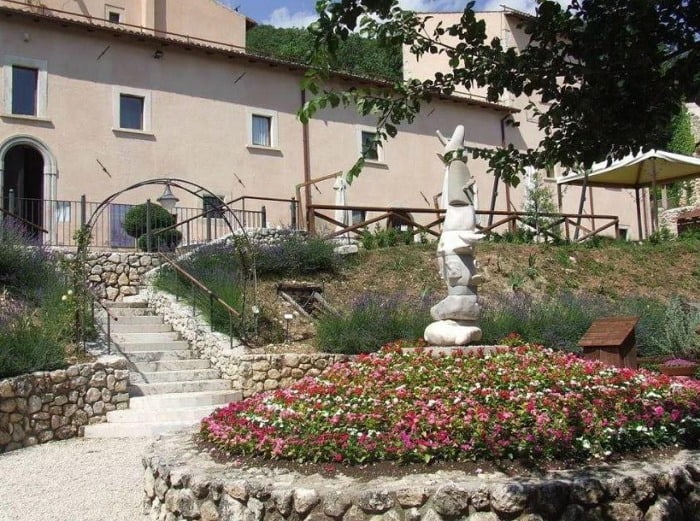 After a lunch of authentic Abruzzo cuisine, we have a short walk to the Rocca Calacio fortress built over a thousand years ago to enjoy the magnificent view.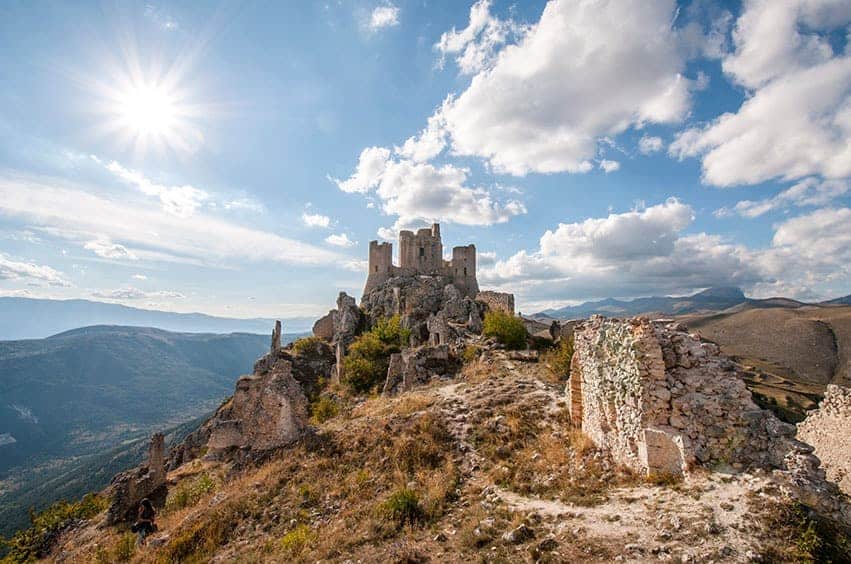 We'll spend the rest of the afternoon exploring Santa Stefano – and enjoy a glass of wine with the friendly locals.
Dinner tonight is at the marvellous Locanda sotto gli archi restaurant.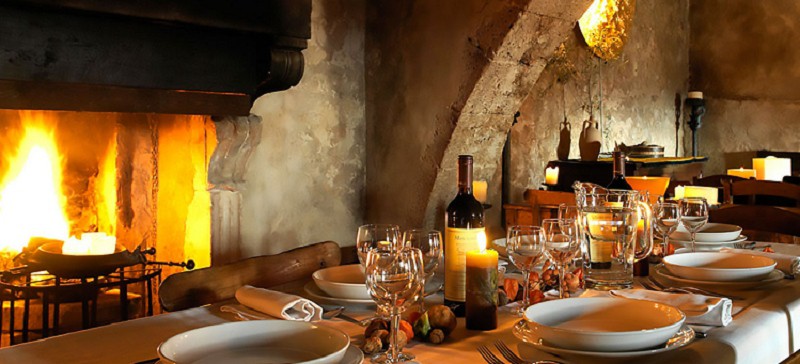 We're off after a great breakfast on Sunday, September 29, for a beautiful drive through the Apennines, wherein the region of Molise we come to a haven of nature, the Montedimezzo Forest Reserve, famous for its serenity and wildlife. We can't resist a walk on its paths.
FREE GUIDE! Get Essential Information on Protecting Your Assets
18 STEPS TO IMPLEMENTING YOUR PLAN B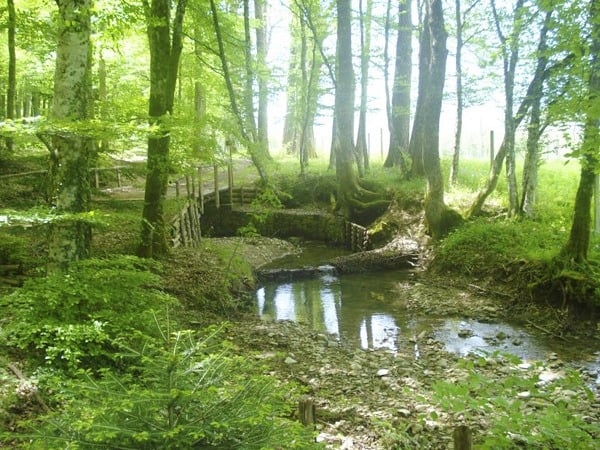 From here, we make our way to a hidden jewel of the Apennines, the ancient hill town of extraordinary history, Agnone.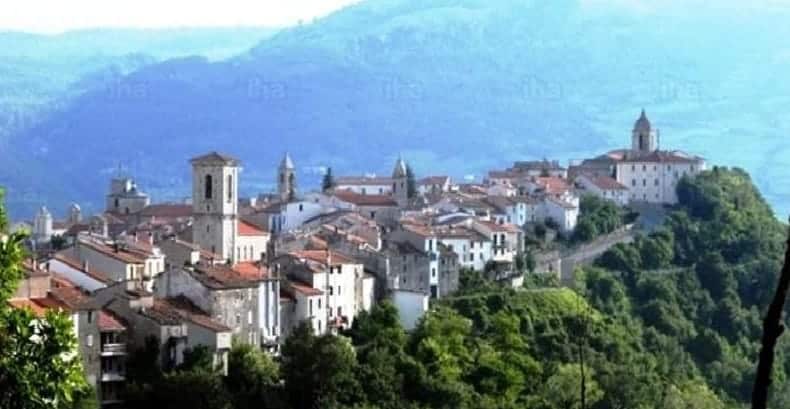 It is older than the Romans, the capital of a Bronze Age tribe called Samnites who fought many wars with Rome, the earliest in 394 BC. A medieval village to this day, it has 19 medieval churches – and the oldest continuously-run family business in the world. The Marinelli Pontifical Bell Foundry has been making bells using the "lost wax casting" method for over a thousand years.
A visit here is a fascinating learning experience both for the history and the amazingly intricate technology. Pope John Paul II and Pope Francis were mesmerized by his experience here and you will be too.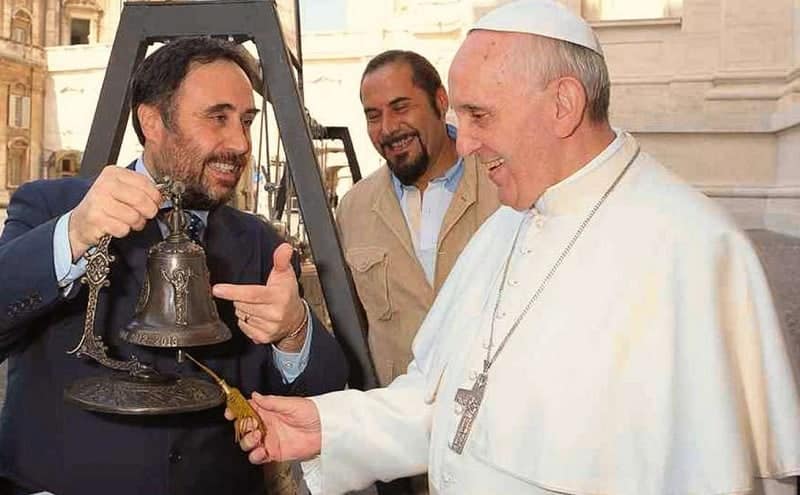 After our visit and exploring ancient Agnone, we enjoy our stay at the charming Masseria Santa Lucia Inn.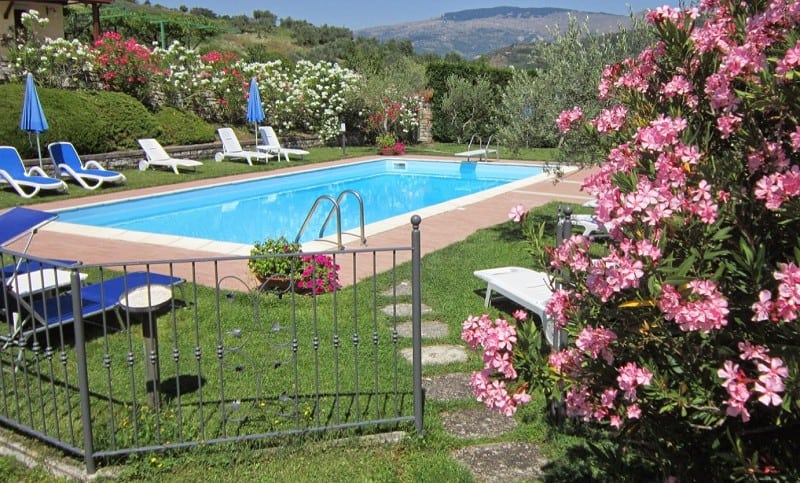 The heart of our immersion into Authentic Italy begins this morning. For at least 3,000 years, shepherds in the Apennines have practiced transhumance, taking their flocks and herds up to summer pastures in the mountains and down to the winter plains below. The ancient well-worn trails of their annual migrations are called tratturi (singular: tratturo).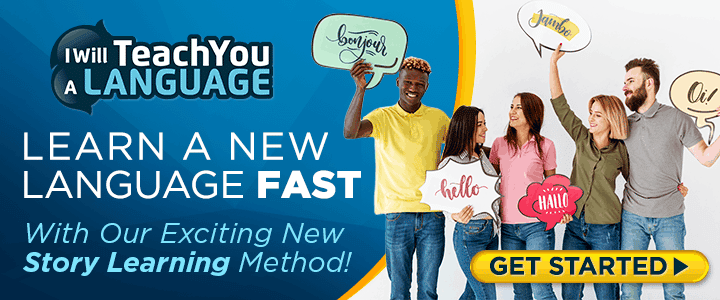 Many are still intact today, and even though most shepherds now use trucks, there are a few families that practice the old way. You'll be getting to know one of them. The tratturi however are off-road. To traverse them, you must walk, ride a horse, or take a 4WD jeep. And that's the joy of it, for you resonate with the rhythms of millennia amidst pure tranquillity of natural beauty.
For the next four days – Monday, September 30 to Thursday, October 3 – we will live in this dream world and find the unexpected, like the funky La Fucina Brewery in the tiny Tratturo Trail village of Pescolanciano – that makes the best craft beer in all of Italy.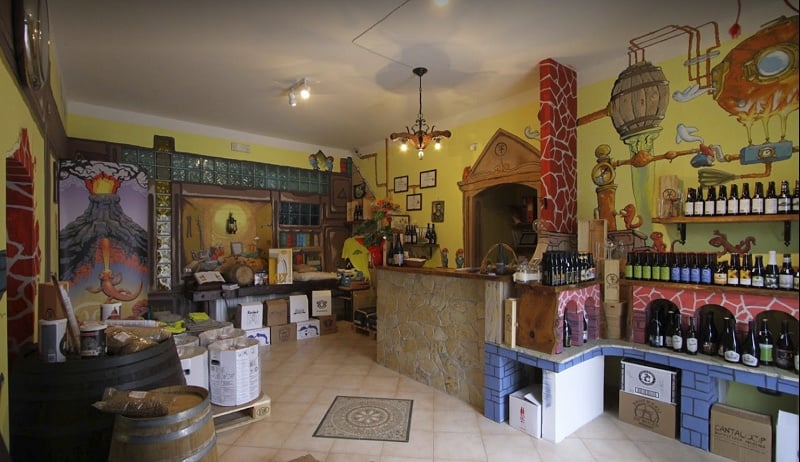 So here we go, off on the Tratturo Trail!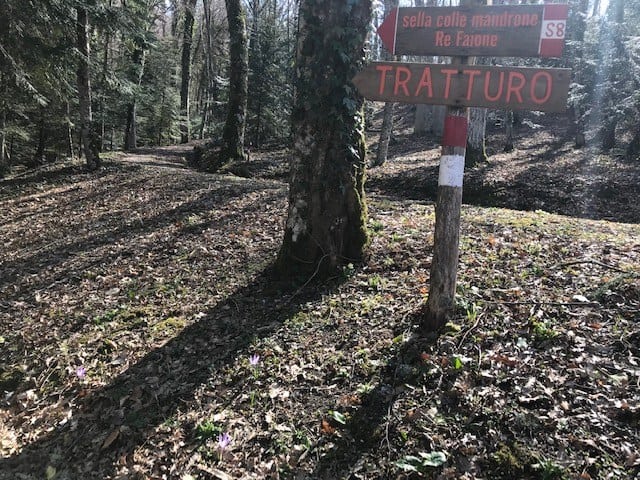 While walking is an option for some, and a 4WD jeep for others, we hope you'll choose to ride a gentle well-trained trail horse. You can see why.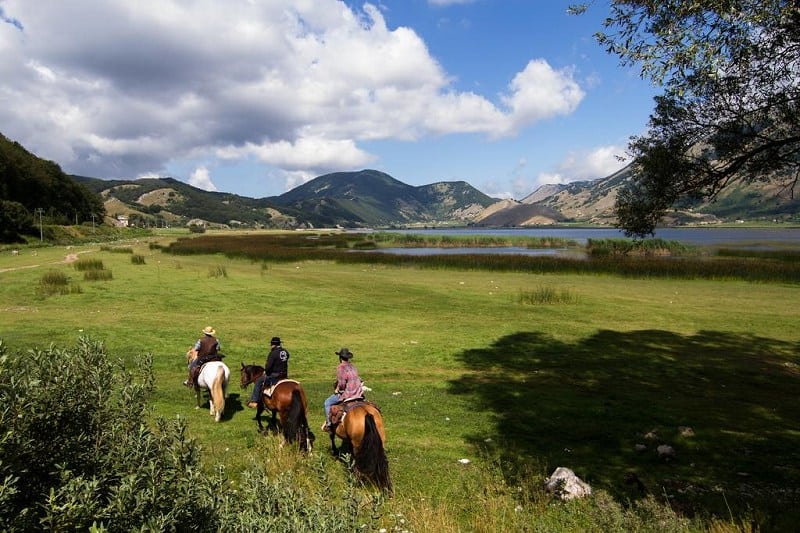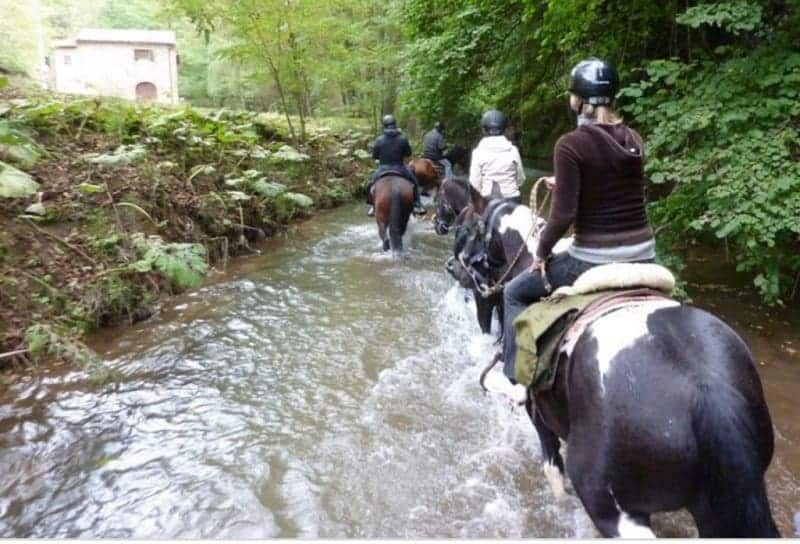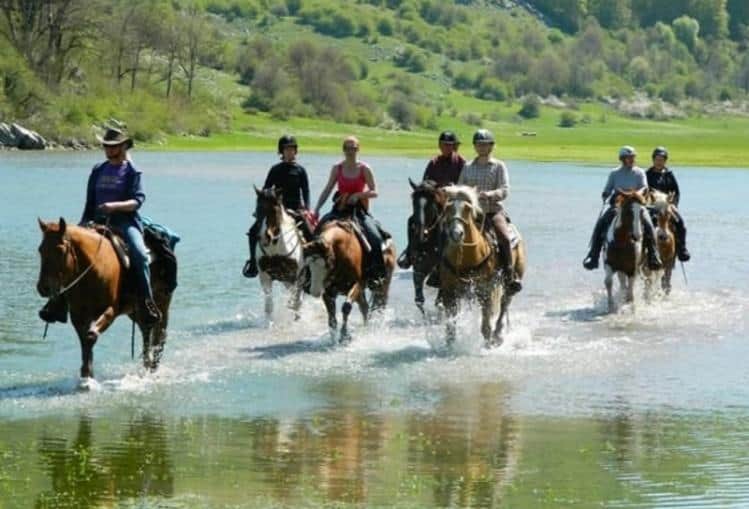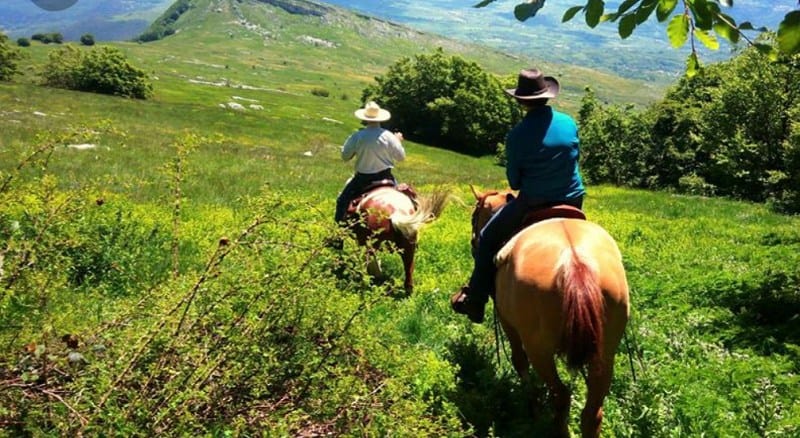 But Jeeps can be fun, too! You can trade off – ride, walk, or jeep whenever you wish.

We'll have picnics with local foods – and wine, and La Fucina beer.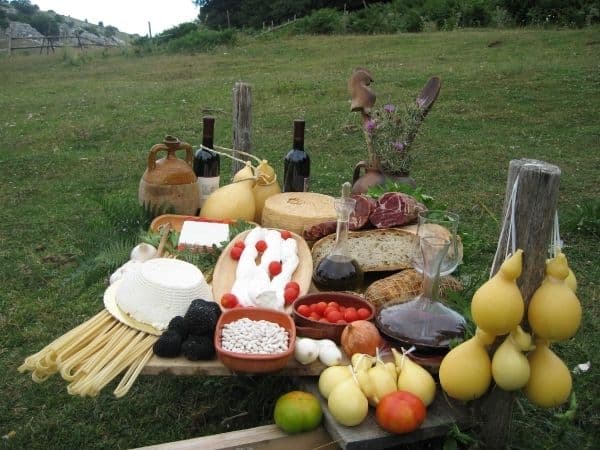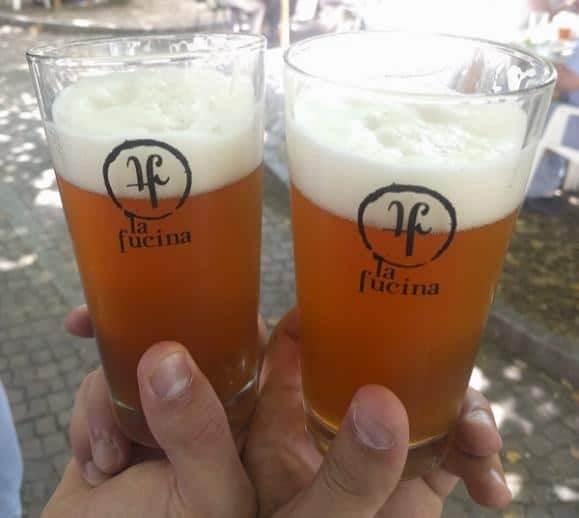 And every night, we'll stay at wonderful inns and lodges with sumptuous food in stunningly picturesque small hill towns – like Bagnoli del Trigno…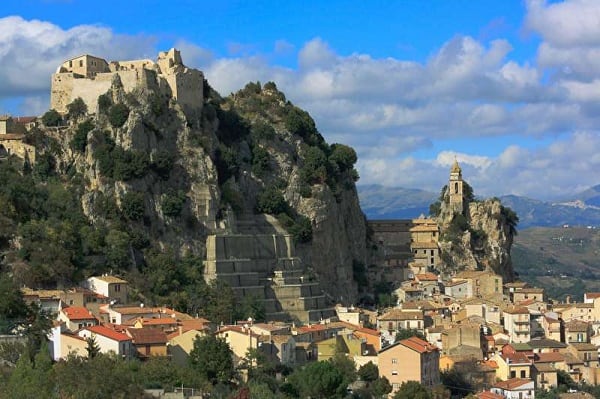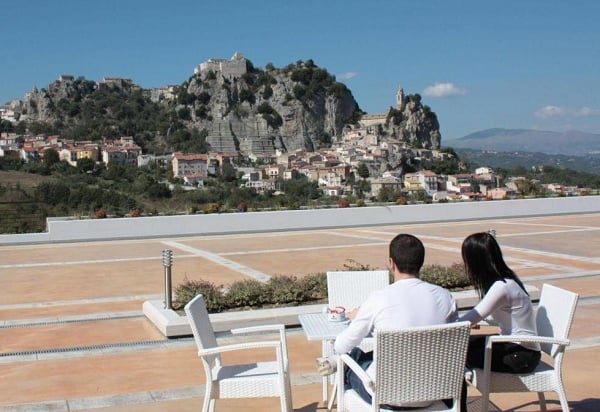 …Guardiaregia or Basilicata.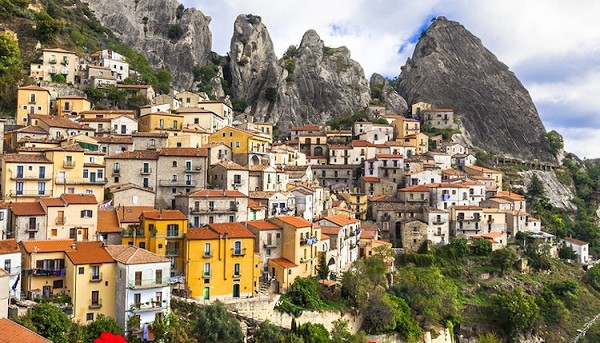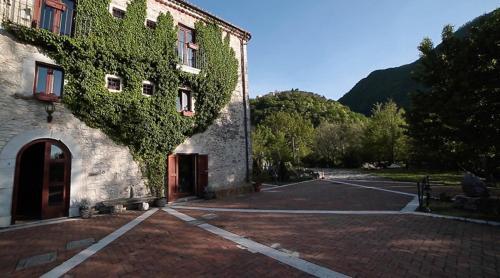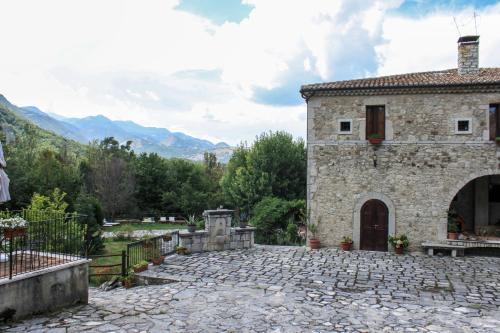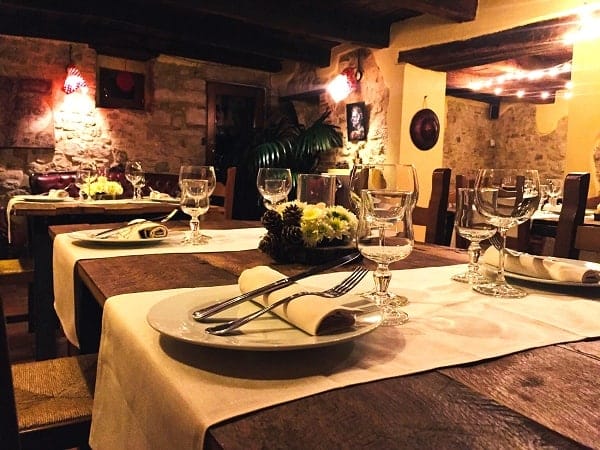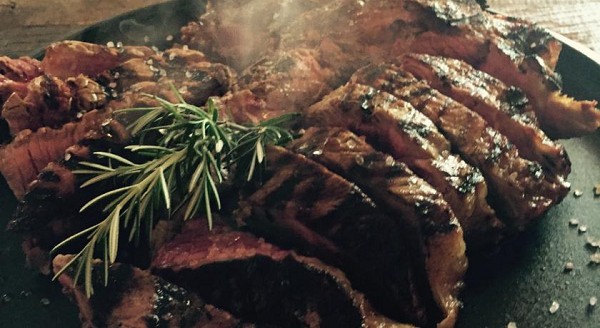 We finish our Tratturo adventure at Saepinum, where we can see the shepherds leading their flocks through the spectacular ruins of the Samnite and Roman sacred city dating back to 600 BC.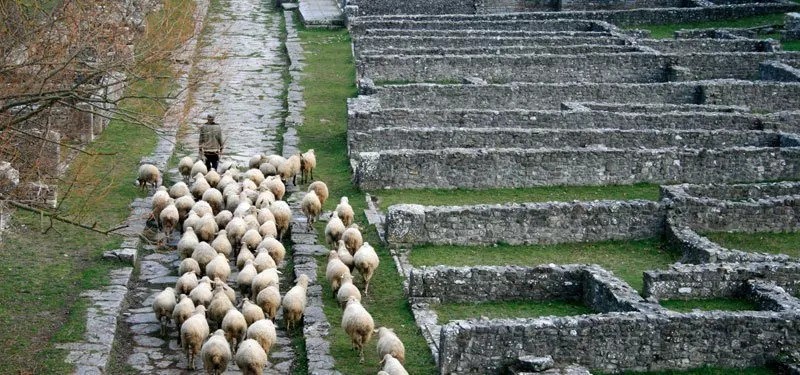 We end the day at a country lodge overlooking idyllic Lake Occhito.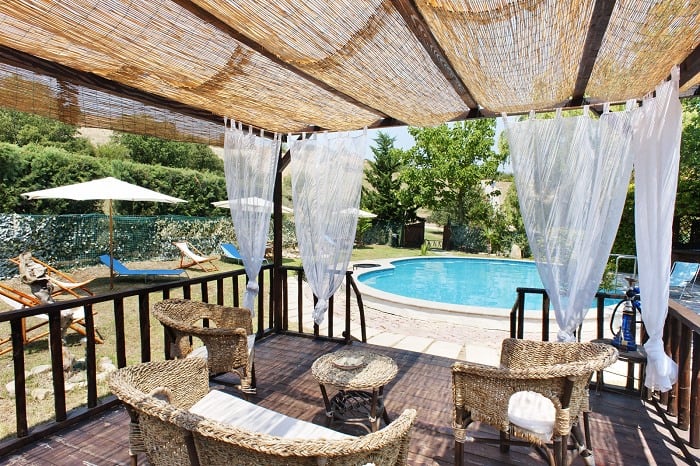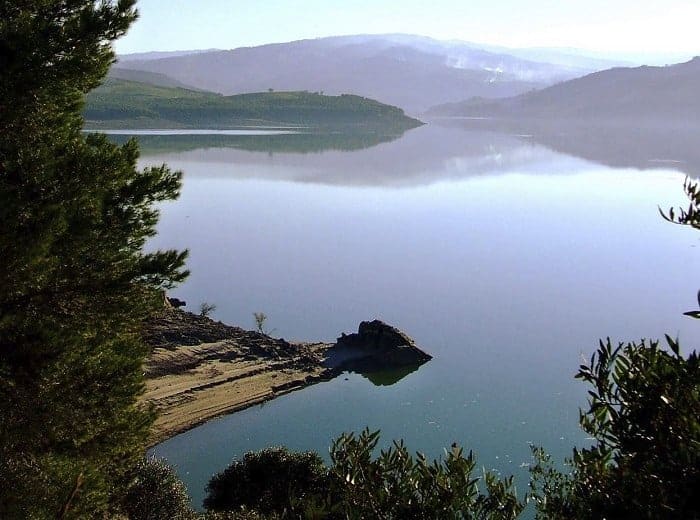 We wake up Friday, October 4, to an early breakfast and lakeside stroll. By mid-morning, we drive deep into the region of Apulia – and by  noon we're at what many consider "the most spectacular city in Italy," the "oldest continuously inhabited settlement in the world" where people have been living for the last 9,000 years (7,000 BC), the UNESCO World Heritage Site of Matera.
Matera is a place you have to personally experience to believe it exists. Homes here are cave dwellings carved out of the soft rock.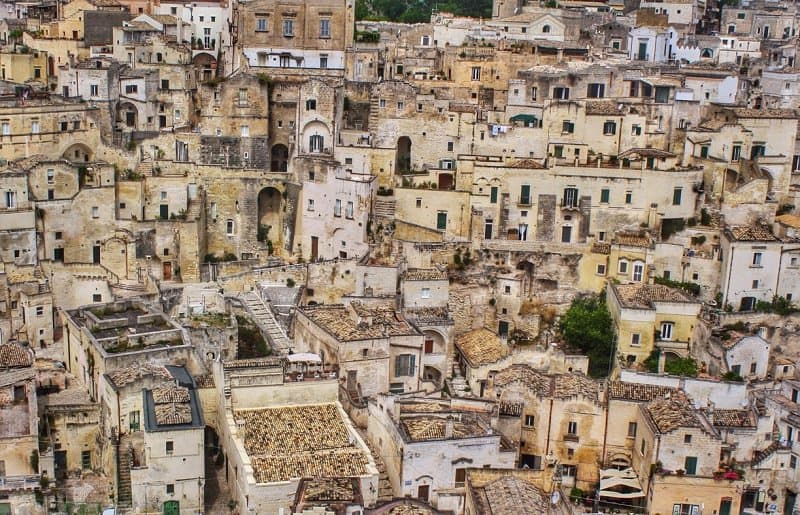 In fact, our Luxury Five Star Hotel, the Palazzo del Duca, is the same. Who could imagine sleeping in a cave could be so luxurious?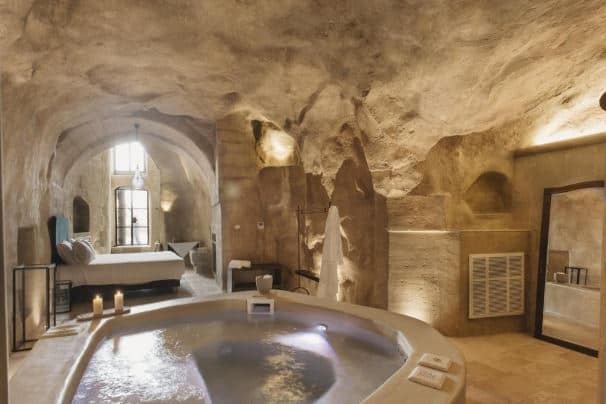 Matera is a magical place that will completely entrance you.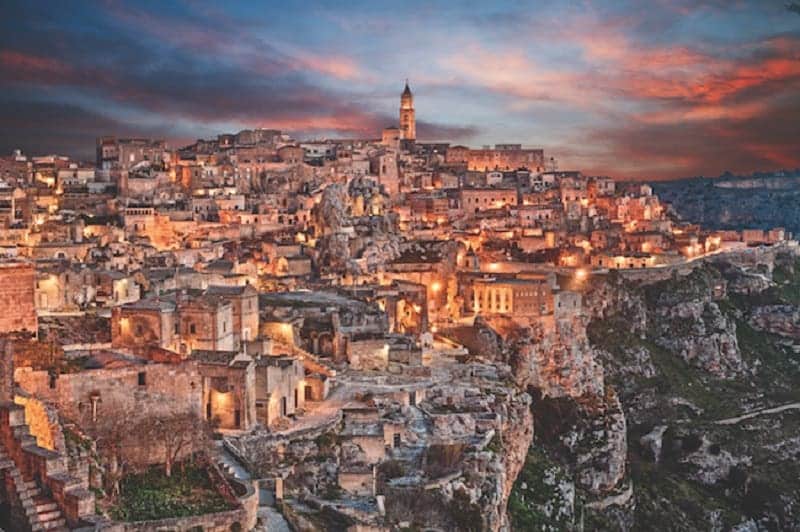 We wake up Saturday, October 5, realizing this is our last day and we'd better make it special. But how can we top Matera and all else we've seen? Let's try.  
After a marvelous breakfast, let's be off by 9, for an hour away is the UNESCO World Heritage Site of the Trulli of Alberobello. Trulli are the world-unique homes found only here with conical dome roofs of unmortared rock slabs. They are found nowhere else.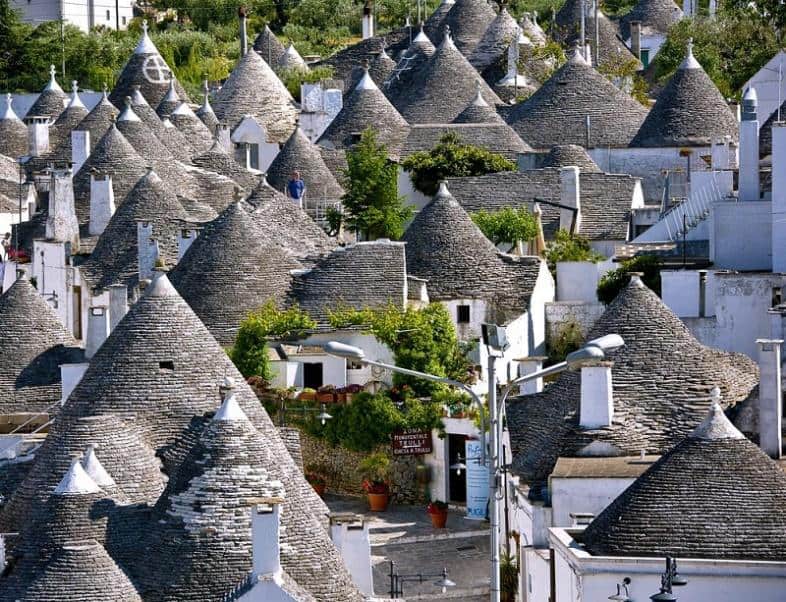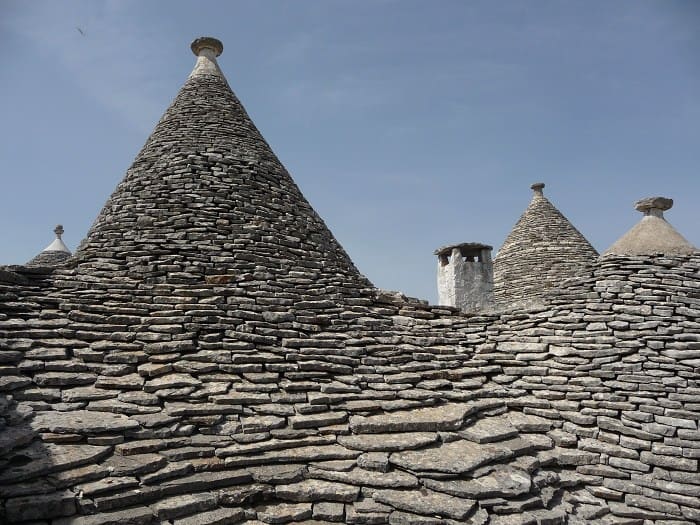 It's a wonderland to explore – but soon, the sea is calling, for it's just 30 minutes away – the Adriatic Sea. How about having lunch right here?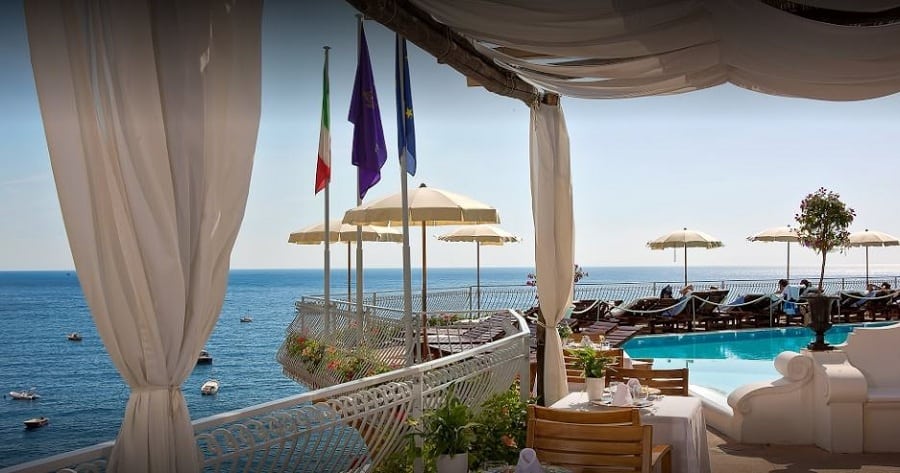 For this is where we're staying tonight, Covo dei Saraceni, right on the water at Polignano a Mare. Directly below is this gorgeous pocket beach for your pleasure.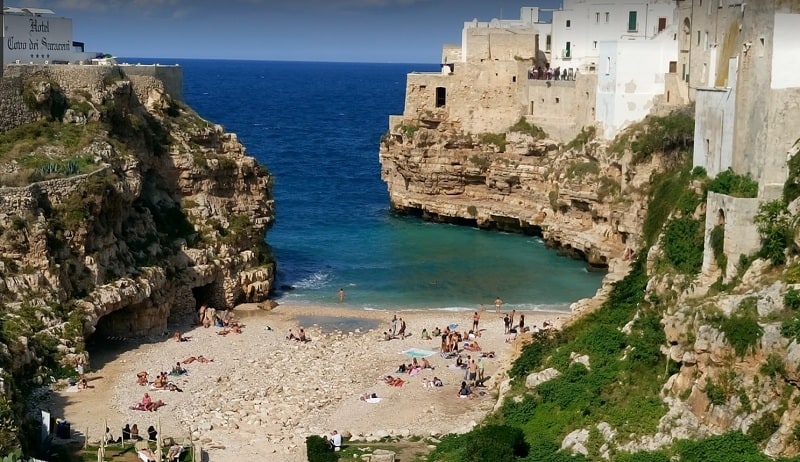 Just relax and enjoy.
Tonight is our Farewell Dinner. What could be better than the best seafood you've had in your life while watching the sunset on the Adriatic? We have a lot to celebrate – for we will have seen the real and authentic Italy in a way few others ever have.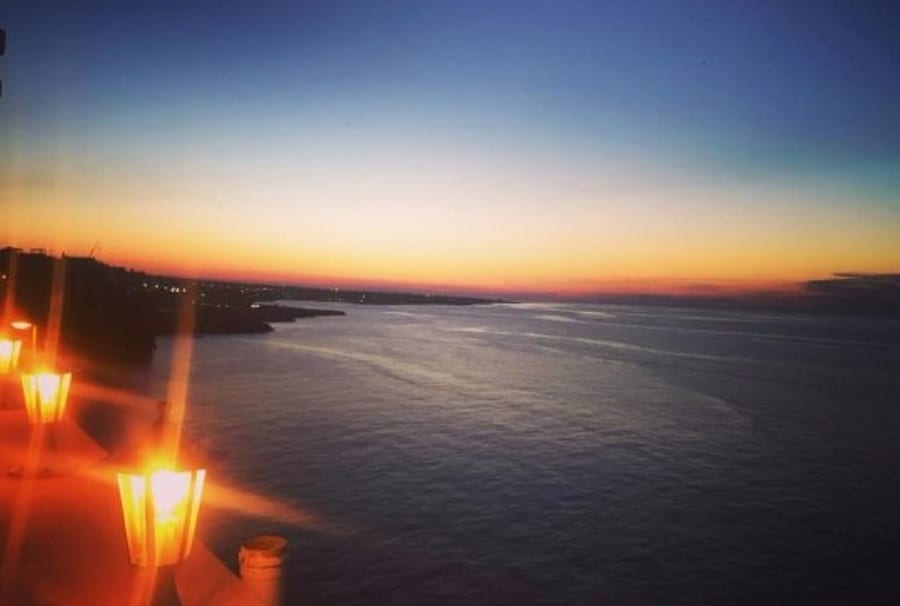 Carpe diem. If not now, when? Life is short. The time for a great adventure is now.
Jack Wheeler is the founder of Wheeler Expeditions.
Here is probably the most extensive ebook on Everything You Ever Wanted To Know About Eliminating Your Taxes, Protecting Your Assets And Regaining Privacy Over Your Life And Investments. It is called The Ultimate Guide To Going Offshore.  Visit our bookstore to purchase it today!
I hope you enjoyed reading this article: Authentic Italy. If you have any questions, please contact our office HERE.
I've included some great articles for you to read, enjoy!
What You Need To Know To Move To Italy
Top Strategies For Getting Residency In Italy
5 of the Most Popular Expat Destinations in Italy
©2019 Jack Wheeler – republished with permission

Like Our Articles?
Then make sure to check out our Bookstore... we have titles packed full of premium offshore intel. Instant Download - Print off for your private library before the government demands we take these down!