Are you interested in owing a Caribbean beachfront resort? There are many issues to consider before moving toward a purchase whether it is a Caribbean boutique hotel, AirBnB vacation home or condo, a bed and breakfast, or larger Caribbean resort property.
Unless you are looking for a remote Caribbean property, destination and ease of access should play a part in your planning. Distance to the closest International airport, and transport options for your visitors, should be considered.
Let's face it—the majority of vacationers in the Caribbean Basin are looking for resorts in fun locations, and on the beach or within walking distance. You only need to look at the eastern Caribbean and Mexico as two examples of this.
Your team in buying your Caribbean resort property.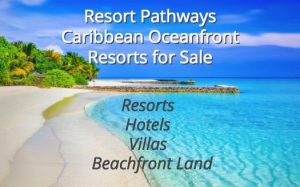 Working with an experienced Caribbean Resort Broker is usually the best way to proceed. Local laws regarding real estate transactions and property title regulations can be handles through a good, honest legal representation. Any resort broker in the Caribbean worth his salt will educate you in the pathway to property acquisition and make introductions to key local people who will facilitate this process.
You will also need an experienced local Caribbean lawyer. Your lawyer can also walk you through labor laws, residency requirements, and corporate structures available.
The Caribbean beachfront property location is very important.
Is the area that you are considering a well-known tourist destination or a less traveled spot?
Either spots can be desirable, and it really comes down to marketing.
I have seen several beachfront Caribbean properties fail to thrive due to the lack of understanding basic marketing or the lack of effort in this area.
A good well-designed website coupled with social media exposure is a necessity.
In addition, purchasing an established business is usually in your favor as the property may have already been mentioned in travel articles and booking sites such as Trip Advisor.
Of course, you need to visit any property that you are considering purchasing.
Physical condition of the property will answer several important questions.
Check out the surrounding area. Who are your direct neighbors and how are their properties utilized. Look at the area through the eyes of your future guests.
If you are not versed in local construction norms, seek out someone who can do an inspection of the property. Occasionally seemingly small problems can end up costing a lot to repair.
Be sure to ask for a complete inventory list of all items included in the sales price.
If possible plan to stay a couple nights at the property.
Purchasing a commercial property that caters to the public can be a rewarding and interesting lifestyle change.
Unforeseen challenges will present themselves, however above all exercise patience and keep your humor intact.
Are you looking for a Caribbean beachfront resort, hotel, villa, B&B for sale? Then please contact Resort Pathways – they are very well connected in the Caribbean hospitality industry.