Central America is rapidly growing as one of the most desirable regions of the world in which to invest. Whether you're thinking about currency diversification or real estate investment, Central America offers some clear advantages. However, not all Central American nations offer the exact same benefits to investors. 
Overall, there are four countries in Central America that stand out to investors: Panama, Costa Rica, Nicaragua, and Belize. While each can be a smart place for investors to explore, it is worth learning more about them before making your decision. 
Investing in Panama 
Ever since the Panama Canal opened in 1914, the nation of Panama has been an incredible destination for investment. An inordinate amount of goods passes through the Panama Canal each year, and the country itself is growing as a cosmopolitan destination for visitors and retirees alike.
To start, the currency of Panama, the Panamanian Balboa, is tied to the U.S. Dollar. In fact, it is possible to spend U.S. Dollars throughout Panama. While that is great news for relative currency stability, it isn't ideal if you were hoping to diversify your currency holdings in Panama. 
The cost of living in Panama is still lower than in the United States, but desirable urban areas like Panama City have become increasingly more expensive in recent years. However, investing in Panama still allows plenty of security and privacy, giving you greater peace of mind about your finances.
One of the areas to be particularly aware of when investing in Panama relates to the government. There is a high turnover within the government, and the structure can change drastically every five years. This means that investors with long-term goals will need to stay ahead of these changes and be aware of how governmental changes can impact their investments in the years to come. 
If you are ready to make the move to Panama, please reach out us HERE.
Investing in Costa Rica 
Costa Rica has sometimes been called the Silicon Valley of Latin America, so it should not come as a surprise to learn that the country has attracted a number of international tech savvy corporations to its shores. Tourism and technology have overtaken more traditional industries like agriculture, and the entire country is seeing a boom thanks to increased investment over the past two decades. 
Investment in Costa Rica is also advantageous because foreigners have the same ownership rights as Costa Rican nationals. Real estate taxes are also quite low in Costa Rica, often coming in at well below one percent, making it easier to own and maintain a second or third home in Costa Rica. To top it all off, foreign residents make up as much as 10 percent of Costa Rica's population. This is desirable to investors as well as anyone interested in moving to Costa Rica, operating a business in the country, or just for those feeling like they need more stability.  
Costa Rica also boasts an incentive law, which allows for a 12-year income tax exemption for many candidates. Combined with their 'Free Zones' which are designed to attract foreign businesses, and you have the ideal climate for investing in Costa Rica. It is also important to note that the popularity of Costa Rica over the past few years has increased the cost of living and business overheads. 
Investing in Nicaragua 
Nicaragua is an interesting investment destination because it is right at a tipping point. A decade ago, investing was still a riskier move, but now Nicaragua is going the way of other Central American destinations like Panama and Costa Rica. The trick is being able to get in on investments now, while they are still affordable, and accepting that some minor risks might still remain. 
Foreign investment and infrastructure are rapidly increasing, which is a very positive sign for anyone contemplating investments within Nicaragua. The nation as a whole is experiencing prolonged and consistent growth, and there are laws in place that guarantee foreign investors the same rights as resident investors.
In most cases, investors can also expect a 10-year 100% tax-free exemption on money invested within the nation. This can go a long way in helping you maximize your investments and your profitability. More recently, and in spite of some unrest in the country, free trade agreements make it easier to trade with surrounding nations and with the United States, which can improve the economic state of the country. 
Investing in Belize
While it is hard to pick the absolute best Central American country to invest in, Belize is certainly an obvious candidate. The nation is incredibly safe, and it is on an upward trajectory in virtually every sector and every industry. Belize is seeing an increased number of tourists, which in turn increases the number of hotels and vacation rentals that are required. Along with that, the government is able to spend more money on infrastructure, which then increases the value of your real estate investments. 
Belize offers a legal system based on English Common Law as well as no language barriers, since English is the official language of business in Belize. The tax climate is also very favorable to foreign investors, allowing you to make a greater profit off your investments.
Belize maintains discretion when it comes to financial matters, and businesses are able to keep their records private if desired. Whether you want to protect your assets or set up trusts for future generations, it is all possible through investing in Belize. 
It is also worth noting that Belize is a desirable place to live for expats. If you want to live or retire where you invest, Belize offers incredible real estate, an amazing climate, and all the amenities that foreign residents might come to expect. 
It is easy to see the appeal of investing in Central America. While many countries can offer great opportunities, Belize stands out as one of the top places to do business, invest, or buy real estate. 
I hope you enjoyed this article: Which Central American Country is The Best to Invest in? Here are a few additional articles that I know you will love:
6 Countries Where It's Easy To Get A Residency Visa
Top 16 Reasons to Move To Panama
A World of Choices When Moving Overseas
About The Author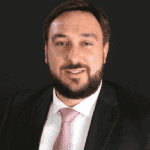 Luigi Wewege is the President of Caye International Bank, headquartered in Belize, Central America. Outside of the bank, he serves as an Instructor at the FinTech School in California, which provides online training courses on the latest technological and innovation developments within the Financial Services industry. Luigi is also the published author of The Digital Banking Revolution, now in its third edition.
Like Our Articles?
Then make sure to check out our Bookstore... we have titles packed full of premium offshore intel. Instant Download - Print off for your private library before the government demands we take these down!