The Resurgence of Private Offshore Banking
Our team has years of experience and is ready to guide and assist you.  Contact us today to arrange for a consultation.
According to research conducted by the National Bureau of Economic Research (NBER), roughly 10 percent of the world's GDP (Gross Domestic Product) is being held in offshore banks. Throughout Europe, that number is closer to 15 percent. In some Persian Gulf countries, it is as high as 60 percent. 
Several reasons contribute to the resurgence of private offshore banking, with some of the biggest factors including:
Asset diversification;

Concerns about domestic stability;

Ease of online banking;

Growing number of expats around the world;

Privacy concerns; and

Potential tax benefits.
Let's take a closer look at these factors to better understand the current growth of the private offshore banking sector. 
The Need for Asset Diversification 
Private offshore banking is an effective means of diversifying your assets. Anyone who has taken an economics class is familiar with the concept of diversification. Much like the adage of, "don't put all your eggs in one basket," in the world of finance, no one should keep all their assets in the same place.

While choosing a wide range of investment types is smart, individuals should also opt to store those assets in a variety of locations. Most people have at least one domestic bank account. In addition to that domestic bank account, opening an offshore bank account spreads your assets across two or more physical destinations. 
Concerns About Domestic Economic Stability
When the global economy is on an upward trajectory, it is easy to be positive and forget about potential instability. Today, however, there are many major political and economic changes happening around the world. Trade wars, Brexit, and upcoming elections can all have an impact on how people store their wealth. 

In times of domestic instability, or even periods where there is concern about potential instability, an increasing number of individuals branch out and bank offshore. In the event that a nation's economic system collapses, or if a new president changes banking legislation, there will be a safety net in place. While no one can foresee the occurrence of these types of events, having a backup plan such as having an established offshore banking account can lessen their negative impact on your assets. 
The Ease of Opening Offshore Bank Accounts Online
In the past, many people simply didn't know how to open an offshore bank account, and finding out how to do so was a time-intensive process. Before the widespread access and use of the internet, it was difficult to research an offshore bank, choose the right kind of account, get in touch through long-distance phone calls, and then mail the necessary notarized documents to get started. Today, the entire process is far simpler thanks to the availability of online bank accounts. 

With a few clicks of the mouse, you can learn more about offshore banks and jurisdictions. You can open bank accounts online and even manage your assets from your smartphone or computer. Whether you're at home, at work, or traveling overseas, you can stay on top of your financial holdings. There is no question that advances in technology are at least partially responsible for the resurgence of private offshore banking. 

Increasing Numbers of Expats
Expatriates, more commonly referred to as expats, are defined as people who are living outside of their home country. Expats move abroad for all kinds of reasons. Some of the most popular reasons include relationships with foreign nationals, better retirement options, or overseas career opportunities. Whatever the reason, living overseas means that expats need more than one bank account. 

Most expats will keep a domestic bank account for citizenship or taxation purposes. However, they often need to open a secondary bank account so that they have access to the local currency. Whether expats want to go shopping overseas or purchase property in their new country, an offshore bank account becomes a necessity. 

When expats establish offshore bank accounts, it often has a knock-on effect. Their friends and family members might also open offshore bank accounts when they see how simple and effective the process can be. 

Privacy Benefits of Offshore Banking
Each jurisdiction around the world has its own set of privacy and confidentiality laws. Many offshore destinations, such as Belize, have measures in place to maintain privacy over one's financial information.

In the United States, the USA Patriot Act as well as the U.S. Bank Secrecy Act of 1970 (BSA) make it easy to find information and details about the people who own and manage bank accounts. If you don't want this this information to be publicly available, then offshore banking is an obvious choice. 

Banking offshore as an American means that you will need to disclose a lot of information when you open your account. This is to ensure that the assets you place in the account aren't derived from or going to any illegal sources. Once your identity has been confirmed, however, your offshore bank will provide the anonymity you desire. 
Potential Tax Advantages of Banking Offshore
Depending on the location of the account, offshore banking provides tax benefits. In Belize, for example, the interest you earn on your offshore investments won't be taxed. 

In the United States, capital gains taxes can be as high as 37 percent for assets held for less than one year. That can significantly reduce the profit potential of investments. Anyone concerned about tax eroding the value of their holdings may want to explore banking options that will do a better job of preserving their wealth. 

In recent years, there has been a sizable uptick in the number of individuals who turn to private offshore banking. Whether you're most concerned about asset diversification or financial privacy, offshore banking might be your answer.  Book a call today!

Click here to learn more about:
3 Offshore Resources That Should Be Part of Your Financial Planning
About The Author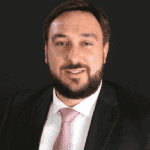 Luigi Wewege is the President of Caye International Bank, headquartered in Belize, Central America. Outside of the bank, he serves as an Instructor at the FinTech School in California, which provides online training courses on the latest technological and innovation developments within the Financial Services industry. Luigi is also the published author of The Digital Banking Revolution, now in its third edition.

Like Our Articles?
Then make sure to check out our Bookstore... we have titles packed full of premium offshore intel. Instant Download - Print off for your private library before the government demands we take these down!