The Panama real estate market is one of the most exciting in the world today. It's really come into prominence in the past decade, with growth and appreciation stabilizing since 2013. Real estate prices have been steadily increasing in Panama during that time; even the Great Recession did little to hamper this country's growth.
In this article, we'll explore buying real estate in Panama and show you how to make money as an investor with Panama real estate investments.
The Panama Real Estate Market: An Exclusive Location in a World Class City
Panama City is the country's capital and the center of much of this real estate growth. It's been described as Central America's version of Miami (although some joke "but with more English spoken" owing to Miami's heavy Hispanic population and Panama City's heavy expat population). To look at Panama City really is to view a modern city on the come-up; the city's central hub is lined with high rises and skyscrapers, and with more popping up every month.
To give you an idea of the Panama real estate market, let's focus on one example of a property for sale. Of course, the entire market is as diverse as the culture, but this will give you a snapshot of our thinking. And this one is located in a very desirable area of the city.
Located within the San Francisco area of Panama City, there is one particular property that has recently entered into this booming real estate market. A gorgeous 10,000 square feet (929 square meter) Spanish villa renovation, located on just over a half acre (or just over 2023 square meters) of land. This property was recently renovated to become a contemporary style home that meets North American standards, with almost all aspects refurbished, replaced, or refreshed in some way. Many additions were added as well; part of the property's 10,000 square foot living space includes 800 square feet which have been added on in the past 3 years.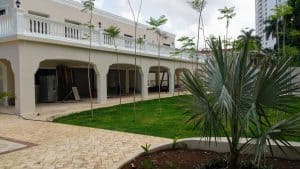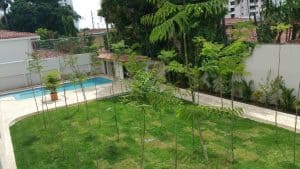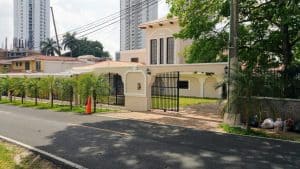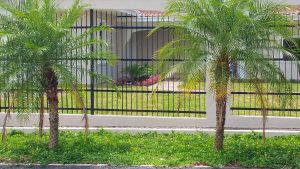 The area of San Francisco in Panama City is one of the city's most up-and-coming, and the Altos del Golf community, within the San Francisco area, is considered one of the city's finest and most prestigious. Many embassies have offices and residences here. Past presidents of Panama also live in Altos del Golf. San Francisco is the heart of the city. It is where the banking, hotel, and financial districts are located. Altos del Golf is a quiet oasis in the city, but convenient to everything without the traffic hassles of a commute from an outlying area. Taxi and bus service is convenient to the neighborhood, as are restaurants and convenience stores.
Since the property's acquisition by its new owners in 2013-2014, it has undergone a $2 million dollar renovation, both to the home and the property. The home has the potential for being an embassy residence, corporate headquarters, or a private residence. It's one of the best deals available in the Panama real estate market in 2017.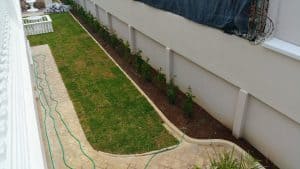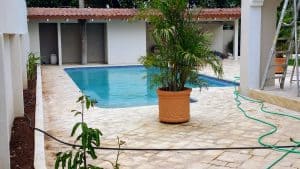 A Panama Property Unlike Any You'll Encounter Elsewhere
The main house has 4 bedrooms leading to either a balcony or terrace, each with en-suite baths. There are two additional half baths. The grand entry is two stories with a circular staircase, Additional rooms are a huge formal dining or conference room, oversized kitchen with two-room pantry, family dining area, living room, family room, utility/laundry room, wine cellar. All rooms have French doors leading outdoors. Master bedroom has a private dressing area, walk-in closet, huge bath area, and French door to a terrace where there is plumbing for a future spa. The upper level is nearly surrounded by a terrace with lighted balustrade hand made on the property.
From the front entry, one can either enter the house or enter a private office suite. The office has two very large rooms with large windows to bring the outdoors in. This area has a half bath and a place for a kitchenette. The owner can enter this area via a private hall from the residence. Each room is separately air-conditioned.
FREE GUIDE! Get Essential Information on Protecting Your Assets
18 STEPS TO IMPLEMENTING YOUR PLAN B
About half of the garage is enclosed and 4-5 cars could park in the carport and enclosed areas. Entry from the garage to the house is via two entries.
A two-room casita for staff is attached to the rear of the garage. Each unit has an en-suite bath. One room has a kitchenette with gas range, oven, refrigerator, microwave, and a stackable washer and dryer. Each unit is separately air-conditioned.
The house and property have undergone serious improvements since their acquisition several years ago, as stated above. A wide array of renovations occurred, including:
Newly surfaced interior and exterior walls, making surfaces straight and square,
Exterior has a special two-step hard coating trowelled on to prevent surface cracking, and give texture to the surface. Then two coats of paint were applied by hand.
Interior was given three coats of paint. Applied by hand.
Door and window openings were made square and uniform in height,
Interior and exterior door and window moldings were custom made on-site from reinforced concrete,
New concrete floors were poured on all levels,
60 cm porcelain floor tiles throughout, marble pattern,
New steel roof trusses,
New tile roofs,
Tower was given a new hip style roof to give the tower more height,
Built-in and concealed gutters and downspouts, stormwater is carried away from the house and yards to the municipal storm sewers,
New underground electric service,
Custom made cedar doors and windows made on-site,
Excessive amounts of new electric service,
Most rooms have accommodations for a large screen TV with concealed in-wall wiring conduit, Extra wall outlets in all rooms,
New water supply and drain lines,
11 zones of Trane inverter air conditioning units, with condensate drains built-in,
New sidewalks for frontage,
New driveway,
Restored privacy/security walls surround the property,
Covered sidewalks around the perimeter of the house,
New patios, balconies, and terraces,
Three extensive outdoor terraces are new and provide for outdoor entertaining,
The existing pool was redesigned, and coated in Diamond Bright, new pump and filter,
The newly constructed pool house has a shower, pump room, storage room, and open area for BBQ,
Yards were filled 8-10 inches with topsoil and sodded over with St. Augustine grass.
Mature landscaping plants with a variety of trees and shrubs,
Built-in LED lighting under the eaves on both levels and tower is unique in the neighborhood.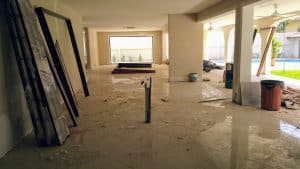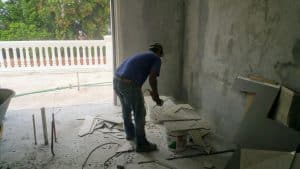 This is a first-class real estate investment all the way around, located in one of Panama City's most desirable neighborhoods, and with Panama, itself being an up-and-coming growth market.
Panama as a Lifestyle
Panama is an excellent country in which to purchase real estate, either for investment or lifestyle. The country has consistently had one of the strongest growing GDP's in Central America, and in fact most of the Western Hemisphere. Between 2010 and 2016, Panama's GDP averaged a 7.73% growth rate, well above almost all other nations in the Americas, and far surpassing that of the United States and Canada.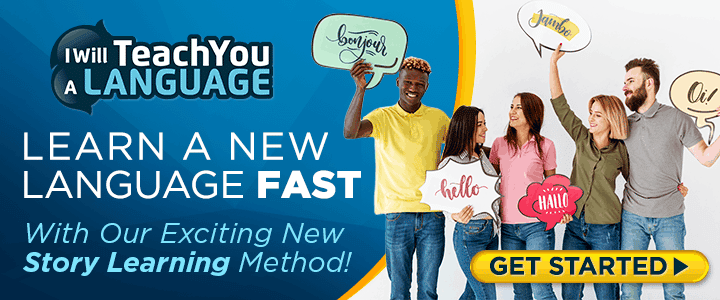 The country also regularly ranks incredibly highly in international reports of well-being. These reports measure such factors as satisfaction with one's purpose, social life, financial stability, sense of community, and physical health. Panama ranked first in the world in the Gallup-Healthways Well-Being poll during 2014 and 2015.
The country is also home to over 50,000 expats from all over the world, and the number continues to grow. Panama's Friendly Nations Visa Program is one of the easiest programs in the world for a foreigner to obtain permanent residency in a foreign country. Purchasing a piece of real estate, such as the one described above, would be more than enough to qualify someone for permanent residency in Panama. The country is very friendly to foreigners, and its government offers very generous tax incentives to expats who choose to retire in Panama.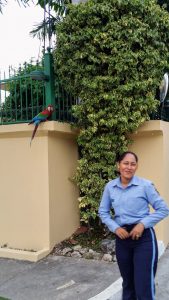 A Panama Real Estate Opportunity That Can't Be Passed Up
 Simply put, Panama City's real estate market is booming currently, and it looks like it will continue to grow for a long time. This is especially true for the city's more prestigious areas, such as the Altos del Golf community of the San Francisco area of the city.
This property is a beautiful mix of Spanish villa and modern, North American standards and renovation; a mix of class and functionality that is unparalleled in most other real estate offers you'll find within Panama, or most real estate markets for that matter.
The home and property have an asking price of $3.8 million. The land alone is worth $2.5 million. When the property was appraised 9 years ago, it was valued at $5.3 million. A copy of the appraisal will be provided to any serious buyers.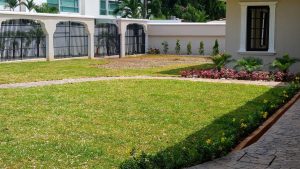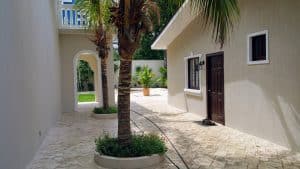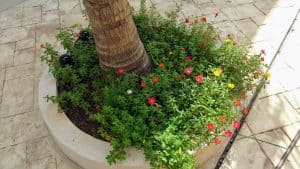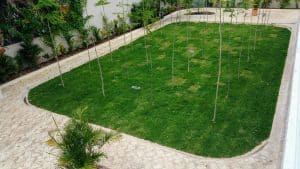 Since then the local real estate market has gone through much appreciation. In addition, as you've read above, the property itself has also undergone serious renovation as well. The $3.8 million asking price is firm, but to be honest, is a steal at this asking price. The seller has priced the property to sell quickly, so they can get it off their books. The purchaser could easily resell this property for a profit. Financing is available up to 50% for qualified buyers only.
 If you're looking to take advantage of Panama's rapidly growing economy, as well as Panama City's appreciating real estate market, this property is simply the best offer you'll be able to find. As an investment, it offers huge resell and rental potential. As a lifestyle purchase, it offers great luxury for anyone wishing to live there, in one of the city's most prestigious neighborhoods, and in a country which is every day bringing in more and more foreign expats to live full time. The Panamanian government is eagerly seeking expats to live in Panama and has very generous tax incentives for those who make the move.
If you have a serious inquiry about this property, please contact me at dwilhelm.eci@gmail.com 
If you are interested in other properties in the Panama real estate market – please see our Panama real estate listings.
Here is probably the most extensive article on Everything You Ever Wanted To Know About Eliminating Your Taxes, Protecting Your Assets And Regaining Privacy Over Your Life And Investments. It is called The Ultimate Guide To Going Offshore. You can download this epic post for your personal library.

Like Our Articles?
Then make sure to check out our Bookstore... we have titles packed full of premium offshore intel. Instant Download - Print off for your private library before the government demands we take these down!