All photos by Jack Wheeler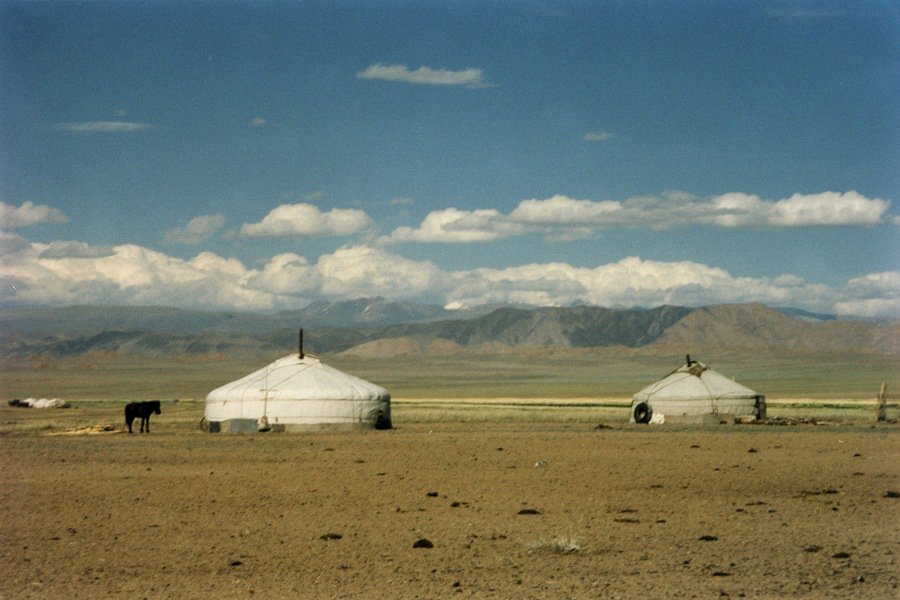 The first time I went to Mongolia was in 1963. I was 19 and by myself. It was a colony of the Soviet Union back then. No arat (Mongol nomad) living in a ger (conical tent like those above) had ever heard of America, much less met somebody from there, so I was a real novelty.
I was a novelty again when I got back home. Just about the most obscure course in the UCLA history department was on Mongolian history. There were about a half-dozen students, and when the professor asked us why we were each in the course, I answered, "Because I've just been there," and he couldn't believe it.  
He had never met anyone who had been there, never heard of anyone who had, and never had himself. I even got a visit from a CIA guy who asked to see my photos. The one that interested him the most was taken of the airport in the capital city, Ulan Bator, from the Aeroflot plane as we were landing. Langley didn't have that and I was happy to give it to him.
All those 35mm slides from back then are in one of the many boxes containing my pictures of yore. By 2005, however, when I ran an expedition of some 2,500 miles criss-crossing the country north to south, east to west, there were digital cameras, so I can share a few pics with you. It took a while, since Mongolia has no roads, just 4WD tracks.
Until recently, it was called Outer Mongolia, so designated by the Ching (Qing) Dynasty of the Manchus who ran China from 1635-1911. The Manchus distinguished it from Inner Mongolia as administrative districts.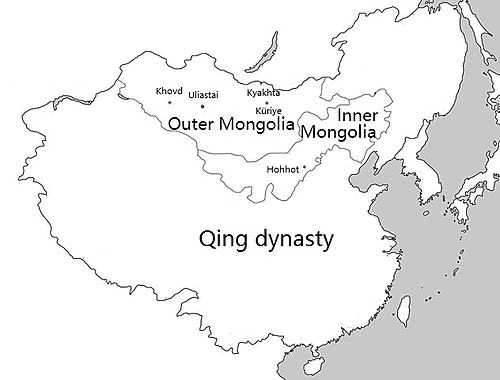 When Sun Yat Sen's revolution overthrew the Manchus in 1911, the Mongols thought freedom for them was a great idea. They declared independence for Greater Mongolia – both Outer and Inner – by early 1912, and asked for support from Russia against the Chinese. The capital was Urga, with their leader the Khutuku, the eight "Living Buddha" of the Mongols, Bogdo Gegen.
The Chinese quickly gobbled up Inner Mongolia, which remains a province of China today. A Chinese general known as "Little Hsu" invaded and seized Urga in 1919. By then, the Russian Civil War was raging, and the Khutuku wanted nothing to do with the Red Communists – so he invited an army of White anti-Communists in Siberia to help him.
The Whites were led by "the Mad Baron," Roman von Ungern-Sternberg, who promptly got rid of Little Hsu by early 1921. Mongol freedom lasted six months – for by July, the Red Soviets invaded, executed the Baron, and set up a "Mongolian Peoples Republic" with a stooge named Sukhe Bator as a Soviet colony. The capital of Urga was changed to Ulan (Red) Bator.
For 70 years, Mongolia remained an isolated unknown Communist land. With the collapse of the Soviet Union in 1991, Mongolia could be free at last. And you're free to explore it.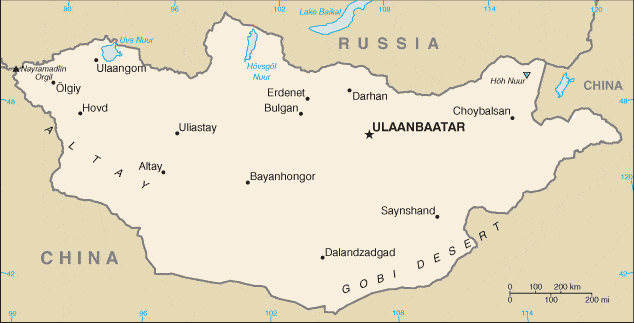 It's an enormous place – over 600,000 square miles or 1½ million square kilometers, way more than twice the size of Texas. Look at it superimposed on Europe: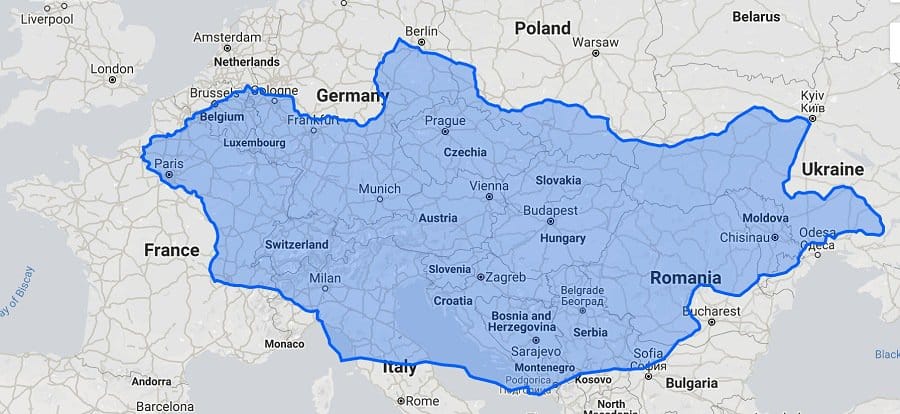 Yet it's the least populated country in the world, 3 million people in all.  So let's take a look at where to explore. First, let's go to the Gobi.
FREE GUIDE! Get Essential Information on Protecting Your Assets
18 STEPS TO IMPLEMENTING YOUR PLAN B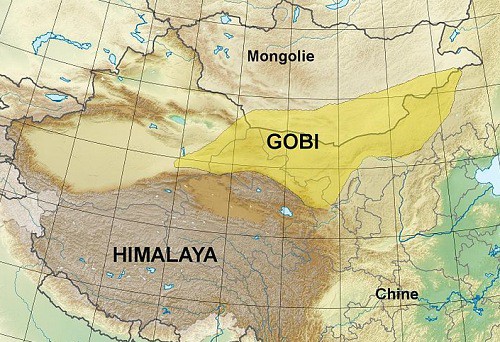 Many people associate "Mongolia" with "the Gobi Desert" – but as you can see, only about a third of the Gobi is there, with the rest in China. The association was made famous by explorer Roy Chapman Andrews in the 1920s, with his discovery of fossilized dinosaur eggs at a place he dramatically called "the Flaming Cliffs of the Gobi."
The cliffs are just south of the small community of Dalanzadgad, near the Chinese border (see map above). Here's what they look like: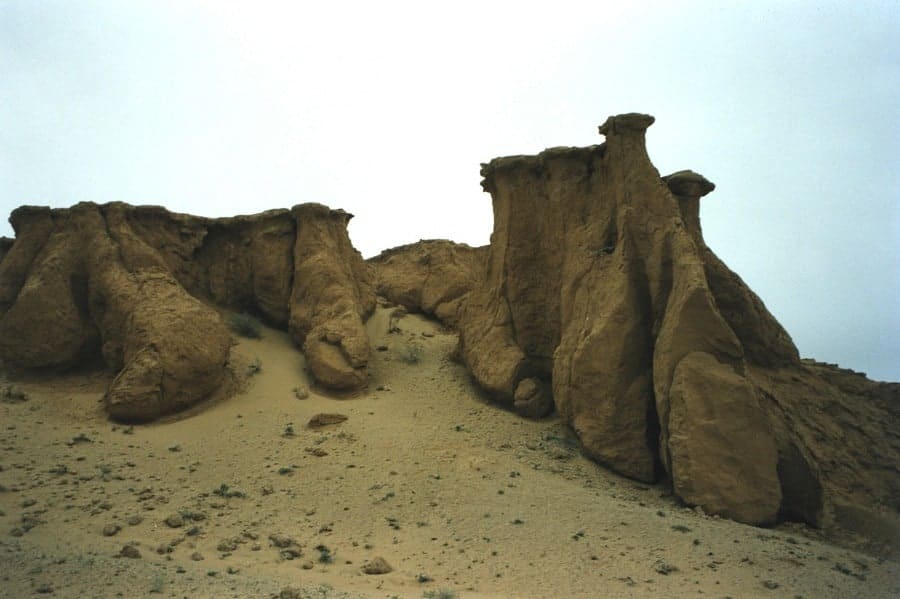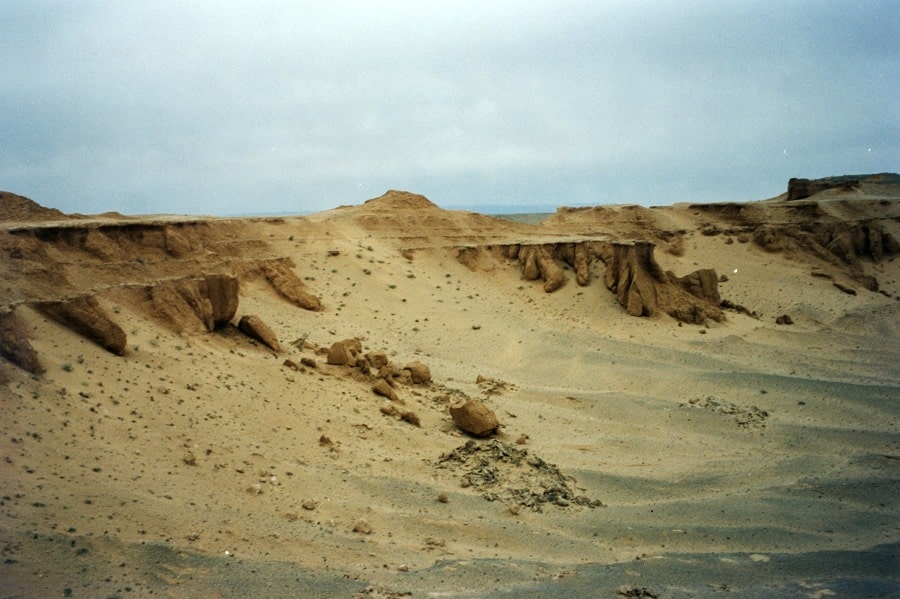 Yes, Andrews over-dramatized them. More interesting is what you find in a naked spine of mountains along the border with China, called the Gurvan Saihan. In the Gurvan Saihan, there is a gorge called Yol Alyn, the Vulture's Mouth. And in the Vulture's Mouth, there is a glacier.
It is not a big glacier, the ice buildup of a stream that refuses to melt even in the heat of the Gobi summer. But it is a glacier nonetheless, thick enough for my son Jackson and me to walk on for more than a mile. A glacier in the Gobi is worth experiencing.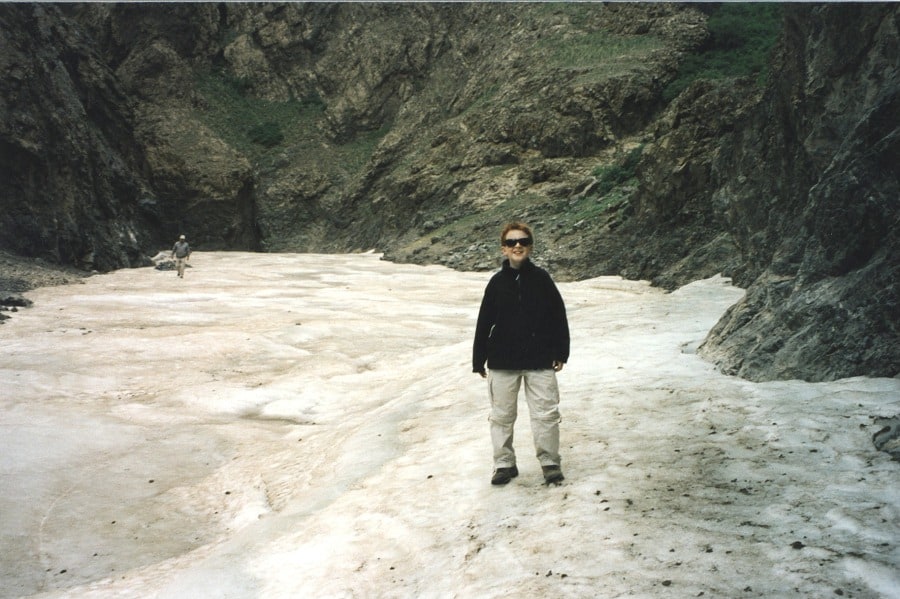 But soon you, like Jackson, will tire of Gobi desolation and look north towards the beauty of the grasslands that are the heart of Mongolia.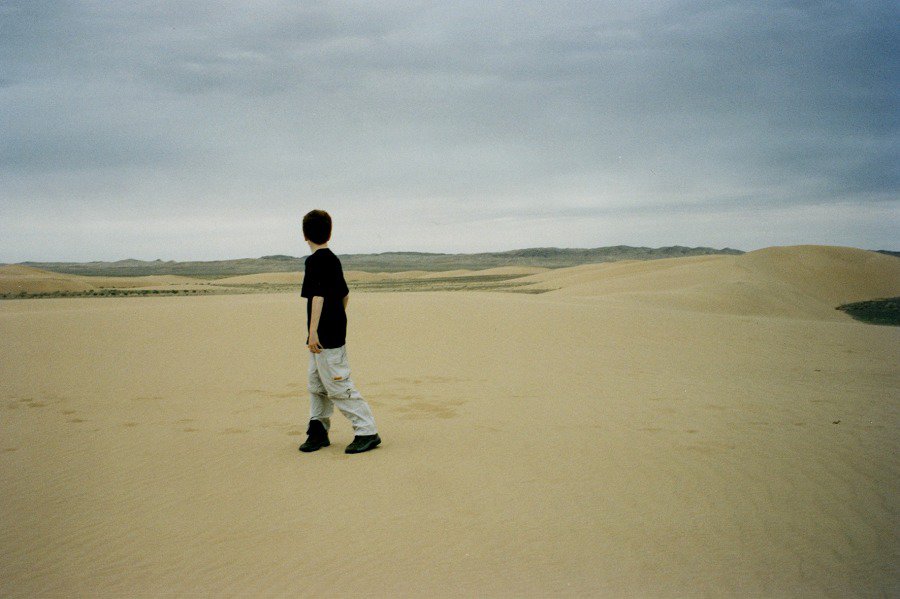 We think of the Gobi as mostly sand dunes, but actually, when you cross it you learn it's mostly featureless gravel.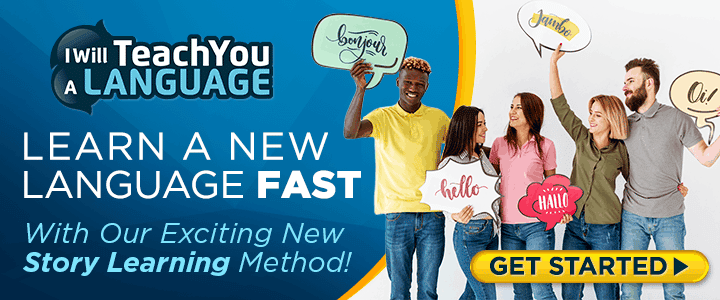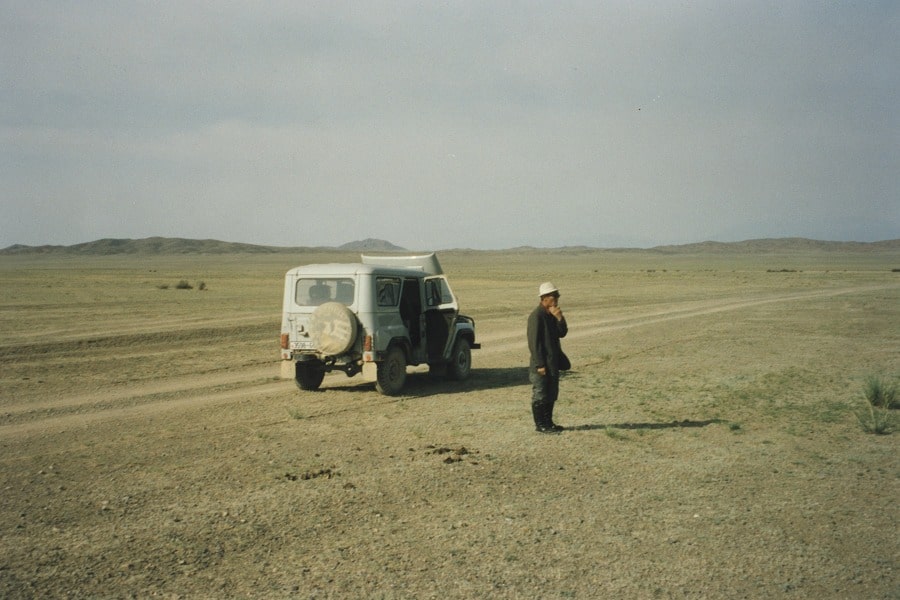 It takes a while to reach the grasslands.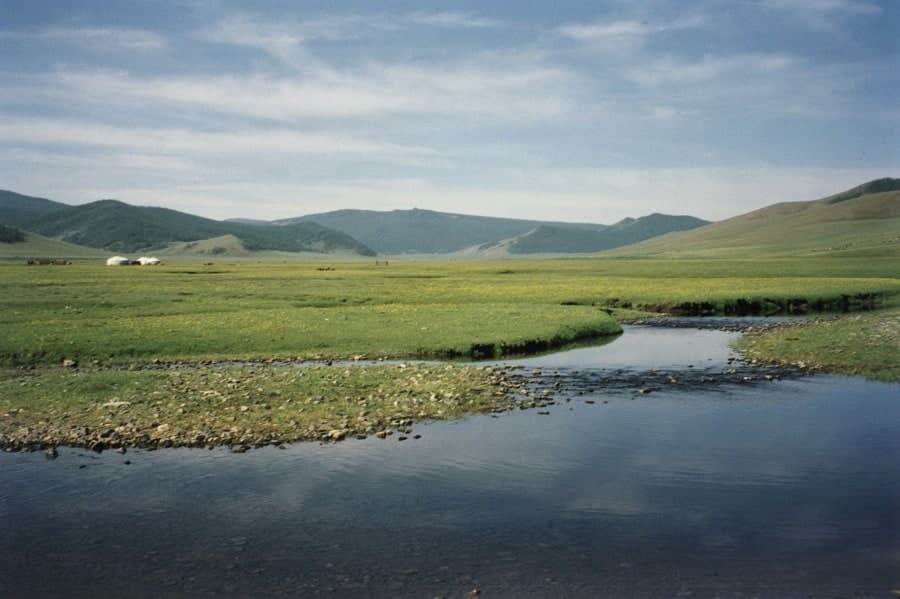 Here in the country's vast center, we'll be welcomed by nomad families, such as this one engaged in milking their goats.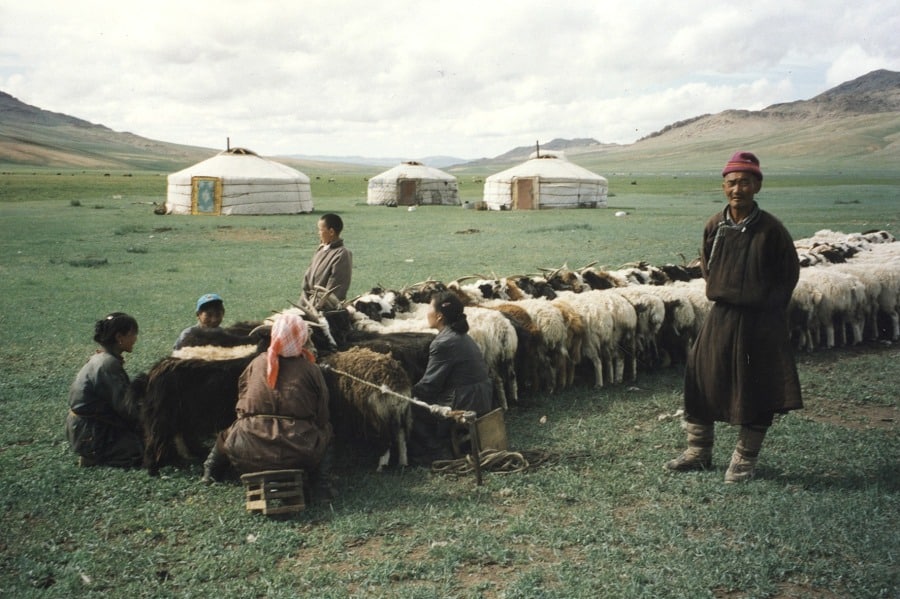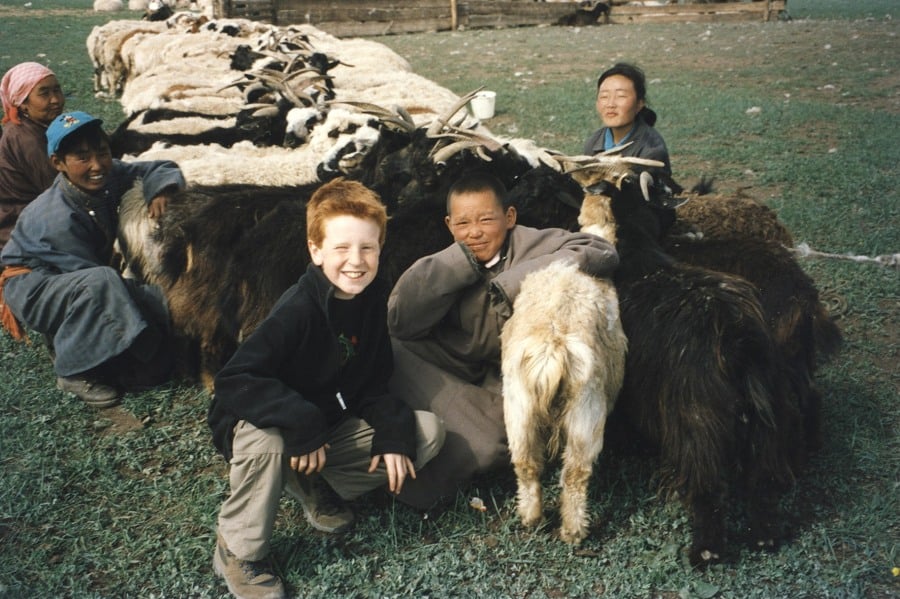 It is in these grasslands that Genghiz Khan (1162-1227) built his capital of Karakorum. When the Chinese overthrew the Mongols ruling them in the late 1300s, they razed Karakorum to the ground. The only thing left today is this stone turtle: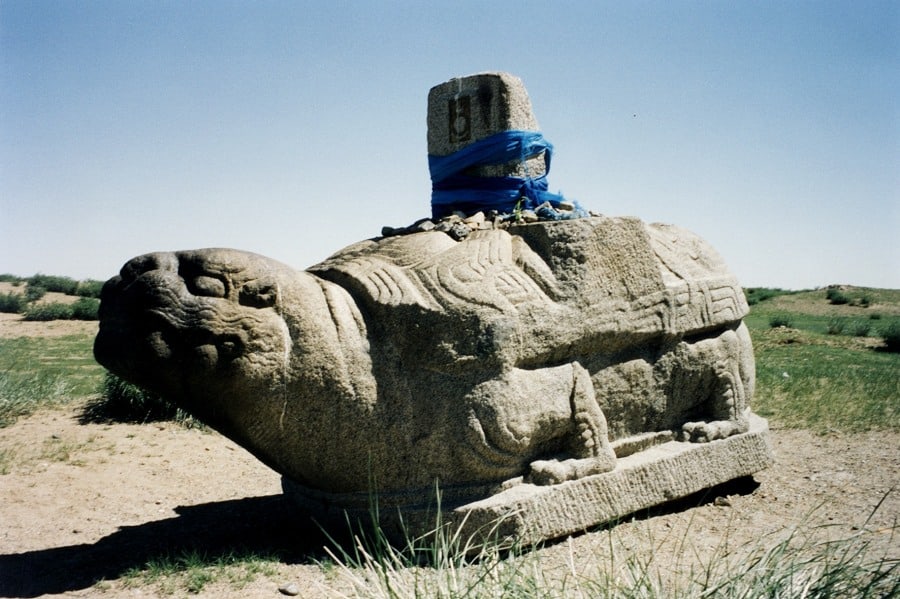 In the late 1500s, after Mongols adopted Tibetan Buddhism as their state religion, they built the Erdeni Dzu Monastery out of the rubble stones at Karakorum. It flourished until the Communist dictator of Mongolia installed by Stalin, Khorloogiin Choibalsan, ordered its destruction and slaughter of its monks.  
Today, Erdeni Dzu at Karakorum is flourishing again and its monks practice their religion in peace.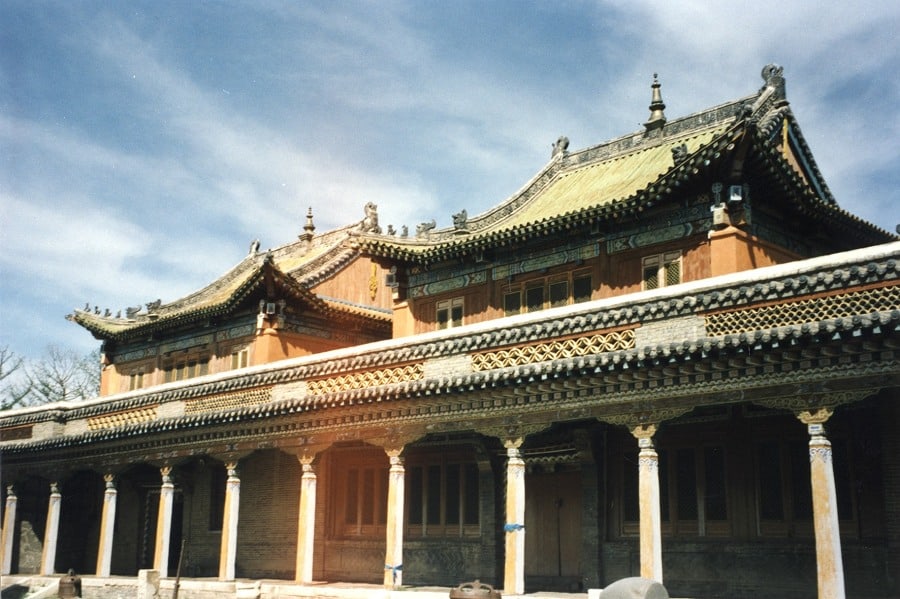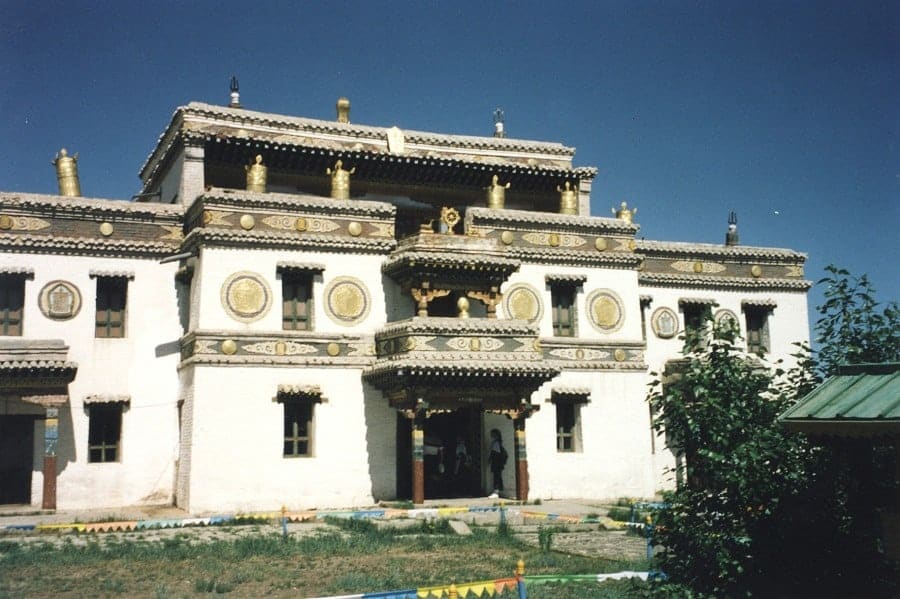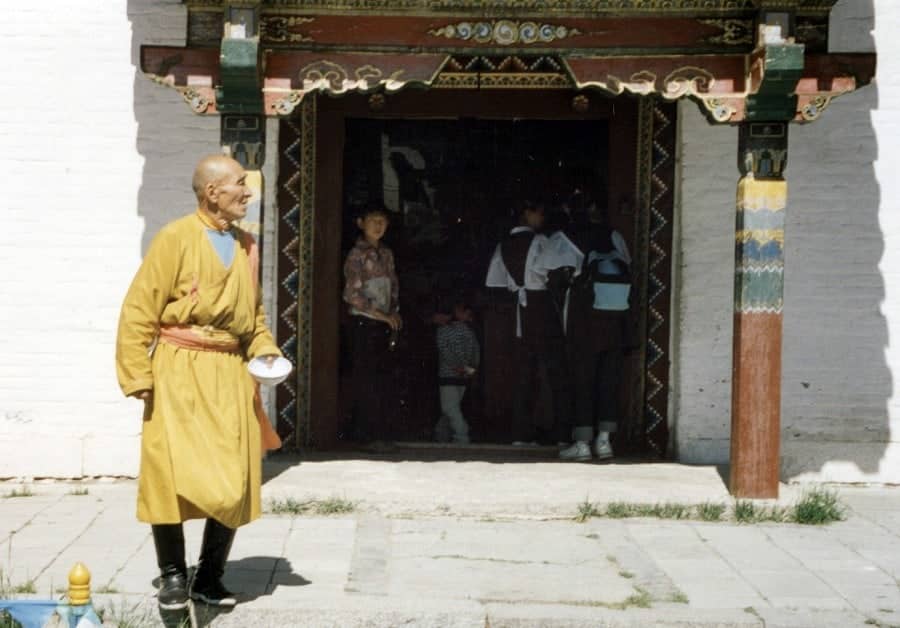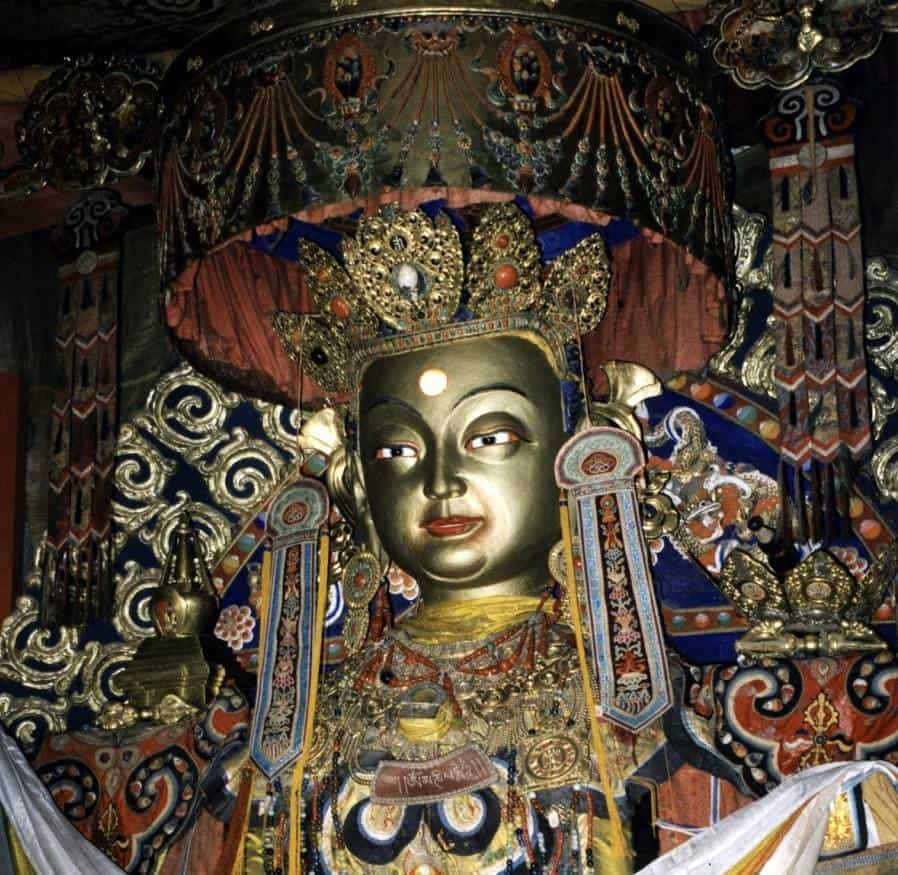 Continuing north towards the border with Russian Siberia, you'll find a different Mongolia, out of the desolate Gobi and the vast grasslands, to a land of rivers, forests, and peacefully beautiful Hovsgul Lake.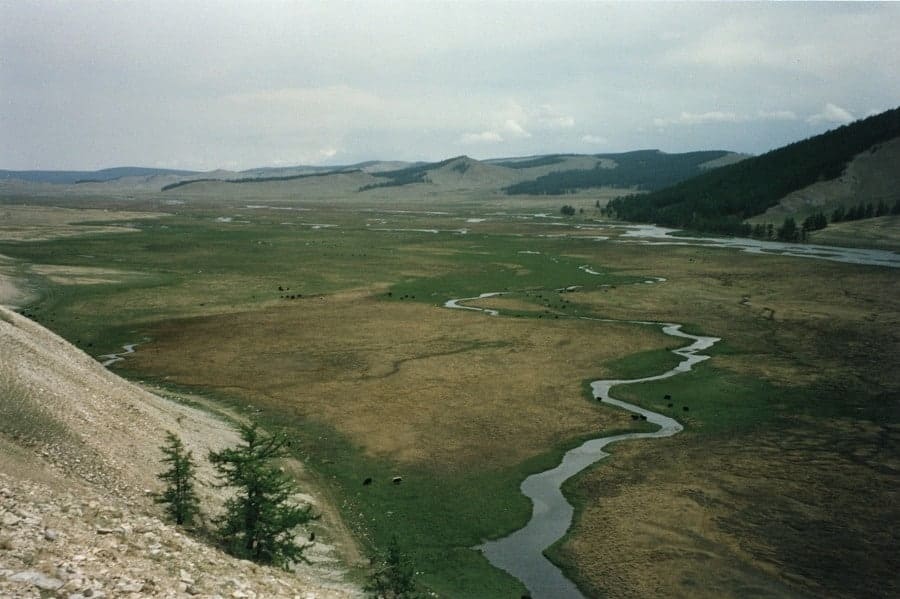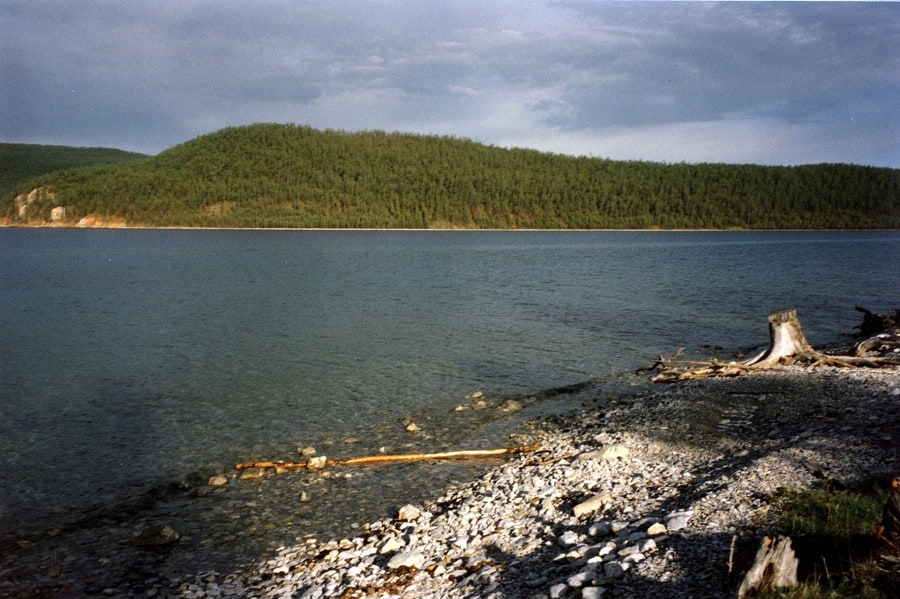 Here you can camp and fish to your heart's content.
Now, let's venture out West. For Western Mongolia is populated primarily by Kazakhs, not Mongols. They live in gers, too, although they call them yurts. You'll find them wonderfully hospitable.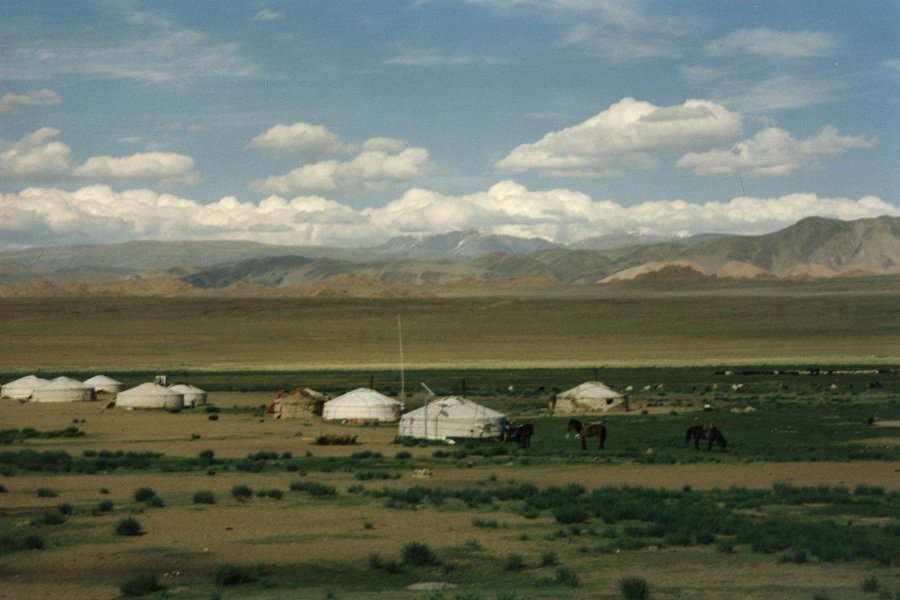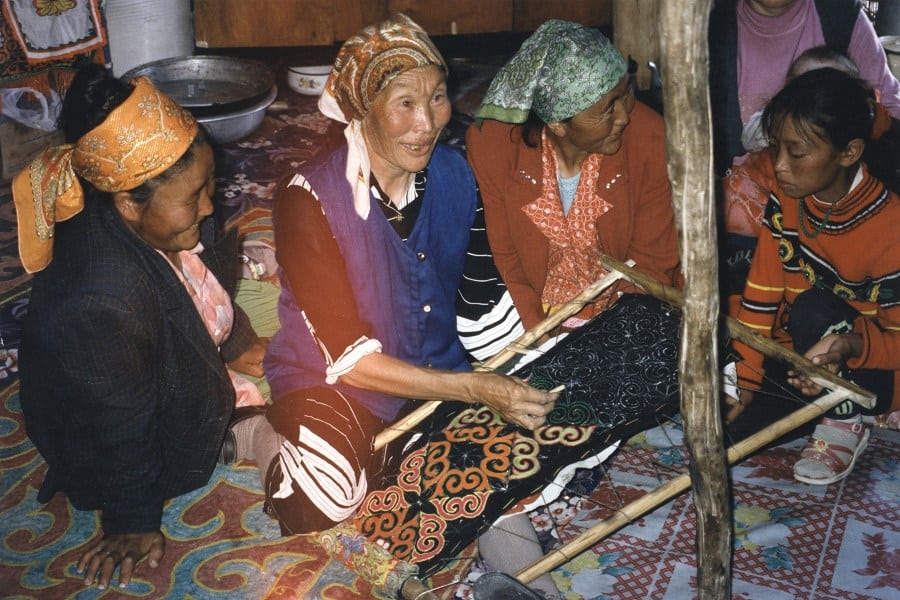 What's fascinating about the Kazakhs of Western Mongolia is that they hunt with eagles. Their favorite game are the black-tailed gazelles inhabiting the steppes out here in vast numbers.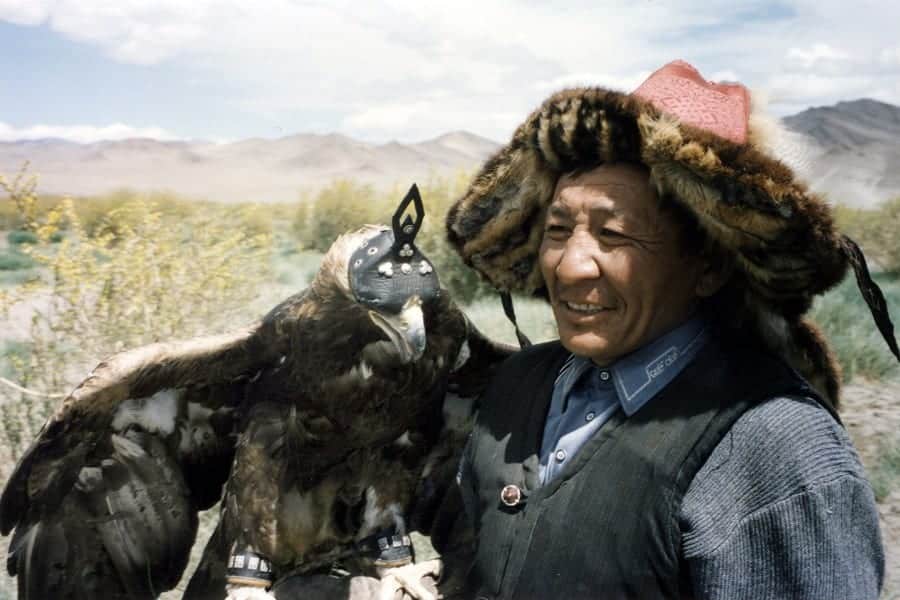 Our host insisted on my wearing his hat and holding his eagle. That requires a very thick leather glove. It frankly takes your breath away how incredibly strong a hunting eagle's talons are.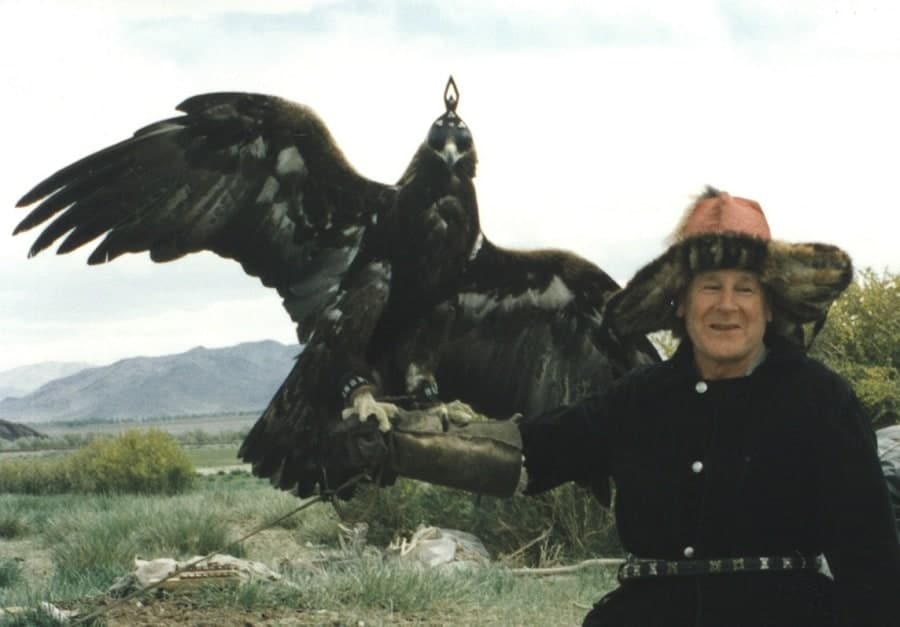 That's just a glimpse of what it's like to explore Mongolia.  
I'm considering doing so again in the next year or so. If enough of you would consider it yourselves, let me know, and we might end up in a Mongol ger someday. You can let me know at Jack@WheelerExpeditions.com
Carpe diem. If not now, when? Life is short. The time for a great adventure is now.
Jack Wheeler is the founder of Wheeler Expeditions.
Click here to get advance notice of expeditions you can join & stunning photos of Once-in-a-Lifetime Adventures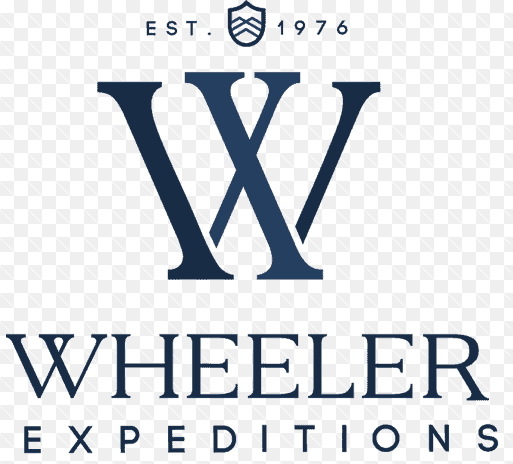 ©2019 Jack Wheeler – republished with permission

Like Our Articles?
Then make sure to check out our Bookstore... we have titles packed full of premium offshore intel. Instant Download - Print off for your private library before the government demands we take these down!