San Pedro, Belize, is a hotbed for expat businesses. In this eclectic town on Ambergris Caye, you'll find grocery stores, restaurants, hotels, and coffee shops run by those who have chosen to follow their dreams and relocate to another country. One such business is the Caye Coffee Roasting Company, hidden away from the main drive. Follow the sign from Coconut Drive (the main paved road going South of town) down a dirt road through a residential area. When you come to the fork in the road, don't give up and turn back like we did because we thought we couldn't possibly be in the right place, turn left, and about 20 yards (around the corner), you'll see this cute little white and yellow house on your right-hand side, ready to serve you the best cup of coffee on the island.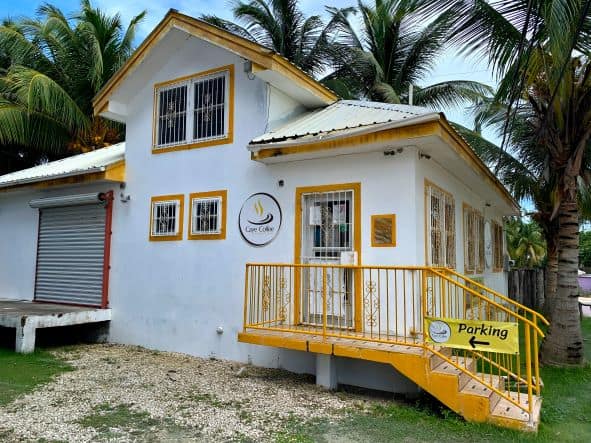 About Paul
We connected with Paul online and inquired about a tour of his roasting company. With the date set, Darryl and I had a private tour of Caye Coffee Roasting Company's operation, not to mention a coffee history lesson we did not expect.
For 30 years in Canada, Paul worked in IT and auto manufacturing. Paul moved from Guelph, Ontario, to San Pedro, Belize, in February 2013. When he and his wife Marci visited San Pedro in December of 2012 to look at a closed roastery for sale, they were bewildered as they couldn't get a good cup of coffee anywhere in San Pedro or in Caye Caulker. All they wanted was a good cup of coffee. Without any coffee roasting experience, Paul and Marci saw the opportunity to purchase the coffee roasting business for sale in San Pedro and decided to give it a shot.
San Pedro is glad they did. Paul's coffee is known as the best on the island.
Paul's motto: "Build an excellent base coffee. What you do when you take it home is up to you."  
Ninety percent of the expats on the island drink Paul's coffee. Before Paul arrived on the scene, you couldn't get a good cup of coffee on Ambergris Caye. Paul and Marci now have 120 customers on the island featuring his coffee in-house. Caye Coffee was supplying up to 660 hotel rooms on the island, pre-pandemic.
Belizeans don't really drink coffee, if they do, they usually buy instant; however, over the last six months, locals are starting to brighten Caye Coffee Roasting Company's doorway.
Coffee History as Told by Paul
Paul buys all his beans from a supplier plantation in Guatemala with whom he has exclusive rights. In the 1830s, the capital of Guatemala was the city of Antigua. There was one big problem—menacing rumbling from the ground below. Volcanoes and earthquakes left the city in shambles. The government decided to move the capital city to Guatemala City in 1870 to avoid the constant destruction.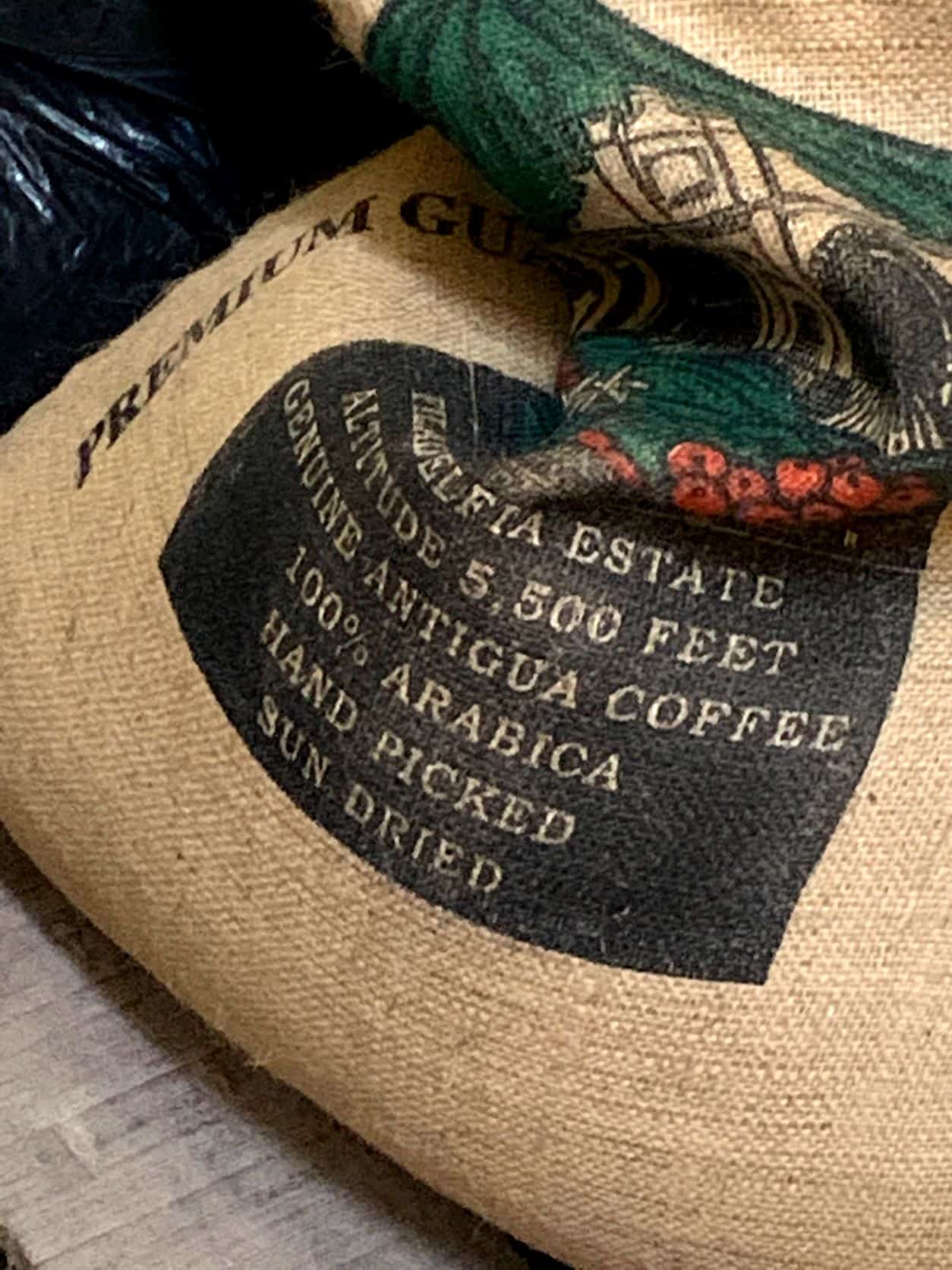 Experience the Insider community that takes your international lifestyle to the next level. Download your FREE guide
"18 Steps to Implementing Your Plan B" instantly!
The government officials didn't want to move to Guatemala City, so as an incentive, the government gave the employees 1 million coffee plants in 1870 to start their own plantations. Coffee production took off in Guatemala.
Even though Belize and Guatemala are neighbours, Belize is not well known for coffee. Plantation elevations are under 1,500 feet producing below average quality beans. Another factor is the weather. It doesn't get cold at night in Belize, so the bean doesn't retain moisture.
The top three countries for coffee growing are Guatemala, Colombia, and Kona coffee from Hawaii's Kona Coast. These three areas are known for the best quality coffee because of the rich, volcanic soil. My first tasting of Kona coffee was the beginning of a new era. Previously, coffee was just a cup of brown water with afternotes of a dirty ashtray.
I remember the coffee-epiphany moment well. We were in a small Texas town called Salado. The shop serving the coffee was giving out free samples of Kona coconut-flavoured coffee. The fresh, creamy coconut flavour and aroma were pure Hawaii. It was desert in the cup without the calories. Of course, we bought a bag, and I've never seen it sold anywhere since. The shop in Salado is also closed. Sigh. But, when the light goes out, another one replaces it. Onto the stage steps Caye Coffee Roasting Company.
Paul's Ordering System
There is more to a business than providing a great product. Systems have to be put in place to sell your experience and make a profit. Taxes, production costs, labour… all operations must be considered.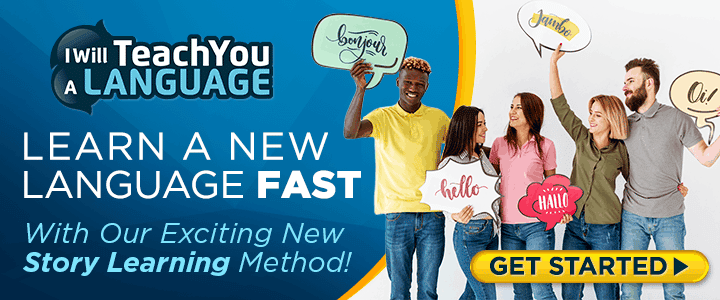 GST at the Belize border is 12.5 percent on agriculture products. When ordering 30 pounds of coffee, Paul loses five pounds right off the bat in moisture due to the roasting process. Off the top, Paul is also down 12.5 percent less another five pounds in moisture equalling 17 percent of the product—a direct hit to profit before he even puts the coffee in a package.
Paul's Production at Caye Coffee Roasting Company
Caye Coffee Roasting Company's secret: Roast in smaller batches. Paul watches the roaster every minute, batch by batch. Slow roasting is imperative because of the high humidity in San Pedro. Normally, a batch takes 18 minutes to roast. A light roast is 22 ½ minutes. Automating the roasting doesn't work because of the humidity flux. You have to constantly adjust and be proactive on the temperature change.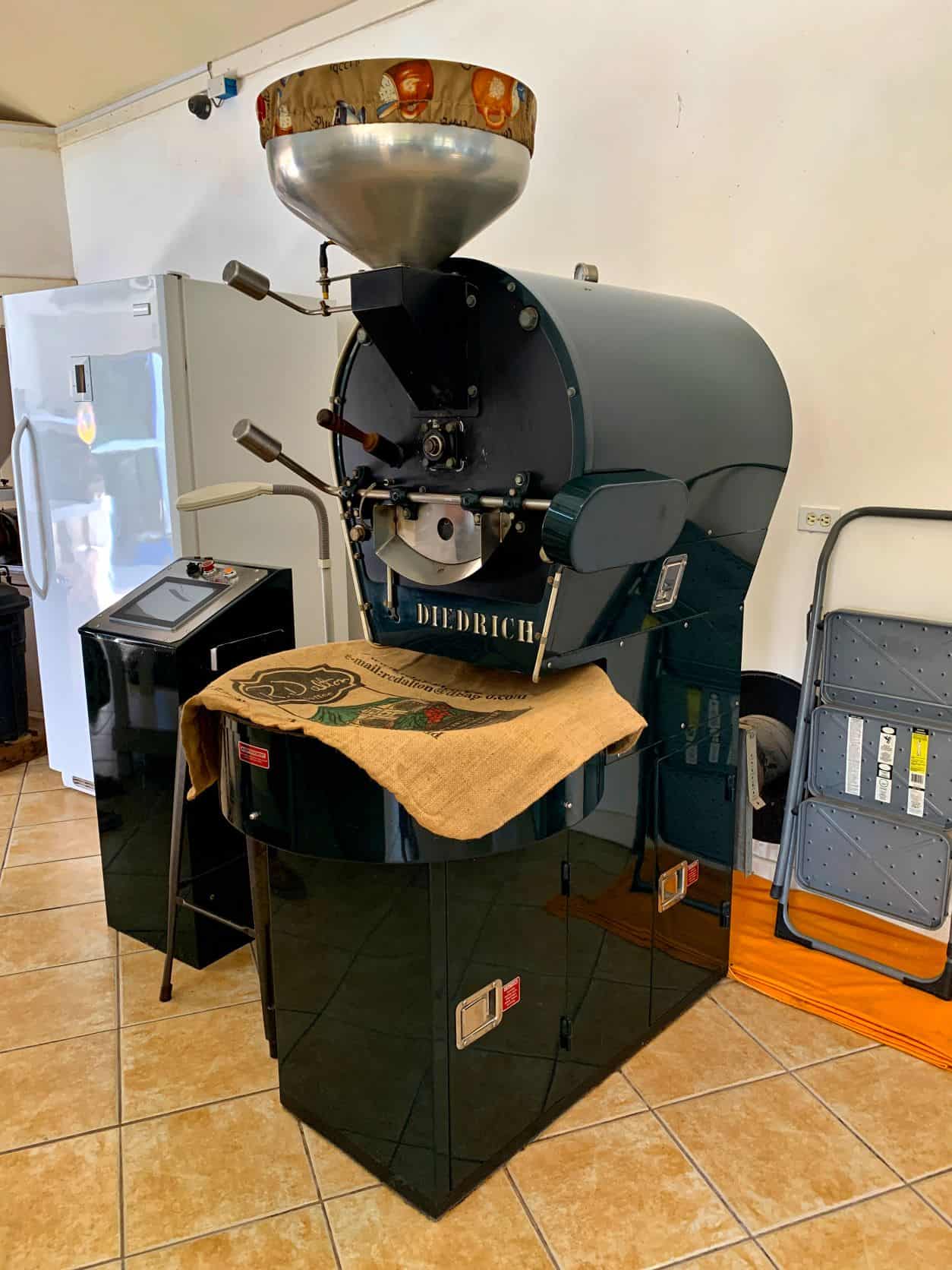 The Diedrich Roaster
It takes 3 ½ minutes to grind 40 pounds of beans. Beans release carbon dioxide gas when you roast them and again when ground. Have you ever noticed the funny valves on packages of coffee in the store? The valves are there so the bags don't explode. Paul learned this the hard way when he came to the shop one morning as beans and grounds erupted all over the place from bags sealed without the valves.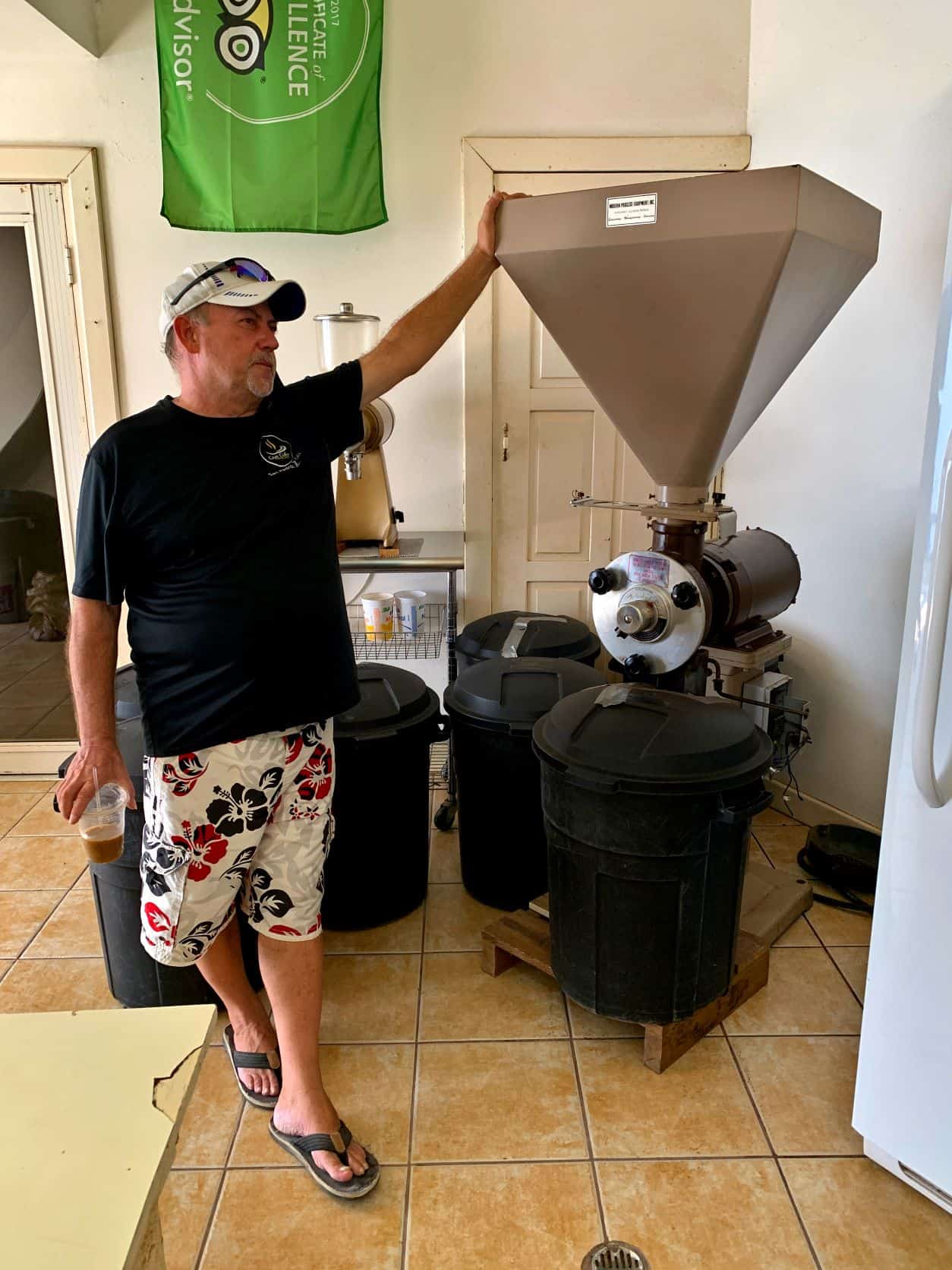 Paul and the Grinder
Paul was one of the first to start using the valve in his bags. The valve speeds up production; otherwise, you must wait 12 to 14 days for the gases to alleviate before bagging. Take note: Puffy bags in a grocery store have a faulty valve.
Caye Coffee Bay Sealer
The Beans
Green coffee beans are as hard as a rock, have absolutely no taste, and feel like small pebbles. Bite them, and you will break a tooth. Paul kept a green bean in his mouth to see how long it would take to soften as part of an experiment. A gruelling 45 minutes later, he had his answer.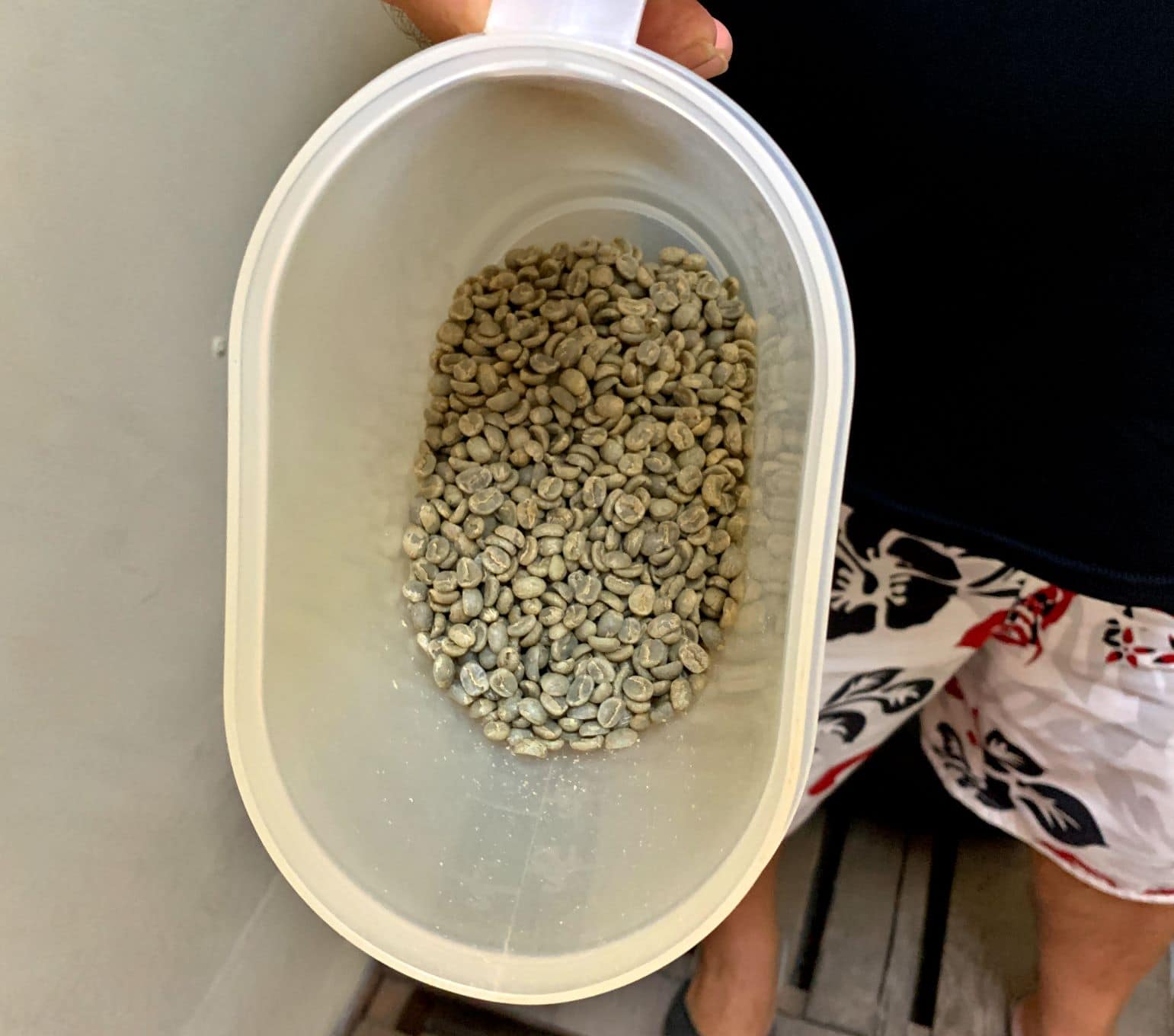 Green Coffee Beans
All Paul's beans are hand-picked, organic, sun-dried, and fair trade. There has been no problem getting beans with the land border closures during the pandemic. The beans are grown at an altitude of 5,500 feet. They are genuine Antigua coffee and 100 percent Arabica. They arrive in a burlap sack, signed, sealed, and stamped from his sacred supplier.
The Coffee
Many people don't realize a light roast has more caffeine than a dark roast. Coffee connoisseurs will want to try your light roast because it reflects the true essence of the bean. Coffee in its natural state is bitter, the longer you cook the moisture out of the bean, the less bitter it becomes. Dark roast coffee should never be bitter. If it is, either the roasting process, grinding process or brewing method has not been executed properly.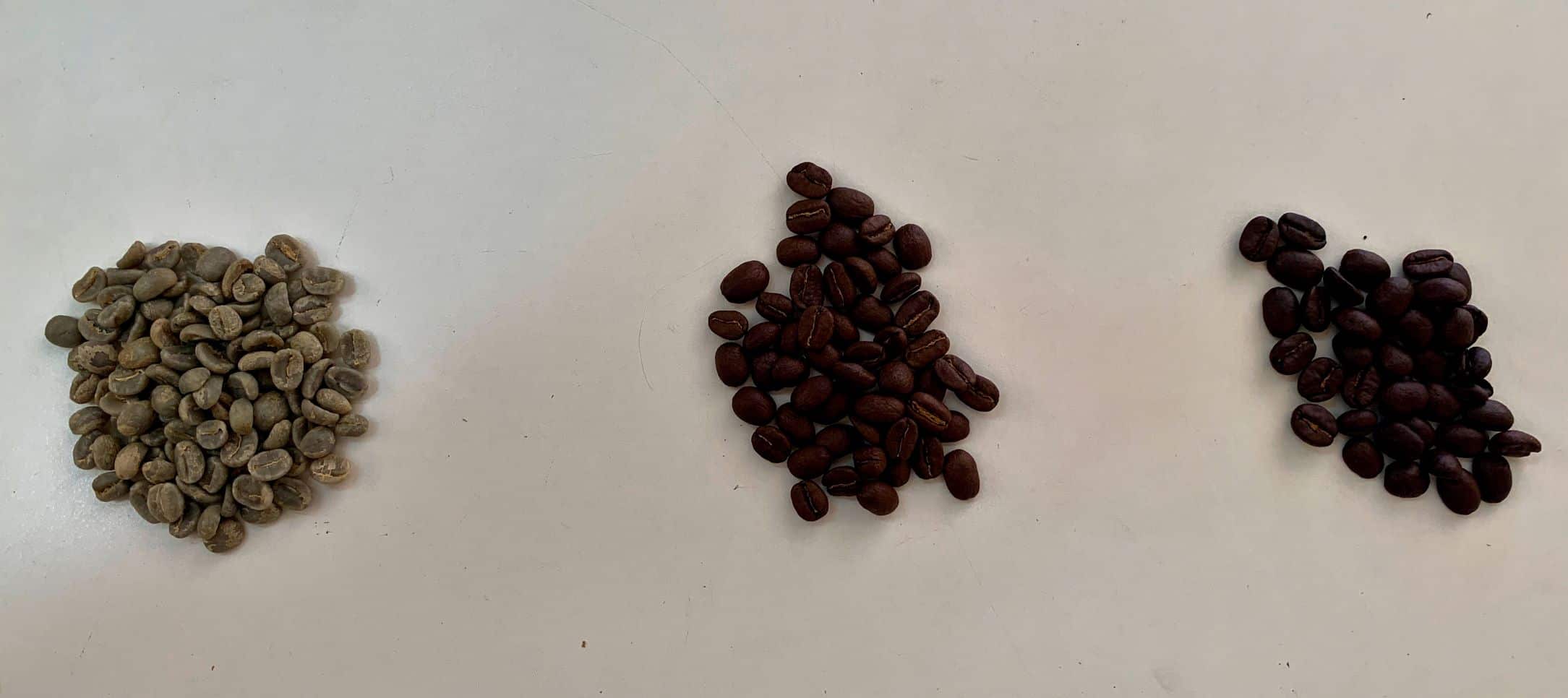 Caye Coffee Bean Varieties, Green, Light, and Dark
Medium is a mix of light and dark roast, favouring more dark beans. Paul puts this mix together, about a 55/45 ratio of Dark to Light roast beans.
Caye Coffee Roasting Company has three products available in true San Pedro fashion: Front Street, Middle Street, and Back Street.
Front Street is the breakfast roast, which is a light roast. Front Street highlights the natural flavour of their bean, which has a 'wheaty/chocolately' backbone. It is higher in caffeine and acidity (bitterness).
Middle Street is the medium blend. The medium blend, as stated above, is a combination of light and dark roast beans with full flavour and bite at the end.
Back Street Bold Roast (our favourite) is not for the faint of heart. The deep flavour is essential to a good cup of coffee, and this is one of the best dark roasts we have ever had. Once we bought this coffee in San Pedro, we tried no other. When you try this one, you'll say, "Now that's a great cup of coffee."
It's hot in Belize, so a hot cup of coffee in the afternoon may not be appealing to some. Paul offered us an iced coffee to take on the tour. Of course, we accepted. An excellent iced coffee with no weird, artificial sweetener aftertaste, and it didn't get all weak and watery, right down to the end. 
Paul's secret to the best iced coffee? He makes ice cubes from the leftover coffee carafes the day before. No more watered-down ice coffee at Caye Coffee Roasting Company. It's not a birthday cake in a cup.
Paul's Reflection on Being a Canadian Business Owner on Ambergris Caye
Paul finds the other Canadian business owners the biggest challenge. Paul's advice: Don't come down here to take advantage of the low wages. Paul only hires locals. He bought the coffee business from another Canadian who ran the business from 2004 to 2009 only to succumb due to financial woes as a result of substance abuse.
The coffee roasting equipment had been confiscated by drug dealers in exchange for all the money they had been owed by the previous owner. Paul negotiated with the dealers to get the equipment back by paying them before paying the owner. To this day, Paul is astounded how he made this deal work—a bold move from an outsider looking to follow his dream.
Play by the rules when you come to Belize. Do not try to cheat the government—this is their country, and you are a guest—remember that even if you do not plan on opening a business. Show respect and common sense.
About Moving to Ambergris Caye
Paul loves the laidback island pace. It's more like the 1970s in Canada. He hasn't been back to Canada since he left. Paul is fond of living in San Pedro, but he does have some warnings. 
On groceries: You may not be happy on the island with grocery shopping. If you must have your big box stores, don't move here. You can make a list of 12 items and go to five stores and still not find everything you need. And a month later, the grocery list still won't be checked off. The Mennonites bring over their leftover produce on Tuesdays from the mainland. Potatoes here in Belize are strange. The famous tuber must be soaked in water for it to taste good. Never get down to your last potato because it seems one in five is rotten in the middle but perfect on the exterior.
On safety: Be aware of your surroundings and with whom you associate. Just like anywhere, if you go looking for trouble, you'll find it. While it is very safe during daylight hours, it is always a good idea to travel with someone during the dark hours. Poverty breeds contempt, but, that applies everywhere.
About Being so Far from Home
Paul is finding it more and more difficult to be far away from family and grandchildren in Canada. He's not sure how long he will stay in Belize or keep Caye Coffee Roasting Company. The island will let him know when it's okay to leave. Until then, Paul will continue to serve up exactly what San Pedro needs—Belize's best tasting coffee. 
All photos by Charlotte Tweed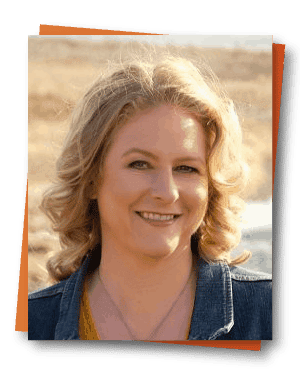 Charlotte Tweed is an adventurous soul with a goal to take you on a journey where you don't just visit—you live it. Graduating with a Travel and Tourism Honours diploma, Charlotte began her expat journey on June 15, 2021. After travelling through multiple countries, Charlotte now calls Mexico home. Reading, writing, and researching the best expat destinations in the world are how she fills her days. As a published author, her mission is to transform your life with expat travel—one destination, one adventure, one story at a time.


Like Our Articles?
Then make sure to check out our Bookstore... we have titles packed full of premium offshore intel. Instant Download - Print off for your private library before the government demands we take these down!