Why Belize? Why Right Now?
There are a few good answers to this question. The best of these answers will be revealed tomorrow, Live From Belize, April 19th at 4:00pm Eastern.   
Watch the Live Feed Here: Thursday at 4:00pm Eastern  
If you would like to stay at the front of the pack, please tune in. You know I don't use this column to sell directly, and I won't start either. But in this situation, I owe it to readers like you to make sure that you have all the facts. You can decide if owning one of our products is right for you.   
Let me assure you that this will be the biggest news coming out of Belize in a quarter-century. And because you read this column, you are going to hear it first.   
There are some other great reasons Belize is a country on the move, which you will see read about below. Then remember to watch tomorrow for the big reveal and a specific ownership opportunity. You'll be glad that you did. Read on to learn some clues about the news sprinkled into this article.  
3 Huge Reasons Belize is Popular.
Easy to access.

The English language is spoken.

Affordable Caribbean real estate.
3 Reasons that Popularity is Skyrocketing
Public notoriety and celebrity status.

Cruise ship arrivals for over a decade.

Airlift doubled, adding discount providers.
Tropical Caribbean destinations draw tens of millions of travelers each year.
Let me back up a minute and tell a short story about my first encounter with Belize and the experience on Ambergris Caye. In 1993, when I was 29-years-old, I visited Belize for the first time with a longtime friend of mine, Joel Nagel. A year later, he and I each purchased a condo on the ocean as a vacation spot and rental property for when we weren't there. They rented well to divers and fishermen.    
At the time, the island was just getting known outside the niche fishing and diving markets. The main streets in town were sand, and you could walk into any restaurant at Christmas and get a table without a wait. The vibe was "Key West 50 years ago." It was a little bit "wild, wild west," too.   
Now, 25 years later, the market has matured, and the wildness has waned. The opportunities have matured as well and presented themselves in a more refined manner. Some old-timers may bemoan the changes to the island. But you can't stop the tide change. Ambergris Caye, Belize, is moving quickly from a niche, boutique market to a mainstream tourist destination.    
While the loss of sand streets and no lines at restaurants conjure nostalgia, the creation of thousands of jobs for Belizeans is critically important if the young are to be employed and have a bright future. Poverty puts incredible pressure on the environment, while rising standards of living lift it. As always, change is a mixed bag, but jobs, taxes, and new revenues into the community eliminate poverty and create opportunity for long sustainability.    
These factors above are great societal reasons to embrace the change and foster the responsible development that raises the tide for all. There are also excellent personal reasons to embrace the change when you see it coming: profit. The chart below shows the "path of progress" story and how it relates to return on investment.     
Experience the Insider community that takes your international lifestyle to the next level. Download your FREE guide
"18 Steps to Implementing Your Plan B" instantly!
At its core, the chart measures the simple concept of popularity. Placement of countries and regions along the "Popularity Curve" is determined by how popular that location is among North American honeymooners. It's totally subjective, of course, but please see if you agree.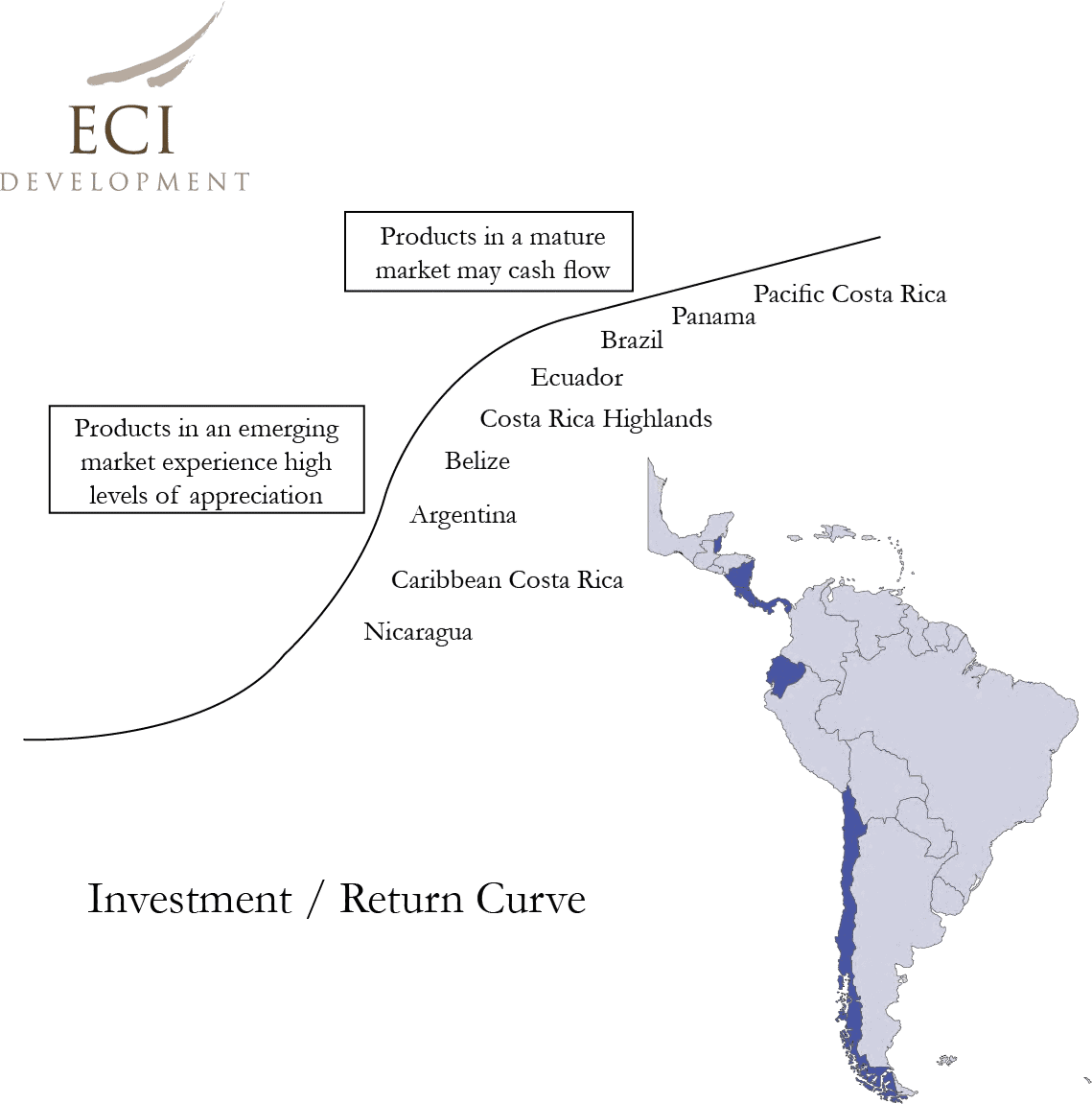 The Popularity Curve helps investors align type of return and geographic location.
At the upper end of the curve, you see the Pacific part of Costa Rica. That region enjoys great popularity among honeymooners and vacationers. Think Guanacaste with a JW Marriott, or Jaco Beach with the Los Sueños Marriott. One can reasonably expect cash flow in these markets. But this comes with a corresponding higher price of entry to acquire a property.  
Conversely, Nicaragua is at an earlier stage on the curve, because it's not nearly as popular as a travel destination for North American tourists. So the properties cost much less to own. Investments there have great potential for appreciation as the market matures, as well as increasing cash flow as they move up the curve.   
The Investment ROI Curve is a great way to visualize your own interests when looking at property overseas.  It helps investors better position their investment dollars to achieve the kind of ROI they expect and want to earn.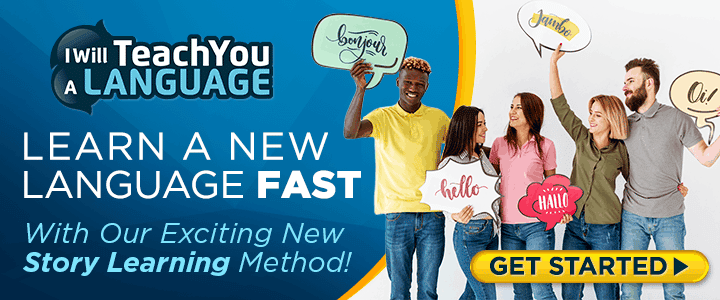 Mature markets (popular markets) cash flow because they receive high numbers of visitors who need places to rent. Less popular markets offer lower acquisition prices for properties, and when they mature, they deliver cash flow with the added bonus of upside of appreciation. The key takeaway here is to align your investment goals with the country or region that will produce the kind of return you want to achieve.
Now, please go back to the chart and look toward the middle of the Curve. You will see Belize. This country, and specifically Ambergris Caye, a 26-mile-long island in the northern part of Belize, is in the unique position of still having great room for appreciation, while also providing strong present-day cash flow. More in a moment on why Ambergris Caye is accelerating up the curve and offering opportunities outsized for the price. For now, though, it's important to see why the country as a whole is in the sweet spot.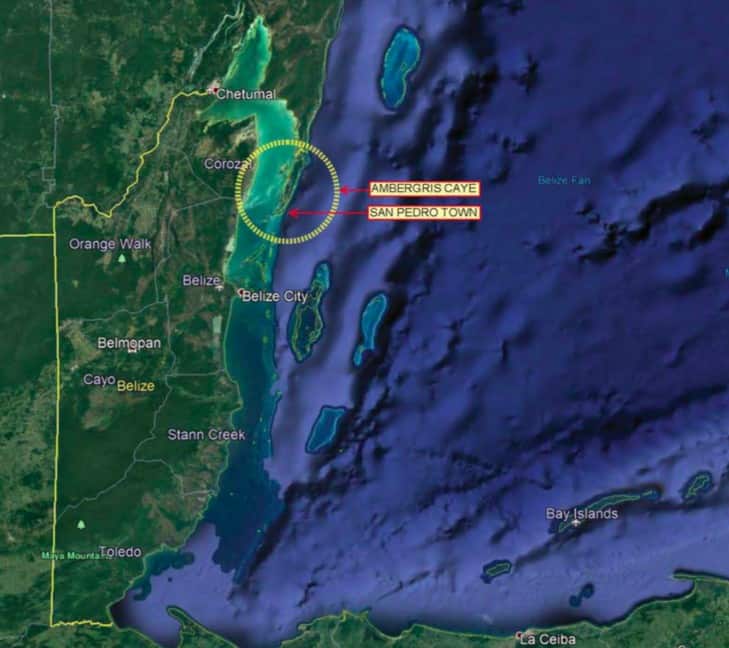 Map of Belize showing Ambergris Caye, the country's most popular tourist destination.
Belize is maturing quickly for a variety of reasons. And, importantly, there's also an acceleration of this maturity happening right now. The 3 main reasons Belize's popularity is skyrocketing were outlined above. They are, again, the decade of cruise ship arrivals, the doubling of airlift numbers including discount carriers, and the arrival of the celebrity class bringing panache to the destination. Let's start with the cruise ships for a deeper understanding of this acceleration.   
About 12 years ago, the cruise ships started arriving in Belize. I remember attending a meeting of the Belize Tourism Industry Association around that time. I was the lone hotel owner heretic in the room who was praising the arrival of the cruise ships. The overwhelming feeling in the room then was that cruise ships didn't help hotels at all, simply dumping off passengers for day trips and whisking them away that evening.   
This is true. The cruise ship visitor doesn't add much to the local economy directly. But as I pointed out, having 2000+ people per ship, per day, arriving in Belize raises the country's profile. On some days, Belize City is host to multiple cruise ships, with over 300 ships visiting in 2017 alone.   
Most of these cruise visitors purchase a day package tour to the ruins, the jungle, or a visit to a private island to sunbathe and snorkel. Very few passengers make it to Ambergris Caye. Yet, many love the quick glimpse they have of this stunning country and decide to come back for a week or two later on. And when they do, they stay in hotels. This is happening right now.
The second reason popularity is skyrocketing is airlift. Belize has seen the number of flights more than double in the past three years. That's phenomenal growth.   
United, American, and Delta have been flying to Belize for decades. In 2015, Southwest opened its first routes to the country, ushering in low fares and serious competition on price. New carriers in the past 3 years include WestJet, Avianca, and Air Canada with up to 101 flight arrivals per week in 2017.    
WestJet inaugurated its first flight from Toronto, Canada, to Belize in 2016, then from Calgary beginning in 2017. Accessibility from wider markets, especially cold, cold Canada is key. According to the Belize Tourist Board's Director of Tourism, Karen Bevans:
"The new flight will help with the different areas such as Vancouver and the others that were unable to get a direct connection into Toronto. This makes it much more convenient for a large market in Canada and to open up the opportunities for Belize even more."   
This increase in flights, as well as a significant reduction in fare cost is giving Belize accessibility and affordability to the mainstream tourist, yet hotel accommodations for that segment of the market are lacking. More on this later.    
The third reason that Belize is maturing quickly is the rise of celebrity status spurred by vacation visits and celebrity purchases. The first celebrity to latch onto Ambergris Caye, Belize, was Madonna with her 1987 hit, La Isla Bonita, "the beautiful island." Madonna captured, with a billboard success, the essence of her visit to San Pedro, the small fishing village on the island of Ambergris Caye.
Sightings of other celebs like actor Jack Black, actress Angie Harmon, gold-medalist gymnast Simone Biles, Hall of Fame basketball player Kareem Abdul-Jabbar, Jennifer Lawrence, Gene Simmons, Maya, and Prince Harry of Great Britain are a regular occurrence now.   
Not only are they visiting, but the rich and famous are also investing, too. Francis Ford Coppola purchased property for two resorts and continues to operate them today. Leonardo DiCaprio recently purchased an island, Blackadore Caye, just behind Ambergris Caye, to build an exclusive $1000+ per night resort. Even Bill Gates was looking for property on a recent visit to the island.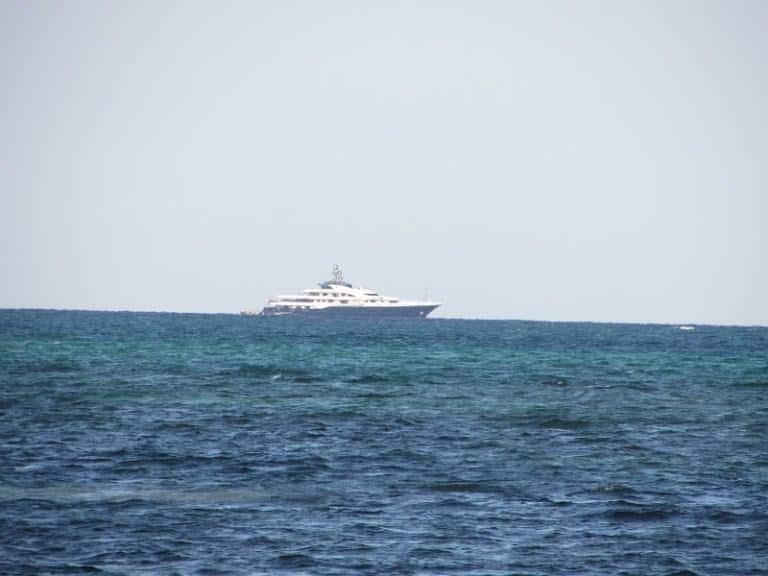 Recently, the 330-foot ATTESSA IV sat offshore for a few days so the Gates family could enjoy Ambergris Caye.   
So why Belize right now? I hope I've answered that part of that question above. Now let's look at Ambergris Caye and why owning a property here might make sense. Not just any property, but a residence in the first world-class branded product on the ocean there for mainstream U.S. and Canadian travelers.   
While airlift to Belize has more than doubled in the past 3 years, the number of rooms for travelers has not. According to Ambergris Caye Mayor, Danny Guerrero, "Ambergris Caye has a 17% growth rate, the highest in the country, and far above the 3% growth rate in the region." Even with this amazing growth, the room count is not keeping up.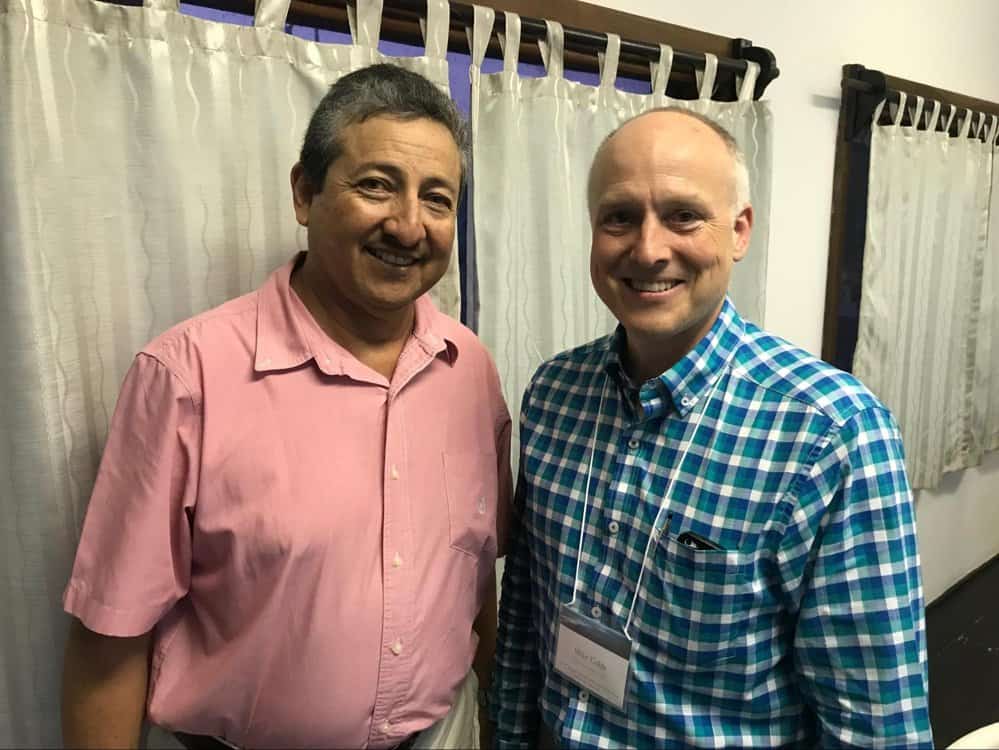 Mayor Danny Guerrero and Mike Cobb working to deliver tourism growth to Ambergris Caye.
KEY POINT: The change of traveler type is critical. Boutique markets allow for quirky resorts and limited-service hotels to thrive because the experience for the visitor is largely based off of property. Think of divers and fishermen who rise early and return late to get as much time on the water as possible. Room and resort experience is secondary to them.   
Mainstream travelers want something different. They want predictability, certainty, and known standards. They usually have a week's vacation to travel abroad. They want to reduce risk and enhance the likelihood of a fun time in a tropical locale. When a traveler like this sees brand name hotels, they find comfort – and when all other things are nearly equal, they will book the known entity.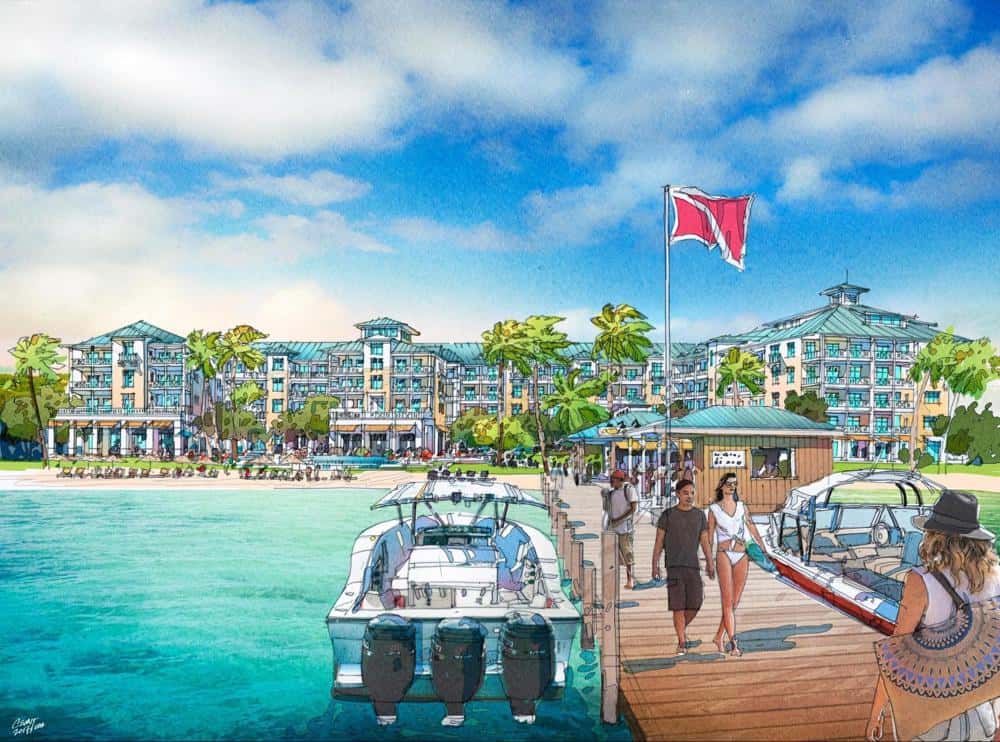 Branded Residences: Ambergris Caye, Belize – Brand to be announced April 19th.
Readers of this column have seen me write about the convergence of demand and scarcity before. Hotel rooms, and specifically the lack of branded hotel rooms on Ambergris Caye are at a crucial point in this demand/scarcity continuum. Today, mainstream travelers have to guess about which hotel is likely to serve them best. But they want to know.    
Owning hard assets is critical for any portfolio…but not just any hard asset. Scarcity is important. Something rare is always going to outperform something common. A flawless diamond, or a 1907 one-ounce Liberty Head gold coin, is always worth more, a lot more than its common cousins.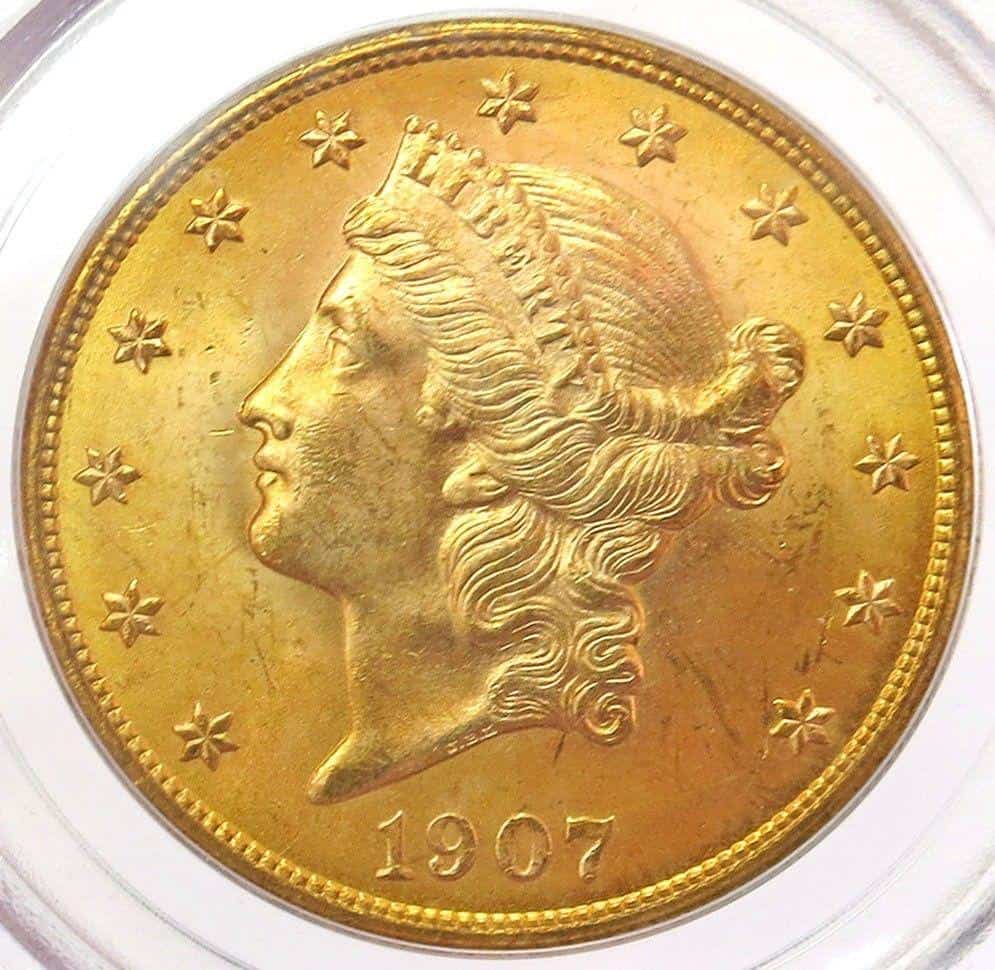 1907 Liberty Head $20 Gold Coin: Melt value: $1,300. Scarcity Value: $13,000.
Now combine scarcity with the old axiom in real estate, "Location. Location. Location." We want to own the best locations poised to do well in the market. And owning the right location at the right time makes it even better. For all the reasons above, Belize, and specifically Ambergris Caye, is the right place, the right time, right now.   
Imagine if you would have purchased real estate in Costa Rica 15 years ago, maybe even in the JW or Los Sueños Marriott when they first opened. Imagine how smart you'd feel and how you'd be glad you had the foresight to do something that put you in the right place at the right time.  
Now is another chance – your opportunity to have a "do-over," a mulligan if you prefer. Enjoy some 20/20 hindsight. You've earned it for paying attention.   
So, why Belize right now? The answer is that the very limited, branded hotel (supply) and the skyrocketing popularity
(demand) are converging. Because you are attuned to the region and outside-the-box thinking, you are positioned to take advantage of the opportunity. Scarcity and desirability are the two traits we like to see as owners of a precious, rare resource.
You are not alone in thinking that a branded residence on Ambergris Caye would be a great asset to own. Hundreds of leading business entrepreneurs, professionals, and forward-thinking individuals from around the world have already purchased residences in the new branded hotels on Ambergris Caye, including a Curio by Hilton, Autograph by Marriott, and a Wyndham.   
Location is the #1 trait of prime real estate. Ambergris Caye. Now throw in the dream development team and intensive long-range planning. Add in the skyrocketing popularity of the island, and you have the perfect trifecta. The new Branded Residence Resort being announced this week will be the next great opportunity to get involved and own a significant piece of tourism's bright future in Belize.   
You have the opportunity to get involved at its earliest stage. Act now and be ahead of the crowds. Not many folks will have the chance to participate in this opportunity. 
Realtors: Take Note
Approximately 14% of realtor respondents in the
National Association of Realtors'
 Profile of International Activity in U.S. Residential Real Estate 
said they had a U.S. client seeking property abroad. 
Become a Realtor Affiliate Now.  
Earn fees for helping these clients.  
Here is probably the most extensive ebook on Everything You Ever Wanted To Know About Eliminating Your Taxes, Protecting Your Assets And Regaining Privacy Over Your Life And Investments. It is called The Ultimate Guide To Going Offshore.  
091: The Wandering Investor Shares Insights From Around The World – Ladislas Maurice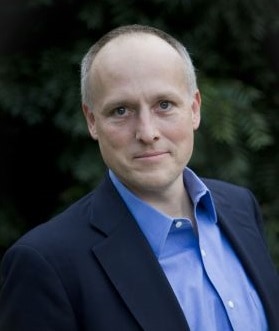 Michael K. Cobb is the CEO and co-founder of ECI Developments which has properties throughout Latin America. He speaks all over the world on international real estate and is a board member of the National Association of Realtors.


Like Our Articles?
Then make sure to check out our Bookstore... we have titles packed full of premium offshore intel. Instant Download - Print off for your private library before the government demands we take these down!