You've already decided that Belize is where you want to spend your retirement years. The thing is that you don't want to completely give up working. Running a small business that's open for a limited number of hours per week would suit you just fine.  How do you go about establishing a business in Belize? While there may be some additional requirements based on the type of business you want to operate, these essentials will get you started. Let's delve into the 10 Easy Steps to Opening a Business in Belize in 2020.
1. Find A Business Site
Locate and secure a physical site for your business. It could be as simple as leasing office space, or it might mean securing a retail space. It all depends on the type of business you plan on operating. 
Pay close attention to factors such as the monthly rental cost, ease of parking and foot traffic for customers, and the limitations that may apply to redecorating the space.

2. Check Existing Names Through the Business Registry

If you are not a Belize national, then you must register a business under the Companies Act and/or the Business Name Act. Before the registration can get underway, check the current register and determine if there are any existing businesses with the same or similar names.

It's a good idea to come up with several different potential names before consulting the registry. If you find that one is already taken, go to the next one on the list. Your goal is to choose a name that's available, easy for consumers to remember, and that people will readily associate with the goods or services that you plan on offering.

3. Register The Business
With the name and other basics like a breakdown of Company statutes, memorandums, and the Articles of Association all set, it's time to register the business. Remember that you should include your official company physical address and the business mailing address in the application.

It's a good idea to develop a company seal and logo prior to the registration, since you can take the documentation for those two items along. While it may seem a bit like overkill, you need to get these two tasks done anyway. Remember that the business climate in Belize tends to be a little more laid back. If you have mock-ups to show while you prepare the application, it will be subtle way to indicate that you're really interested in being a part of the business community.

4. Secure Your Business Trade License
You'll also need to apply for and receive a business trade license. The cost will vary slightly, since it's tied to what you'll be paying for the business site. Assuming that you plan on leasing space rather than buying something, plan on a fee that's around 25% of the annual rental value for your business site.

Before your request for a trade license is granted, an inspection will need to take place. It may happen quickly, or it could be up to 20 days after you submit the application. A longer waiting period is not necessarily a bad thing, since it provides more time to ensure that the site is in compliance with current standards. This is when you'll find out the exact figure for the license fee.
5. Obtain A Work Permit
Unless you are already recognized as a permanent resident, you'll need a work permit in order to generate income within Belize. The cost of a work permit will vary depending on the type of permit you get and what permit you will need in your particular industry.

Remember that work permits must be applied for annually. After you have held a permit for two consecutive years, it's possible to apply for permanent resident status.

6. Open Your Business Banking Accounts
You already have personal accounts like checking, savings, and lifestyle accounts. It's important to not use those accounts for your operation. The same bank that you currently do business with can set up operating and payroll accounts with relative ease.

The requirements for corporate accounts are a little different than those associated with personal accounts. Your banker will walk you through the process, look over the documentation that you have so far, and let you know if anything else is needed.

7. Register With Social Security
As a business owner, you are required to set up withholding for yourself and any employees. Even if you will operate the business on your own, this is typically a requirement. With your other documentation in order, you should have everything required.

There are resources available through Social Security to help you understand the withholding and remittance process. That's especially helpful if you've never dealt with the accounting side of running a business before.

8. Register With The GST
Set things up so that you can collect and pay the General Sales Tax, GST. The personnel at the Department of General Sales Tax can help you with the registration. The documents that you've already acquired will also come in handy for this process.

Expect to be asked about your projections for business volume. As of 2019, it helps if you anticipate generating a minimum of BZ $75,000 during your first year of operation.

9. Register for Your Business Tax Identification Number
With everything else in place, you want to obtain your business tax identification number, TIN. The TIN is needed to ensure your GST is properly recorded and credited to your operation. It's also needed if your company will engage in any activities that require importing or exporting goods.

The municipality where your business is physically located may require that you provide proof of holding a valid TIN. In fact, it may come in handy for other purposes, such as applying for a business loan. The good news is that it won't take long to obtain the TIN, especially if you supply all the information required on the first pass. 
10. Enjoy A Different Pace Of Business In Belize
Remember that the pace of doing business in Belize is typically more relaxed and casual. This is to your advantage, since it does provide more time to get to know the business climate and begin to enjoy it. 
Experience the Insider community that takes your international lifestyle to the next level. Download your FREE guide
"18 Steps to Implementing Your Plan B" instantly!
You'll find that most of the people you talk with along the way are happy to help and look forward to welcoming you as part of their community.

Conclusion
I do hope you enjoyed reading: 10 Easy Steps to Opening a Business in Belize in 2020.  Belize is such an amazing country, I know you'll love working and living there.  Here is a great article on Moving to Belize and Gaining Residency. You'll really enjoy it.
Make sure to download The Ultimate Guide to Going Offshore.  You will want a copy for your personal library.
About The Author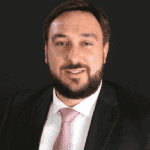 Luigi Wewege is the President of Caye International Bank, headquartered in Belize, Central America. Outside of the bank, he serves as an Instructor at the FinTech School in California, which provides online training courses on the latest technological and innovation developments within the Financial Services industry. Luigi is also the published author of The Digital Banking Revolution, now in its third edition.

Like Our Articles?
Then make sure to check out our Bookstore... we have titles packed full of premium offshore intel. Instant Download - Print off for your private library before the government demands we take these down!