The overwhelming majority of individuals and small businesses around the world often only have domestic bank accounts. Sometimes, that is sufficient, but for those who are serious about international investment or travel, relying exclusively on domestic bank accounts won't always be the right choice. Instead, it might make sense to open an international bank account.
Find out exactly why an offshore bank account can be advantageous to investors, retirees, corporations, or any entity eager to better protect and grow their wealth. 

Easy Access to Foreign Currencies 
Many of the people who open international bank accounts do so in order to access foreign currencies. Whether you need Euros or Hong Kong Dollars, repeatedly dealing with costly currency conversions can be a waste of both time and money. A much better option is to have some of your preferred foreign currencies on hand, in liquid form, at all times. 

To do that, it makes sense to establish an international bank account. Keep in mind that you don't necessarily need to bank in the destination of your preferred currency. Many international banks allow customers to maintain account balances in specific currencies. This allows you to know exactly how much of a currency you hold, and it means that rapidly changing exchange rates won't have an impact on your bottom line.
Plans to Travel or Live Overseas
It is not required that you have ambitious investment goals in order to benefit from offshore bank accounts. If you are thinking about traveling overseas or even retiring overseas one day, then having access to a bank account in that location could be very beneficial. 

Have you ever tried to pay the electricity bill using an international bank account? Would you go grocery shopping for your oceanfront vacation rental and still pay conversion fees every time you swipe your American credit card?
Instead of paying extra fees just to buy food and pay bills, having access to a bank account in that country can be incredibly helpful. This is especially true if you're hoping to retire somewhere such as Belize, which offers an appealing Qualified Retirement Program (QRP) to overseas retirees. 

Tax Advantages
Many people will choose to open an offshore bank account because it makes their lives easier. That's a fantastic reason, but it is not the only reason that investors and corporations opt to bank offshore. When you open an international bank account, your assets may be assessed for taxation according to those local laws. In many offshore destinations, those tax codes are quite favorable to foreign investors. 

There are several taxes to consider when you're banking internationally. The first and most critical is the capital gains tax for foreigners. You might be surprised to learn that in many countries, this is minimal or even nonexistent.
Less important for most people is the local income tax percentage. Unless you're one of a handful of people who will work overseas and collect a salary from an overseas employer, then this specific tax won't apply to you or your assets. 

Opportunities for International Investment
Through an international bank account, you may also have access to new financial opportunities. For example, you might be interested in buying a beachfront home to rent out as a short-term rental. If you're hoping to buy that beachfront home in a popular tourist destination like Belize, then you may not be able to secure financing from an American bank. 

That makes sense, because the asset you want to invest in happens to be in a completely different jurisdiction. To get a mortgage in Belize, you will be better off if you already have a bank account in Belize. This shows lenders that you have assets, that they are accessible locally, and that you are a credible borrower. 

Reduce Your Financial Vulnerability
International banking offers numerous benefits, but few are as important as diversification. Every investor knows about the value of diversification, but it is easier said than done. To reduce your vulnerability, you'll need more than just a diverse portfolio or a variety of stocks. You need to branch out geographically as well. 

In rare but severe circumstances, entire banking systems or economies can be derailed. Currency can reduce in value, and major banks have a hard time staying open. Should this happen in a single country, those with an international bank account will still have a safety net in place. Look for a stable country and an offshore bank with a high liquidity ratio.
Spreading your assets across multiple countries reduces your overall financial risk better than almost any other investment move. 

Asset Protection 
Sometimes, the best reason to put your wealth in an international bank account is for safety and security. Nobody likes to ponder the realities of bankruptcy, criminal court cases, or divorce proceedings, but in the real world, these things happen. When they do, it is best to have your assets protected. 

This is particularly true for those whose wealth has made them a target for lawsuits. Individuals and businesses may be sued in frivolous lawsuits simply because the plaintiff is hoping for a financially beneficial settlement.
Keeping your assets safe offshore might mean that you're less of a target. It might also mean that your financial records are anonymous, or that you're less likely to lose out financially in the event of an unfavorable verdict. 

Clearly, there are many reasons that opening an international bank account is a smart move. From retirement prospects to asset protection, offshore bank accounts give account holders more opportunities, more diversity, and more security moving forward. 

I hope you got value from this article: Why it Makes Sense to Open an International Bank Account. Here are some additional articles I know you'll love:
The Ultimate Guide To Going Offshore
How Can I Set Up My Own International Bank?
About The Author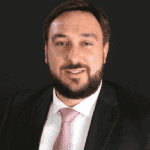 Luigi Wewege is the President of Caye International Bank, headquartered in Belize, Central America. Outside of the bank, he serves as an Instructor at the FinTech School in California, which provides online training courses on the latest technological and innovation developments within the Financial Services industry. Luigi is also the published author of The Digital Banking Revolution, now in its third edition.

Like Our Articles?
Then make sure to check out our Bookstore... we have titles packed full of premium offshore intel. Instant Download - Print off for your private library before the government demands we take these down!