Like in improvisational comedy, one of the basic tenets of traveling abroad is to never say no. Of course, that's easier said than done. As a person whose "going out" routine consists of a once or twice-weekly pilgrimage to my favorite local bar (where I don't need a menu to know what I want and the servers occasionally make certain items on my tab "disappear"), I dread the typical Friday night back-and-forth about whether, where, and when to go out. On my first weekend in Managua, I knew I was destined to spend at least one night in a smoky, sticky bar crowded with strangers. This would normally be a nightmare, but in Nicaragua I saw it as an adventure instead. Did I want to go out that night? Sure.
After the usual getting ready rituals at home, our merry trio of travelers hailed a taxi from the nearest street corner to get us to our destination: Zona Hippos, the main place to be for nightlife in the capital city. In particular, we directed the driver to drop us off at Ron Kon Rolas, a rock music tribute bar with a pun in its name: "ron" being the Spanish word for rum, combined with an obvious nod at "rock 'n roll." We could hear our destination before we arrived at it, the familiar sound of "Wonderwall" by Oasis blasting from the speakers as we stepped out of the taxi onto the sidewalk.
To our surprise, we were stopped halfway up the small set of stairs at the entrance to the bar and experienced a brief moment of confusion before decoding what the apparent doorkeeper was telling us: there was a live band scheduled to play that night, and we had to pay a cover charge if we wanted to get in. On the plus side, admission included two free beers and would only cost us 100 cordobas each – $4 that wouldn't get you such a good deal anywhere on American soil. A series of nods and an exchange of cash for wristbands later, we grabbed our first round of beers and passed a wall full of black-and-white album covers (Coldplay, Led Zeppelin, The Beatles) on our way upstairs.
Surrounded by seated groups of young Nicas talking and laughing against the sound of English-language rock radio standards playing overhead, we perched up on stools and relaxed as condensation from our beers pooled onto the worn wooden table. We chatted in English while subtly eavesdropping on snippets of the Spanish conversations weaving around us. I settled into the combination of the foreign and familiar, feeling more comfortable by the minute in the warmth of a carefree Saturday night.
Again borrowing from the philosophy of improv comedy, the best way to up the ante is to respond to any suggestion with, "Yes, and…" In other words, take any suggestion and add to it, ensuring that no experience is a dull one. Having arrived at Ron Kon Rolas almost an hour before the band was scheduled to take the stage, we were perfectly content to wait around for the main event, but there was a better option available. With wristbands clearly marking our right to leave the bar and come back, we decided to take a quick stroll around the area, getting accustomed to the tangle of lights and sounds around Zona Hippos.
With no particular destination in mind, we followed the line of restaurants toward Piratas, where we had spent our first night in the city amid pirate-themed paraphernalia and advertisements for Flor de Caña, the ubiquitous local rum. Whether we would have ended up there again or not, we were distracted on our way. Amid the cacophony of car horns from taxis vying for our attention, we heard the familiar twang of guitars in the distance, luring us like a siren song. We could see our destination situated on a side street, just far enough away from the tumult of the main road: La Gran Managua, where a four-piece combo was set up on the patio before a sizeable audience.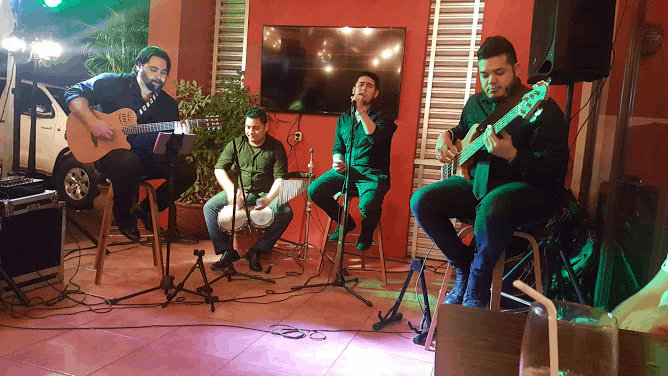 Though I was hesitant to approach a fairly high-class steakhouse so late on a Saturday night without plans for either dinner or too many drinks, the waiter beckoned us with a smile and quickly ushered us to the best open table, nearly within arm's reach of the band. He returned with menus, but it took a song or two for our initial enchantment with the music to subside enough for any of us to spare a glance at our drink options.
We had stumbled across a particularly special event that night called "Ojalá" ("Hopefully"), a show dedicated to the works of Silvio Rodríguez, Cuba's most beloved modern folk singer. The four-piece band consisted of a singer with an acoustic guitar and an iPad in lieu of sheet music, a bassist rocking a pair of all-black Converse high-tops, an impressively bearded electric guitarist, and a percussionist facing an array of instruments: a set of hand drums, a stand of chimes, and a cajón, a Latin American box-shaped instrument. Though the singer sang and addressed the audience entirely in Spanish, my American ears had no trouble enjoying the music and the obvious pleasure the musicians took in making it. To my right, my roommate seemed impassive, but at intermission, her excited response gave her away: "The guitarist is SO good! So good!" He was, I agreed, but what about the bassist? He was awesome, wasn't he? The drummer was great, too! And the singer, of course! Buzzing from our serendipitous discovery, we headed inside.
Though there seemed to be no expectation that we buy anything to justify our presence at the restaurant, I was feeling generous after such a musical display. My tart limonada was pleasantly refreshing, but my housemate's signature house cocktail was a work of art: a fruit juice, rum, and grenadine concoction served in a martini glass that must have been excellent; it didn't even survive to the end of intermission.
Even as the morning people among us started to sag a little after a long day, we reclaimed our front-row table for a few more songs when the band returned. More than just straight covers, the band played unique interpretations of the more traditional singer-songwriter arrangements that were a perfect cap to my first weekend in Managua. Though I could happily have stayed for the end of the set, no matter how long it was, I could sense my less nocturnal friends' enthusiasm was waning, and their sleepiness was contagious. Reluctant to leave, but ready for bed, we excused ourselves from the still enraptured audience remaining and headed back up towards Ron Kon Rolas, where I suggested we at least hear a few minutes of the band we'd signed on for before being intercepted by the most Latin American of live music experiences.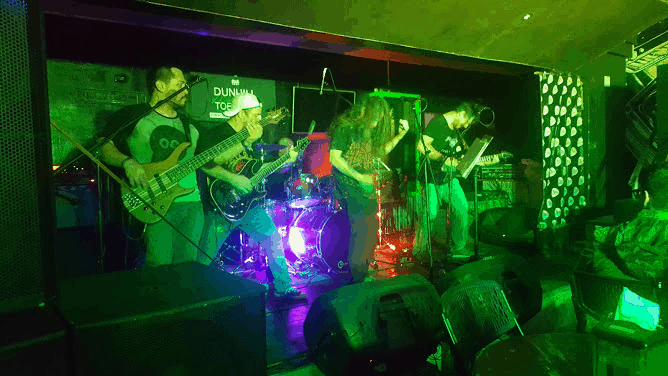 FREE GUIDE! Get Essential Information on Protecting Your Assets
18 STEPS TO IMPLEMENTING YOUR PLAN B
I hadn't been able to guess what kind of act was scheduled to go on based on their waiting audience, but even if I had tried, there's no way I would have settled on what we walked in on: a heavy metal band fronted by an aging rock star clad in a Slayer t-shirt, graying hair flowing freely as he played air guitar with a completely straight face. The cheering crowd aside, we only needed a few silent facial expressions passed between us to signal that maybe this wasn't our scene, and we discreetly left the way we had come. On the street again, we laughed and shook our heads – but at least we'd gotten one great performance from the night.
Back at the house, my roommate had hardly let her hair down before grabbing her guitar and heading out to the balcony to strum away. As for me, I'm spending a weekday morning in the office with Spotify playing the best of Silvio Rodríguez. It's possible I've found my favorite new way to practice my Spanish.
Like Our Articles?
Then make sure to check out our Bookstore... we have titles packed full of premium offshore intel. Instant Download - Print off for your private library before the government demands we take these down!