Applying for a Second Passport from the United Kingdom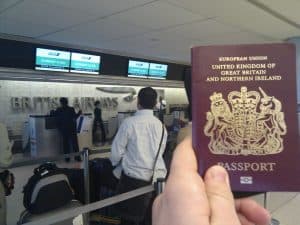 There are some distinct advantages to being able to apply for and receive a British Passport. The first is that one can freely travel there and stay as long as one likes. Second, should one wish to remain in the UK to work and live there, having a Passport and then a National Health (NHS) number means that the onerous roadblocks to employment for foreign nationals are avoided. The third is that as Britain is a member of the EU, one can travel to and work in any of its member nations without either travel or work visas.
All of this is great and good, but does the reader qualify? According to the UK's official Border Agency there are several streams of qualification:
The first is what is termed as a British Protected Person. If the applicant or the applicant's parents were born in any of Britain's former territories, or Brunei, then one can apply.
Second, if either of the potential applicant's parents were born in any of the Commonwealth countries (e.g. Canada) and then became a US citizen, that opens a second possible channel. For those people, a grandparent born in the UK will suffice for a fast-track passport. One does need the grandparent's birth certificate, but handily the UK government's General Register Office will search that out and send an official copy for the fairly modest sum of £9.25, or a little over $15US.
If the applicant does not fall into one of those categories, then the process is much longer, yet not impossible either. Naturalization required the following conditions:
The applicant is over age 18

Is of sound mind and good character (e.g. No prison offences)

Intends to live in the UK

Speaks English
While not as critical as the above, it is also likely that the applicant should have:
Lived in the UK for at least 5 years before applying for a naturalized citizenship

Spent no more than 450 days outside of the UK durinh those 5 years

Spent no more than 90 days outside the UK during the previous year

Not broken any immigration laws (e.g. Not just stayed in the country without having been granted permission for indefinite leave)
There is of course another route that can be taken, which is to marry a British citizen. Even in that happy event, there are still attendant conditions:
One still must be age 18 or older

Again of sound mind and character

One may have to successfully complete an English language test as well as a Life in the UK test (cost of £50)

In addition, unless the applicant's spouse has had to work overseas, the applicant must have lived in the UK for three years, spent no more than 270 days outside the UK during that time and not spent more than 90 days outside Britain during the year previous to the date the application is received.
The best advice if one is even considering this option is to get all necessary documents together now as that can be quite time-consuming. Obtain and secure official copies of your and your parents' and grandaprents' birth certificates, marriage certificates and your current Passport. All of these will have to be filed along with the application, so it is best to have them ready, verified and at hand.
Like Our Articles?
Then make sure to check out our Bookstore... we have titles packed full of premium offshore intel. Instant Download - Print off for your private library before the government demands we take these down!