Tired of seeing the floor price of CryptoPunks and wishing to yourself that you had entered the space much earlier? In this article, we'll explore seven CryptoPunk alternatives. We're quite certain that you might have FOMOed when you read about a CryptoPunk selling for a cool $1.2M. The market for these algorithmically generated characters saw a sudden spike during this past year. But they aren't the only ones that have become so popular. In fact, several other NFTs like Bored Ape Yacht Club and other cryptocurrencies have emerged that give the same feeling of collecting and holding an NFT like CryptoPunk, with the only difference being they are not like CryptoPunks.
Let's dive in.
Common Characteristics
To compile this list, we have primarily focused on NFT projects that in some way resemble the characteristics of CryptoPunks. That is, they are:
Algorithmically generated and not owned by the creator
Each character has a unique style which helps differentiate it from other characters
Each character in the collection can be individually sold
Potentially usable as profile pictures on social media platforms especially Twitter and Discord
We had to narrow these characteristics down to specify the kind of NFT collections to highlight here.
Cryptokitties
While they only succeed the CryptoPunk collection by a few months, we had to add them to our list because they fulfil almost all the properties that CryptoPunks have. The only difference with Cryptokitties is that you can "breed" your own kitty depending on the kind of NFT you are looking for. This was considered to be the first NFT-based game on Ethereum's blockchain and gained popularity because it offered users the ability to interact with these tokens in real-time, breed a cat of their choice and then sell them.
Thus, each kitty was unique in its own way because it was – at some point – being bred by another user. When the craze around this NFT game picked up, there was a furor. While they were unheard of after their craze ended, they re-entered the scene when NFT frenzy started in late 2020.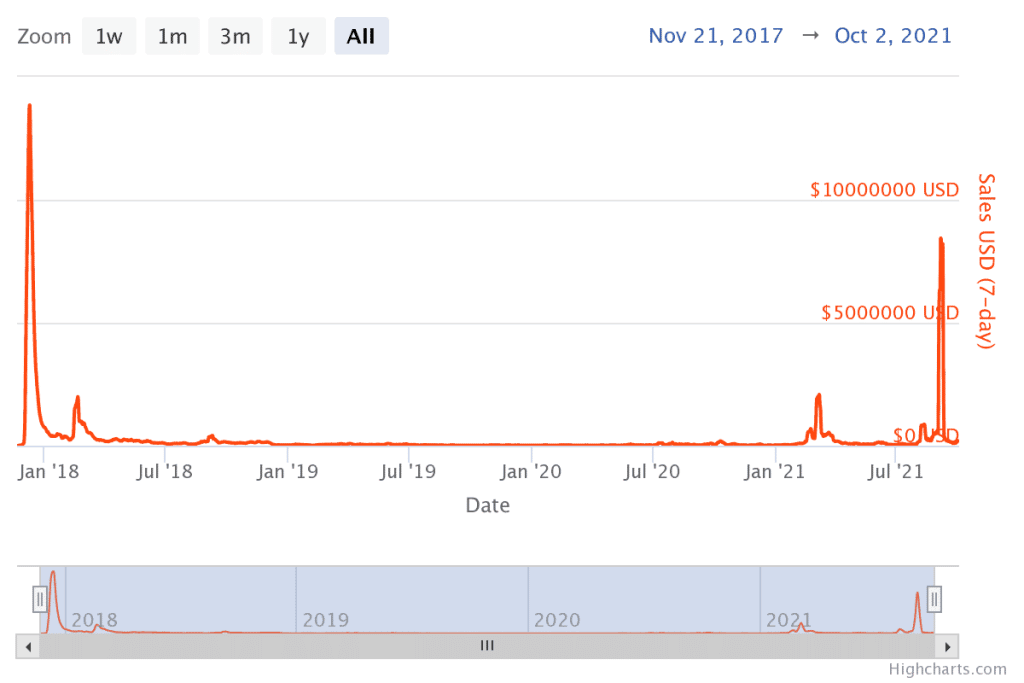 CryptoKitties Sales Chart, Source
ASCII Punks
No they are not responsible for conforming to the "American Standard Code for Information Exchange", but they are produced in a similar manner with CryptoPunks. These punks are generated algorithmically. But unlike CryptoPunks, there are only 2048 in existence. The floor price of the collection is 0.04 ETH and over 92K have already been traded in the market. You can easily find them on OpenSea.

Rock Legend Punks
You guessed it right. This is a collection of the most legendary and famous rockstars in the world. Unlike ASCII punks, these are colourful characters. Only 250 exist in reality and they can be bought on OpenSea. The current floor price stands at 0.075 ETH and about 9.9 punks have already been traded. If you are a fan of rock, then you should definitely check them out!

Genius Punks
This is a very unsurprising guess, isn't it? Well, yes. These are collections of characters who were (and still are) considered to be the geniuses of their time. The fact that there are only 42 that can ever exist is quite telling of the characters and their personalities. You can browse through this collection and buy them on OpenSea. The current floor price is 0.2 ETH, and only 6 have been traded. Take a wild guess who these characters are.

Anime Punks
For all the anime lovers this is probably one of the best collections that they can lay their hands on. It boasts of some of the most popular characters from anime. These are specifically heroes and if you are a fervent Anime fan, then you'll be able to recognize them instantly. This project, too, can be easily viewed and bought on OpenSea.
Experience the Insider community that takes your international lifestyle to the next level. Download your FREE guide
"18 Steps to Implementing Your Plan B" instantly!
The current floor price is 0.078 ETH and over 88 have already been traded in total. Oh, and did we say that only 580 ever exist? Get your hands on one of these right now!

MIDI Punks
We curiously selected this for all our music lovers. Have an insatiable taste in music and want to express it? You can check out MIDI Punks that have been created with the astute musician in mind. And the best thing about them is that they have audio. Yes, they are probably the only NFTs on the list that have audios. Before we bore you more with fluff, you can check out the entire collection on OpenSea.

Bored Ape Yacht Club
We wouldn't say that the Bored Ape Yacht Club collection is an alternative to CryptoPunk. We'll dare to say that these are the new-generation CryptoPunks. As the name suggests, these are a collection of 10,000 Ape avatars – and very unsurprisingly, they all look very bored. We wouldn't ask you to guess the amount that the most expensive bundle was sold for, but suffice it to say that it was about $24.4M. Did your jaws suddenly drop? Ours did too when we first heard about this. While the overall market may have slowed down, most of the tokens in the collection are valued at an exorbitant amount.
Like every other collection, you can find them easily on OpenSea.

Like Our Articles?
Then make sure to check out our Bookstore... we have titles packed full of premium offshore intel. Instant Download - Print off for your private library before the government demands we take these down!