Earlier this year, I officially became the owner of what was supposed to be my first international "rental" property in Belize.  I found a great long-term tenant who wanted to paint and add her own personal touches, so I couldn't refuse the offer. Yes, that tenant is me.
Has that ever happened to you?  I'm a little embarrassed that in the beginning years of my real estate investing career I became the permanent renter.  Hopefully you're better at separating emotions from numbers when looking at real estate (if using primarily as an investment purchase).  Although, it can be tricky when looking at investment-only property in a tropical and exotic location. "This wood doesn't go with this countertop."  Or, "There is no balcony."  Whereas back at home when you're looking at a rental, you're probably primarily looking at the numbers, the physical condition of the property, and the likelihood that it would rent, right?  "Is it in a desirable location? Is there a rental market for real estate of this type?"
I failed at leaving the emotions out, and I realized that when I was looking at paint swatches with Oscar on Back Street.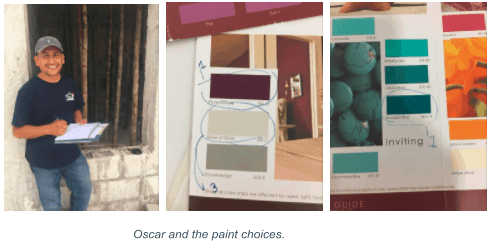 I started my international property search back in 2014. I had just spent the prior two years living in Nicaragua and traveling throughout the Central American region.  During that time, I was taking in everything about the places I visited, from the transportation (is it easy and convenient to get around?), to restaurants (Is there a variety of food, or is there just traditional cuisine?), to the traffic (Is the demographic mostly locals or visitors? Are the roads crowded?), to how safe I felt when I was wandering around on my own. In other words, I was doing my homework by experiencing each location as a visitor.
Each factor played an eventual role in where I ultimately decided to look.  For what I was looking to accomplish, primarily a rental but also a place to stay when I was in town for work, Ambergris Caye just made sense.  At the beginning of this search, I wasn't living full time on the island, so this strategy sounded like a perfect win-win for me.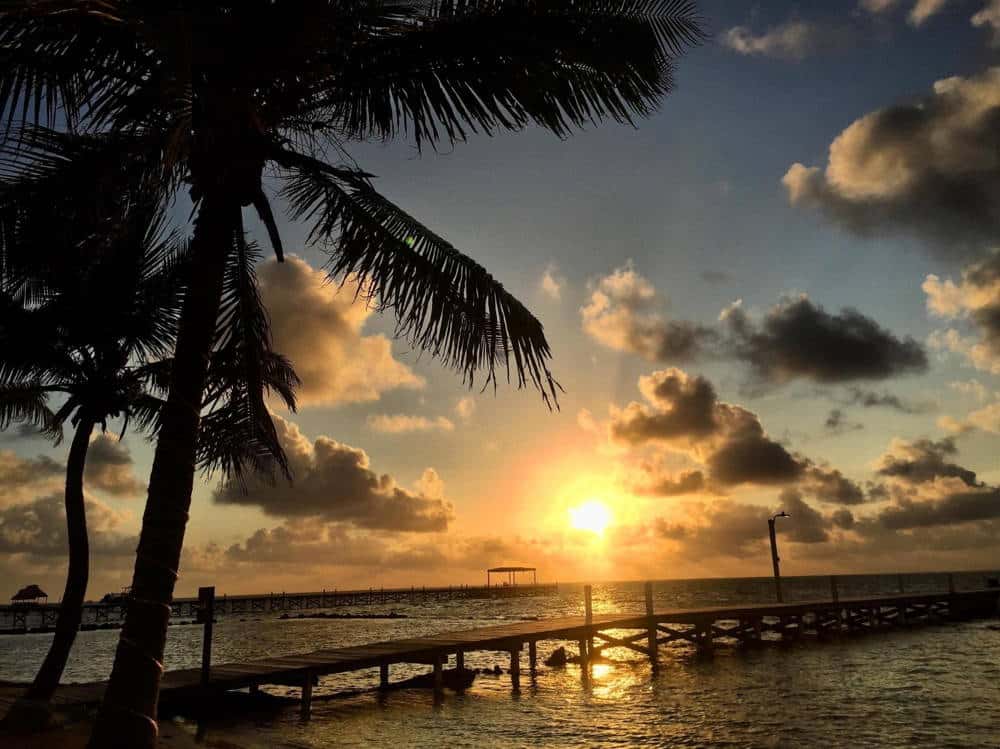 Incredible sunrise beach views on Ambergris.
It took me about 2 years before I finally pulled the trigger.  I was being picky and analyzing everything.  During this time, I realized I am definitely the daughter of my mother who, during her last move, looked at 53 houses before settling on the one she and my father are currently in.  I put together a list of my "must-haves" beforehand to prevent that sort of exhausting search.
What I Thought I Wanted
High-quality construction that could withstand Mother Nature's surprise visits. While thatched or tin roofs are cute, in torrential rain we'd be soaked or awake all-night from the pitter-patter.
I was only looking at condos.  Because I wasn't going to be there all the time, I wanted the peace of mind knowing there was a full-time property manager, security guard, and on-site rental management team.  I am not an investor in Bayer and didn't want the constant headaches of wondering what was happening when I was thousands of miles away.
Beachfront in town.  I wanted to be in town because I had no desire (and still don't have any) to buy a golf cart.  Being within walking distance to restaurants, supermarkets, the gym, etc. was important to me, and something I considered to be important for renters.   As for wanting to be beachfront, that was for the views of course ☺
And after a comprehensive search, I did eventually locate the right property.
What I Got
High-quality construction built to hurricane category 5 standards.
Pre-construction condo (opened in April of this year) in a planned community.
Two blocks from the beach in town.

FREE GUIDE! Get Essential Information on Protecting Your Assets
18 STEPS TO IMPLEMENTING YOUR PLAN B
In between painting, moving in, and cleaning.  (Although I don't think I ever really finishing the cleaning…!)
The one aspect that I didn't think I was going to budge on, but did, was the beachfront aspect. I thought for sure that in order to get the unit rented, I needed to be on the beach.  I was wrong.  Because of the movement I was seeing in off-beach properties and also seeing how touristy the beach areas got, off-beach (but only a couple minute walk) attracted me.  Plus, there were no beachfront premiums on off-beach property.  That was a big plus!
NOTE: A true MLS system does not exist in Belize, nor does it in many other countries in the region.  Also, in Belize, real estate agents don't need a license.  So take extra precautions when talking to your new bar friend about his brother's wife's dad's cat's property that is up for re-sale.
To cover many bases during this time, I had about 20 different independent real estate and developer websites bookmarked, was constantly on the lookout for new real estate signs around town, and was regularly badgering my agent friends for what was available. It was an organized mess of excel spreadsheets and papers.
I spent a lot of time looking at different properties.  Many of them looked great, but there were a few recurring factors that made my Spidey senses tingle.  And I am going to share them with you because, as you continue to look at real estate, these are questions you should also ask your property consultant:
Non-hurricane proof windows.  Yes, this was a question I asked at every property.  Knowing I was in a hurricane zone, I wanted to be sure the property was built to hurricane standards. Windows play a major role in that.
Multiple rental managers at the same property.  Although it may sound nice to have choices, one property manager for the entire property ensures consistency in upkeep, customer service, and knowledge.
Prior HOA problems.  This, surprisingly, came up more frequently than I would have imagined.  Some HOAs didn't have their by-laws recorded in Belmopan and others didn't have a budget.
I was being promised higher-than-the-sky ROIs.  Rental property on the island averages 5-9%, and if you're at a higher-end beachfront hotel like the Victoria House, then it's probably double digits.
The above are just some of the great tidbits I learned to ask from a good friend, Mike Cobb. There are a handful more must-ask questions in his complimentary resource, the Consumer Resource Guide.  If you are looking at real estate and haven't yet had the chance to review this handy whitepaper, please do yourself a favor and download it here.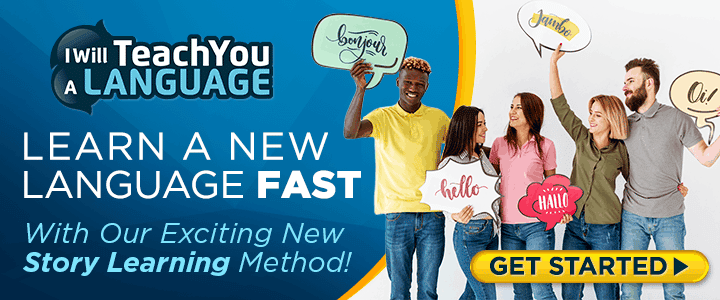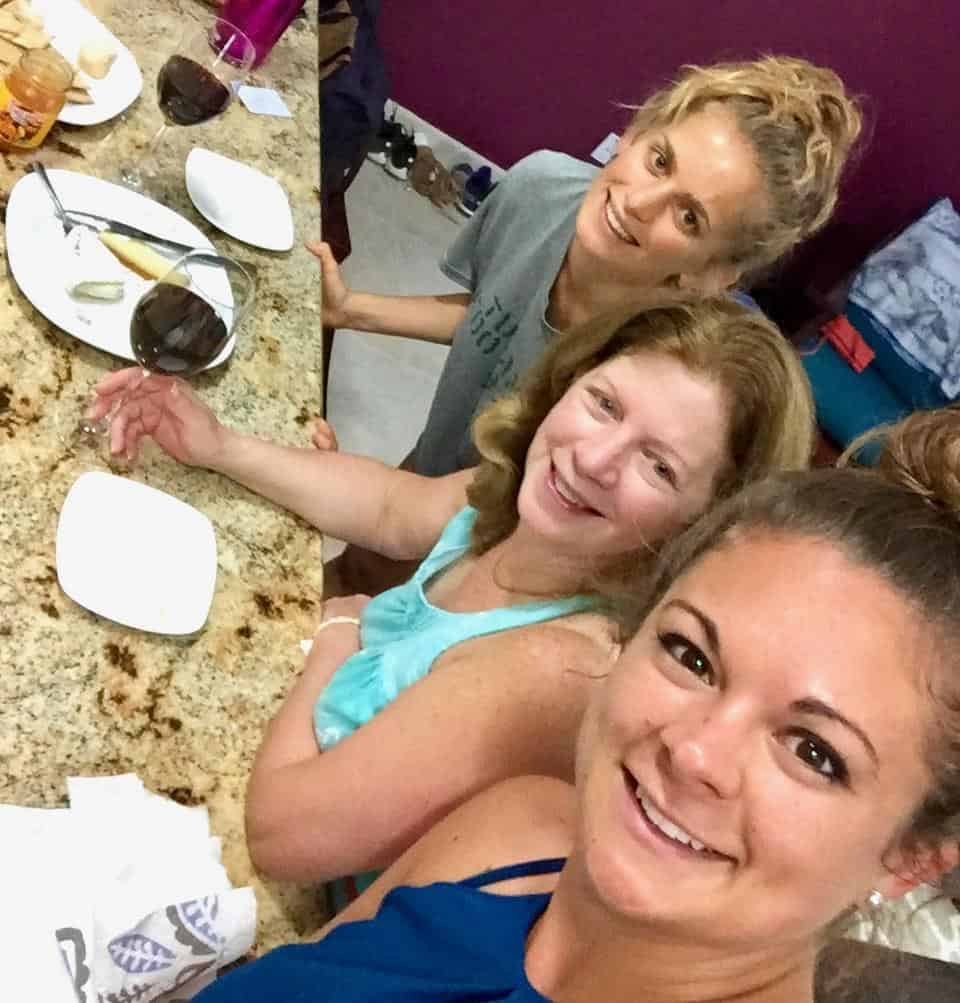 My sister and mom visited for a wine & cheese party at the condo when it was complete.  You can see a bit of the purple wall in the background.
The international real estate journey can feel like the wild wild west at some points, but it doesn't have to. Take your time to analyze and keep doing your research, talking to folks who are knowledgeable in the field. And regardless of whether you're naturally a quick purchaser or like to take your time, be sure to VISIT each location you're considering.  Being there in person makes the opportunities come alive and can help you to further understand if it feels rights.  But remember, be sure to identify what you want (or at least what you think you want) and what you're able to compromise on.  This is no different than when you're looking at property at home.  The tropical element may add the sensation of "margarita madness," so just keep your Consumer Resource Guide handy.

Like Our Articles?
Then make sure to check out our Bookstore... we have titles packed full of premium offshore intel. Instant Download - Print off for your private library before the government demands we take these down!