The new global political situation warrants a moment of reflection. How is this all going to play out in the end? Historically, this type of populism and isolationist rhetoric can be very dangerous, and it usually ends in disaster. As a result, you have got to plan for the future. To be sure, the end of the world is not imminent. However, moving yourself, your family, and your assets offshore is a complex matter. Therefore, you must start to plan for the future today.
Are You Branded by FATCA?
The process of becoming an expatriate will require that you obtain a second citizenship. As a result, second citizenship will open up a whole new world of opportunity for you. For example, with a U.S. passport you are a banking pariah because of FATCA regulations. Global banks want nothing to do with you, because complying with FATCA can ruin them! Business contracts, long term residency, and asset protection are additional benefits. Last but not least, you cannot renounce U.S. citizenship without a new passport. Renunciation is not mandatory, however, after you get a second passport you will have the option available to you. Acquiring a second passport has historically required marriage, long term residency, or diplomatic privilege. However, in today's modern world there are many economic citizenship programs available, including in the United States! Essentially, what is required is a meaningful investment into the nation's economy. The size of the investment fluctuates enormously depending on what country you desire citizenship from. For example, Cyprus will cost you 2,000,000 Euros, and at the other end, Dominica will cost you $100,000 USD. The void here is ridiculous especially since Cyprus recently expropriated money from local bank account holders to pay national debt. As a result, I suggest taking a serious look at the much safer and equally beneficial Caribbean economic citizenship programs.
Caribbean Citizenship by Investment Programs
The Caribbean Island nations that will be discussed below are located in the Lesser Antilles island archipelago in the eastern Caribbean Sea. They have all the features of tropical paradise, and citizenship can be obtained for a sufficient economic contribution. Common benefits of the following Caribbean citizenship by investment programs include:
Visa-free access to the European Union, United Kingdom, Singapore, Hong Kong, Commonwealth Nations, and Caribbean countries – plus many more!

Dual citizenship is allowed

Caribbean citizens are not required to report offshore assets to the government, e.g. FBAR

No tax on international revenue, capital gains, wealth, or inheritance tax.

Residency is not required to qualify or to maintain citizenship. (Minor exception is Antigua and Barbuda, which requires a 5-day residency for every 5-year period)

Personal interviews are not required, although the government retains the right to require one at their discretion.

You will have a passport from a politically neutral country
*Please note – all economic citizenship programs require a thorough background analysis, including but not limited to medical history, criminal history, source of funds verification, residency verification, marriage certificates, and more. Anyone who promises you a passport without sufficient background analysis is certainly selling an illegal citizenship. In such case – buyer beware!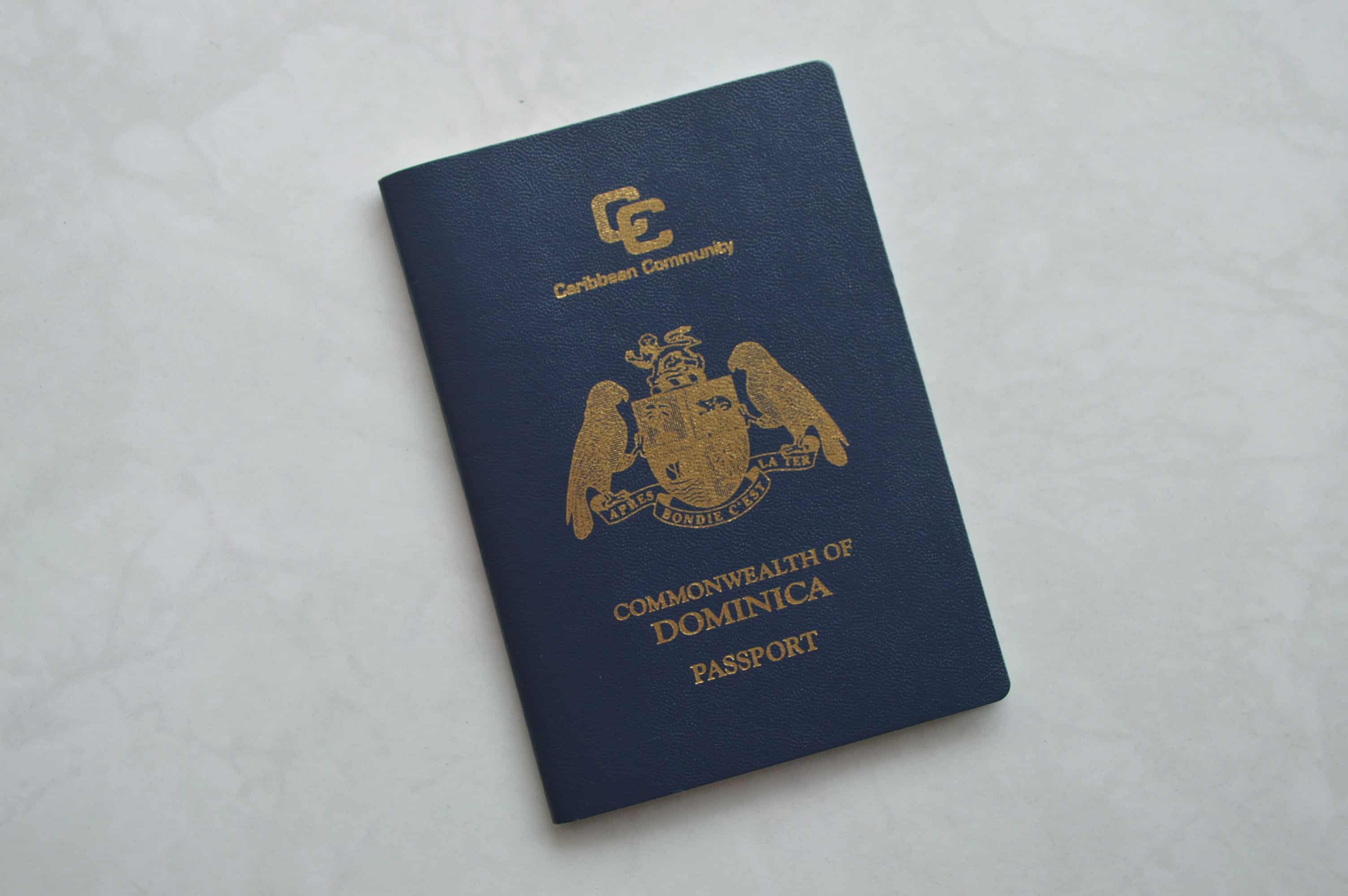 Cost Comparison
Established in 1993, the Dominica Citizenship program is widely considered to be the best value for economic citizenship options available today. This is due to the fact that it is the lowest cost Caribbean investment program and provides many of the same citizenship benefits as the European countries. Let's take a look at some of the Dominica citizenship cost features.
*Dominica – Non-Refundable Investment Amounts:
Single Applicant: $100,000

Main Applicant + Spouse: $175,000

Main Applicant + Maximum 3 Dependents: $200,000

Main Applicant + 4 Dependents or More: $200,000 plus an additional $50,000 for each additional dependent
The Grenada citizenship by investment program was established in 2013 and is relatively new. The citizenship by investment committee had families in mind when it set up the program. As a result, the investment amount is the same for single applicants as it is for a family of 4! This makes the Grenada economic citizenship program ideal for the international family man. Additionally, the island of Grenada is a little bit more cultivated than Dominica. Grenada produces over 20% of the world's nutmeg, and therefore is called the Spice Island. It has beautiful mountains in the interior (like Dominica) and also world class beaches, including Grand Anse. Here is the basic investment breakdown:
*Grenada – Non-Refundable Investment Amounts:
Single Applicant Only: $200,000

Main Applicant + Spouse: $200,000

Main Applicant + Spouse + 2 Children: $200,000
Additional bonus: A Grenada passport will allow its citizens visa-free access to China, and Grenada citizenship is also accepted for consideration under the USA E-2 investor visa program. The Antigua and Barbuda citizenship by investment program was also established in 2013, similar to Grenada. This island nation is the tourist hub of the Caribbean and has long been a favored tourist destination. Antigua has a wide selection of amazing beaches, although it lacks a mountainous interior, despite its volcanic origins. The other main island of Barbuda is a sparsely inhabited atoll, although it is also a tropical paradise nonetheless.
*Antigua and Barbuda – Non Refundable Investment Amounts
FREE GUIDE! Get Essential Information on Protecting Your Assets
18 STEPS TO IMPLEMENTING YOUR PLAN B
Single Applicant Only: $250,000**

Main Applicant + Spouse: $250,000**

Main Applicant + Spouse + 2 Children: $250,000**
Additional benefit: Antigua and Barbuda citizenship permits visa-free travel to Canada.
**Bear in mind that the Antigua and Barbuda citizenship by investment program requires government processing fees (per person) that are significantly higher than similar Caribbean programs. However, it may be possible to have these fees waived due to a special promotion. Contact me for more details.
Last but not least is the St. Kitts and Nevis citizenship program. This program was established in 1984 and is the world's original citizenship by investment program. The government approved the program in order to diversify the economy away from its dependence on the sugar industry. Therefore, the proceeds from the investment program are used to develop tourism, alternative energy, and to promote higher education to its citizens. Unfortunately, the St. Kitts and Nevis citizenship program came under scrutiny in 2014. This is because they did not reference important details, such as place of birth and name changes on the passports they had issued. However, the government has recently revamped the program and recalled all passports that did not include this pertinent information. Thus, the old passports have now been replaced, and the situation has since been rectified.
*St Kitts and Nevis – Non Refundable Investment Amounts:
Single Applicant: $250,000

Main Applicant + Up To 3 Dependents: $300,000

Main Applicant + Up to 5 Dependents: $350,000

Main Applicant + Up to 7 Dependents: $450,000
Conclusion
Acquiring second citizenship is complex, and it is very helpful to shop around and find the best program for you and your particular situation. As a result, many factors will come into play that can affect your decision. Keep in mind that all of the above programs also offer a real estate investment option which allows investors the chance to sell the qualifying real estate after a set period of time and recoup their investments.

Like Our Articles?
Then make sure to check out our Bookstore... we have titles packed full of premium offshore intel. Instant Download - Print off for your private library before the government demands we take these down!