UK puts its Tier 1 Investor Visa on Moratorium – what alternate options are available to affluent individuals aspiring to become global citizens?
UK has put its Tier 1 investor visas on moratorium since Friday, 7 December 2018. The suspension will be lifted once the changes, due in 2019, have been put in place.
The United Kingdom (UK) has long been a destination of choice for immigrants from all over the world — be it the students, skilled workers, entrepreneurs or the high net-worth individuals.
The UK, over the years, has undoubtedly maintained a top-notch position as a global financial hub and as a great place for education, business and for living. It boosts some of the top educational institutions in the world which not only attract talented students — as well as their families, many of which have high net-worth — from across the world. Official statistics from the UK Home Office reveal that in 2017 alone, there were 223,536 Study-related visas granted, excluding short-term students (formerly known as Student visitors). Students from China, India and (even) the US accounted for top-three nationalities for these visas. In the same year, there were 165,131 Work-related visas granted, of which 5,127 were high-value (Tier 1) visas.
Entrepreneurs and investors, from all around the globe, have utilized the Tier 1 (entrepreneur and investor) visas to get themselves, and their families, the right to reside in the UK. These applicants have, in turn, invested in the UK as part of their qualifying investments. The UK, however, has somewhat strict requirements in terms of physical presence required to acquire indefinite leave to remain (permanent residence) and citizenship in the UK. In the past, this also led to some globally-mobile individuals opting for other European citizenship programs, such as those of Cyprus and Malta. Once these individuals acquire citizenship of an EU country, they automatically acquire rights of settlement in the UK until the UK leaves the EU. However Brexit, which will see the UK leave the EU, is a deterrent to this sort of citizenship strategies — and people who want access to the UK have been opting for the UK programs since past few months, and people who want to acquire rights of settlement in the EU have been applying for the residence and citizenship programs of other EU countries. The latter category also include some British nationals who have and continue to apply for Irish nationality and other European options.
The UK Home Office, in the past few months, can be said to have been taking a strict stance towards immigration. The matter of Windrush issue, talks of deportation of some highly skilled migrants who have been contributing to the UK economy are few examples of the stance of UK Home Office which is deemed to be quite strict — and has even faced criticism — by experts.
Now, as reported by major media outlets, the UK Home Office seems to be putting its tier 1 investor visa — an immigration visa category favoured by (ultra) high net-worth individuals — on hold. The suspension will be lifted once the changes, due in 2019, have been put in place. The new reforms are expected to (according to media reports):
a) require the applicants to provide comprehensive audits of their financial and business interests, and show they have had control of the £2million of investment funds required to obtain the tier 1 visa for at least two years;

b) bring some changes to the qualifying investment options as the government wants to favour investments that will provide a clear benefit to the UK economy as opposed to the gilts (the UK government bonds).
The first expected change, if implemented, will definitely help in bringing investors with a clear and clean source of wealth, and must be welcomed. The second expected change, if implemented, may shun away some investors who would not like to put a hefty investment of £2million in relatively high-risk funds.
What's next: The New World Order of Citizenship-by-Investment?
At least for the short-term, until the UK will resume its Tier 1 investment program — or even after the reforms have been introduced — we can expect to see a surge in number of applications for:
a) UK Student Visas
:
Families who want to get their children educated from the UK institutions will now have their children apply for student visas, instead of the whole family applying for Tier 1 route. Time spent in the UK on a student visa, however, does not count towards indefinite leave to remain, or citizenship, and that has been a major reason for families applying for investment-based Tier 1 route which will now be overhauled.
b) UK Entrepreneur Visa:
This visa route may see a (small) increase in number of applications, as an alternative to Tier 1 investor visa, but the requirements of making an active business investment, creation of at least 2 full-time jobs, day-to-day management of the business and English language test ( with at least CEFR level B) 1 are some factors that limit number of applications under this route.
c) Other European Citizenship and Residence Programs: 
Some high net-worth individuals and investors, who would have opted for Tier-1 investor visas, will now weight their options and may opt for other European residence or citizenship programs. A number of countries in the EU27 (European Union countries minus the UK) have developed citizenship or residence programs which have attracted billions of Euros to the economies of these countries. Some of the famous programs include the following, in alphabetical order:
1- Cyprus (separate residence and citizenship programs): 
An EU-member state in the Mediterranean which offers a residence- as well as a citizenship-by-investment program. Well-regarded passport, Mediterranean climate, pro-business and competitive tax regime, and establishment of international educational institutions in the country are some of the factors that have enabled this small-country to attract the ultra-high net worth individuals through its citizenship program.
With a minimum investment threshold of EUR 2 million, Cyprus offers the fastest route to the citizenship of an EU Member State.
2- Greece(residence program):
Officially the Hellenic Republic is located at the crossroads of Europe, Asia, and Africa, and is situated on the southern tip of the Balkan Peninsula. The residence visa program, or the golden visa, was introduced as part of the government's effort to attract foreign direct investment in the country. The program has attracted over 3,404 investors and their 8,899 family members until 30 September, 2018. Decreased property prices in the after-math of financial crises, and presence of lifestyle properties, with chances of capital appreciation have been a major driving force behind the success of Greek golden visa program.
With a minimum investment threshold of EUR 250,000 in real estate, Greece offers one of the most economic passive-investment based residence programs in Europe. Athens, Piraeus and Pallini have been the top-three locations preferred by golden visa investors.
3- Ireland (residence program): 
The UK's western neighbour in the North Atlantic, boosts a small and highly globalised economy, with a large exporting sector, and a significant number of multinational corporations owing to a highly educated workforce and attractive corporate tax regime. Ireland currently ranks on 4th-top position in the world — ahead of all the countries mentioned in this article — in terms of overall human development. The country is said to be the only English-speaking country in the Euro-zone, although Malta also has English as one of its official languages. Ireland offers an Immigrant Investor Program (IIP) which continues to attract investors and high net-worth individuals who wish to establish themselves in the country and/or to get their children educated from the top-notch Irish universities. Data from the end of 2016 reveals that more than EUR 200 million has been raised through this program – with numbers substantially rising in recent years.
Minimum investment threshold is EUR 1 million if investment is in a new or existing Irish business (enterprise) or in an approved investment fund; while it is EUR 2 million in case of an Irish Real Estate Investment Trust (REIT).
4- Malta (separate residence and citizenship programs): 
This smallest EU nation with tall dreams offer separate residence and citizenship programs, each catering to a different set of applicants. Among all the countries that offer citizenship-by-investment, Malta ranks on top in terms of gross national income and overall human development, as well as in environmental performance. Maltese passport also ranks on top, among all countries that offer citizenship-by-investment, in terms of number of countries that offer visa-free access to its bearers. Pro-business environment, competitive tax regime, ability to weather economic upheavals, moderate climate, and a diffused societal bilingualism with English as one of the official languages are some of the factors that add to the attractiveness of this country. According to an estimate, the number of foreign students from pre-primary to secondary school level has more than doubled in five years — with non-Maltese students now accounting for one in every 10.
Maltese residence program requires an investment of EUR 250,000 in government-approved bonds or stocks, in addition to having a place of residence (lease or purchase) with a defined minimum threshold — while the country's citizenship program requires a hefty donation as well as additional investment in stocks and purchase/lease of a property.
5- Portugal (residence program): 
The westernmost sovereign state of mainland Europe is also one of the oldest state in Europe. The country offers a residence program, also known as Golden Visa — a famous term which was first coined by Portugal. Excellent quality of life, growing number of international schools, great real-estate investment opportunities in Lisbon, Porto & Algarve and excellent rankings of Lisbon and Porto among European cities of the future are few of the factors that contribute to the enormous success of this country's residence visa program. The program has raised over EUR 4 billion in foreign direct investment and until the end of this October, 6687 investors and their 11,370 dependents have utilised this popular European golden visa.
Popular qualifying routes include investment of EUR 500,000 in real-estate, or of EUR 350,000 for refurbishment of properties which are older than 30 years.
6- Spain (residence program):
España — a country in Southwestern Europe, and the only European country to have a physical border with an African country, Morocco, through its African enclaves of Ceuta and Melilla — is a member state of EU and Schengen zone. The country offers the highest life-expectancy among all countries mentioned in this article. In terms of expected years of schooling for children, it ranks on 8th position globally. The residence program was introduced via Entrepreneurial Support Act of 27 September 2013, and was later amended in July 2015. Country's touristic attraction, geostrategic position and its membership of the European Union and Shengen Zone, moderate climate, and a great quality of life have been some of the factors that continue to attract investors to its golden visa program.
An investment of a minimum of EUR 500,000 in real-estate can entitle the individuals to acquire residency rights in this beautiful European country. Barcelona has been the location favoured by most investors — while Chinese nationals form the largest group of applicants.
Some of the other European residence programs include the programs of Bulgaria, Estonia, France, Germany, Latvia, Monaco among others.
New European Citizenship-by-Investment Programs:
Moldova and Turkey also offer citizenship-by-investment programs. In addition, Montenegro, a Southeastern European country, and a front-runner for EU membership will also be launching its long-awaited citizenship program in early 2019. All of these three (3) countries, although not part of the European Union, are members of Council of Europe (not be to confused with European Council). Montenegro and Turkey are NATO members as well, while Turkey is also a member of G20, NATO and is in a custom union with the EU since 1995 based on the Ankara Agreement of 1963.
7- Moldova (citizenship program):
Although not a member of European Union as opposed to Cyprus or Malta, this country is the latest entrant to the European club of citizenship-by-investment programs. The program is unlikely to get any benefit from suspension of the UK investor program, as it is likely to attract a different set of applicants — those who are interested in acquiring a second passport for better visa-free travel, which puts it at par with citizenship-by-investment programs of the Caribbean and Vanuatu (a Pacific island-country), but with a European touch. Moldova ranks high on ease of doing business, second only to Turkey among all the countries that offer citizenship-by-investment.
A donation (plus miscellaneous fees) of slightly over EUR 200,000 could qualify a family of four (4) members for citizenship of this country. Although, the government donation for a family of four (4) is EUR 145,000 but there is an additional mandatory fees of EUR 35,000 — termed as government service provider fee — which is in addition to professional fees, application processing and due diligence fees.
8- Montenegro (citizenship program, to be launched in early 2019):
This beautiful Southeastern European country, sometimes referred to as jewel of the Balkans, is set to launch its long-awaited citizenship program early next year. The country's strong chances of accession to the European Union, its pro-business environment, guaranteed equal treatment of foreigners by law, competitive tax regime, beautiful coastline and touristic appeal are few of the factors that have led to the emergence of this country as the new hot-spot for smart investors.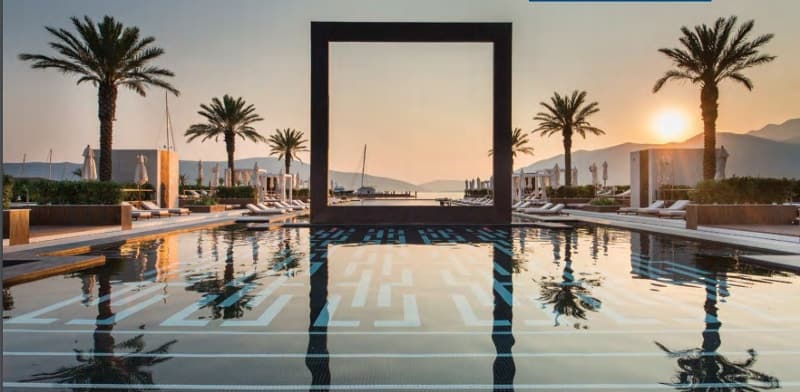 Porto Montenegro
The country was (theoretically, and not practically) featured in the James Bond's Casino Royal and, since then, it has caught the eye of sagacious investors. Potential citizenship applicants, wishing to acquire a European citizenship at much lower cost as compared to Cyprus or Malta are eyeing for the launch of its citizenship program.
A donation of EUR 100,000 plus mandatory investment of EUR 250,000 -450,000 (depending on the area) would be the qualifying requirements for the citizenship program of this European country.
9- Turkey (citizenship program):
Türkiye — where east meets west, and where Western Asia merges with Southeastern Europe — is a beautiful Eurasian country which launched its citizenship program in 2017 and, later, brought positive amendments to the program in October 2018. Turkey, although unlikely to get any benefit from suspension of the UK investor visa, is stirring the Middle Eastern market with the recently brought encouraging amendments to its citizenship program. The program which was, already, getting interest from Middle Eastern applicants has even become more attractive. Presence of Dubai-style free zones, huge and diversified economy, highest ranking in ease of doing business among all countries offering citizenship-by-investment, decreased property prices with possibility of capital appreciation are few factors that are encouraging applicants from Levant and Middle East to apply for citizenship of this country. In 2017 alone, 22,234 houses were sold to foreigners in Turkey, marking a year-on-year increase of 22.2 percent. Istanbul was the top-performing province with 8,182 sales in 2017, followed by Antalya with 4,707 sales, Bursa with 1,474 sales, and Yalova with 1,079 sales;
All applicants have to do is to purchase property(ies) worth a minimum of USD 250,000 ( €220,000 approx) and keep it for just three (3) years. No donation; no huge application processing fees.
Other countries, outside Europe, that offer citizenship-by-investment programs include: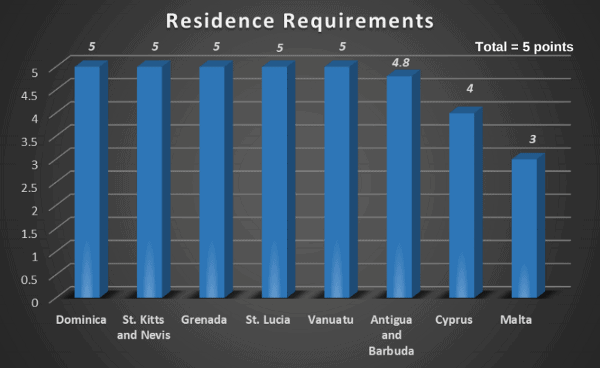 A graph comparing the residence requirements of Caribbean programs with Malta and Cyprus – Ius Pecuniae Index
Antigua and Barbuda: the land of 365 beaches;
Dominica: nature island of the Caribbean;
Grenada: pure Grenada, the Spice isle of the Caribbean;
Jordan: an antique land you can delve into (the program can be of particular interest to investors from some neighbouring countries, but limited interest otherwise)
St Kitts and Nevis: the oldest prevailing and one of the most successful citizenship program in terms of number of applicants;
St. Lucia: simply beautiful;
Vanuatu: where you wake up to freedom, one of its kind program in Asia-Pacific Hemisphere.
Disclaimer: Although every precaution has been taken to verify the accuracy of the information contained herein, this information does not constitute a legal, immigration or professional advice and the author assumes no responsibility for any errors or omissions. It is not meant to solicit any client, whatsoever, for immigration, residence and/or naturalisation purposes in other countries.
The article is written by Dr. Hussain Farooq, an acclaimed citizenship expert, who is the President of HF Corporation — a citizenship advisory firm which advises its discerning clientele on the global citizenship programs and constantly monitors the development of such programs around the globe, in addition to publishing one of the most comprehensive rankings of citizenship programs. The firm also runs a government advisory practice that liaises with different governments to assist them in building strategies that could help in bolstering FDI in their respective countries — through efficiently-structured programs.
I hope you got value from reading this article, UK Suspends Tier 1 Visa. Here are some additional articles I believe you will love;
How to Gain Access to a Second Citizenship
7 Things to Consider When Living in England

Like Our Articles?
Then make sure to check out our Bookstore... we have titles packed full of premium offshore intel. Instant Download - Print off for your private library before the government demands we take these down!