This article was published in the Escape Artist Weekly Newsletter on December 11, 2017. If you would like to subscribe to the newsletter, please click here.
We're going to talk today about the most unique, remote, unknown, and interesting part of India.  Let's start with an Indian government map of its states and territories.  We'll end with how you can soon explore this fascinating region with me.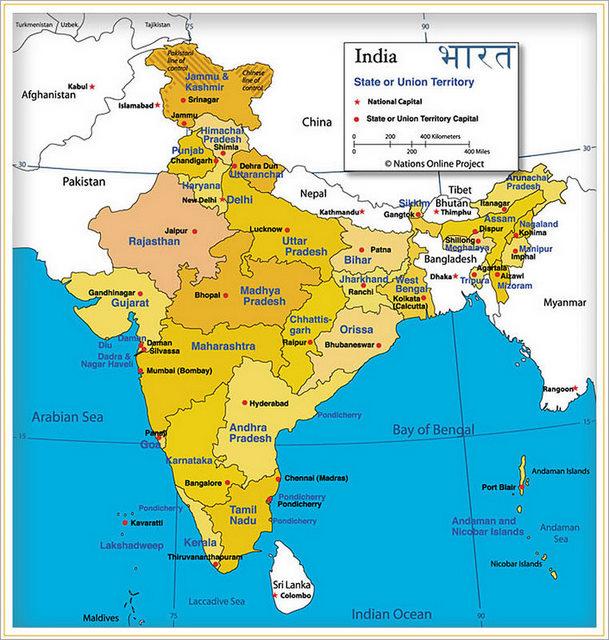 Let's draw our attention to the two neighbor countries of Nepal and Bangladesh and notice that they almost come together.  There is a thin sliver of the Indian state of West Bengal barely separating the southeast corner of Nepal from the northwest corner of Bangladesh.
At its narrowest, that sliver is less than 11 miles wide and is named for the town at its northern end:  the Siliguri Corridor.  It's also appropriately named the Chicken Neck, as it's India's most strategic vulnerability.  You can see why: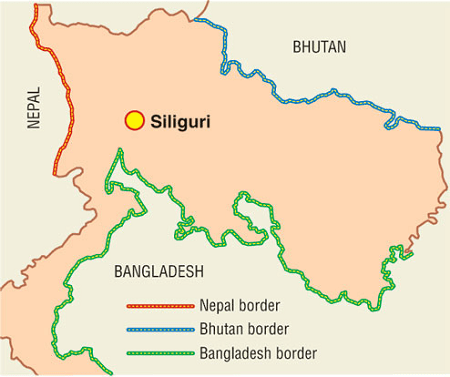 There was a dramatic demonstration of that vulnerability last summer.  What gives India the willies is how close China is to Siliguri – little more than 60 miles due to a salient of Chinese Tibet between Bhutan and India called the Chumbi Valley.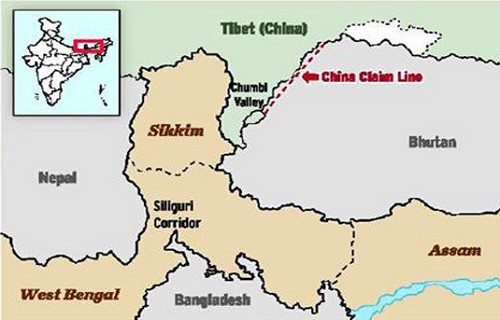 China under Communist control has a long history of border disputes with its neighbors.  Currently, Beijing is in truculent border disputes with Japan, South Korea, the Philippines, Indonesia, Vietnam, Taiwan, and of course, Bhutan and India.
Beijing bullies Bhutan regularly.  That white area on Bhutan's northern border is a claim of China's.  Last June, Beijing decided to rattle India's cage by pushing its ally Bhutan around some more, building a road in Bhutanese territory to reach the southern tip of Chumbi.  Indian troops were sent to physically stop them.
The Indian press beat the war drums, but there was no war, with nary a shot being fired (some troops threw stones at each other) – it was just China's shtick of cage-rattling its biggest neighbor.  By August, the "Doklam Plateau" teapot-tempest was over.
Nonetheless, the episode has caused New Delhi to refocus attention on its long-ignored Northeast – for the Chicken Neck choke point is all that politically connects India to a collection of seven provinces, known collectively as The Seven Sisters.
Experience the Insider community that takes your international lifestyle to the next level. Download your FREE guide
"18 Steps to Implementing Your Plan B" instantly!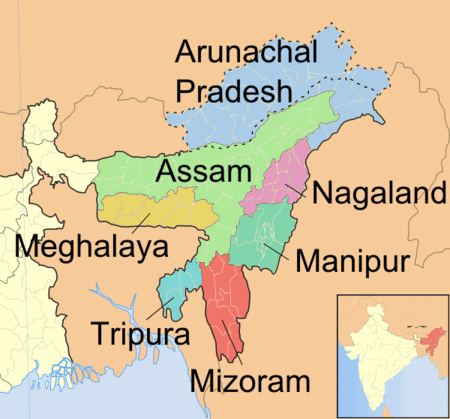 India's Seven Sisters
Encircled by Bangladesh, Bhutan, China, and Burma, all Seven are landlocked – no ports, their only road and railroad connection to the outside world is through the Chicken Neck.
Six of the Seven have little ethnic, cultural, or religious connection to "Mother India" (the exception is Tripura, due to the exodus of Hindu Bengalis from Moslem Bangladesh).
Mizoram, Nagaland, Meghalaya, Assam, and Arunachal Pradesh are predominantly aboriginal/tribal and Christian, while Manipur is half hill tribe/Christian and lowland tribe/pre-Hindu Sanamahi religion.
Perhaps all this in the past led to New Delhi ignoring the region and discouraging anyone from exploring its wonders.  That's now over.  This February, I am leading an exploration of all Seven Sisters – and we are being welcomed with open arms.  Be prepared to be astounded at what each of the Seven Sisters has to uniquely offer.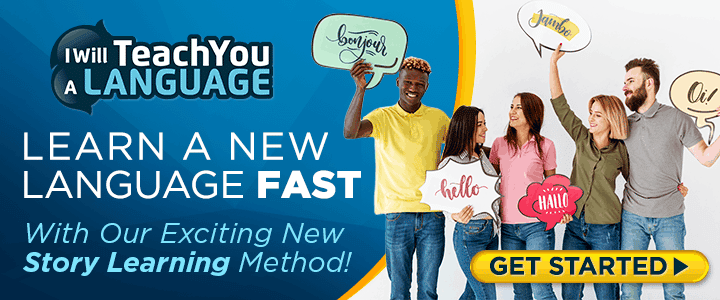 Here's a brief synopsis:  We meet in Calcutta on February 16 and return to Calcutta on March 3.
We fly from Calcutta to Shillong, capital of Meghalaya.  Little more than an hour's drive is the area of Cherapunji, where for centuries tribal peoples such as the Khasi have constructed living root bridges over rivers and streams connecting their villages.  Roots of banyan and rubber trees are trained to grow and interconnect, forming a living bridge – with some bridges over 500 years old.  One of them is even a double-decker.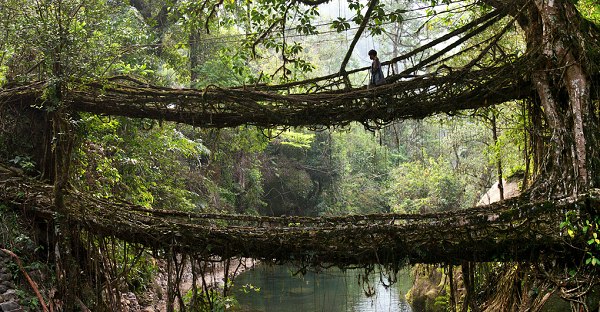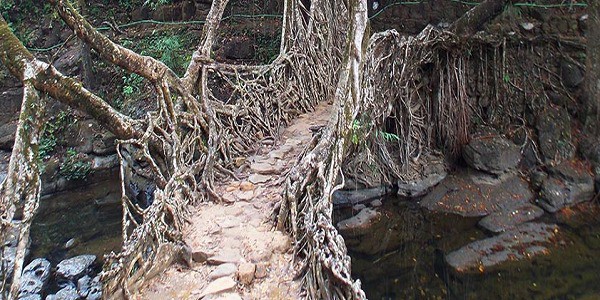 On our return to Shillong, we'll find India's Stonehenge – the Nartiang Monoliths.  It's a vast megalithic complex of millennia ago, set among the beautiful Jaintia Hills.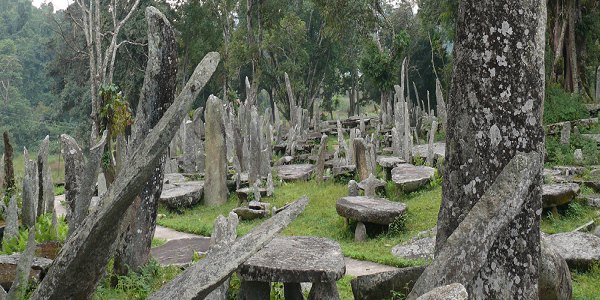 From Shillong we charter a helicopter to fly us to the Tawang Tibetan Monastery in Arunachal Pradesh.
Tucked just below the Himalayas where Bhutan, China, and India come together, ancient Tawang is the largest Tibetan monastery in the world (the Potala in Lhasa is larger, but the Chinese have converted it into a museum and it is "dead" to Tibetans).  We arrive in time to attend the extravagant Losar Ceremonies celebrating the Tibetan New Year.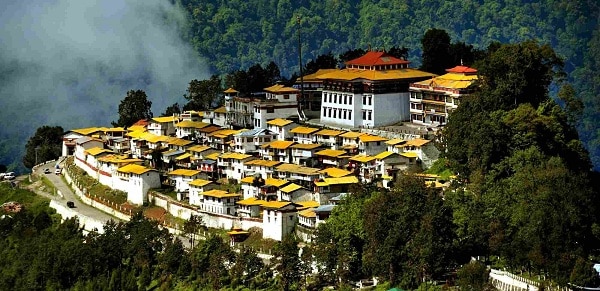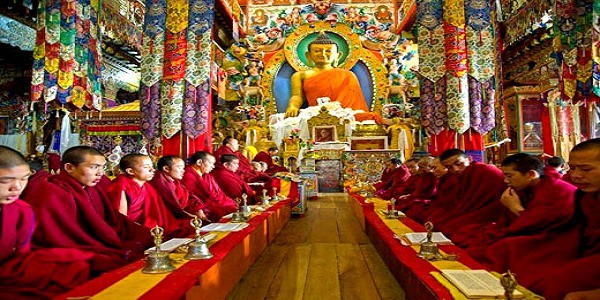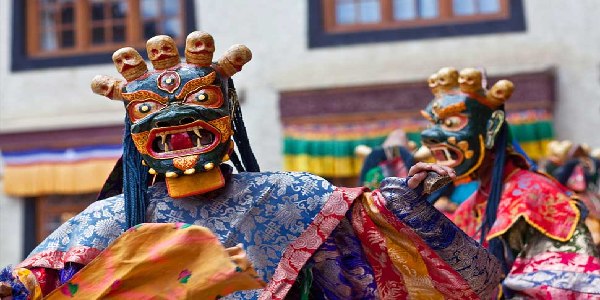 Losar is partytime for the Monpa Tibetans of Tawang, where families invite you into their homes for a cup of chaang barley beer and we all get to know each other.  We'll have a wonderful time.
Our chartered helicopter now takes us to Tezpur on the Bhramaputra River in Assam, from whence we drive to the famed Kaziranga Wildlife Sanctuary.  Kaziranga is a World Heritage Site, the home of over 2,400 Asian one-horned rhinoceros, and the largest number of Royal Bengal Tigers in the world.
Our safaris in Kaziranga will be on elephant back.  We're guaranteed to see a plethora of rhinos, and since we're there in the dry season with the grass low, our odds of seeing tigers are high.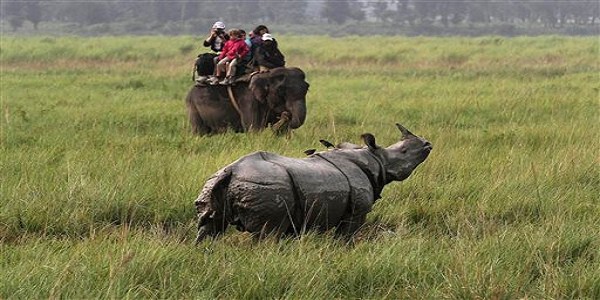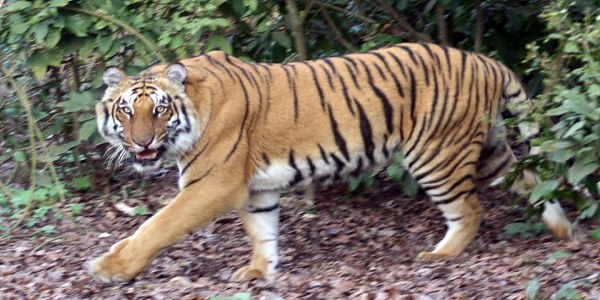 From Kaziranga, we drive up to Kohima, capital of Nagaland, to attend the Sekrenyi Purification Ceremonies of the Angami Nagas.
The Nagas were once feared headhunters.  While that's in the past, they still like to show off the skulls of their ancestors' enemies.  Now they take pride in their culture with spectacular ceremonies.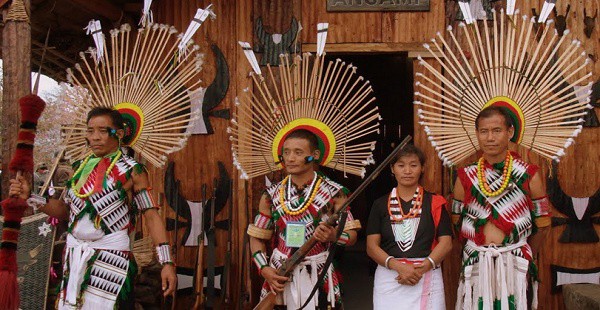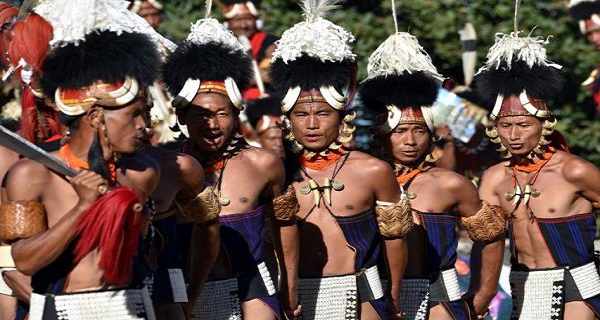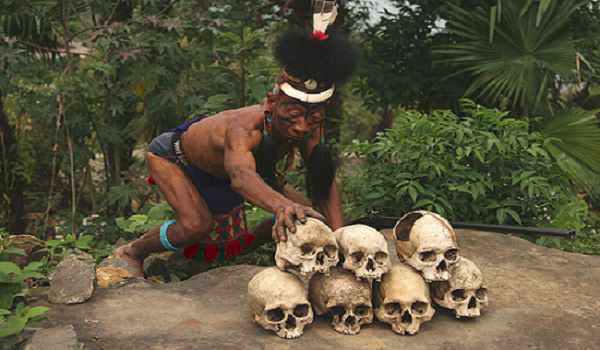 From Kohima, we drive to Imphal, capital of Manipur.  The Meitei people of Manipur are religiously eclectic, the Christians among them building beautiful churches like St. Joseph's Cathedral, while many others adhere to their original beliefs of 4,000 years ago, older than Hinduism, the worship of Lord Sanamathi.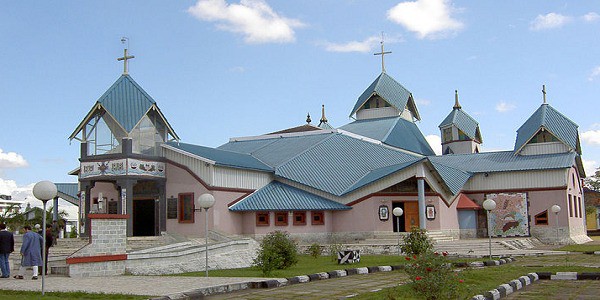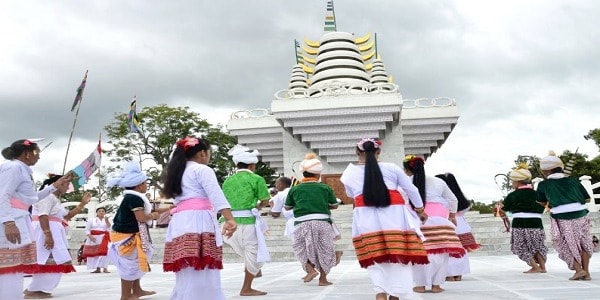 Near Imphal is Lake Lotak with its unique phumdis, floating circular islands with villages of fishermen.  We'll be having a fish feast with them.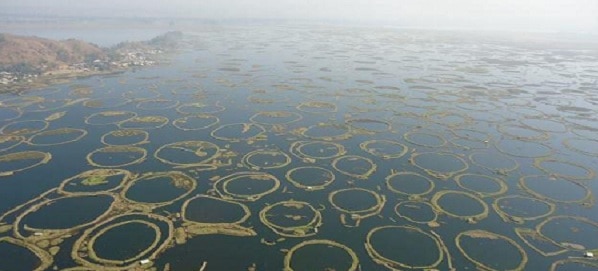 From Imphal we fly to Agartala, capital of Tripura.  We'll visit Ujjayanta Palace of the Tripura Maharajas and the Jagannath Hindu Temple, then drive to the astounding Rock Temple of Unakoti, an ancient shrine of the Hindu god Shiva.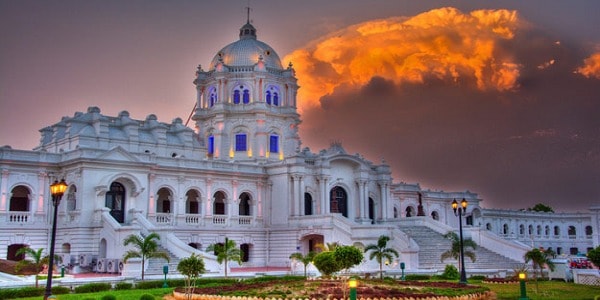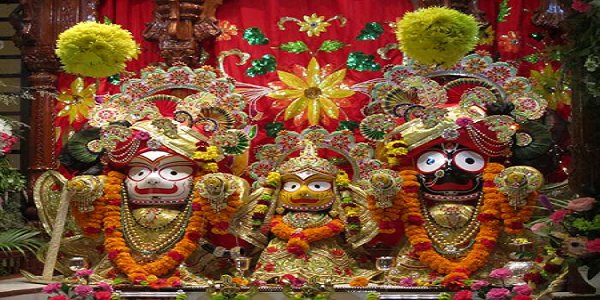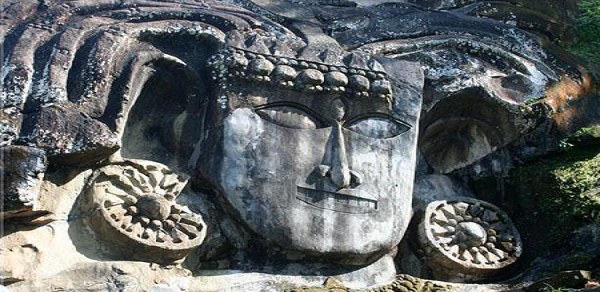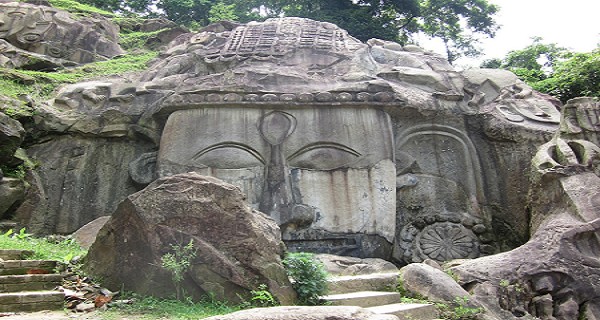 For our seventh of our Seven Sisters, we fly from Agartala to Aizawl, capital of Mizoram.  The Mizo people are 90% Christian of various denominations.  Their churches are spectacular, particularly the non-denominational church of Solomon's Temple.  We arrive in time to attend the Mizo Chapchar Kut Spring Festival.  Everyone is happy it's springtime.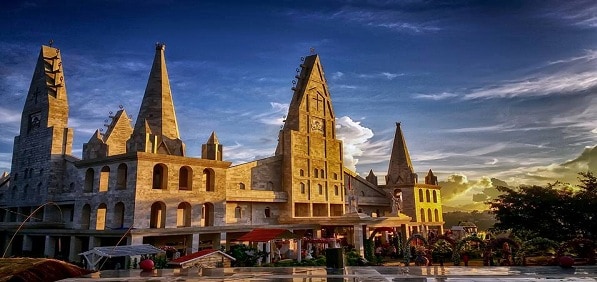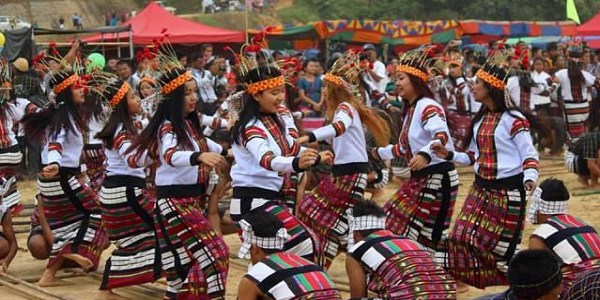 You can join in if you want!  And with that, we fly back to Calcutta.
I hope you've enjoyed learning something of this very special part of the world.  And I hope you'll join me in seeing it for yourself.  What you saw above is only a hint of all we'll actually see for real.
Again, the dates are February 16 to March 3. If you'd like more info, just let me know at Jack@Wheelerexpeditions.com.  I'm looking forward to meeting you in Calcutta.
Click here to get advance notice of expeditions you can join & stunning photos of Once-in-a-Lifetime Adventures
Jack Wheeler is the founder of Wheeler Expeditions.
This article was published in the Escape Artist Weekly Newsletter on December 11, 2017. If you would like to subscribe to the newsletter, please click here.

©2019 Jack Wheeler – republished with permission

Like Our Articles?
Then make sure to check out our Bookstore... we have titles packed full of premium offshore intel. Instant Download - Print off for your private library before the government demands we take these down!