No worries when it comes to keeping warm with the Panama climate and weather!

Fresh powdery snow, a crackling fire at the lodge, bundling up against the cold……if this is your idea of heaven, then Panama may not be the place for you!
Panama is located about 8 degrees (600 miles / 900 km) above the equator and is categorized as a Tropical Monsoon Climate. Panama's narrow land mass is easily affected by the weather conditions of the oceans on either side. Luckily the country is situated below the Atlantic hurricane belt, out of harm's way. Hurricanes passing to the north usually bring Panama only a couple of days of constant rain, higher surf, and the opportunity to see some spectacular lightening shows.
Elevation and proximity to the oceans are the primary factors affecting local weather. Most of the country is lower than 3000 feet (914 meters) in elevation, but the mountains in the Cordillera Central Range can tower up to 9000 feet (2743 meters). Coastal areas generally experience higher humidity, while the mountains remain dryer and more temperate. Panama is also relatively breezy, with prevailing wind speeds averaging 5 to 9 miles per hour (4 to 8 knots).
Panama has two main seasons, la seca ("the dry") from December through April, and la lluviosa ("the wet") from May through November. The dry season is considered "summer" with about eight hours of sunshine a day. March is usually the driest month, averaging only 10 days of rain. During the wet "winter" season, however, heavy afternoon downpours and thunderstorms are the norm, and rain falls almost every day. On the average, Panama receives 263 days and about 106 inches (269 cm) of rain each year. The rains on the Atlantic/Caribbean side seem to fall more steadily and last longer, while the Pacific coast is a little dryer.
Daytime temperatures are extremely consistent, remaining in the 85ᵒF (30ᵒC) range regardless of season. Cities at lower elevations, such as Panama City and David, are warmer during the wet season with highs in the low 90's (32ᵒC). That doesn't sound too bad until you factor in Panama City's average dew point of 75ᵒF (24ᵒC)! Heat indexes can quickly become dangerous, and staying well-hydrated is critical.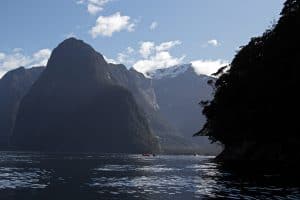 The coolest temperatures in Panama are found in the Cordillera Central Mountain range. At 6600 feet (2000 meters) above sea level, nighttime temperatures can drop to freezing or below. Very rarely a frost or light snow may occur. Snow in the lower-elevation cities has never been recorded……..but for those looking to live here, lack of snow is usually not an issue!

Like Our Articles?
Then make sure to check out our Bookstore... we have titles packed full of premium offshore intel. Instant Download - Print off for your private library before the government demands we take these down!