I finally made it to my room at the Rui Hotel in Panama after a 15 hour trip from San Diego. It's 10:30 PM and I need to unwind with a bit of TV. I've saved the season finale of Mad Men available on Netflix for the occasion.
I pull out my iPad, click on the Netflix app, and get a list of programs I've never heard of. I searched for Mad Men and nada. The show I wanted to watch is not available on Netflix Panama.
Netflix and other streaming services are only available in certain countries. For example, Amazon is only available in the United States.
And, when the are available, their content varies from country to country. They have territorial content agreements which means TV programs and movies vary from country to country. Apparently, Netflix didn't want to pay the licensing fees to make Mad Men available to its users in Panama.
Not to be deterred, I began searching for a hack… and I found several.
How to Watch Netflix while Abroad
You need to fool the Netflix system into thinking you're in the United States to access US content. Likewise, you need to make them believe you're in the UK to get UK content or Canada to get Canadian programs. You get the idea.
I searched the web and found several onshore and offshore companies that will help me game the system and give me access to Netflix.
You do that by setting up a Virtual Private Network connection on your iPad or laptop. That sounds techy, but it's really quite simple. I was watching Don Draper drink his way through the season finale in about 10 minutes and I'm certainly no tech genius.
Since I learned about the wonderful world of VPNs, I've done my research. I've tested different offerings around the world and my personal favorite is ExpressVPN. Their system allows me to choose my country and they support all kinds of channels in addition to Netflix and Amazon.
For example, I'm a big fan of everything cooking. I love to cook and watch shows about cooking. So, the fact that ExpressVPN supports the Food Network, was a deciding factor for me. Add to that the fact that they support NFL Game Pass, and it was a done deal.
The other factors I took into account before posing this article are 1) ExpressVPN is based outside of the US (see below), 2) offer both channels and VPS services, and 3) offer a 7 day trial without requiring a credit card. I always forget to cancel and would not recommend a service that did not offer this type of trial.
Feel free to post your recommendations for the best VPNs in the comments below.
VPNs for Online Privacy
I'll get to how to setup your Netflix hack below. First, let me note that a VPN increases your online privacy. Your computer connects in to the VPN and then the VPN to whatever website you are browsing. That means the site you are visiting sees your location and IP as being from the VPN host. They have no idea who or where you really are.
FREE GUIDE! Get Essential Information on Protecting Your Assets
18 STEPS TO IMPLEMENTING YOUR PLAN B
Don't get me wrong. This is not going to fool the NSA or a government agency looking to track you down. It does provide a basic level of privacy and reduce the amount of data websites are able to collect about you.
For example, the IRS often get's Skype data from Microsoft to prove where their targets are hiding. I know this because I've been in court and seen it used against taxpayers… Microsoft records your IP address and happily provides that to the IRS without a warrant.
If you were connecting to Skype through a VPN, all Microsoft would see would be the IP address of the host network. They would have no idea where you were connecting from. Of course, they could trace you if they were sufficiently motivated. But, if the objective is to increase privacy and reduce your internet footprint, a VPN can help.
ExpressVPN is incorporated in Barbados and Cyprus and appear to operate from Ontario, Canada and the UK. This will give you a higher level of security than a US based VPN provider. I will cover offshore providers in more detail in a future post.
How to Setup Your VPN
Not to be a shill, but here's how to setup your ExpressVPN  on your iPad. I included this in the post because the process is the same for all VPN services.
You first go to ExpressVPN and setup your account. The cost is $99.95 per year. Make note of your VPN password, which is different from your billing password. You will need it below.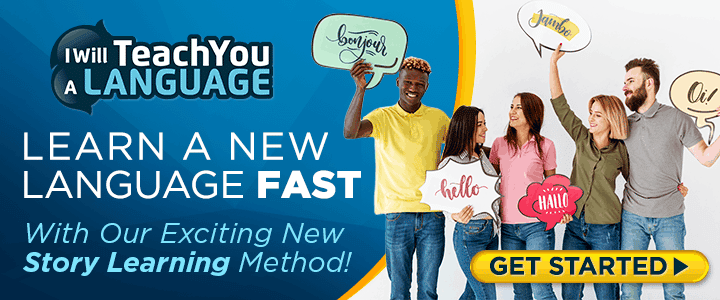 Next, on your iPad, open "Settings," then "General," and select "VPN."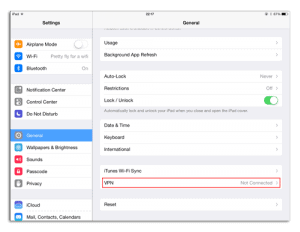 Tap on "Add VPN Configuration." Yes, your iPad is already setup to work with a VPN.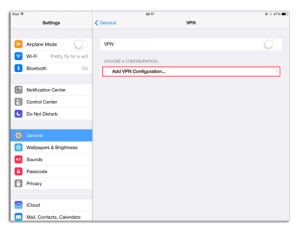 Tap the "PPTP" (middle) "tab" at the top.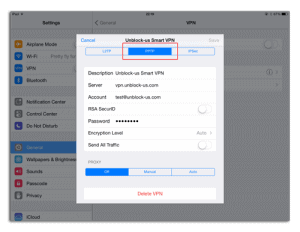 Fill in the fields as follows:
Description: ExpressVPN VPN
Server: vpn.ExpressVPN.com
Account: your email, which is your ExpressVPN user name
RSA SecurID: Off
Password: Enter your VPN password
Encryption Level: Auto
Send All Traffic: Off
Tap Proxy Off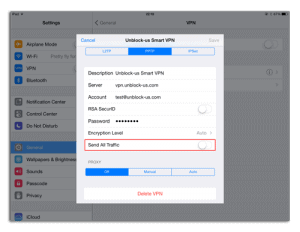 Top Save and you're done.
You can switch VPN on and off as you like or whenever you wish to keep your location private.
I hope you have found this post: How to watch Netflix from the road helpful. Again, feel free to post your comments and suggestions below. Here are a few additional articles I know you'll love:
How to Watch the U.S. Version of Netflix Abroad with a VPN
16 Reasons Why Belize Is the Perfect Country to Move To
Like Our Articles?
Then make sure to check out our Bookstore... we have titles packed full of premium offshore intel. Instant Download - Print off for your private library before the government demands we take these down!