Getting to Know Chile's Expat Community
Getting to Know Chile's Expat Community
Whilst the USA is constantly tightening its border control, Chile has done quite the opposite. It continues to relax its borders and has largely made it far easier for immigrants to start up here. As well as being an expat-friendly country, the climate is comfortable and the landscape spectacular. Frankly, it's no wonder us Americans are moving there en masse! If you are considering making the move to Chile then here are some useful tips on acclimatizing and getting to know the expat community.
Learn Spanish
One of the biggest challenges for anyone moving to a new country is getting used to speaking a new language. In some countries, the language might be the same, or English might be so widely spoken that you can almost get by without it. Although in Chile most people speak at least some English, it is definitely important to practice your Spanish if you want to get on here.
Some Chileans are a little shy to speak in English and apart from anything else, it's you that has moved into their country, not vice versa – make the effort! Chilean Spanish can be a little trickier to decipher, as slang, fast speech, and word merging are all commonplace. Initially, you might make a few mistakes, or have to ask people to repeat themselves, but it's a dialect you'll pick up quickly and once you do, you'll be able to feel fully integrated. If you're struggling then a Spanish class can be a great place to attend, not only to boost your confidence but also to connect with some of the local expat community. In the beginning, don't be afraid to laugh at yourself; learning a new language is tricky and nobody is going to think badly of you for a mispronunciation.
Join the Club
Often an exciting but daunting prospect that expats encounter when moving to a new country is creating a whole new friendship group. Often we make our friends in high school and keep them well into our retirement! If you make the move to a new country in the midsection of your life, then you've got a great deal of catching up to do.
Chileans place huge importance on family and as such, much of their socializing is done with family rather than friends. This can make it a little more difficult to form new friendships quickly, but the ones you do form will be all the more special for it. A good way to get a headstart is to join up to a club or group that follows an interest of yours.
One thing that attracts many American expats to Chile is the more relaxed gaming laws. There are plenty of poker tournaments that take place around Chile, particularly in Viña del Mar. PokerStars held their Latin America tour here and, although there aren't always such huge tours going on, you can always find a friendly group who are ready for a game at the Enjoy Casino.
If you prefer the library over the casino, then the central Santiago book club could be the perfect place for you to make some new connections. They meet in locations near El Centro (Santiago) and discuss books in English, for those who are still brushing up on their Spanish. Even better, they offer wine and snacks for everyone that joins the meetings, so you can let loose a little.
Favorite Hangouts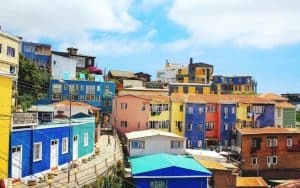 Santiago, followed by Vina del Mar, is by far the most popular city with expats. To begin with, it's enormous so you're bound to find your group somewhere within it. Also, it's close to the sea and the mountains; in fact, it's one of the few places on Earth where you can snowboard in the morning and surf in the afternoon. If you happen to enjoy outdoor activities then this can be a great place to make some new connections. There are various hiking trails around the mountains that surround the city, as well as surf clubs, ski groups, and even rock climbing get-togethers. For the adventurous amongst us, Santiago is the perfect place to get to know some expats.
Of course, some of us are a little less active in our hobbies and interests and there's also plenty of scope for hanging out in a more sedate way too. There's a vibrant cafe culture around Santiago and there are some spots that are particularly popular with expats. The Faustina cafe serves top-notch coffee and delicious breakfasts, it's super central and you can always find some friendly faces to hang out with. Another buzzy hangout is Vinoteca which is in Vitacura. This spot is the perfect place for a healthy hearty brunch in the morning but truly comes alive as a wine bar at night. If you want to meet friends to chill out or for party times then this is the perfect place.
I hope you enjoyed reading: Getting to Know Chile's Expat Community

Like Our Articles?
Then make sure to check out our Bookstore... we have titles packed full of premium offshore intel. Instant Download - Print off for your private library before the government demands we take these down!