Earlier this year, we welcomed Escape Artist's newest team member, Mikkel Thorup. Since the early 2000s, Mikkel has lived as an expat, calling home to Central America, the South Pacific, Asia, the Middle East, the Arctic, and North America.
While travelling the world, he has keyed into various investments and businesses and has taken advantage of the many global opportunities he has come across.
"Mikkel Thorup has made it his mission to serve others and he constantly gives back to the community by sharing his knowledge in entrepreneurship with the hopes of impacting others in a positive manner."
Mr. Thorup has written an incredible resource that possesses the key to unlock the financial freedom of the life of an expat. Continue reading to discover the world that Mikkel and his book can open for you. Take it away, Mikkel…
It's the End of the World as We Know it
The 9-to-5 corporate job is nothing but a distant memory
As we speak, data scientists are designing AI-driven platforms and smart algorithms that will be able to dominate primary, secondary, and tertiary industries within the next 20 years.
Commodities like oil and coal that once represented some of the most lucrative investments on Earth are now just as volatile as penny stocks.
Financial institutions around the world have collapsed and been rebuilt on even shakier ground.
Political instability and economic tensions threaten to undo the stability of established powers in Europe and the United States.
Do You Have the Tools to Survive in This Brave New World?
I do.
I've spent the past 20 years building enormously valuable relationships across the globe from Bogatá to Beijing and everywhere in between.
In doing so, I've managed to pick up a number of extremely important lessons that have allowed me to build a lifestyle that's free from the constraints of boardrooms, borders, banking systems, and government regulations.
I spend every day pursuing my passions: travelling the world, talking to thought leaders and tycoons, and, of course, making profits along the way.
But what inspires me more than any of those things is helping people who lack the knowledge or resources to realize their dreams of personal and professional freedom.
This book is the culmination of that desire.
It's called…
Expat Secrets: How to Pay Zero Taxes, Live Overseas & Make Giant Piles of Money
Whether you're an entrepreneur, a C-suite executive, or an artist – Expat Secrets will give you all the tools you need to create real wealth and lasting success in any region of the world.
How Can I Be So Confident?
Because this is the same blueprint that I followed to get to where I am today, the only difference is that I had to lose hundreds of times before I was able to find the magic formula.
I lost thousands of dollars in taxes before I learned how to protect my wealth through offshore banks and secondary residences.
I took huge losses in property and stock markets before I learned how to diversify my assets and mitigate the risks of localization.
I routinely found myself scrambling to stay clear of foreign visa policies and investment restrictions before I wised up and figured out that I needed a permanent residency abroad.
I spent ages trying to find the best place to settle down and start a family before I settled on Abu Dhabi (for now).
I dropped 5-figure sums on healthcare for myself and my family before I learned about medical tourism.
I would have starved to death in South America if I hadn't picked up Spanish.
Expat Secrets will walk you through each and every one of these lessons clearly and concisely.
I've also included a wealth of supplementary resources drawn from my own personal network of contacts that you can use freely to put these plans into action today.
Listen, Don't Just Take My Word for it – Here's What the Experts Say:
"If you don't know anything about global diversification – you'll know as much as Jason Bourne by the end of the book! No, you won't learn how to get fake passports – but you'll be equipped to do things the legitimate way so you can live comfortably and not have to worry about being tied to a single country or currency in regard to your wealth. That sounds pretty cool to me." – Tom Augenthaler: Influencer Marketing Maestro.
"Having incorporated hundreds of companies for clients over the last 7 years, this book is very helpful for those that are starting out" – Edmund John Lowell: Founder, FlagTheory.com | Incorporations.io
"A huge thanks to Mikkel for a clearly written, concise description of the international experience as lived by a true global pioneer. Especially refreshing is the chapter on the benefits of raising children overseas. As the father of two 3rd-culture kids, I can personally assure you that no education expands the mind more than growing up overseas." –  Michael K. Cobb: Chairman and CEO – ECI Development
"Having lived and worked overseas for more than a quarter century myself, I've seen expats make every mistake under the sun… save yourself time and energy and learn from someone who has actually done it. Expat Secrets is THE BOOK to get you started on your international journey." – Lief Simon: COO and Senior Real Estate Editor – Live and Invest Overseas
The Keys to an Internationalized Life are in This Book
Pick Up Your Copy Today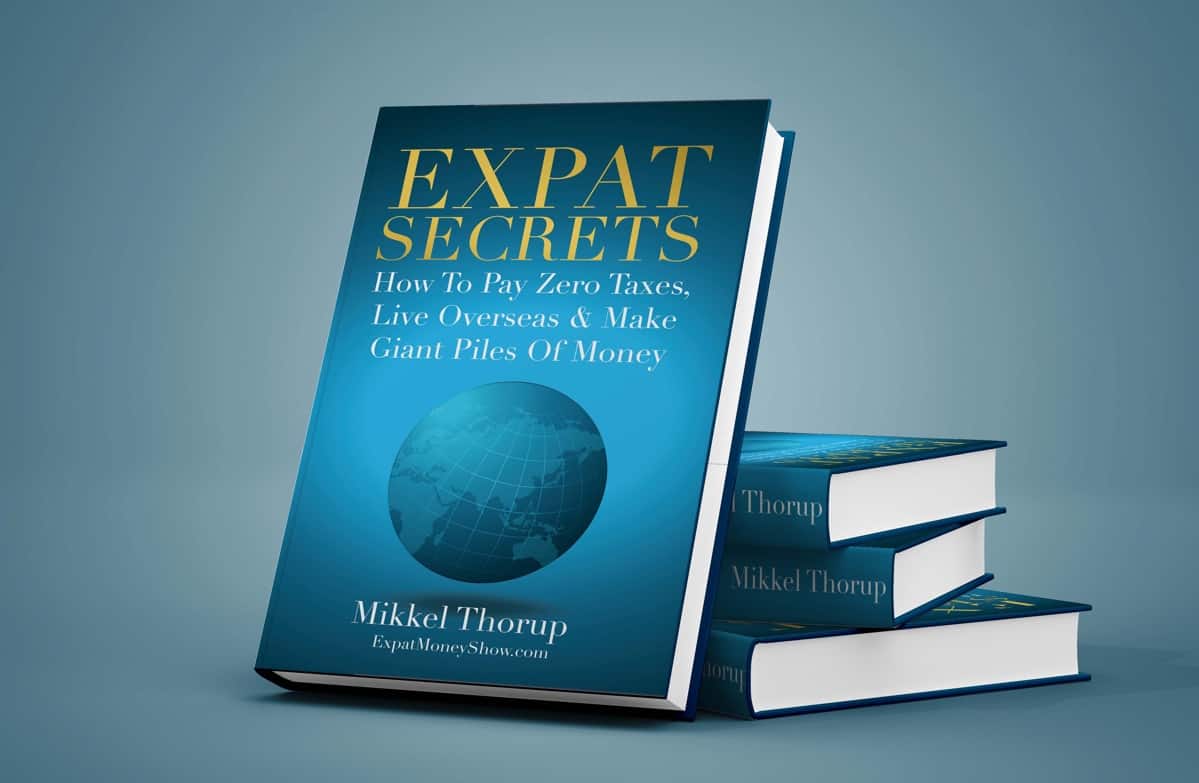 For more information on Mikkel, you can subscribe to his podcast or read his new book!
Like Our Articles?
Then make sure to check out our Bookstore... we have titles packed full of premium offshore intel. Instant Download - Print off for your private library before the government demands we take these down!