"When you grow up, what do you want to be?"  This is a question we get asked starting from when we are toddlers, and one that we begin to ask ourselves as we get older.   For the lucky ones, this question is discovered early in life and we spend the rest of our life happily pursuing it.  For the others, every experience is one step closer to figuring it out.
Growing up, what did I want to be?  Easy, I "knew" from the time I was 4.  I wanted to be a doctor – specifically a dermatologist.  The classes I took in high school and college were dictated by this decision.  Even the college I chose was due to its strong reputation for its pre-med program.
The summer of 2010 changed it all — my first trip to Nicaragua, Latin America to participate in a medical-based community service project.  I fell in love with the people, the country, and the mission.  My global perspective widened.  I felt like I discovered a whole new world – and quite literally, I did.   Spending the days in local communities, talking to the natives and learning about their way of life fascinated me.  I questioned everything I thought I knew about how life should be.  Helping them to create a safe, livable home and witnessing their gratitude emerged a feeling in me that I have never experienced before – at least not to that degree.  It was powerful and it was addictive.  And I wanted more.
My first trip to Nicaragua in 2010
Our group leader was a former Costa Rica Peace Corps volunteer, and during the trip she made a few comparisons to her time in Costa Rica to our trip in Nicaragua.  I thrived off her experience.  Then a light bulb went off in my head and I knew I needed to join the Peace Corps.  In June 2011, I began the application process for the Peace Corps.
After 10 long months of interviewing, paperwork, and anticipation- I was accepted and placed.  Starting in January 2013, I would be spending the next 27 months in Panama teaching English.  I took Spanish in college and on the side earned my TEFL certification – I was ready.   After graduating in May of 2012, I would spend time in NY with my family, and then in January I would leave for Panama.
HALT.
What would happen in the next three months after graduation would change my life forever.
The group leader from my Nicaragua trip in 2010 knew how much I enjoyed my experience.  Nearing graduation time, she made me aware of a three-month summer internship program at Gran Pacifica (ECI's community in Nicaragua).  She suggested I look into the program prior going to Panama.  I agreed, and the next thing I knew I was on the plane to Nicaragua.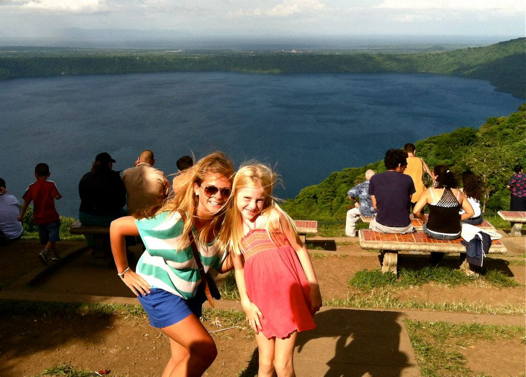 Mike's family took me to Catarina Viewpoint when I was an intern in 2012.
Experience the Insider community that takes your international lifestyle to the next level. Download your FREE guide
"18 Steps to Implementing Your Plan B" instantly!
In August, towards the end of the internship as I was planning to pack up and go home, I had lunch with the CEO of ECI Development, Mike Cobb, to talk about my experience.  He said to me that although there was no specific job opening at ECI, they were going to offer me a full-time position.  He didn't know about Peace Corps at this time, and I was torn.  I enjoyed the past three months and believed in ECI, but I was also looking forward to beginning my journey in Panama.
I did the old Ben Franklin and made a list of pros and cons.  What it boiled down to was why I wanted to go to Peace Corps in the first place.  The reasons were simple:
Share my knowledge and skills to better people's lives
Expand my understanding of the global community
Live abroad
When I took a step back to see how ECI fit into my long-term aspirations, I realized I could accomplish these same goals with this organization.  Yes, I was comparing the Peace Corps to the Corporate World.  Apples and oranges in a sense, but ECI's mission had many similarities to the Peace Corps.  ECI was, and still is, building communities for people who are looking for a better quality life on a budget.  They provide jobs to the locals and bring investors to the developing Latin American countries.  They care about the people and are in business to serve the people.   And I didn't have to sleep in a mud hut with no electricity in the middle of the jungle.  I took the job with ECI.  I am probably forever blacklisted from the Peace Corps, but I bet they found an extraordinary replacement for me.
I took a risk, and I have never looked back. Sixty months later and the progress has been significant and the opportunities abundant.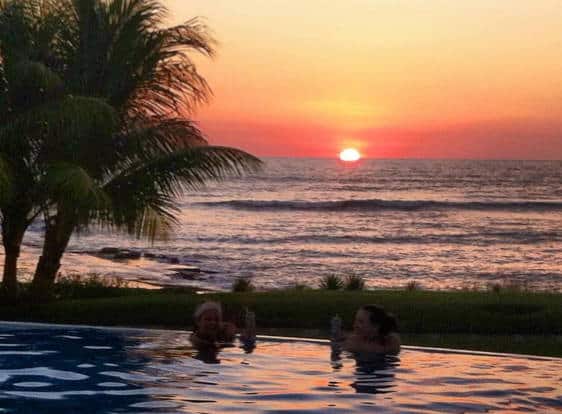 Enjoying front-row seats of the Sunset at Gran Pacifica, Nicaragua. 2014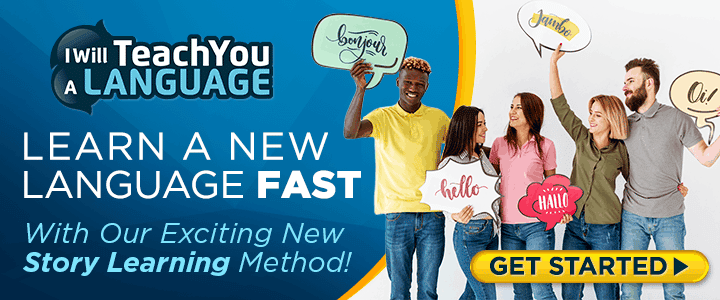 During conferences I am often asked how I got started with ECI, and there is the answer.  A bit long-winded, but spoken from the heart.  If you think you may be interested in spending time abroad or bringing your sales and marketing expertise the ECI family, please contact me.  I enjoy sharing my story to help determine what may be right for you.

Like Our Articles?
Then make sure to check out our Bookstore... we have titles packed full of premium offshore intel. Instant Download - Print off for your private library before the government demands we take these down!