4 Reasons to Buy an Apartment in Greece
According to a 2017 survey by consulting company NAI Hellas, involving 52 international investment market experts, 48% of respondents consider the prospects of investing in the Greek property market in the next five years as "good" or"'excellent"; and the number of those ready to regard this market as an investment destination doubled compared to 2016. Tranio believes that Property in Greece is becoming more attractive to international investors for 4 key reasons.
1. Residence Via Property Purchase
Greece's 'residence-for-investment' programme is the most beneficial in Europe. Greece issues 'golden visas' to foreigners holding at least €250,000 in property in the country. Greece's residence permit is the cheapest among peers when adjusted for taxation and visa-related expenses: for comparison, Latvia also issues residence permits to those with property totaling €250,000, but purchasers must pay a 5% fee of the property value, increasing the minimum investment amount to €262,500. Property buyers can expect to pay more for 'Golden visas' elsewhere: Cyprus requires an investment of at least €300,000; in Portugal, the minimum investment amount is €350,000; in Spain, it's a whopping €500,000.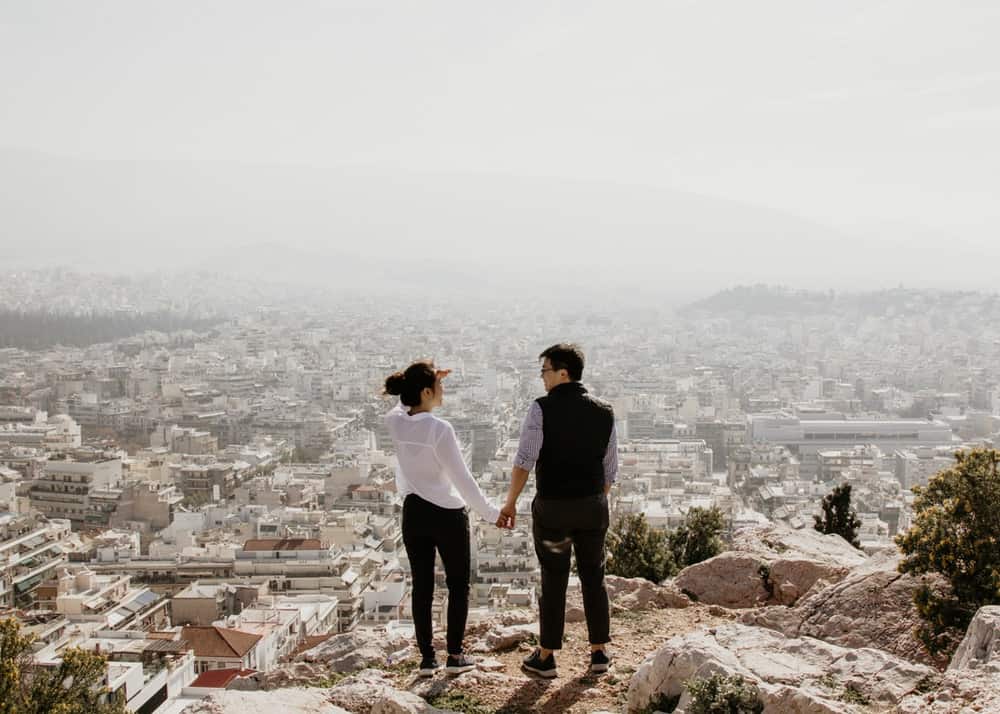 Under the programme, the Greek residence permit is renewable every 5 years if the investor owns the property. The main applicant's family members — spouse, parents, parents-in-law, and children under 21 — are also eligible for residence. Residence permit holders can choose to live in Greece permanently, or indeed not visit the country at all. They can also travel visa-free across the entire Schengen area.
Greece's programme is growing in popularity: according to Enterprise Greece, 33% more 'golden visas' were issued in 2017 than in 2016. As of May 2018, since launching the programme, 2,639 residence permits have been issued to international investors.
2. Booming Tourism 
Greece is one of the most visited countries in the world. According to the data from the 2016 United Nations World Tourism Organization (UNWTO), the number of holidayers exceeded the number of local residents by 2:1 on average. According to the Bank of Greece, the number of international tourists in the country grew from 16.9 million in 2009 to 30.2 million in 2017. And to put those numbers into a future context, the World Travel & Tourism Council (WTTC) predicts that the number of international arrivals to Greece will rise to 42.5 million by 2028.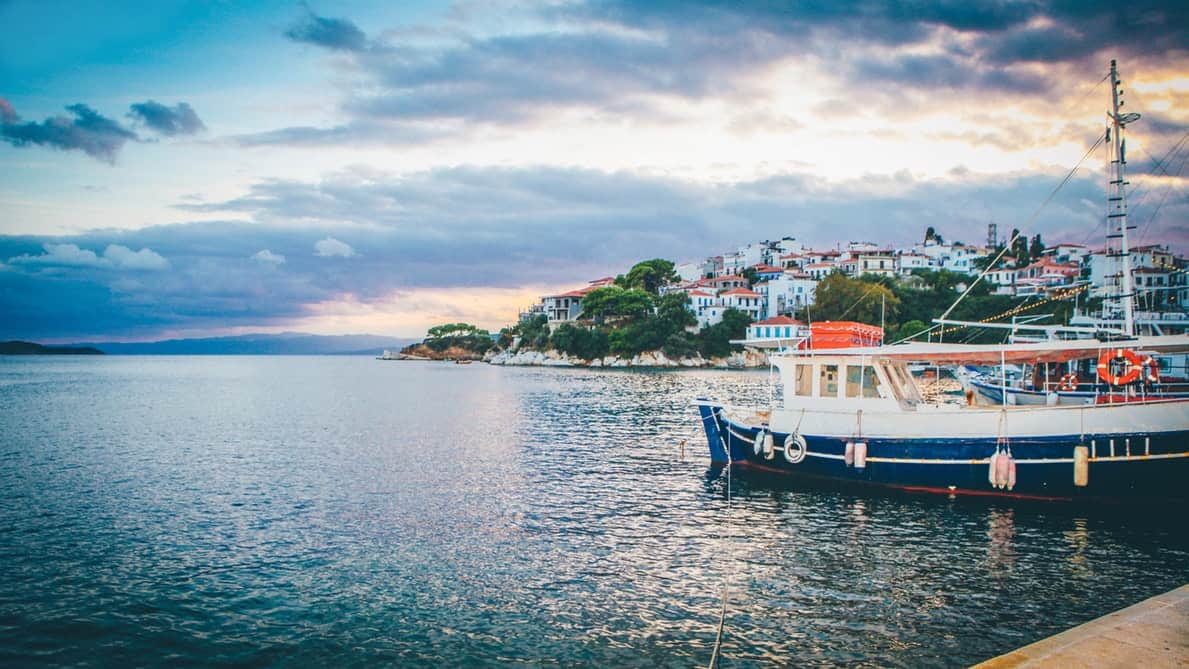 According to estimates made by the Euromonitor International research company, Athens has the second-highest growth rate in the number of tourists with the number of international arrivals in 2017 coming to 5 million – 10% higher than in 2016. The organization anticipates the number of international tourists in Athens to increase by 30% to 6.5 million by 2025, while the same figure for Paris is a mere 23% and only 17% for Barcelona.
The Athens tourist boom is good news for property investors. Apartments in the city center are in high tourist demand. According to the AirDNA service, which processes Airbnb data, 16,000 visitors booked accommodation in Athens in April 2017, while in April 2018 that number increased to 21,600 tenants – a 34% boost. During summer, the average rental rate is €50 per night with an average occupancy rate of 70% – very handsome figures for a prospective investor.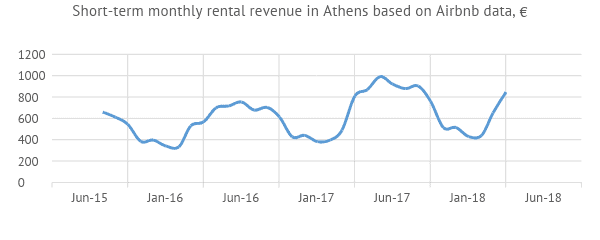 Source: AirDNA
3. Crisis Over – Time to Invest
The 2008 global economic crisis coupled with Greece's budget deficit led to nationwide economic paralysis. However, since 2010 the Greek government has been taking numerous measures to reduce the national debt, and kick-start the country's economy recover. The fruits of these measures can already be seen: GDP grew in four consecutive quarters in 2017, and the European Commission predicts 2.5% growth per year in 2018 and 2019. This is welcome news indeed, especially when viewed in conjunction with the Bank of Greece's statistics released in February confirming a q/q property price increase for the first time in 8 years.The right time to buy property is at the beginning of the recovery phase when the prices are at their lowest and are ready to grow – Tranio believes that time has come.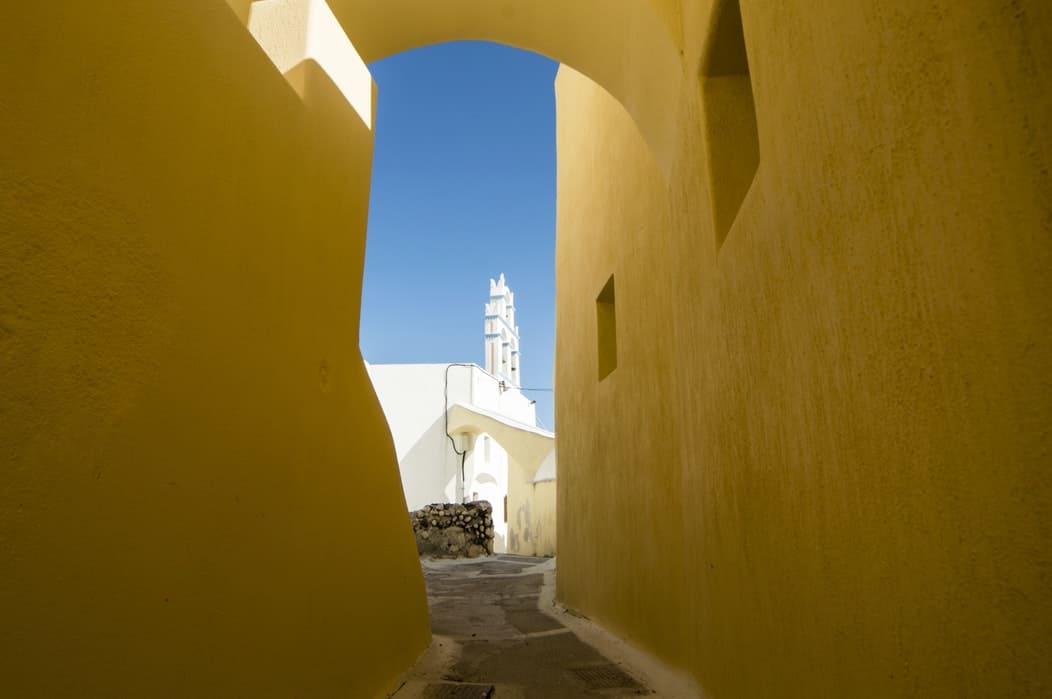 In early May 2018, the European Central Bank published the test results for the four largest Greek banks. Even in a negative scenario, the banks' capital would still not shrink below the threshold amounts, demonstrating the successful conclusion of their long-term restructuring. Experts expect gradual financial rehabilitation to have a positive influence on the country's property market.
4. Price Growth Potential of Residential Property
Greece is one of the last real estate markets in Europe still seeing a dearth of capital inflow and has not recovered since 2008. Property prices in Athens are 42% below the pre-crisis level, and the average price per square metre is only €1,500 –2,000. For comparison, between 2007 and 2017, property prices in Sweden, Iceland, Norway and Luxembourg increased by over 50%, while in Germany, Belgium, Hungary, the UK and Malta the price growth was between 20% and 40%, according to Eurostat.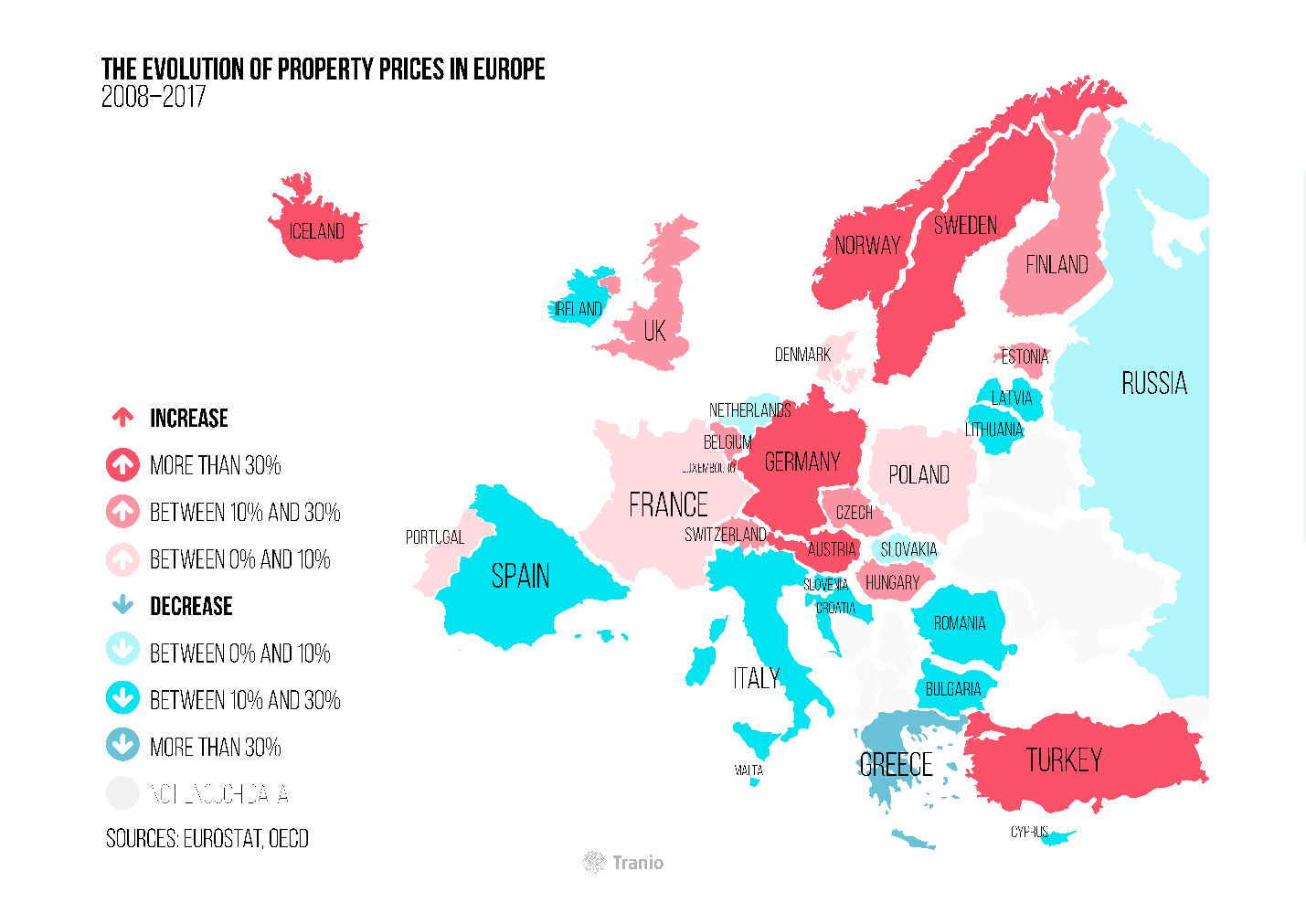 However, the price decline in Greece is slowing down. In 2015, the price per square meter went down by 5.1%, by 2.4% in 2016 and by 1% only in 2017. In Athens, in Q4 2017, the prices almost did not change compared to the same period of 2016, dropping by only 0.1%. The decline has already stopped quarter-on-quarter: between April and December 2017, property prices remained stable in the capital and even grew in other cities, leading to the q/q overall nationwide increase mentioned earlier in the article.According to Tranio managing partner George Kachmazov, 'right now is the perfect time to enter the Greek real estate market. We expect property prices to grow by 30% over the next 2 to 3 years if negative events do not disturb the market balance', he says.
Case Study Property: An Apartment in Athens
As apartment prices in the historical center of Athens have already started growing, many investors are looking to buy now – while they are cheap and still popular among tourists. An example of such a property is this two-bedroom apartment in Nea Smyrni, a southern suburb of Athens, on the market for €126,000. From the city's famous Acropolis, the property is only 30 minutes by public transport and less than an hour's walk.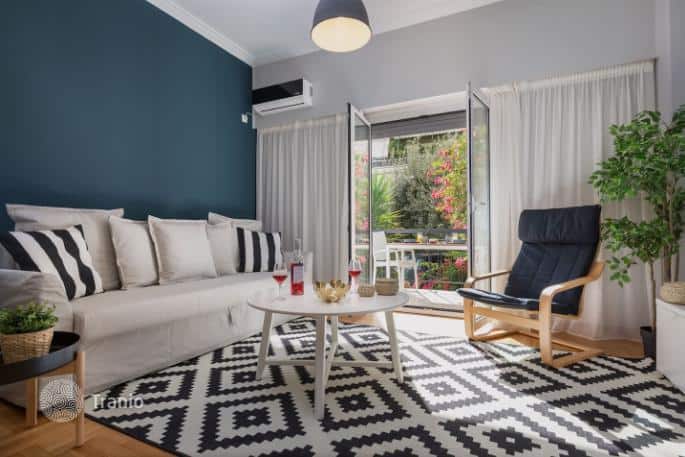 An investor needs to be ready to pay expenses: property purchase and registration taxes, notary and lawyer fees amount to approximately 6.5% of the property value or about €8,200. Tranio estimates that the owner would spend approximately €1,500 per annum on utility bills. The management company would charge 25% of the annual rental revenue, including the Airbnb fee for finding tenants and leasing the apartment. Ownership and income taxes come to approximately €3,800 per year.
FREE GUIDE! Get Essential Information on Protecting Your Assets
18 STEPS TO IMPLEMENTING YOUR PLAN B
This apartment generates an absolute annual income of €15,000 if leased short term. Consequently, the expected investor yield is about 5% per annum after taxes and expenses. The buyer will start receiving the income immediately after the property purchase.
I hope you enjoyed reading: 4 Reasons to Buy an Apartment in Greece. For additional information on moving overseas, please contact our office HERE. I've also included a few additional articles for you to read, enjoy!
A World of Choices When Moving Overseas
9 Canadian Habits I Lost When I Moved to Athens
How to Tie in an Estate Plan With a New Home
Here is probably the most extensive ebook on Everything You Ever Wanted To Know About Eliminating Your Taxes, Protecting Your Assets And Regaining Privacy Over Your Life And Investments. It is called The Ultimate Guide To Going Offshore.  Visit our bookstore to purchase it today!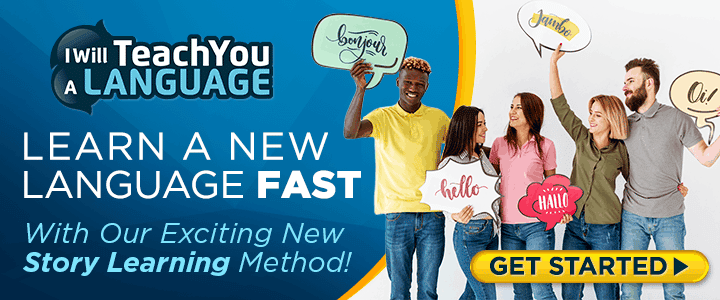 Author Bio:
Yulia Kozhevnikova is a real estate writer and analyst at Tranio.

Like Our Articles?
Then make sure to check out our Bookstore... we have titles packed full of premium offshore intel. Instant Download - Print off for your private library before the government demands we take these down!