3 Reasons Bitcoin Will Change Real Estate Deals Forever
A few weeks back, we talked about bitcoin in its simplest sense, asking three important questions: What is it? Is it for real? Where is it headed? If you missed this, or would like to refresh, click here for our article: What Can You Buy With Bitcoin?
Today, we'll look at the 3 reasons bitcoin, well actually the "blockchain," will change real estate transactions forever:
Security of the transaction
Speed of the transaction
Simplicity of the transaction
While this article is mostly about the blockchain, we have to recognize that 99.99% of America would have no idea what a "blockchain" is without bitcoin. So, while the technology is the game-changer, the public face of the technology is bitcoin. This article dives a little deeper into the matter, looking at the incredible impact of blockchains on the business world, both in regard to cryptocurrencies and the other major sectors it can affect…namely international real estate.
In response to an article last week about the MLS system and squatter's rights, I received a note back from Andre at FreedomFool.com. His comments dovetail nicely into a previous article I wrote about  bitcoin/cryptocurrencies and the power of the blockchain to unleash financial freedom and security.   Andre writes:
"One day property titles will be on the blockchain, Mike… get ready for a global revolution on many levels, not just real estate. This will shake governments and the banking industry to their core… which is frankly what they desperately need to wake up…"
He's right. And it's not just titles. This technology of the blockchain will revolutionize many aspects of industries worldwide, by making it easier, faster, and safer to transact both domestically and internationally. Think about it, people from all over the globe are now trading bitcoins on the web securely and safely.
Hold on. Let's examine this a bit more. Young kids, college students, single moms, business men, and anyone who has a computer are now engaged in global peer-to-peer monetary transactions without banks or goliath financial institutions, and it's safe and secure because of the blockchain technology. This is revolutionary. Businesses of all types will have to decide if they are going to get on that bus, perhaps drive the bus, or show up one minute late at the bus stop and miss it all together.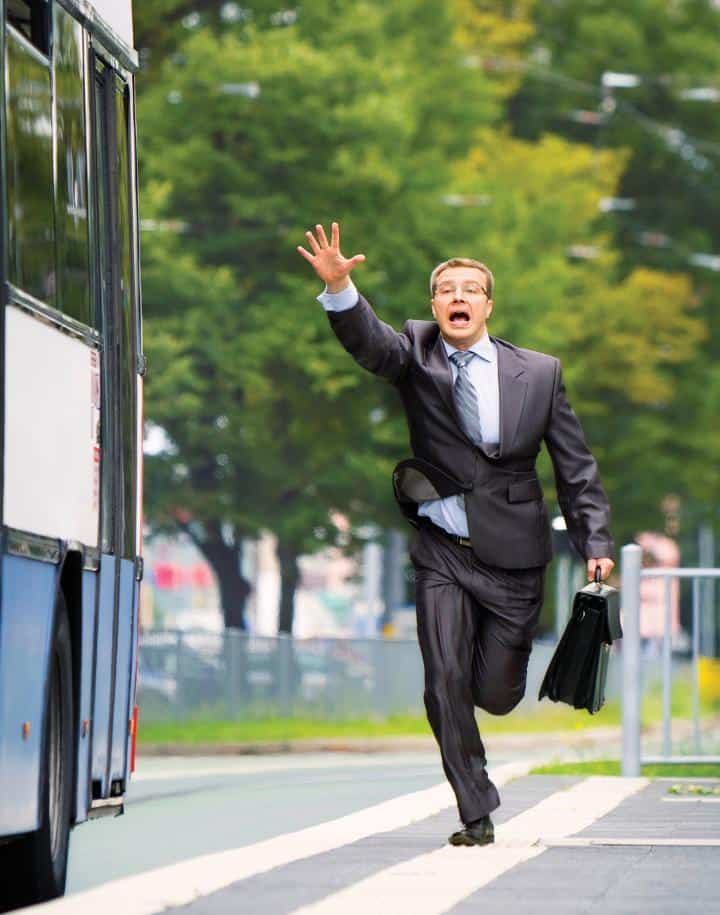 Better a minute early than a minute late.
Blockchain, the tech nucleus behind bitcoin and other cryptocurrencies, is transforming industries beyond just currency. Serving as a sort of digital ledger for everything of virtual value, blockchain is like a spreadsheet that is multiplied thousands of times across the web of computers logged into a network, regularly and automatically updating all data and transactions into code. As the user transacts over the P2P network, there's a new creation of a "block" in the chain of transactions throughout the system. These transaction records are virtually incorruptible and completely anonymous.
The concept has been making waves recently in all sectors involving person-to-person transactions. In October, it was announced that Propy, an international real estate marketplace that facilitates transactions between international entities, had overseen the first ever property purchase using blockchain. This was the first public record of a physical asset (in this case, a $60,000 apartment in Ukraine), not just cryptocurrencies, being transacted over the blockchain.
In a recent article, TechRepublic detailed the process, speaking with Alex Voloshyn, Chief Technology Officer at Propy:
Experience the Insider community that takes your international lifestyle to the next level. Download your FREE guide
"18 Steps to Implementing Your Plan B" instantly!
"Blockchain provides a lot of transparency," Voloshyn said. It allows both parties signing a contract to verify and change records digitally. Propy specializes in cross-border transactions. "Blockchain provides the decentralization," he said.
Sometimes when hackers cannot change data, they try to destroy it. With blockchain, you cannot change or destroy that information because nodes all over the world store that data, making it impossible to mess with.
"Blockchain also makes real estate transfers more efficient. Smart contracts can automate processes like paying taxes and perform the role of escrow," he said.
When it comes to purchasing property overseas, the traditional process can be tiresome. Often, there is back-and-forth traveling, inconsistent and outdated property regulations, frequent delays in the transfers between foreign banks, and tedious currency conversions. With blockchain, the future of purchasing overseas real estate will be immediate.
"While traditional real estate is very paper based and involves a lot of third-party players, including brokers, escrow agents and banks, the blockchain allows people to transfer funds, property titles and data in a more peer-to-peer manner that is digital and open source," said Ragnar Lifthrasir, the Southern California-based founder of the International Blockchain Real Estate Association (IBREA) and Velox.RE, a blockchain real estate startup focused on collecting real estate data and streamlining the title transfer process. (Mansion Global)
Through blockchain, people are essentially able to do a "cash" deal without converting currency or even being in the same time zone. People are able to completely cut out third parties and reduce their transaction fees. "Cryptocurrencies enable the quick, frictionless transfer of value across the globe," said Emin Gun Sirer, an associate professor of computer science and co-director of the Initiative for Cryptocurrencies and Smart Contracts at Cornell University. "This enables someone in Germany to be able to easily send bitcoins to purchase land in Belize."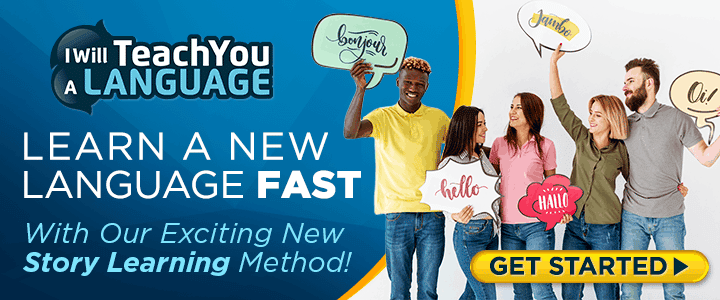 Blockchain: Now and in the Future of International Real Estate
At present, the value of bitcoin (the most popular crypto using the blockchain) stands at over $11,000 USD per single unit, a far cry from its < $0.01 valuation at its release. Those who bought big early on are now multi-millionaires.
For some, the investment into cryptocurrencies themselves is the attraction, with hopes of jumping on a skyrocket to wealth. For others, the value of bitcoin and the blockchain is to use the format to invest in tangible assets with ease and minimal restriction. Aside from the Propy transaction, other real estate figures are beginning to embrace the future of cryptocurrency in the industry. Ben Shaoul, Magnum Real Estate Group president, has stated that the company will accept bitcoin for their new East Village, Manhattan, project, Liberty Toye. "Over the next five or 10 years," he says, "I could see up to 25% of the payments happening in bitcoin or a digital currency… It's going to be the future, and a lot of developers will start to adapt and offer the same option."
While bitcoin and other cryptocurrencies seem an enticing prospect for the future of real estate, it is the blockchain itself that is truly poised to revolutionize the industry already. What's great about the blockchain, when it comes to property transactions, is that it creates a more cost-effective, immediate transaction link across oceans and continents.
The security of blockchain's online ledgers is unmatched, especially when compared to paper documentation that is more easily corrupted, especially in third-world or tropical locales with record-keeping history in its infancy. Blockchain's crypto-coded ledger system creates a transparent and unalterable digital record of all interactions and transactions on the system. With real estate, this means a safeguarded and public (yet anonymous) record of such things as sales histories, inspections, deed transfers, etc. These "smart contracts" will be entirely written in computer code and cannot be falsified or disputed.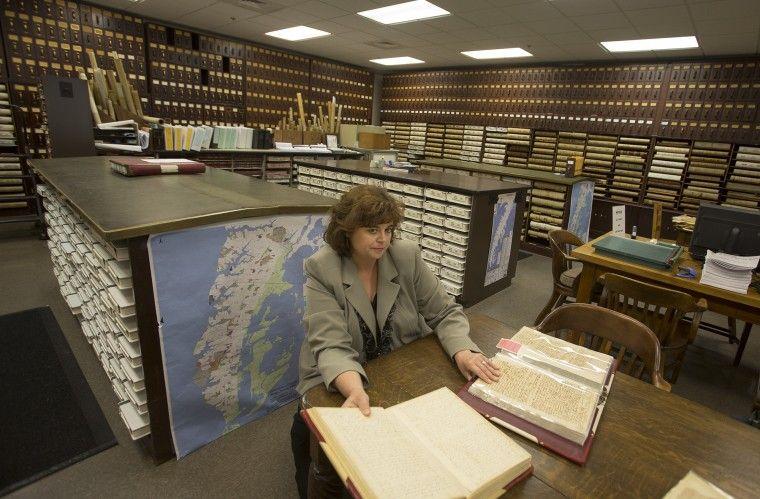 Records on Paper: A Thing of the Past?
Through blockchain, business is moving in a direction of safer transactions (less risk of tampering), cost-efficiency (eliminating third-party intermediaries), and fast-tracked processing (immediate global transactions without waiting for banks or currency conversions). In essence, it is old-fashioned, person-to-person trading given a 21st-century makeover.
Global Impact
According to a recent article by Forbes, blockchain is not just an efficient and safe way for successful people to transfer money – it may also be a godsend method of delivering aid to developing and underprivileged parts of the planet. In 2017 alone, the United Nations World Food Programme sent cryptocurrency-based vouchers to 10,000 Syrian refugees to purchase food.
This technology makes sending money and aid to areas of need cheaper and less restrictive. It allows for organizations to send relief in large amounts without heavy fees. It also makes it possible for people to send money overseas to help support family members who may not have bank accounts or are in out-of-reach locations.
Ease of Access
While the praises of blockchain and cryptocurrency on the international markets (and international real estate, specifically) seem valid, actually diving in and using the platform may still be intimidating. Companies, like global credit card company Visa, are launching the first wave of credit cards that allow you to spend bitcoin in your daily life as if it were cash.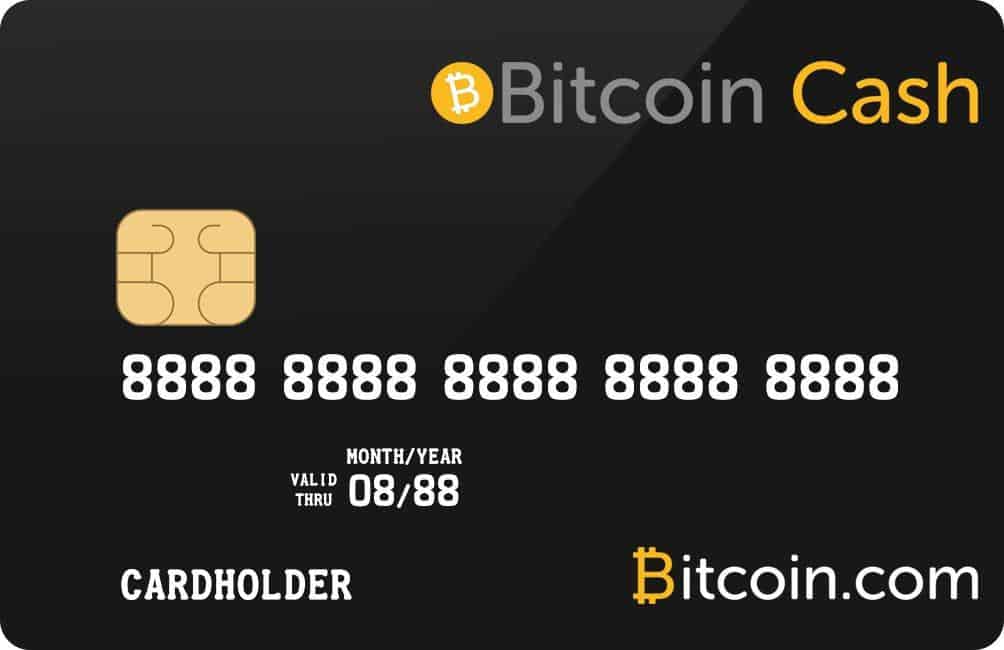 The future of Money
In the UK, the London Block Exchange is releasing a debit card that lets holders make purchases all across the UK using cryptocurrency (bitcoin…as well as other competing currencies like Ethereum, Ripple, Litecoin, and Monero).
While the cards are bringing banks into the picture, usually in a B2B format that converts crypto to local currency for a small fee, it is making blockchain and the crypto concept much more accessible to the everyman.
Why We Still Need to Be Cautious
Cryptocurrencies may very well be the future. But as with any revolutionary new concept, there is a period of hammering out the kinks. It's important to understand the very real risk associated with pushing all of your chips into the center of the bitcoin table.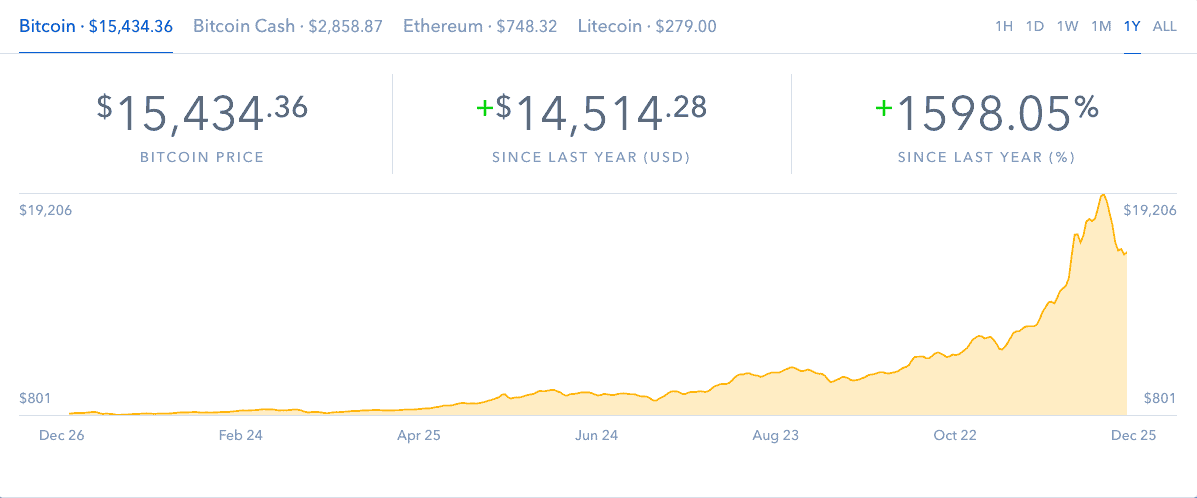 Chart from Coinbase.com
At the middle of December, bitcoin teased around the $20,000 mark for a few days and has since plummeted in value to a little over $15,000 today, losing 20% of its value. Additionally, while the Chicago Board Options Exchange has opened futures trading for bitcoin, the regulatory agencies like the Securities and Exchange Commission are pushing back. A former SEC Commissioner believes that the concerns of the SEC will remain because of the absence of agreements to avoid price-fixing between unregulated exchanges. While many in the crypto community are loathing the idea to have the system regulated, the issues of price-fixing and pump-and-dump schemes in new currency offerings remains real. Today, cryptocurrencies are seeing run-up in value-based largely on speculation. It is only when they become widely accepted means of transactional currency, that they will stabilize in value and become a market force.
But the blockchain is far more than just currencies, as we have seen above. However, to ignore the huge driving force of bitcoin to expose the marketplace to the benefits of the blockchain is to ignore the elephant in the room. Like it or not, bitcoin and its success or failure will impact the speed and adoption of the blockchain technology. People want to feel secure with their money.
On that point, the security of the currency is also being tested. In November, the price of bitcoin took a nosedive by nearly 6% following a hack to Tether tokens, a bitcoin that prides itself on its stability. Around $31 million USD in Tether tokens were stolen, but developers were able to seize the money before the hackers were able to withdraw the funds. While confidence in bitcoin prices has recovered, this event shows how fragile this largely-misunderstood currency can be. It may also show a soft underbelly for the blockchain technology itself.
As with anything that involves your hard-earned money…research, diversification, and a certain level of skepticism is in order to safeguard your capital and other informational assets like titles. The benefits of the blockchain are easy to see.   Speed.   Security.   Simplicity.
I'm pretty sure that blockchain and cryptocurrencies are the future of finance and informational assets, opening doors to personal freedoms and a seamless global lifestyle. But there's likely to be a rocky road ahead, as the kinks in the system are worked out and the larger institutions like the SEC, the 3,007 courthouses in the U.S., and financial institutions large and small integrate this revolutionary technology into systems not designed to change very quickly. But change will come, because consumers will demand it. Just be sure to mind the bumps.
I hope you learned something new in this article: 3 Reasons Bitcoin Will Change Real Estate Deals Forever. If you would like further information, please contact our Office HERE. I have included some great reading for you, enjoy!
Four Ways Bitcoin and Cryptocurrency are Your Friends Abroad
Simple Guide to Day Trading Bitcoin and Other Cryptos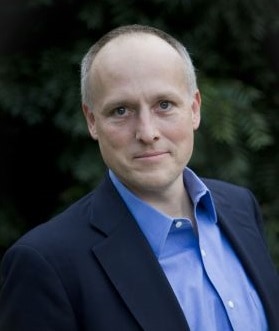 Michael K. Cobb is the CEO and co-founder of ECI Developments which has properties throughout Latin America. He speaks all over the world on international real estate and is a board member of the National Association of Realtors.


Like Our Articles?
Then make sure to check out our Bookstore... we have titles packed full of premium offshore intel. Instant Download - Print off for your private library before the government demands we take these down!