The 3 M's – Mom, Mohammed, & Morocco.
Travelling with Mom is a future travel guide for the newbie traveller that I will publish one day.  It will be full of must-know tips that my wise mother shares with me during every trip we go on together. Plus, the lessons can be applied to everyday life.  It'll be a real winner and offer advice like:
Put your seatbelt on. Zipper your purse. Pack a snack so you don't get hangry.
Once a mom, always a mom, I guess!  Although at 27 years old and still receiving constant reminders, my mom is one of my favourite travel companions.  She's a fairly new traveller to places outside of Florida and some Caribbean islands and has opened up tremendously to off-the-grid excursions. Hiccups and snafus are typically encountered along the way, making for entertaining stories afterwards…but regardless, she's a good sport.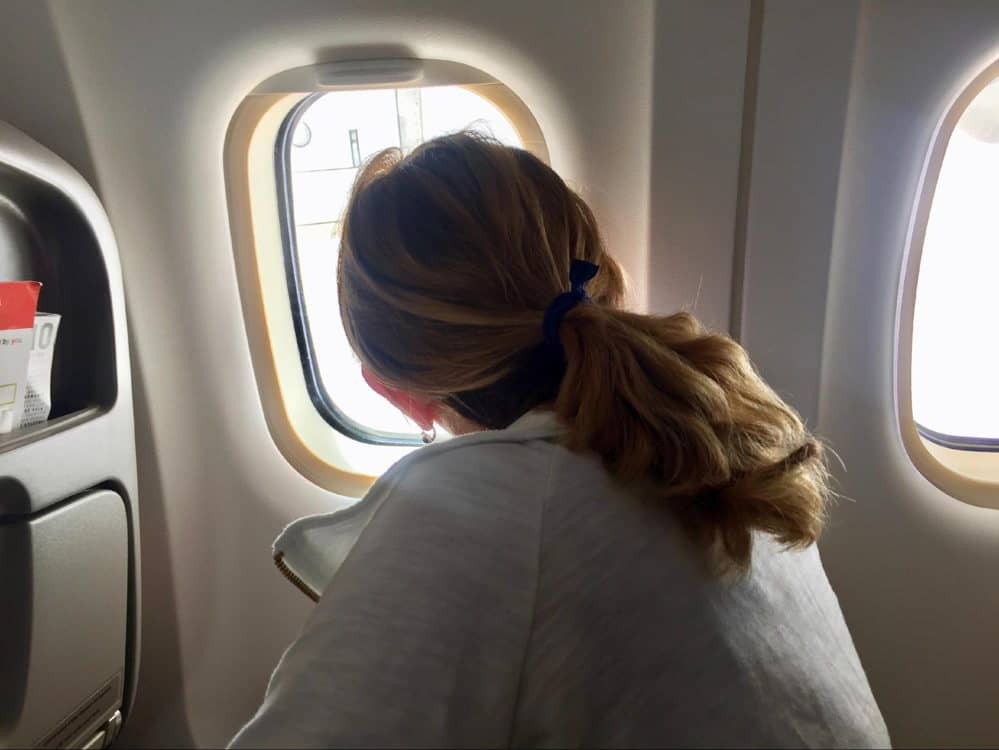 Mom on our way to northern Africa!
Earlier last year, we were in the planning phase of our July trip to Portugal.  My mom was going to meet me in the Algarve, and from there we were planning to explore Lisbon, Sintra, and perhaps Porto and the northern part of the country.  Although a fairly small country, between the castles, wineries, tile museums, and beaches, we could easily fill our allotted 1 week with something to see and do.
However, after a few weeks of coordinating our agenda, she threw a curveball at me.  She asked if we could go to Morocco for half of the week.  After watching the romantic scenes in Casablanca and hearing about her friends' exciting experiences, she "was curious," she told me.  I visited Morocco a few years earlier and was apprehensive to say yes. I know my mother, and I am fully aware that she prefers mild summertime climates and talking to everyone in English.  Morocco in July meant blazingly hot temperatures and not many tourists.
But we went anyway…
And wow was it something.  Exciting.  Empty.  HOT.  Frustrating.  Educational.  HOT.  Beautiful.  Historical.  And oh, did I mention hot?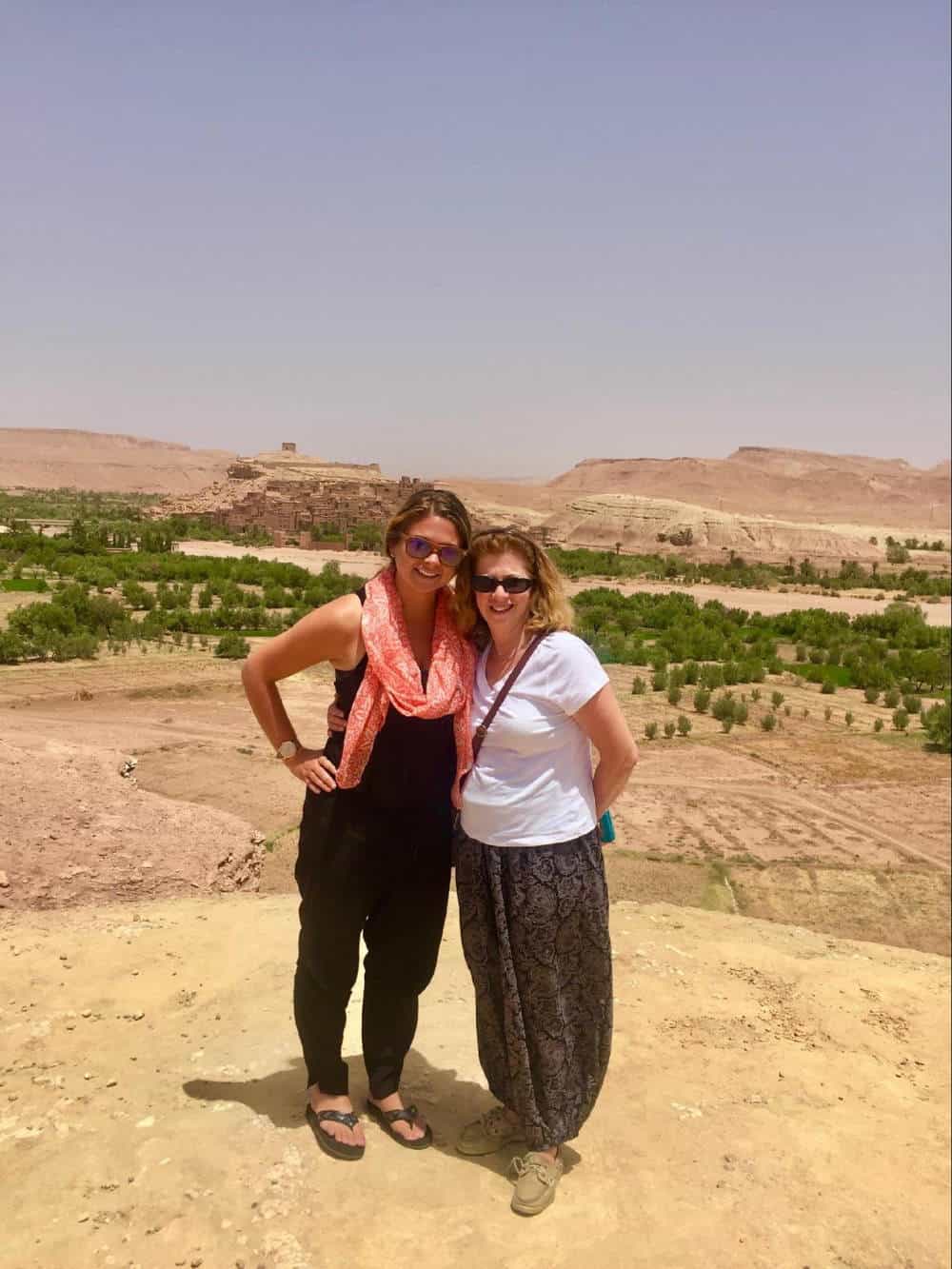 Travel advise for everyone reading this: Have low expectations when you travel.  That means you'll be wildly impressed when your expectations are exceeded.  And you won't be as frustrated when it doesn't work out as planned.  As often as I remind this to my mom, it seems that the bar is always set high.
Day 1 in Morocco:
We had a lovely time in Portugal and we're looking forward to jet setting to Morocco for mint tea and the expansive deserts.  Despite being behind schedule due to travel delays and being the very last 2 people through immigration, we arrived at the Marrakesh airport in the late afternoon.  Mohammed, our driver for the trip, was waiting on the other side of the gate.
Experience the Insider community that takes your international lifestyle to the next level. Download your FREE guide
"18 Steps to Implementing Your Plan B" instantly!
He quickly greeted us and hurried us out the door while bumbling away with our luggage.  We were keeping a quick pace to keep up with him as he explained, is a strong Arabic accent, that we had to hurry because the sites we were going to visit were closing soon.  The following day was Friday, so the attractions would all be closed.  We had no choice but to follow our pre-arranged itinerary and see everything that day.  My mom and I glanced at each other, giving the "all I want to do right now is unwind by the pool for a bit" look.  But Marrakesh was our first stop on a 4-day Moroccan whirlwind of Marrakesh, Ouarzazate, and Casablanca, and we had no time to waste.
We hopped in the van, waited for the AC to kick in, and let out a sigh of relief.  We finally made it.  Mohammed found us.  And we were on our way.
We had an intense itinerary for the next couple of hours.  There were 3 points of interest (library, Bahia Palace, and the tannery), all of which we could have easily spent hours in – well, with the exception of the tannery.  But we were on a tight schedule and had no time to do more than breeze through the sidewalks and building corridors.
Mohammed parked the car on some desolate side street that he convinced us was a safe place to park, even with all our luggage and electronics in the vehicle.  He started racing down the street and my mom and I jogging to keep up.  We were heading to the library, he told us.  Navigating through the medinas and side streets, and the occasional quick stops to take pictures of the incredible doors, we eventually made it, only to spend a few minutes inside.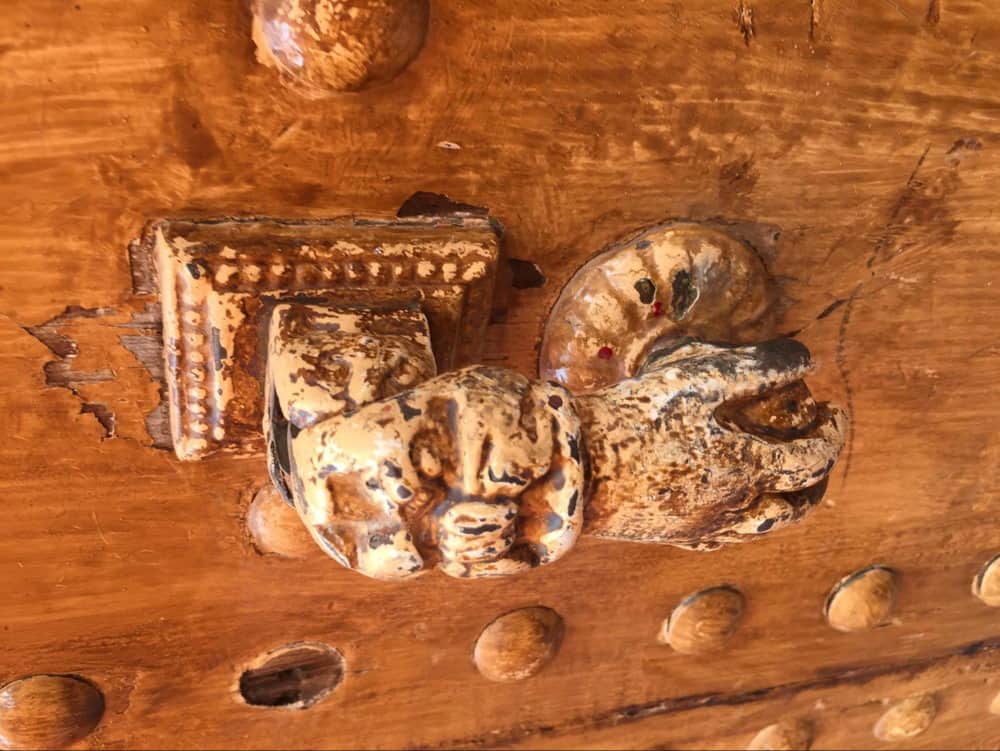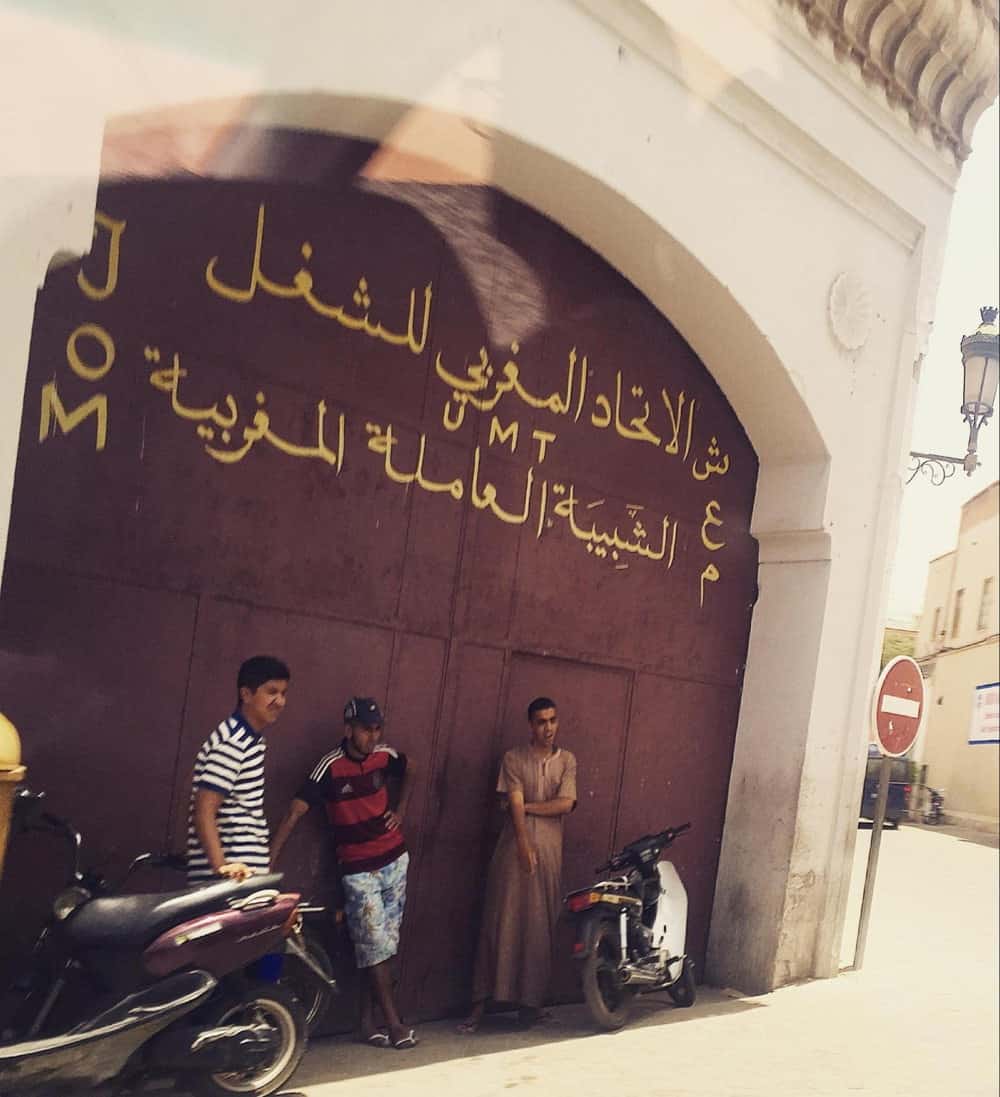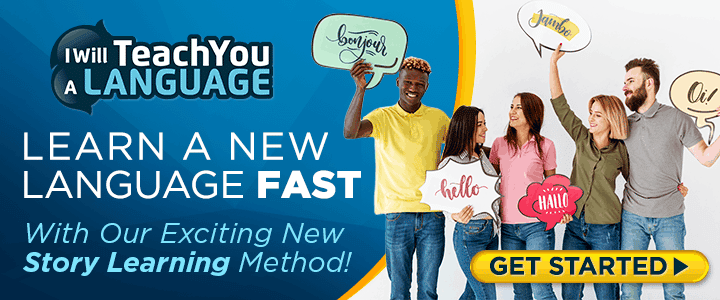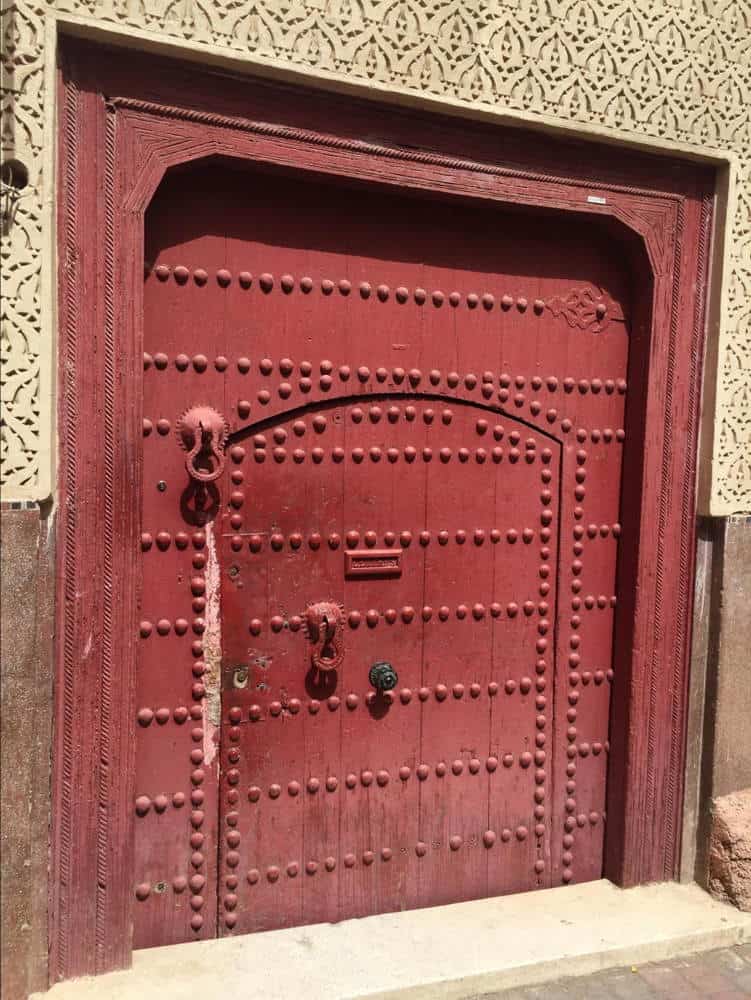 We hurriedly continued towards the next place, the Bahia Palace.  However, about 50 feet in front of the palace gates, my mom's sandal breaks and we stop.  She tries to re-attach the strings to the sole, but to no avail.  She puts a hand on my shoulder and hops towards the nearby bench to try to fix it.  Mohammed tells her not to worry about it and that we must go in the palace now because it was closing soon.  She didn't budge, and understandably so.  Can you imagine walking on Marrakesh streets barefoot?  No thanks.
Mohammed took the sandal and told us that he was going to be right back and to stay exactly where we were.  Right, because where else we were going to hobble off to? So, we waited in the middle of a city we had only just arrived to and had no idea what Mohammed was doing.
About 10 minutes later, he returned with a fixed sandal.  There was a cobbler around the block who was able to repair the shoe for a couple of dollars. Wow!
My mom was relieved that her sandal was fixed and Mohammed was relieved that we were back on schedule.  Mohammed was able to work out some arrangement and we were lucky enough to spend additional time wandering throughout the magnificent structure.  The Bahia Palace was unbelievably beautiful and ornate.  Colourful mosaic tiles lined the floors, walls, and ceilings creating beautiful patterns and pictures.  The sunlight perfectly shined through the brightly-coloured stained glass windows, leaving grand reflections on the floor.  The palace was a masterpiece and each room, hallway, and luscious courtyard had a story.  Mohammed gave us the Sparknotes version, and then we were on our way.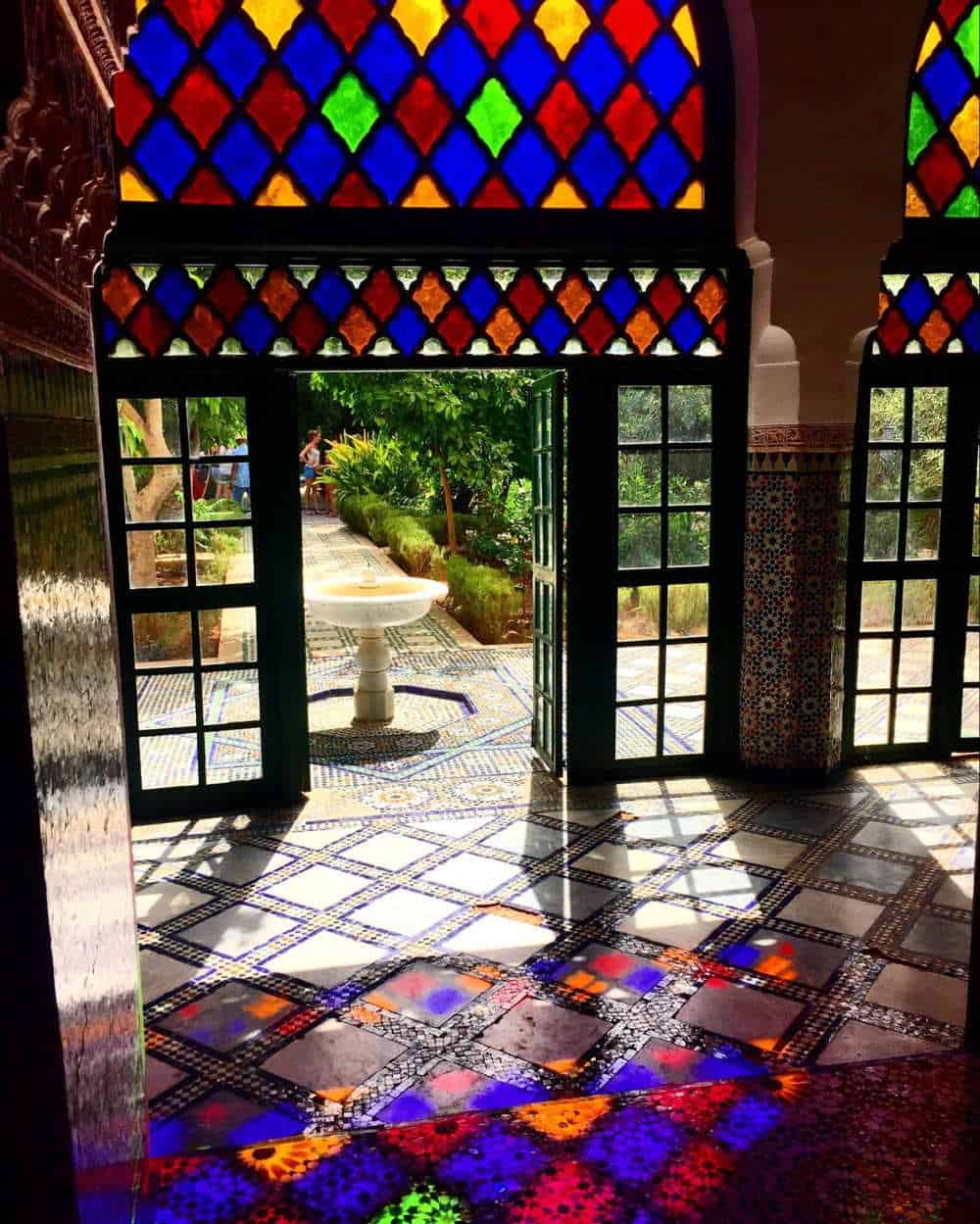 At this point, my mom and I were ready to go back to the hotel, but Mohammed said the tannery was on the list and we had to go.  To be frank, I had no idea what he was talking about and my mom didn't react, so off we drove.
Imagine the absolute worst, most putrid, unpleasant smell you can imagine. Now, imagine it 1000x worse.  This was the odour that filled the car as we approached the local hasbah, where the tannery was housed.  Mohammed was telling us how families who live in this area are workers of the tannery and typically don't have long life spans because of the toxins.  Glad we're stopping in here then, my mom and I thought, as we were driving through.  We were content sitting in the car driving through the town and hearing the history, however, Mohammed mentioned there was one area we had to see… and we had to get out of the car to see it.
We opened the door and the odour whacked us in the face even harder.  Reactionary, our hands shot up to cover our nose and mouth.  Mohammed led us around the sand coloured houses and narrow pathways lined with dust and dirt to an open area containing hundreds of open bathtub-looking ponds, each filled with a different coloured liquid.  This, he told us, is where the hides sit for months at a time to soak.  At this point, the stench was unbearable and my mom and I, neither of which really had an interest in this, had seen enough.  We asked if we could leave, and looking at us with a very confused expression on his face, Mohammed said OK and guided us back to the car.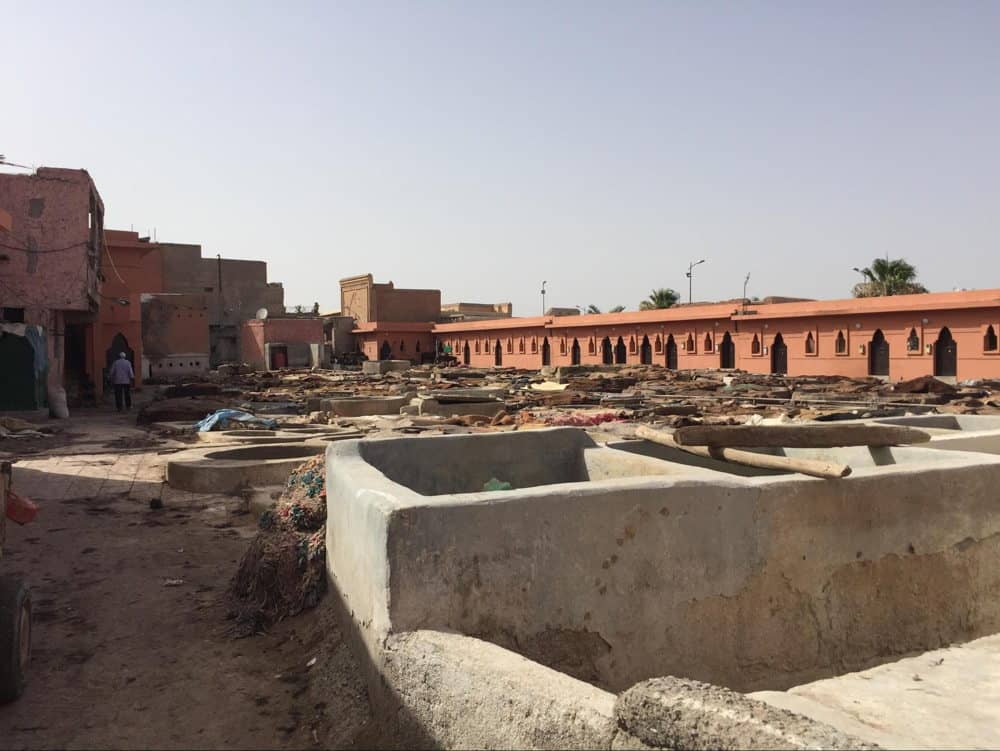 We arrived at the hotel about 30 minutes later, only to have room confusion.  After sorting through it, we unloaded our luggage, refreshed, and went downstairs for a quiet, relaxing dinner by the pool.
We survived Day 1 and we're bracing ourselves for an early start to Day 2 with Mohammed… a car ride to Ouarzazate … a fairly deserted, old movie town in the middle of the desert…
Here is probably the most extensive ebook on Everything You Ever Wanted To Know About Eliminating Your Taxes, Protecting Your Assets And Regaining Privacy Over Your Life And Investments. It is called The Ultimate Guide To Going Offshore.  Visit our bookstore to purchase it today!
I hope you enjoyed reading this article: The 3 M's – Mom, Mohammed, & Morocco.
If you would like additional information, please contact our office HERE. I've also added some light reading for those that love to travel, enjoy!
How to Stay Safe While You Travel
Getting Full Tax Benefits Before Retirement Abroad
Cultural Customs and Must-Try Traditions of Marrakesh

Like Our Articles?
Then make sure to check out our Bookstore... we have titles packed full of premium offshore intel. Instant Download - Print off for your private library before the government demands we take these down!