The capital city of New Zealand is fantastic for craft beer bars. It is also home to Garage Project, one of the best breweries in Oceania. Craft beer is quickly becoming popular in Oceania, and it seems like Wellington is at the epicenter of this trend. Realizing the potential power of craft beer to promote tourism, the city has set up a beer trail. The trail takes participants to twenty craft beer spots around the city. The ones who complete the trail are rewarded with a certificate and t-shirt. The trail booklet is also a souvenir, containing a unique stamp from each beer bar visited. If you love beer, I encourage you to embark on the journey of least sobriety and complete the trail. If you simply want to hit some of the highlights, I have put together a short list of my favorite craft beer spots in Wellington.
The Third Eye (30 Arthur St)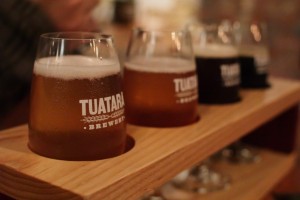 The Third Eye is Tuatara Brewery's small batch brewery in Wellington's city center – Tuatara's main brewery is north of Wellington in Paraparaumu. The Third Eye is a great venue to taste Tuatara's main brews as well as their lesser known beers, like their Tiramisu Oatmeal Stout. The building itself is broken up into two floors. The main floor holds the bar, seating area, and the brewery. Tuatara has set up some of their brewing equipment within the seating area, making for a great atmosphere. The second floor has additional seating, including couches, lounge chairs, and a stage for musical performances. The Third Eye is a great place to catch the late-night jazz sessions during the Wellington Jazz Festival. For the full Third Eye experience, check out their weekly tastings.
Fork and Brewer (20 Bond St)
Fork and Brewer is the place to go if you are searching for a craft beer bar with good food and a classier, fancier vibe. It is situated on the top floor of a building with balcony seating. Fork and Brewer is the only beer bar that has proper tables to enjoy a formal meal. Their "big-barrel" bar also creates a good setting for a date or after-work drink. However, it is not just about the venue, Fork and Brewer has the largest selection of beers with the biggest variety. Two of my favorites were the Divine Brown Mocha (Brown Ale) and Tainted Love (Sour Ale). Fork and Brewer also has a decent IPA, Black IPA, and Milk Stout. Also, if you are someone that loves to know exactly what you are drinking, Fork and Brewer provides detailed tasting notes for its brews.
Rogue and Vagabond (18 Garnett St)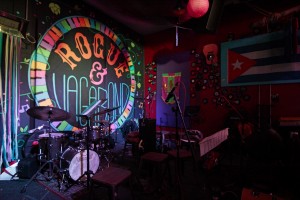 The Rogue and Vagabond is what Americans would call a "dive" bar. The venue is dingy and the furthest thing from posh. But that's what gives Rogue and Vagabond its charm. The bar itself has a decent beer list, which includes a hand-pull and convenient outdoor seating. Rogue and Vagabond is well known by locals as a hip music venue that hosts a wide range of artists – there is usually a $5 cover charge (gig guide). My favorite night is their Thursday evening jazz sessions. However, if there is no music playing, this is the perfect place to have a relaxing beer at a place that doesn't take itself too seriously.
Mama Brown (250 Wakefield St)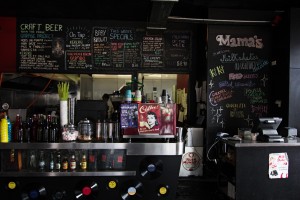 This place isn't actually on the craft beer tour. If you ask a local, they will most likely tell you Mama Brown is not technically a beer bar. I would agree with them, if it wasn't for the fact that you can enjoy a craft beer with amazing breakfast food! Mama Brown's beer list is small, but it features local craft breweries such as Panhead and Garage Project. However, you will barely notice this detail when you are enjoying chicken and waffles with your beer. The meal pictured below is a two stack of waffles covered in bacon and over-easy eggs. Mama Brown also has a fun atmosphere with their colorful decorations and quirky furniture. Guests can enjoy their meal while sitting in an old airplane seat. The restaurant is also open late, which makes it the perfect spot to enjoy a beer and some food after bowling, karaoke, or partying on Courtenay Place.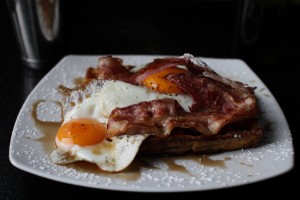 Garage Project (68 Aro St and 91 Aro St)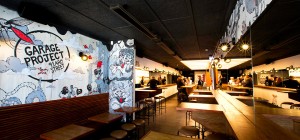 This brewery seems to do everything well. If you love beer, a trip to Garage Project is a must. This brewery is beloved by locals and is quickly becoming recognized internationally. Garage Project wows their followers with bold beers, such as their Cabbage and Kings (Imperial Oyster Stout) and La Calavera Catrina (Habanero Pale Lager). If you enjoy beers with less of a kick, their BEER (Pale Lager) and Hapi Daze (Pale Lager) are a good place to start. Arguably the best part about Garage Project is that they offer a free tasting of eight of their beers at their Cellar Door location. At this location you can purchase growlers, six-packs, and merchandise. Garage project's other location, Taproom, offers a larger selection of their brews and a small food menu. Taproom is located a few minute's walk down the road from the Cellar Door.
Experience the Insider community that takes your international lifestyle to the next level. Download your FREE guide
"18 Steps to Implementing Your Plan B" instantly!
Little Beer Quarter (6 Edward St)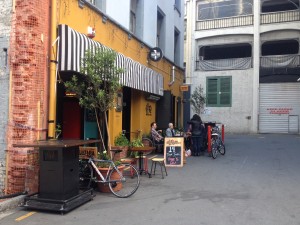 Little Beer Quarter, often referred as LBQ, is my favorite spot in Wellington to get a pint of craft beer. The best part about LBQ is its location. It is situated off the beaten path in the alley of Edward Street. This is the same alley that is home to a trendy music venue called Meow. This makes for a great atmosphere, with many patrons choosing to enjoy their pints in the vibrant alleyway. The inside of LBQ has a very homey vibe, making it a perfect place to meet friends and family. They have done an awesome job decorating the walls with random posters and artwork, lining the shelves with interesting knick-knacks, and providing a relaxing space with comfortable chairs and sofas. LBQ always has ten craft brews on tap, two hand-pulls, and two ciders. They also have dozens of bottles and cans to supplement their awesome draught list. I discovered two of my favorite breweries, Yeastie Boys and North End, at LBQ. Little Beer Quarter is also famous for its artisan pizzas. I suggest heading to LBQ on a Tuesday night and enjoying their 2 for 1 pizza special.

Like Our Articles?
Then make sure to check out our Bookstore... we have titles packed full of premium offshore intel. Instant Download - Print off for your private library before the government demands we take these down!