It's been exactly one week since the tiny Lufthansa jet touched down in Florence, Italy, and it already feels as though these confusing cobblestone streets have housed me for years. According to the app on my iPhone, I take an average of about 25,000 steps per day. I'd say that in the first couple of days, 15,000 of those were taken in the completely wrong direction; although losing your way in Italy isn't exactly the worst thing in the world. The city of Florence is deceiving in that it gives the illusion of being set up in the form of a grid, like New York City. I walk down one street, expecting to see the parallel street on the other side, and instead run into a dead end – or a palace. Additionally, the sneaky street names are eerily reminiscent of the Hogwarts staircases in J.K. Rowling's "Harry Potter." The Italians play this game where street names change when you least expect it, leaving you to fend for yourself. I've now realized that Florence is more like the maze in the tri-wizard tournament than a New York City grid.
After spending countless hours attempting to figure out how to make it home after hitting the bars on our first night out, I've realized that despite Florence being a popular tourist destination, many of the locals speak limited English. The night consisted of asking for directions in every single language apart from Italian, because none of us thought it necessary to learn Italian before packing up our lives and moving to Italy. Luckily, Europeans are often multilingual, and between my Spanish and French knowledge, I got by just fine. Having said that, I will most certainly be paying attention in those mandatory Italian classes.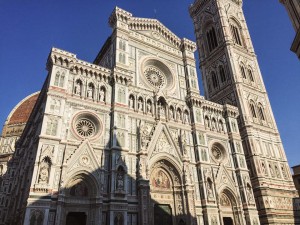 Florence's layout is so unusual that while spontaneously exploring the city on our first day, my friends and I stumbled upon the landmark that is splashed across the covers of every pamphlet and tourism book about Florence: the Duomo. The gargantuan building looms over the city with its vivid colors and intricate designs, akin to something from Disney World or the pages of a children's pop up book. I pass by it every day and it still never fails to leave me in awe.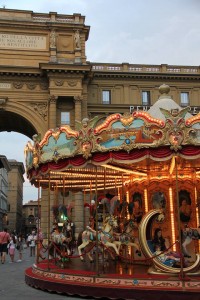 After one week of living here, I'd like to think I've adjusted relatively well to the lifestyle. However, I am quite sure that walking back from my night class to the sounds of live music will never even begin to feel like a normality. The Piazza Repubblica lies in the center of Florence, solely lit by the surrounding restaurants and enchanting carousel, providing an open stage for musicians and dancers. The atmosphere exudes romance and magic. Each night, an assortment of couples are seen expressing their love for one another by sharing a dance and a kiss underneath the stars. The sense of euphoria that arises from walking through this scene on a daily basis is one that I have yet to find a comparison for.
Despite only having been here for a short seven days, I can feel myself falling deeply in love with Florence – and Italy as a whole. "How do you like Florence so far?" was one of the introductory questions in my presentation class, and not one person had a negative thing to say. It is only day seven for me, and I already realize the disappointment that will come when I must bid farewell to this magnificent city.

Like Our Articles?
Then make sure to check out our Bookstore... we have titles packed full of premium offshore intel. Instant Download - Print off for your private library before the government demands we take these down!