Life's a Mirage at the Taj: the Travels and Trials of a White Girl in India, Part 2
Three hours after we settled our tab at the cigar bar, my phone alarm jolted us awake into a shallow state of consciousness.  My green eyes glowed radioactively against the layer of red netted veins that covered the entirety of my eyeballs.  I rubbed the cracked corners of my mouth with vaseline.  Dehydration ruptured my skin and split my lips open in so many places that they appeared to rest on a fault line of my crumbling face.  The concealer I had packed to cover black circles under my eyes was a shade darker than my wintry skin, so any application would only make my tired appearance more pronounced.  I ran a brush through my newly cropped hair and thought to myself, this is exhaustion.
We met Ezra in the lobby of the Radisson we found with a hotel booking app.  His six-foot-seven frame would cause him to stand out when walking alongside players from the New York Knicks, so in the context of the hotel's Indian employees (who were barely the height of Ezra's rib cage), his appearance was otherworldly. He had a magnetic smile and engaging blue eyes. Although he had also arrived the previous afternoon, he appeared well-rested and entirely adjusted to the time difference, as if he had lived in India for years. I hadn't anticipated that Ezra would be so striking, and I was now hyper-aware of my ragged appearance. I regretted the decision I had made to forgo sleep in exchange for cocktails.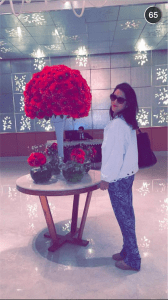 It was a seven-hour ride to the Taj Mahal from New Delhi.  There was a thick fog that covered the highway and we were barely able to decipher the cars driving only a few feet in front of us.  It was clear that we would not be seeing any scenic Indian countryside on this muggy road trip.  Relieved, I could close my eyes without a drop of guilt about missing out on a good Instagram.  I rested my head against the door of the tour van and pulled my pashmina scarf over my eyes.
I slept three more hours before I awoke to Ezra and Gabby's chatter. Ezra was much kinder than I expected.  He had the appearance of a Calvin Klein model, but the personality of a labrador retriever. He was eager to make new friends, and we quickly bonded over our mutual enthusiasm for the adventure before us.  We spent the remaining four hours of the trip playing games we had learned on long car rides as children.  We channeled our excitement into creative word games and tried to generate as many slogans for the Taj Mahal that we could think of.  "Life's a Mirage When You're at the Taj" or "Don't Dodge the Taj" or perhaps the least appropriate, but my personal favorite, "Time to Raj out with your Taj out."  I'm still not entirely sure what that last pun meant, but it made our driver smile.
When we arrived at the city of Agra, the fog miraculously lifted off of the streets and revealed a hazy deep blue, almost purple Indian sky.  We slowly inched into the city, packed between other cars, rickshaws, and cows.  All traffic moved in the same lane with no division to separate the type of vehicle or animal in motion.  I watched in horror as the surrounding cars came inches away from crushing pedestrians as they crossed the street.  This utter disregard for civilian safety was even more perplexing when I realized the source of the traffic we had been stuck in was a cow slowly walking down the middle of the road. The drivers proceeded slowly behind the animal with more respect for its life than they appeared to have for the lives of their fellow citizens.  I thought back to when when I learned how to drive, and how difficult parallel parking had seemed.  Then I tried to envision myself learning the rules of a road that included bovine drivers. As I looked around the dirt road and saw only male drivers, and predominantly male pedestrians, I realized that this was not a scenario that most Indian women could imagine either.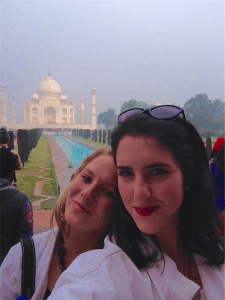 We saw our first monkey as our van climbed a hill on the bank of the Yamuna River.  I had never seen a monkey anywhere other than at the zoo. He was sitting on a branch, scratching his neck, as if he were considering what to eat for breakfast before leaving the river bank for his morning commute to work.  We scrambled to open the cameras on our iPhones, but all of the photos we took were blurry.  The driver was amused by our disappointment.  There are more monkeys than people in this city, he assured us, you will see another.  And sure enough, as we rounded the corner onto a main road in Agra, we saw hundreds of monkey families hanging from the trees that lined the city's walkways.
We met our guide outside the gates of the Taj Mahal.  His name was Rakesh and, even by Indian standards, he was very short in stature.  However, what Rakesh lacked in height, he more than compensated for in enthusiasm.  His smile was responsible for the lower half of his face; a broad white-toothed grin that was startling against the smooth dark brown tone of his skin.  As soon as he saw Ezra the giant and Gabby, with her bleach-blond hair, his face lit up.  I love Americans was the first thing he said after we exchanged names.  I love basketball was the second thing he said.  Rakesh, like many Indians we would encounter, assumed that because Ezra was tall, he was also a famous basketball player.
There truly aren't words to describe how magnificent the Taj Mahal is in person, so I won't pretend to have them.  It's huge, much larger than any photo in a textbook or on a google search would have you believe.  It's also really, really white.  When you're staring at its blinding white exterior, it's almost impossible to fathom that it was constructed almost four hundred years ago.  The untarnished structure gives no indication that years have weathered its brilliance, or that it shines any less radiantly than it did when it was constructed in 1643.
Rakesh was not only an incredibly knowledgeable tour guide, but he was also a very skilled photographer.  He knew all the best places to stop and take photos, and he expertly directed us in our poses.  As we approached the Taj Mahal, passing through its manicured gardens and rows of fountains, Rakesh must have stopped us ten different times to take photos with the white towers in the background.  He played an instrumental role in capturing my Instagram for that afternoon – and for this I will be eternally grateful.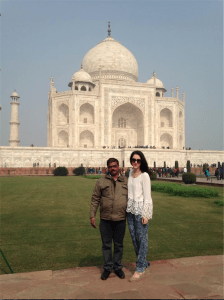 When we reached the entrance of the Taj Mahal, there was a line to go inside.  Rakesh handed us each a pair of hairnets, which he instructed us to pull over our shoes as covers.  He explained that the mausoleum is a sacred space in Indian culture, and it is required to show respect by either covering one's shoes or removing them completely.  I wasn't wearing any socks, so the hairnets were my only option.  The covers offered little to no traction against the marble floors of the Taj, so it was important to move very carefully through the space.  I certainly did not travel all the way to India to fall on my ass at a sacred monument.
Because the Taj Mahal is such a famous tourist attraction, I assumed that we would not be the only western visitors that afternoon.  However, as I looked around, I realized that all the other members of the line appeared to be of Indian descent.  This became even more apparent when the family standing on line in front of us asked if Gabby would hold their infant child and pose for a photograph.  Rakesh explained that blond hair was very exciting for Indians.  This was the first of many photos we were approached to take.  I have brown hair, and am not particularly tall, so I was less notable than the light-haired goddess and American giant with whom I traveled.  Still, because of the company I kept, I posed for a multitude of photos throughout the afternoon.  It was my first and only taste of celebrity, and I'm not too proud to admit that I enjoyed it.
When we finally reached the front of the line and entered into the ivory tower, I was once again rendered speechless.  The domed mausoleum ceilings were covered by the most intricate and colorful designs, nothing like what I had expected based on the stark white exterior.  Delicate floral patterns, created by an inlay of precious stones, were carefully crafted into every corner of the structure's marble walls.  Some of the precious stones were translucent and, when hit by sunlight, the small floral details began to glow.  The floors were tiled with different colored marbles, arranged in hexagonal patterns across the room.  My eyes simultaneously wanted to devour the space as a whole, while soaking in every last detail that had been expertly crafted with hands whose owners had died hundreds of years ago.
FREE GUIDE! Get Essential Information on Protecting Your Assets
18 STEPS TO IMPLEMENTING YOUR PLAN B
Rakesh explained that the Taj Mahal had been built by the Mughal emperor, Shah Jahan, as a resting place for his favorite wife, Mumtaz Mahal.  According to the story, when Mumtaz died giving birth to their 14th child, her last wish was for her husband to build the most beautiful mausoleum the world had ever seen in her name.  Shah Jahan honored her wish and immortalized his wife by building the Taj Mahal, "The Jewel of India."  Rakesh explained that this was also the reason behind the towers' perfect symmetry.  Shah Jahan designed the Taj Mahal so that it would be the most balanced, and therefore peaceful, place for his beloved wife to spend eternity.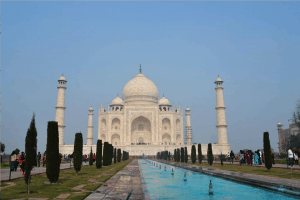 It was a truly beautiful and touching love story, even though it involved a king who had several wives, as well as hundreds of concubines.  Gabby and I agreed that if a man were willing to build the Taj Mahal in our name, we would be willing to ignore the other women he brought around the palace.  The nicest gift I have ever received from a boyfriend was a beaded necklace given to me three weeks after my birthday.  I later learned that this same boyfriend also had hundreds of concubines, on top of giving terrible presents.  So all things considered, the story behind the Taj Mahal seemed pretty romantic.
We ended our day with a complimentary meal that was included in our tour.  It was an all-you-can-eat buffet set up in the multipurpose banquet hall of a nearby building in Agra.  By the time we arrived, the other tourists who had signed up for the all-inclusive package were finishing their meal.  It was difficult to determine how long the food had been sitting out.  I decided my safest course of action would be to eat some rice and mulligatawny soup, and to wash it down with some bottled water.  Ezra had already begun to enjoy a chicken dish before I was able to express my concerns surrounding the banquet's lack of sanitary standards.  He switched to rice and soup as well, but the damage had already been done.  Luckily, the food poisoning remained dormant for the majority of our seven hour car ride home.  It wasn't until the final thirty minutes of our journey that Ezra stopped contributing to the van's conversation.
Gabby and I had a small dinner when we returned to the hotel, but Ezra firmly declined our invitation to join.  He wanted to be well rested for the early flight we booked to Lucknow in the morning.  Gabby and I agreed that this was a prudent decision, and we parted ways with our new friend.  When we met Ezra the following morning, he looked as haggard as we had the day before.  He had been sick all night with a stomach bug, he confessed.  He didn't even get an hour of sleep. Welcome to India, I thought to myself but had better sense than to it say out loud.
To be continued…
Like Our Articles?
Then make sure to check out our Bookstore... we have titles packed full of premium offshore intel. Instant Download - Print off for your private library before the government demands we take these down!