Islands of Mystery and Legend
For serious Escape Artists, there are few places on earth they yearn to see more than the world's two great Islands of Mystery and Legend lost in the remotest South Pacific – Easter Island and Pitcairn Island.
(Spoiler Alert:  Pitcairn recently became perhaps the Ultimate Escape Artist Destination. See why at the end.)
Since we were kids, we've all seen pictures of Easter's huge brooding stone statues – but how many people do you know who have seen and experienced them for real? The power and magic of being with the moai, as they are called, will never leave you.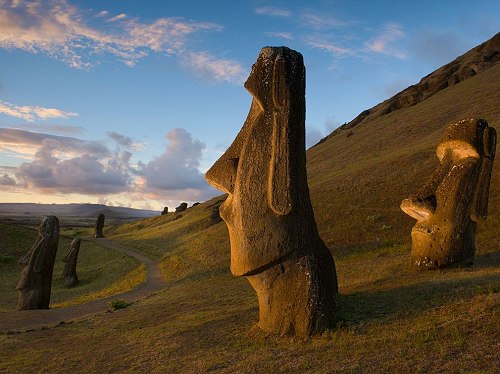 And who among us has not heard the story of The Mutiny on the Bounty – of how, on April 28, 1789, Fletcher Christian, first mate of HMS (His Majesty's Ship of the British Royal Navy) Bounty led a mutiny of the crew against the tyrannical Captain William Bligh, set Bligh and crew members loyal to him in a longboat, and took the Bounty to sail into history.
Clark Gable was Fletcher Christian in Mutiny on the Bounty, which won the Oscar for Best Picture in 1935. Marlon Brando played him in 1962, as did Mel Gibson in 1984. Everyone knows the story, for it is epically famous. Yet so very, very few have ever experienced being where it took place. Now you can.
Fletcher Christian and the Bounty Mutineers discovered and settled on an uninhabited island in remotest Polynesia – Pitcairn Island – so remote you can only sail to it…where the descendants of the Mutineers and their Tahitian wives still live to this day. It is still just as hard to reach Pitcairn as ever – by boat – and remains one of the most isolated and inaccessible populated islands on earth.
To this day, all Pitcairners are descendants of the original mutineers and their Tahitian wives. It's meeting and becoming friends with these extraordinary people that makes visiting Pitcairn so memorable.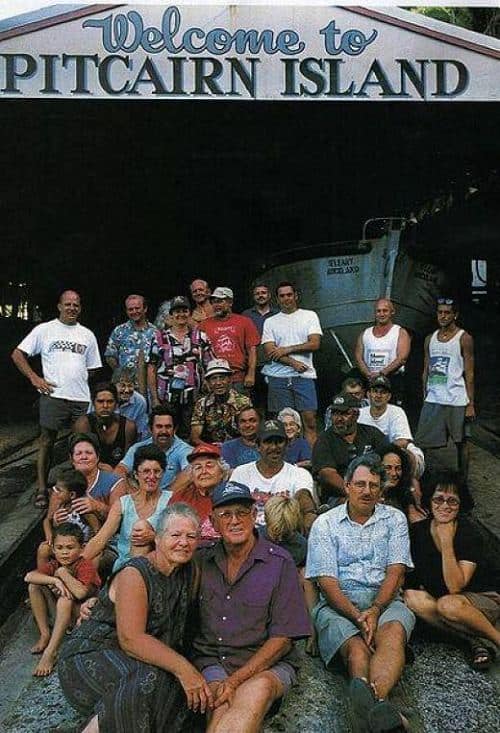 To experience either of these magically historical places is a dream of any explorer of the world – to experience both at the same time… well, that's never been done before, except on a private yacht or huge cruise ship taking more than a month. You and I, however, can do it in two weeks this coming May.
Both Pitcairn and Easter are in the far corner of Polynesia – the "Polynesian Triangle" encompasses all islands from Hawaii to Easter to New Zealand:
FREE GUIDE! Get Essential Information on Protecting Your Assets
18 STEPS TO IMPLEMENTING YOUR PLAN B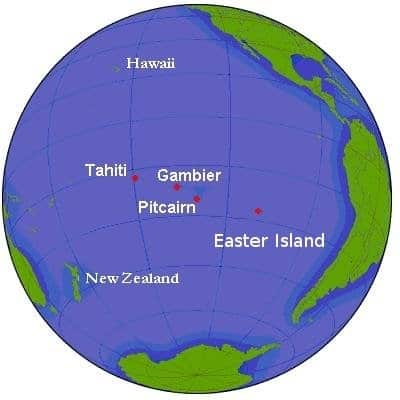 April 5th was Easter Sunday in 1722, and on that day Dutch explorer, Jacob Roggeveen, came upon an island he appropriately named Paaseiland – Easter Island in English. In Spanish, for the island is a dependency of Chile 3,500 kilometers (2,170 miles) away, Isla de Pascua.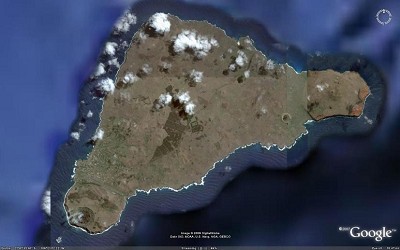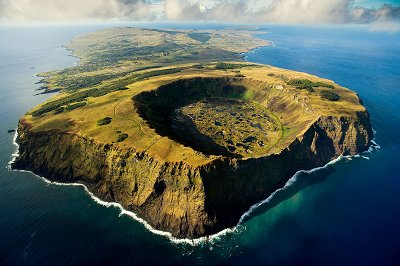 Roggeveen came upon an astonishingly unique culture tragically dying. A thousand years before (ca. 700 AD), the island was reached by Polynesians in their canoes from Gambier (aka Mangareva – see map). A Stone Age people with no metal implements had carved huge stone statues called moai out of volcanic tufa with basalt chisels, dragged them over to the island's edges, and erected them standing in the hundreds. Almost 900 moai dot the island today.
But with overpopulation and deforestation, all the incredible energy of competing clans to build more and bigger moai turned destructive. The last of the moai were built around 1680. With no trees, the islanders could not build boats to fish. Starvation and cannibalism became rampant. 100 years before Roggeveen arrived, the island had a population of 15,000 – by his arrival in 1722, there were less than 3,000 left.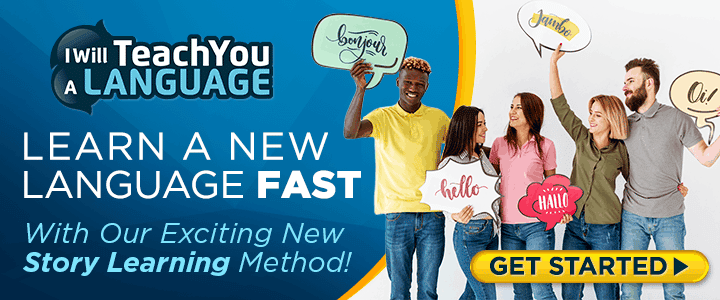 The survivors – no one knows what they called themselves originally, but now they are called either Pascuans in Spanish or Rapa Nui in Polynesian – endured ghastly challenges in the centuries since: Peruvian "blackbirder" slave raids, smallpox, and tuberculosis epidemics in the 1800s; not being allowed to live outside the small community of Hanga Roa while the rest of the island was an off-limits British sheep ranch until the 1950s; cheated out of much (but far from all) of their land today.
But survive they have, with warmth and goodwill in their hearts. We'll be welcomed as we explore the most uniquely astounding island on our planet.
There are over 350 ahus (altars) around the island's circumference, many with moai of various sizes upon them. We won't get to all of them, but certainly all of the best. A sample: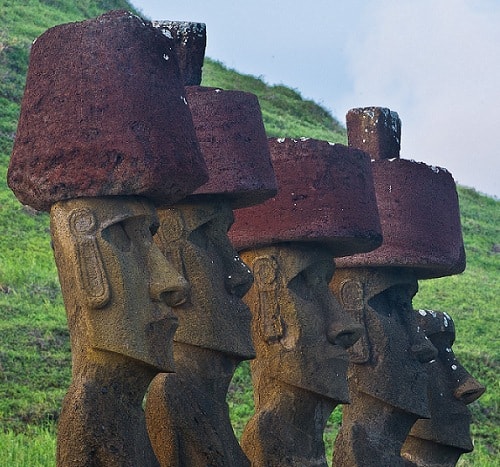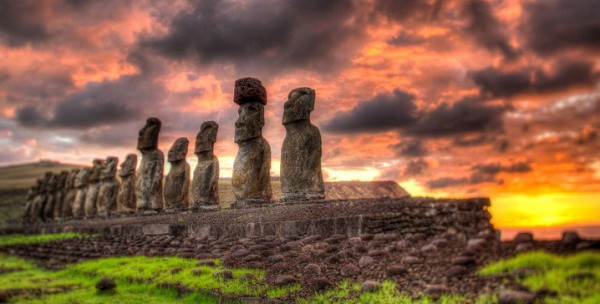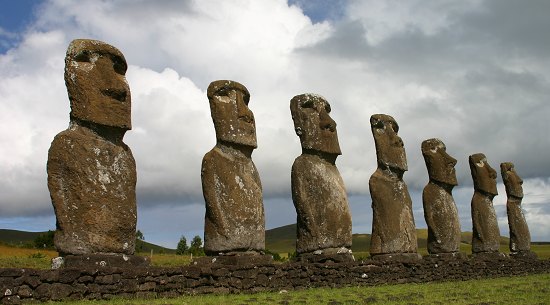 At the quarry of Rano Raraku, we can see every stage of how the giant moai were carved out of the volcanic tufa stone: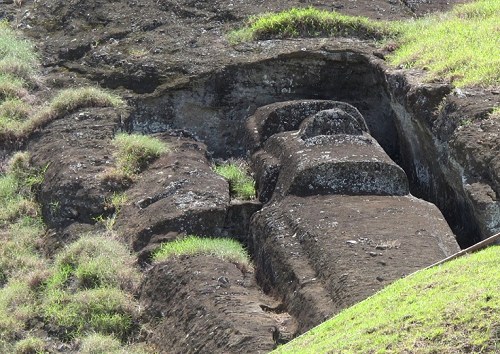 We'll walk along the lip of the Orongo Crater and see the rock carvings of the Birdman of Rapa Nui: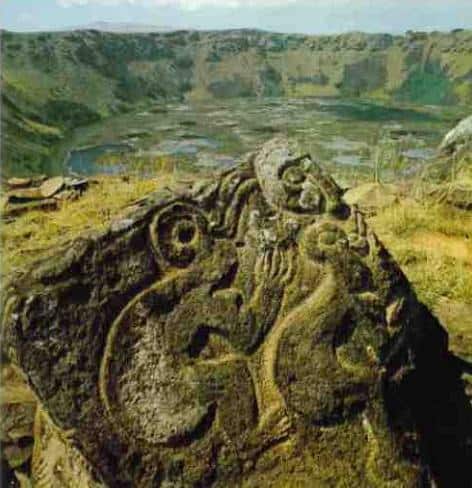 We'll have time to explore Rapa Nui on our own – by foot, bicycle, horseback, motor scooter…your choice. You can swim, snorkel, explore caves, spend time with the locals, have as much fun as you can – and of course, enjoy a gorgeous Easter Island sunset with a glass of your favorite Chilean wine…

To get to Pitcairn from Easter is not as simple as flying the 1,200 miles between them. We take the once-weekly flight to Papeete, Tahiti (2,600 miles), and fly the next day to Mangareva (1,030 miles) to board the Claymore II. It is the Pitcairn Government's passenger and cargo vessel. The cabins are comfortable, the food is good, the ship bar is open.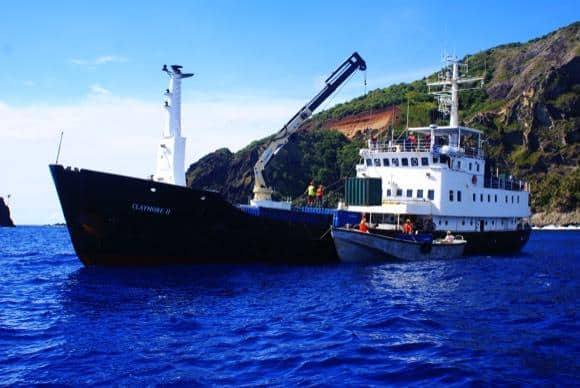 Claymore II
The voyage takes 32 hours to reach Pitcairn (430 miles – if you've added it up, that's 4,000 miles or 6,400 kilometres total; of course you can't fly those 1,200 miles from Easter to Pitcairn, as there's no airport!).
We anchor in Pitcairn's Bounty Bay by dawn. After sunrise, a longboat will come to land us at the tiny landing cove: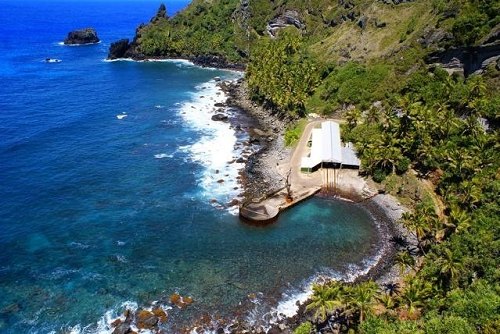 Almost everyone on the island will be there to greet us. A ship coming in is a big deal to one of the most isolated communities on earth. We'll be driven up the Hill of Difficulty in ATVs to Adamstown, where we'll stay in Pitcairners' private homes.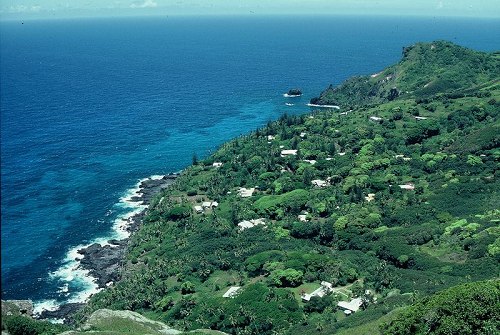 The islanders are renowned for being open-hearted and hospitable, so we'll get an ultra-warm welcome. We'll explore the island, but first, so many Pitcairners will be inviting us over to their place for a cup of tea that we'll hardly get out of Adamstown. We will, however, see the Bounty Bible on display, the Bounty anchor, and two of the Bounty's cannons.
Oh, yes, we'll snorkel in Bounty Bay over the site where Fletcher Christian burned and sank The Bounty so the English wouldn't find it. We'll explore one of the world's most legendary yet unknown islands, being guided by Pitcairners – as we walk to Fletcher Christian's Cave, peer over The Edge, examine ancient petroglyphs, and swim in St. Paul's Pool: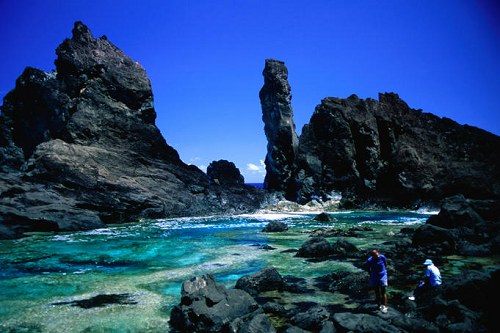 We'll join a festive Friday dinner at Olive Christian's home, Big Fence. Everyone on the island shows up for a lot of food and even more fun. For this is Pitcairn's main attraction: its people. They are among our planet's most unique people…and the friendliest. It won't take long until you have found lifelong friends among them. You won't want to leave.
But we must. After a sumptuous Sunday brunch at Olive's, lasting until mid-afternoon, the longboat will take us back to the Claymore II. The goodbyes will be tearful. You won't believe how much you'll miss Pitcairn as it recedes into the distance.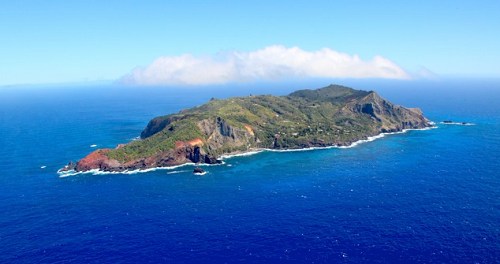 We'll try not to drink too many rum punches on the Claymore II. Upon our sunrise return to Mangareva, we can visit one of Mangareva's famous pearl farms to see how some of the world's most gorgeous black pearls are grown. Or we can just explore – this, as you can see, is a beautiful island: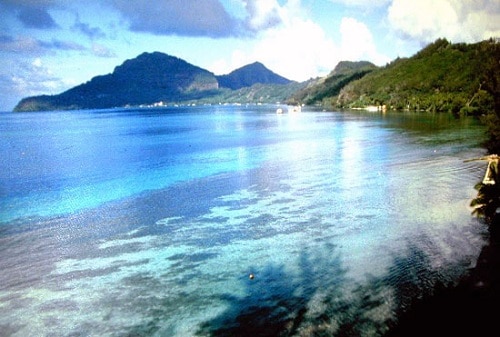 After lunch, we board the Air Tahiti flight back to Papeete, for it is here we must say farewell to each other until the next adventure.
Some of us will be taking the late evening flight back to the U.S. (LA or Honolulu). Others will be bound for Tahitian islands such as Moorea or Bora Bora – or perhaps continuing on to Rarotonga. No matter where we go from here, we will always have Easter Island and Pitcairn forever as part of our lives.
Or perhaps more than that. Remember at the start I told you about Pitcairn being an Ultimate Escape Artist Destination? Check this out:
The island's population is only 50 – the smallest of any separate jurisdiction on earth. So, recently, Pitcairners instituted the Pitcairn Islands Repopulation Plan, a program to entice people to live on the island – on land you'll be given for free and own – as a resident.
Residents of Pitcairn pay no taxes – no sales or property tax, no income tax, no taxes – and no records are kept of private incomes.
Yet, you also have a solid rule of law – British law, for Pitcairn is a British Overseas Territory.
You can bring your kids here, too – no problem. Can you imagine a more wonderful place to truly get "away from it all," to be literally carefree, and your kids to be carefree, from all the world's nonsense? Although, if you have to… yes, Pitcairn has high-speed reliable internet.
©2019 Jack Wheeler – republished with permission
Like Our Articles?
Then make sure to check out our Bookstore... we have titles packed full of premium offshore intel. Instant Download - Print off for your private library before the government demands we take these down!