Say yes! It all starts when you say yes. Even if you have reservations, say yes. Many wise people have been quoted saying something similar to, "Regret of the things not done far outweighs any regret of things done."
Four years ago, I thought I had lung cancer. I wasn't being a hypochondriac. The docs thought so too. When I went to figure out what I wanted to put on my bucket list, I could only come up with one thing. Really, just one thing. It's not that I've done everything there is to do, obviously. Or even that I've done everything I can imagine doing. But as things have come up in life, I've said "yes" most of the time. I have enjoyed many incredible experiences and opportunities, and they have always started with "yes."
Now, writing a blog about crossing the Andes on horseback is challenging for a lot of reasons. But the most difficult part is that for a simple writer like me, I just don't have the words to adequately describe it. Pictures don't do the crossing justice either. Nothing can capture the vast expanses, absolute silence, and incredible solitude of the journey. It was an adventure beyond what I had hoped or expected, and if you'll bear with me over the next few articles, we'll take the trip together as I do my best to bring life to the pictures and events as they unfolded over six marvelous days under the big sky of the Argentinean and Chilean Andes.
Carol and I flew to Mendoza, Argentina, via Santiago, Chile, on a Copa Airlines flight through Panama City. Copa is a United partner, and the flight from Managua (MGA) to Panama (PTY) is a short 80 minutes. We had just enough time to stop by the Copa Club and check some final e-mails before heading to the gate for our flight to Santiago, Chile (SCL). This flight is a bit longer at 6-hours, 30-minutes, and we arrived at 8:00 p.m. We passed quickly and efficiently through customs and were off to the Hilton Garden Inn by the airport for dinner and bed.
The next morning, we rented a car to do some exploring around Santiago. Tip: Be sure to get the toll pass for the local Santiago "freeways." They are not technically free, which is why you need the automatic toll pass, but they are largely free of traffic, allowing you to speed along down the open highway.
After checking out the car, we headed out to the Curacavi and Casablanca valleys to look at the region and visit a couple properties. The drive out of Santiago is easy on a modern, four-lane, limited access toll road. Unfortunately, as we found out, it's not the same kind of tolls as the card we had in the car, so we had to pay cash. Having not made any change yet, paying with large peso bills was thankfully no problem.
Traveling slightly northwest out of Santiago, you pass through a tunnel and enter the Curacavi Valley. Further on, the Casablanca Valley beckons with some of the best white wine grapes grown in Chile.    And it's breathtakingly beautiful.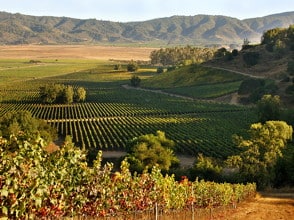 Our plan had been to visit the Matetic Winery, but they are only open for lunch. Since I had promised to visit another project prior to heading there, we missed the opportunity to try the Matetic restaurant. Instead, we enjoyed a real treat of home cooked food prepared by Ken Carpenter, and ate with the management staff of his large lemon orchard. Later, we toured his garden and ate plums, apples, and nectarines right off the trees. From there we traversed a narrow mountain pass into the Casablanca Valley and back to the main road.
Upon returning to Santiago, we ventured downtown to a bar and restaurant called Liguria. This tapas bar serves up some great eats. I ordered the meat and cheese sampler plate, while Carol ordered up fish cheeks (yes, for real) in a soup. After a bite or two, we traded at her request. Funky and tender, these delicacies are a real treat. Not to her taste, but I loved them. She even shared some of the local cheeses and meats with me. Great stuff in a very popular and crowded eatery.
The next morning we were off to Mendoza. Flying over the snowcapped peaks and arid valleys was beautiful and yet ominous at the same time. In just one more day, we'd be on horseback… down there. It certainly didn't look friendly, but it did look exciting.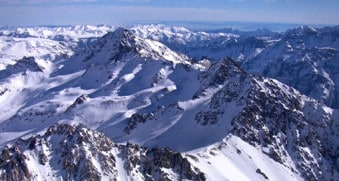 Experience the Insider community that takes your international lifestyle to the next level. Download your FREE guide
"18 Steps to Implementing Your Plan B" instantly!
Remember, this is the place that the book and movie Alive was about. But pushing morbid thoughts aside, what we really feared was how our butts were going to fare. Neither Carol nor I ride horses. In our very limited riding experiences in Nicaragua, we found we had major butt pain in an hour or less.   However, we aren't ones to let the fear of pain hold us back, and we were committed to making the ride.   So we packed some high-strength Advil and A&D butt cream just in case.
We were ready for the trip to start. Or maybe we weren't, but we were certainly committed. We had said "yes" to the invitation and were now off on a grand adventure. We were going to ride "between the bookends" of the airports pictured below.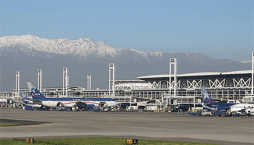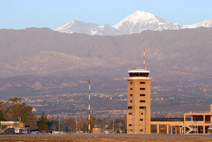 As for my lung issues. The docs and the tests were wrong. I had a lung fungus and lost the top third of my left lung in the process. But I didn't have cancer, and I've been given the gift of more time to keep saying "yes" to more adventures along the way. Follow me on this blog journey, and maybe join me next year for a repeat trip if you feel like saying "yes" to a grand adventure.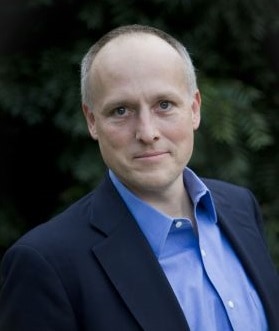 Michael K. Cobb is the CEO and co-founder of ECI Developments which has properties throughout Latin America. He speaks all over the world on international real estate and is a board member of the National Association of Realtors.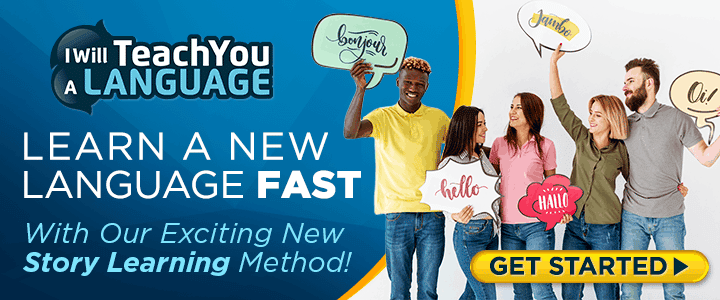 Like Our Articles?
Then make sure to check out our Bookstore... we have titles packed full of premium offshore intel. Instant Download - Print off for your private library before the government demands we take these down!