Escape Artist Insiders: Inside our June 2023 "Your Privacy Toolkit" Issue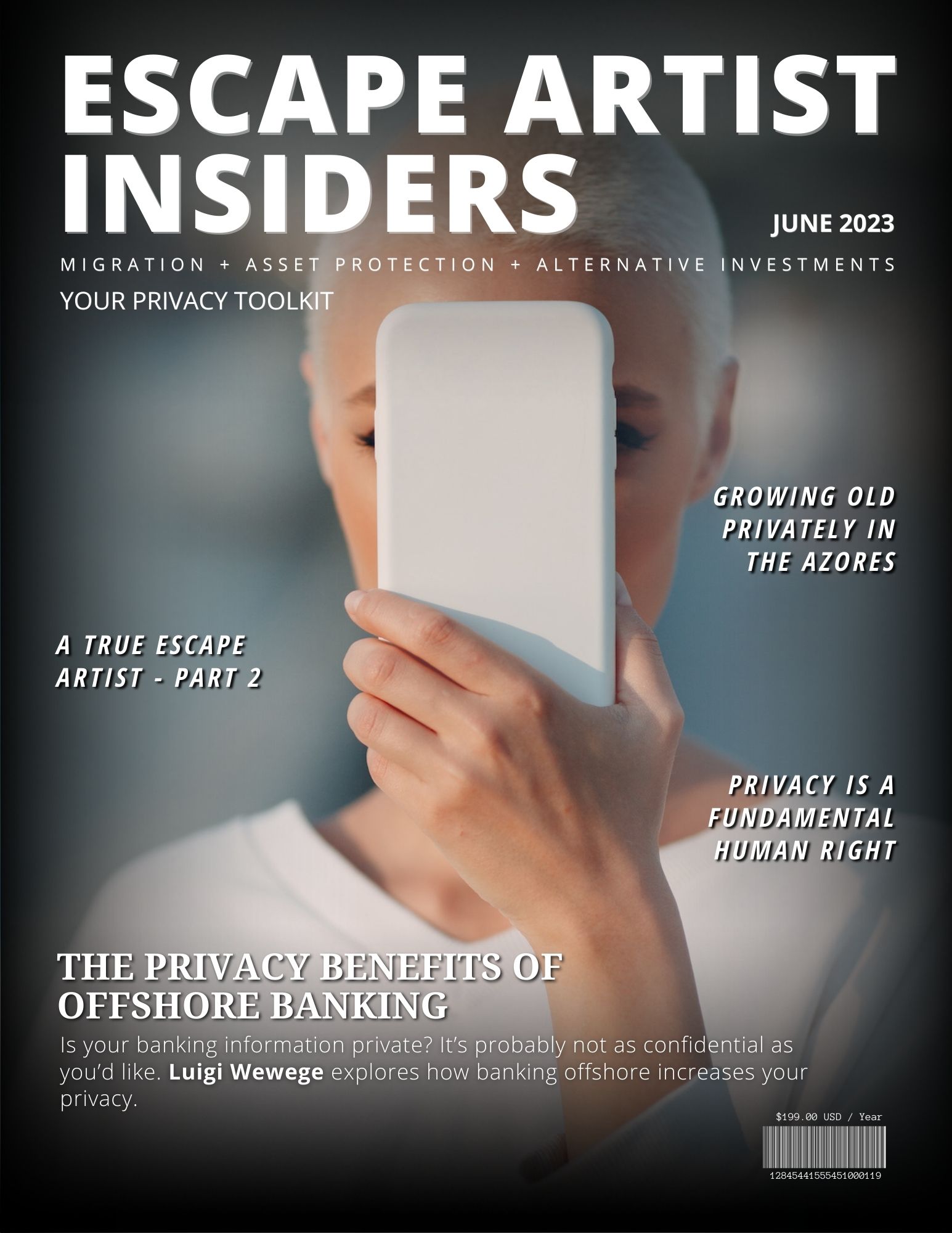 Feeling like Big Brother is watching you? You are not alone! Our decreasing privacy is a real issue in our modern world but don't worry, Escape Artist Insiders is here to help! Introducing our June 2023 issue: Your Privacy Toolkit.
Filled with articles written by our in-house experts to help you protect your assets and increase your privacy, this issue of Escape Artist Insiders gives you real, actionable steps you can take today while also helping you build a comprehensive, long-term strategy.
See a preview of a few of our the articles below, and get your hands on a copy of our June 2023 "Your Privacy Toolkit" issue here!
The Privacy Benefits of Offshore Banking by Luigi Wewege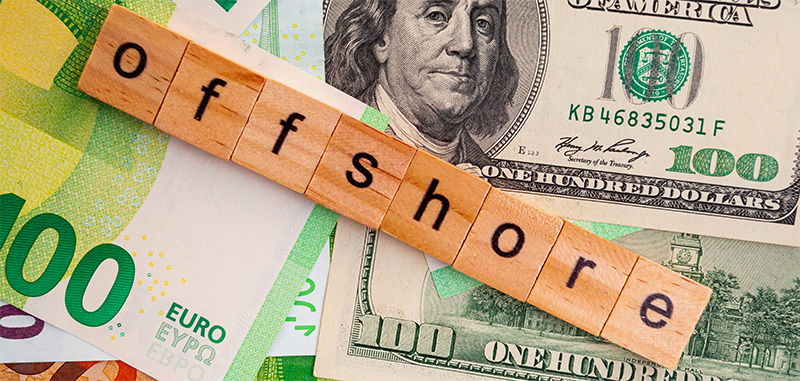 It's funny, but many of us may initially feel like offshore banking is a little sketchy. Both because it involves moving our money to a completely different country, but also because for most of us our only exposure to offshore banking has been via the criminals in books and movies who use offshore bank accounts to get away with their ill found gains.
In this month's feature article, Luigi Wewege sets the record straight about the benefits of offshore banking for your average, everyday person. We are talking about privacy in our June 2023 issue and, especially in the US, we are seeing a reduction in financial privacy, usually under the guise of keeping us safe from terrorism and reducing money laundering.
A great way to mitigate this lack of privacy while also diversifying your holdings is to open an offshore bank account. Check out Luigi's article to learn more about the perks of opening an offshore bank account and how it can be a powerful tool in your privacy toolkit.
Building a Legal Wall of Privacy in a Fully Transparent World by Joel Nagel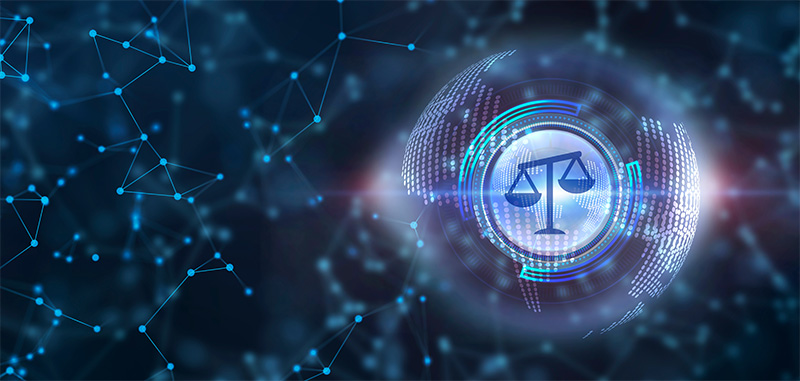 Join Joel Nagel as he walks us through the world of offshore legal structures and personal asset protection strategies. In an age when privacy is increasingly under threat, it is vital to safeguard our assets and information.
As Joel says: "Privacy is no longer a mere luxury; it's a necessity, a cornerstone of personal freedom, and a critical component of any sound financial or lifestyle strategy." He goes on to illustrate this with the story of a high-profile client who was constantly targeted by frivolous lawsuits due to a lack of privacy around her assets and how this was resolved with the appropriate strategies.
Asset protection is a layered strategy with many moving pieces, but this article will give you a good feel for what some of the main structural components are and how you can piece them together to build a comprehensive plan.
FREE GUIDE! Get Essential Information on Protecting Your Assets
18 STEPS TO IMPLEMENTING YOUR PLAN B
Your Privacy is Under Attack by Rich Checkan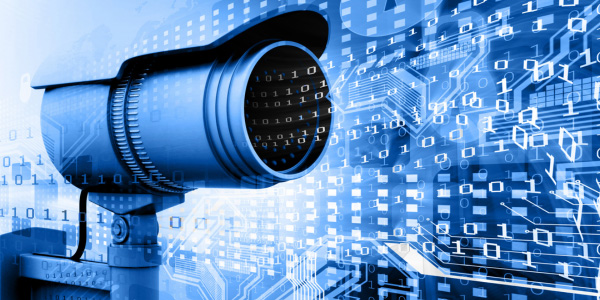 CDBCs – we keep hearing about them with a sense of impending doom. Exactly how imminent they are is unknown, but it is very clear things are headed in that direction.
In this thought-provoking article, Rich Checkan discusses the supposed advantages of CDBCs vs. the very significant disadvantages, namely the complete end of financial privacy. Strangely, our government overlords don't seem to speak of the disadvantages at all – I wonder why?
It is important for all of us to be prepared for if/when CDBCs become a reality. Rich is fantastic at both breaking down this concept and providing helpful suggestions for how you may be able to mitigate the impact of this transition. This is a great read for both those who have a good understanding of CDBCs and those who are just starting to learn about them.
Growing Old Privately by Charlotte Tweed

While most of us are familiar with the concept of "growing old gracefully," Charlotte Tweed delves into the new, fascinating concept of "growing old privately" as she shares about her travels on the island of Sao Miguel in the Azores, Portugal.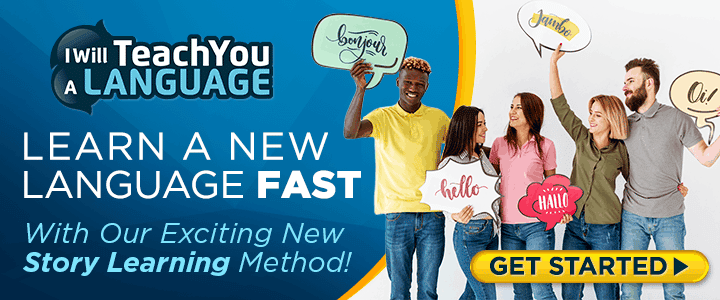 As she walks us through her time in Sao Miguel, Charlotte brings up thought-provoking questions that help you to reflect on your life today and what it is you are seeking. With her colorful descriptions, she makes it easy to picture yourself in the locations alongside her, dreaming about where you see yourself in the future.
Imagine yourself surrounded by comfortable temperatures and beautiful greenery all year-round, in a place where you can enjoy the privacy you crave. If this sounds appealing to you, read Charlotte's full article to experience the tranquility of the Azores through her eyes. Perhaps it is the place you have been looking for?
Practical Privacy Tips by Eryka Gemma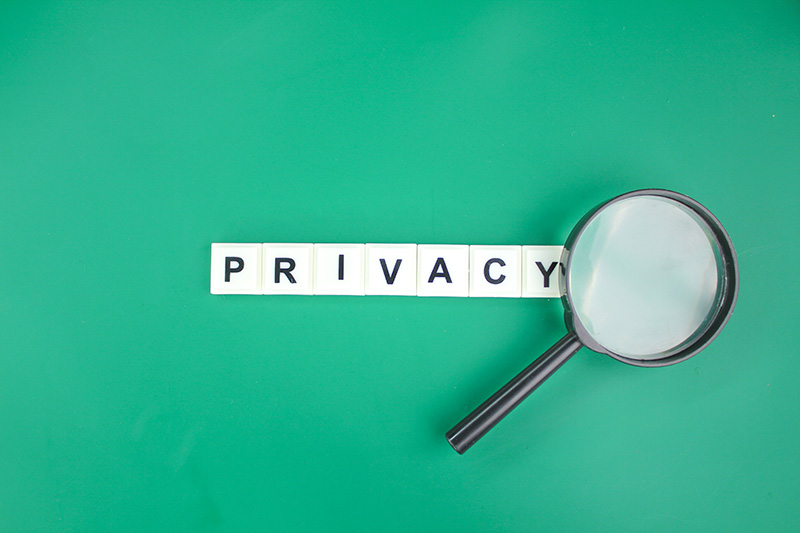 "Privacy is always preferred, and in a digital age, we must take extra steps to provide security for ourselves. However, privacy and security are not the same; one is the mechanism used to achieve the other."
In the digital age, security is no longer just about locking one's doors and installing a security system. Now, we must worry about hackers on the other side of the world or even our own governments violating our privacy. So, it is important to figure out how to protect ourselves from the various bad actors coming after our information.
Eryka Gemma's article goes into detail on some simple security tactics even the most technologically-challenged of us can use to help safeguard our privacy online and across all our devices. Check this article out for practical tips you can implement today to protect yourself and your family from potential online threats.
And don't miss out on these other informative articles!
A True Escape Artist Part 2 by Mike Cobb
Privacy and the Sacred by Paul Rosenberg
The Philosophy of the World Economic Forum by Jack Lannom
Privacy is a Fundamental Human Right by Alex Voss
Healthcare Privacy: How Private is your Healthcare Information Really? by Tracy Griffith
Privacy and the Rise of AI by John Constantine
Privacy Risks as an Expat by Michal Ptáčník
Don't miss out on Your Privacy Toolkit! Subscribe now!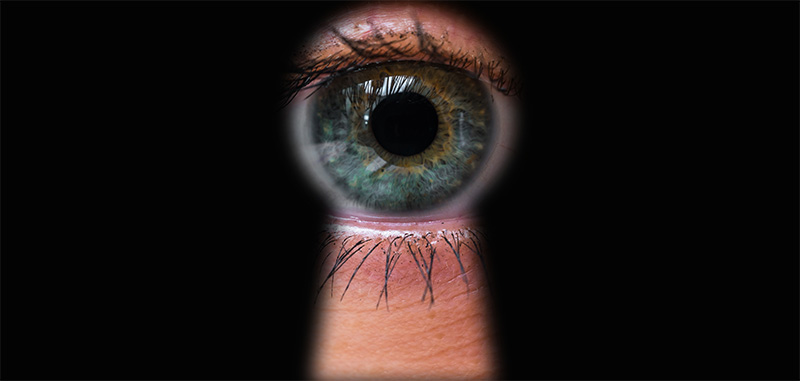 As a longtime reader of Escape Artist Insiders, it is my opinion that this is one of the most impactful issues we've ever done. Privacy, or the increasing lack-thereof, is one of the most important issues of our time and it is increasingly vital for us to start taking precautions to protect ourselves, our families, and our assets from imminent threats such as government overreach and incoming CDBCs.
Our June 2023 issue of Escape Artist Insiders comes absolutely jam-packed with information to help keep you up-to-date with issues affecting your privacy while also arming you with the tools to do something about it. It's both an eye-opening and empowering issue with information you won't find anywhere else.
Subscribe now to get your copy and start building Your Privacy Toolkit today!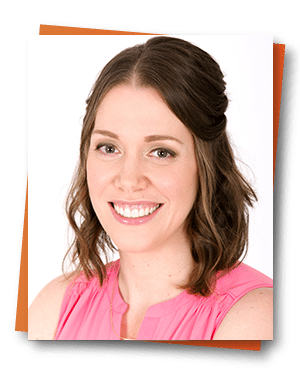 Lisa is an aspiring expat from Canada who is working to put together her Plan B with a young family in tow. She is excited to pair her lifelong love of writing with her passion for offshore strategies and outside-the box investments in her weekly articles for Escape Artist readers. Follow this "rebel with a cause" as she walks the path less traveled and shares her experiences along the way.

Like Our Articles?
Then make sure to check out our Bookstore... we have titles packed full of premium offshore intel. Instant Download - Print off for your private library before the government demands we take these down!