Between a Cliff and a Hard Place: The Travels and Trials of a White Girl in India, Part 5
Dehradun is a city located in a canyon of the Himalayas. There are no railways that go directly into the mountain range, so one must travel another three hours by car from the train station to reach the city itself.  The road to Dehradun is carved into the side of the mountains, just wide enough to safely clear one lane of traffic.  This is somewhat problematic, considering that there are cars traveling both to and from the city at any given time.  The passageway follows the natural curve of the mountains and is therefore filled with sharp turns and drastic oscillations in altitude.  There is a wooden fence that indicates the edge of the road and the beginning of a cliff.  It is vaguely discernible through the thick layer of fog that consistently blankets the mountainside. As our driver fearlessly steered our van forward, masterfully navigating his way between a cliff and a hard place, I thought to myself, "If I plunge to my death while traveling the treacherous roads of the Himalayan mountains, at least my obituary will make for an interesting read."
As you might have guessed, I survived the journey, and I'm happy to report that the city was well worth the risk.  Dehradun is beautiful, and the first thing I noticed about it was the color.  The horizon was outlined by enormous purple and grey mountains.  Green and yellow trees lined the reddish brown dirt roads that snaked between a variety of brightly painted buildings.  We passed a marketplace built beneath a canopy of dyed fabrics.  Women in vibrant saris circled the streets and picked through the exotic fruits and beaded jewelry that were artfully displayed on the vendor's carts. Every tree, every building, every man, woman, and fruit seemed to exist only as a detail in a larger woven tapestry.  It was nothing like the streets of the manicured stone cities I had visited in Europe.  Dehradun pulsed with a dynamic and accidental beauty that was beyond the achievement of any man-made design.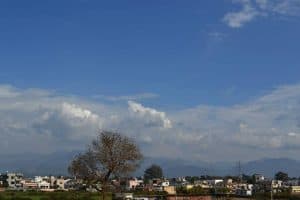 When we arrived at the hotel, we met three more of Gaurav's friends who had traveled from New York to attend the wedding: Dana, Shammi, and Steffi.  Dana met Gaurav when he first moved to New York.  She was small, no taller than five-foot-two, with the frame of a ballerina.  Despite her petite physical build, she had a very dominate personality – quite outspoken.  Within minutes of meeting her, we learned that she was a vegetarian, an avid yogi, and an attorney of the law.  She had just arrived in India and planned to travel the country alone after the wedding was over.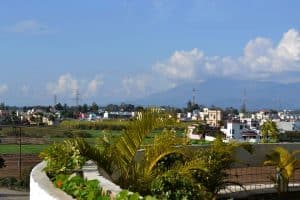 Shammi and Steffi were a couple.  Shammi knew Gaurav from childhood, and had also grown up in India.  Gaurav and Shammi moved to New York around the same time and were best friends, basically brothers.  Steffi was from Austria originally, but met Shammi when they both lived in the West Village.  She was very beautiful and had a glowing smile that lit up every time Shammi spoke. It was immediately obvious that these two were in love.  They had been dating for over two years and were moving to Austria together after they finished touring India for two months.  Before arriving to Dehradun, they had spent some time in southern India, where Shammi was from, so that Steffi could meet his family.  They invited us to their room to smoke weed and to get to know each other better before the wedding ceremonies officially began. It was hard not to love them.  They told the same stories, laughed at the same jokes, and radiated the same magnetic energy into the room.  Everything about them, down to their names (Steffi and Shammi), seemed to match.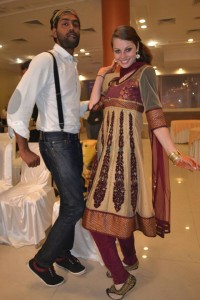 That evening marked the beginning of the week-long nuptials.  First on our wedding itinerary was the ring exchange ceremony.  As you might have gathered from its name, this ritual involves the gifting of rings between the bride and the groom.  It usually takes place in the presence of immediate family and marks the couple's official engagement. None of us, including Shammi, constituted as "immediate family," but because we had traveled such great distances, they were kind enough to include us in this intimate affair.
The ceremony was held in a banquet hall on the first floor of our hotel.  Gaurav and his fiance Neha had masterfully decorated the room to accommodate the ceremony's many requirements.  There was a space cleared in the middle of the floor, outlined by rows of chairs, serving as a stage.  Undoubtedly, this would be where the ring exchange would happen.  Three large round tables were arranged on the side of the space, separate from the stage area.  This was where we, alongside other non-family members, would observe the evening's events.  On the back wall, there was a long table lined with hot plates. Food! Any ritual that involves a meal is one that I will certainly enjoy.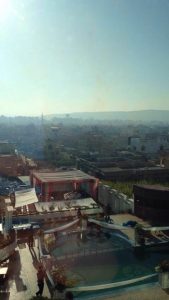 We were among the first guests to arrive in the banquet hall.  We situated ourselves at the round table nearest the stage and watched eagerly as other guests started to trickle in.  There were servers circulating the perimeter of the room, carrying trays of appetizers that we happily sampled two or three times each.  Every time a new female guest entered the room, Gabby and I would speculate as to whether or not they were the bride.  We had seen pictures of Neha on Gaurav's phone, but I wasn't confident that I would be able to identify her in a room of other Indian women.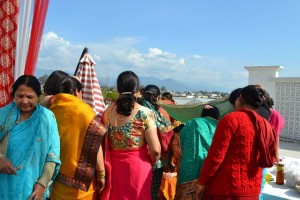 I was wrong.  When Neha arrived, there was no question as to who was the star of the show.  She wore a pink and orange sari that sparkled as she moved through the room.  A jewel headpiece hung from the top of her head and dangled onto her forehead.  The necklace she wore looked incredibly heavy, but you would never know by how high she carried herself.  She had earrings that chained her ears to her nose, as well as earrings that hung gracefully down to her shoulders.  The length of her arms were covered by metallic bangles, and her fingers were decorated with extravagant rings.  I couldn't help but wonder where she would fit yet another piece of jewelry, but from the looks of it, Neha seemed like a woman who could find space for anything that sparkled.
FREE GUIDE! Get Essential Information on Protecting Your Assets
18 STEPS TO IMPLEMENTING YOUR PLAN B
The ceremony, understandably, was not in English.  Luckily, Shammi was there to explain basically what was going on.  It had been my understanding that Gaurav and Neha had already been engaged for months.  This was not the case.  In Indian culture, the ring ceremony marks the start of the engagement.  It is not until the two families come together, sing a few prayers, and exchange rings that the bride and groom are officially bound together.  Up until this point, they are simply each other's "intended."  In the Hindu tradition, there is a separate ceremony called Roka, in which the bride and groom effectively reserve each other for marriage.  Roka translates literally to mean "stop."  The ritual involves an exchange of gifts and money in order to  "stop" the couple from looking elsewhere.  It reminded me of my experience finding an apartment in New York City.  The down payment (Roka) is used to stop the brokers (families) from showing the apartment (Neha and Gaurav) to other interested parties.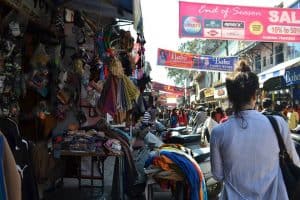 After the rings were exchanged, the banquet began.  Gaurav and Neha had arranged a very extensive buffet that included a selection of rices and breads, as well as several traditional vegetarian dishes.  We were very hungry, probably in part because of the time we had spent with Shammi and Steffi in their hotel room, and everything was delicious.  After we finished our second plate, we decided to introduce ourselves to Neha, who was finally finished greeting her other guests.  When Neha smiled, her entire face sparkled even more brilliantly than the jewels that hung from her body.  She was warm and very out-going, much different than the demur eastern bride I had envisioned meeting.  She could easily be one of my friends in New York.  Suddenly, India did not seem so strange.
Before going to sleep, we spent more time talking with Shammi and Steffi in their hotel room.  We gushed about how beautiful Neha was, and how different arranged marriages were than what we had expected.  Shammi explained that arranged marriages aren't the archaic tradition that most people associate with the title.  The bride and groom meet before the wedding and frequently go on several arranged dates before choosing each other as a match.  It is a service many Indian men and women elect to use, and is by no means forced upon either party.  It is called an "arranged marriage" because both the man and the woman enter the relationship with the intention of getting married.  The match must then be approved by both families before any other wedding arrangements can be made.  By the way Shammi described it, arranged marriages simply sounded like a dating website in which your family is also heavily involved.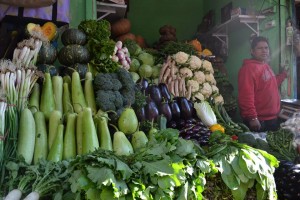 While Shammi spoke about marriage, Steffi did not glow as she had before.  When we left their room, Rael explained to us that the first half of Shammi and Steffi's trip had been difficult.  Shammi came from a very traditional Hindu family, who were less than pleased when they found out Shammi was pursuing his own love interest instead of an Indian bride of their selection.  They had barely spoken to Steffi the entire time she and Shammi had spent visiting them.  I suggested that perhaps his family would come around, but Rael didn't agree.  I thought about how heartbreaking it would be if my family couldn't accept the person I fell in love with, and I was suddenly very sad for my new friends.  Navigating your way through a life that your family cannot support or accept must be terrifying.  Shammi and Steffi were driving down a road in the Himalayan mountains, blinded by fog, between a cliff and hard place.  I could only hope that someday they would arrive at a place as beautiful as Dehradun.

Like Our Articles?
Then make sure to check out our Bookstore... we have titles packed full of premium offshore intel. Instant Download - Print off for your private library before the government demands we take these down!