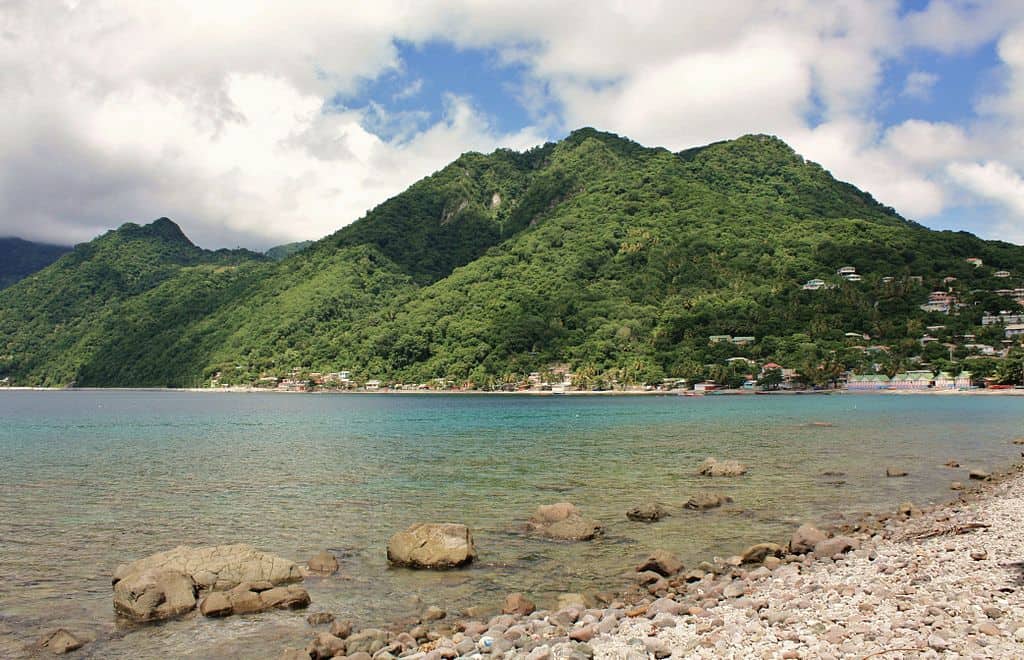 The Commonwealth of Dominica is a small country in the Lesser Antilles archipelago in the Caribbean Sea. It's not to be confused with the very popular Dominican Republic – as is often done. Its nickname is Nature Island, and the untouched scenery can show you exactly why. The island is made up of rainforests and it's an outdoor-lover's dream. If you're looking for a place that's quiet, peaceful, and has all the perks that nature can offer, Dominica might be your next destination.
History
This island was first inhabited by an indigenous people, called the Kalinago, or the Caribs. These inhabitants were known for being warriors and raiders.
The French conquered Dominica in the 1690s, however, and they held the country until 1763 when France forfeited the country to Great Britain via the Treaty of Paris. It is because of this last event that Dominica's official language is English. It wasn't until 1978 that Dominica gained its independence.
During the time that the Europeans held Dominica, it was part of a triangular slave trade route. This ended in 1833 with the Abolition Act of that year, and almost all of the British territories gave up slavery. That meant that in 1835, it was possible for men of African descent to enter into politics, and Dominica became the first colony in the British West Indies to have a legislature controlled by an ethnic African majority. Many slaves of neighboring islands began trying to flee here.
After a great amount of push back from British colonists of neighboring islands, the government was taken back from the people and the British had its own colonists appointed instead to restore peace.
After the Dominican people helped Great Britain in World War I and World War II, Caribbean islands began seeking independence, and for Dominica, it was granted in 1978. Aside from a couple of coups in the early 80s, the country has seen peace ever since.
Culture
Indigenous tribes still exist on the island today, and they elect their own chiefs and hold on to their cultural values. This cultural influence has become part of the fabric of the island and is reflected in the creole music and dance, as well as the food.
Music and dance are highly popular among the Dominican people, and they hold many festivals showcasing this. The food is typical to that of most Caribbean countries, including salted fish, plantains, chicken, and rice. The most popular dishes in Dominica are made up of soups and stews with hearty broths and an abundance of vegetables.
Residency
This country boasts some major perks for those seeking to live abroad in Dominica. It even has the most affordable citizenship by investment program in the Caribbean.
Tourist Visa

– This is not required for those visiting from many countries. Some will be able to visit visa-free for six months, some for three. You'll have to check where you fall!

Work Visa

– A

work permit in Dominica

can allow you residency as long as you have a work contract already set up, and it will last for at least six months.

Investor Visa

– Also known as the "golden visa," this is a result of qualifying for the citizenship by investment program that is so prominent in this country. It allows immediate residency abroad to those who can invest a certain amount into the Dominica. It is the most affordable citizenship by investment program in the Caribbean.

Temporary Residency

– If you don't wish to work abroad in the Dominica, and you don't wish to invest, you can still obtain residency. You'll simply have to apply for a visa and then get an extension of stay added once you've arrived. This visa will need to be renewed annually.
Cost of Living
The cost of living may be a bit higher than you'd expect, but this is because it is an island nation where resources can be more expensive to attain. As long as you budget well and stick to local products as often as possible, it will still be cheaper than life in the Western world. On the plus side, rent is very low.
A three-bedroom apartment in the capital city of Roseau can cost around $800. A one-bedroom: $330.

For a three-bedroom apartment outside of the city center, expect to find rent at about $400 per month, and $200 for a one-bedroom.

Dinner for two at a mid-level restaurant costs about $74, for a three-course meal.

Groceries run high if you need imported products. Milk can be $6 per gallon, for example. However, produce and other products from the island can run lower.
Landscape and Climate
This is where Dominica has the most to offer. After all, it is nicknamed Nature Island for a reason! It is home to rainforests and breathtaking scenery as well as numerous waterfalls. It was created by volcanic action that pushed two tectonic plates together to form its huge rugged mountains.
The volcanic activity is still noticeable, thanks to what is believed to be a magma chamber underneath the world's second largest boiling lake. The volcano is said to be dormant today, having last erupted in 1880. The deep valleys and gorges caused by this activity now have water flowing through them, and waterfalls are plentiful on the island. No wonder the scenery is so breathtaking!  This island is very popular among those interested in the outdoors and ecotourism.
The climate is tropical and warm all year, and Dominica does see heavy rainfall. In fact, this country has more rainfall than most others, and it is vulnerable to hurricanes. A couple of large tropical storms have swept through and caused destruction, so that is a risk you'd have to be willing to take. It all comes down to your own personal preference.
Overview
Dominica is a tropical island country in the Caribbean perfect for the outdoorsy ecotourist or adventurous overseas retiree. There's much to love, from its mountains to its waterfalls to its rainforests. It hosts a highly agreeable citizenship by investment program, and it's not yet overrun by development and tourists. It could be the perfect home for someone who's ready to get away from it all!
Image credit: https://commons.wikimedia.org/wiki/File%3AScotts_Head%2C_Dominica_012.jpg