Nazaré is a villa considered "the most typical villa in Portugal". This town is a titan in waiting. The capital of giant waves is located in the central region of Portugal, about 100 kilometres (62 miles) from Lisbon and 230 kilometres (143 miles) from Porto, Nazare is one of the most resourceful and inspiring locations Portugal has to offer.
Driving in Portugal
The location of Nazaré between Lisbon and Porto makes it an excellent destination for a weekend getaway or the perfect lifestyle of convenience where you don't want to live in the big cities but want the flexibility to drive to them whenever you want.
Portugal is a great country for a lengthy road trip because the area is small and has beautiful cities perfect for stopovers. Here's a tip: buy the toll pass and take the tolls. The highways do not take you along the coast. The landscape between Lisbon and Portugal is not varied, and you will feel anxious to get to your next destination.
But when you detour to explore a town like Nazaré with a population of about 10,100 inhabitants and one of the most expansive, alluring beaches you will ever see, you'll feel like you have arrived home. Laughing children play on the sandy beaches. Rich, earthy, chocolatey aromas of coffee are savoured at outdoor cafes. Portugal is known to have some of the best coffee in the world. 
Let's explore this captivating town with the biggest waves in the world a little closer, shall we?
Affordability
Here is a breakdown of the prices an average person can expect in Nazaré. The cost of living is all relative to lifestyle:
Food Average Price 
Breakfast
€6.73
Lunch
€10.15
Dinner
€13.84
Bottle of Water
€0.83
Bottle of Beer
€2.77
Bottle of Wine (mid-range)
€13.84
Glass of Wine
€3.00
Bottle of Whisky
€28.23
*Prices provided as of April 2023 are accurate based on observations while in the country. More comparisons for Nazaré can be found here. Prices are converted from USD to EUR (1 USD = 0.92.25 EUR)
Homes for Sale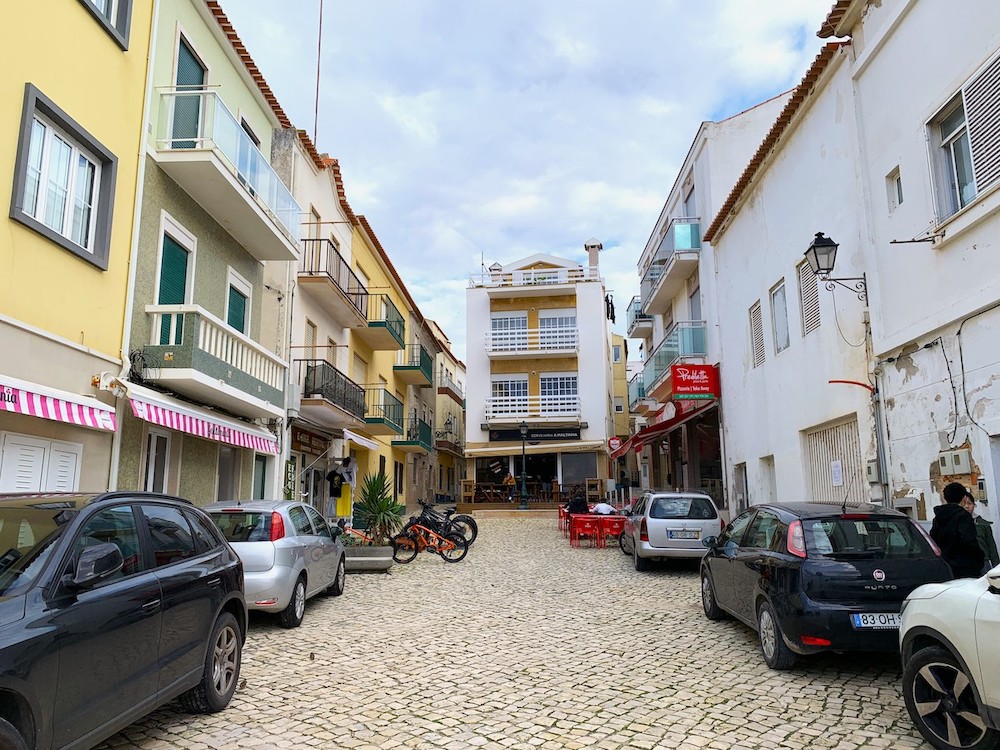 A new 2-bedroom, 2-bathroom apartment under construction on the ground floor will set you back €299,000 at price/sq metre: €/m² 257.76. The listing comes with a fully equipped, open-space kitchen, a suite, and a bedroom with fitted wardrobes. Two huge balconies serve all rooms in the apartment. There is an elevator and parking on the -1 floor. Enjoy a panoramic terrace on the roof with a swimming pool, where you can relish the fantastic sunset over the Atlantic Ocean. Construction is to start at the beginning of 2023 and finish in the summer of 2024.
Experience the Insider community that takes your international lifestyle to the next level. Download your FREE guide
"18 Steps to Implementing Your Plan B" instantly!
If you are looking for a fixer-upper, you can buy a villa in the urban rehabilitation Fanhais area with five bedrooms, two bathrooms, a lounge with fireplace and an integrated kitchen for €95,000. There is another small kitchen on the upper side, which can make two houses. Perhaps you could convert this to a suite and rent it out. Or save it for your mother-in-law. It has laundry, storage, a garage with a terrace and one old well with a hammock. Located in the centre of the village, in a quiet and peaceful location, you could peacefully walk to the boardwalk. The house has a 210 m² surface area (2,260 sqFt).
Homes for Rent
A four-story villa 200 metres (656 feet) from the beach comprised of four floors, fully equipped, ground floor with a kitchenette built in good taste is not out of reach. The first, second, and attic floors have a bedroom on each level with a private bathroom. Built in 2018, the property is in the centre of the historic area, surrounded by all necessary services for a high quality of life. The unit is 91 m² (980 sqFt), at €1,250/month.
Want something right on the beach? You can find apartments for rent in front of the ocean in Nazaré for great prices. A property on the promenade of this famous Portuguese village with all the apartment's windows overlooking the sea provide you with a beautiful sunset from the balcony.
Located in a quiet area but just a few minutes walk from the center of Nazaré you can find spacious houses for rent with areas of 85 m² (915 sqFt).
The apartment is furnished, and the kitchen is equipped. The bedroom has built-in wardrobes. There is also an interior pantry in the apartment. There is no central heating or air conditioning, but you won't need it with the climate in Nazaré.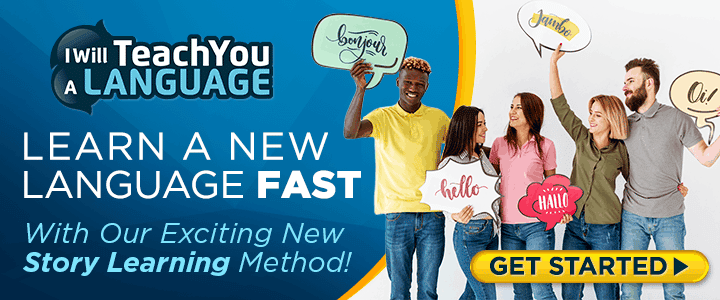 In the living room and the entrance hall are sofa beds that convert into two double beds, which can accommodate extra visitors.
The building has an underground garage, where there will be a parking space. In this same garage, there is also a storage room. The price includes 200 megs of internet and TV. The price does not include water, electricity, and gas costs. Take a guess… €950/month. Not too bad for a life right on the ocean.
Climate in Nazaré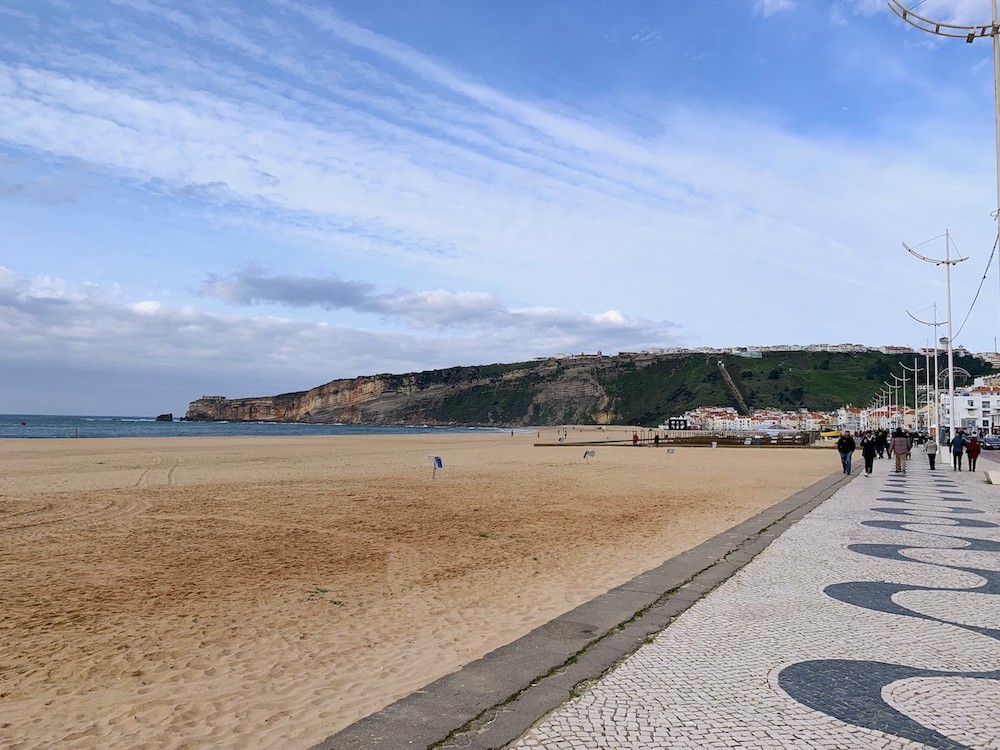 In Nazaré, the summers are warm, dry, and mostly clear, and the winters are cool, wet, windy, and partly cloudy. Over the year, the temperature typically varies from 7°C (45°F) to 25°C (77°F) and is rarely below 3°C (38°F) or above 31°C (88°F). I was in Nazaré in December, and the weather was pleasant, with sunny skies and no wind—one of the best we experienced in Portugal.
Average Temperature and Rainfall in Nazaré
The warm season lasts 3.5 months, from June 16 to October 1, with an average daily high temperature above 23°C (73°F). The hottest month of the year in Nazaré is August, with an average high of 25°C (77°F) and low of 17°C (62°F).
The cool season lasts 3.5 months, from November 23 to March 6, with an average daily high temperature below 17°C (62°F). The coldest month of the year in Nazaré is January, with an average low of 8°C (46°F) and a high of 14°C (58°F).
The chance of wet days in Nazaré varies significantly throughout the year. The wetter season lasts 7.8 months, from September 26 to May 20, with a greater than 18 percent chance of a given day being a wet day. The month with the wettest days in Nazaré is November, with an average of 9.4 days with at least 0.04 inches of precipitation.
The drier season lasts 4.2 months, from May 20 to September 26. The month with the fewest wet days in Nazaré is July, with an average of 0.8 days with at least 0.04 inches of precipitation.
Among wet days, we distinguish between those experiencing rain alone, snow alone, or a mixture of the two. The month with the most days of rain alone in Nazaré is November, with an average of 9.4 days. Based on this categorization, the most common form of precipitation throughout the year is rain alone, with a peak probability of 33 percent at the end of October.
The rainy period of the year lasts for 9.6 months, from August 30 to June 17, with a sliding 31-day rainfall of at least 0.5 inches. The month with the most rain in Nazaré is November, with an average rainfall of 3.4 inches.
The rainless period of the year lasts for 2.4 months, from June 17 to August 30. The month with the least rain in Nazaré is July, with an average rainfall of 0.1 inches. Note: There are no giant waves in the summer months.
*Weather statistics retrieved from weatherspark.com. 
Lifestyle
Nazaré is a tourist hub because of the spectacular beaches and world-class surfing, with waves reaching 30 metres (98 feet) in height. 
Nazaré is Portuguese for Nazareth. The once sleepy village has grown to world recognition for numerous surfing Guinness Book of World Records achievements. 
Ancient traditions such as fish drying are still alive. Mackerel, sardines, and octopuses drying in the sun are one of the most picturesque images of Nazaré: a tradition turned into a living museum. Along the promenade, you can see the women in the traditional seven-skirt dress, taking care of the drying process of the fish as if time had stopped in another era.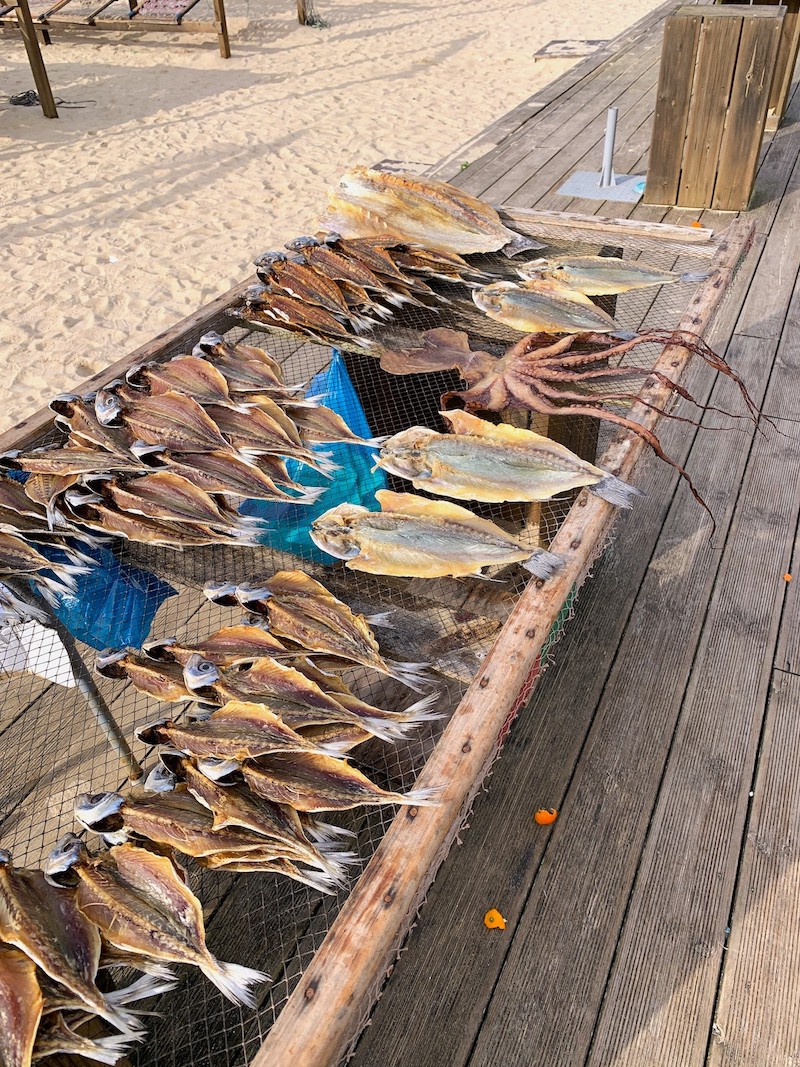 Known as the Dried Fish Museum, it is a project of the Municipality of Nazaré, whose main objective is the preservation of this ancestral tradition. The project includes the "Estindarte" (drying ground), where the fishwives engage in the drying activity and the requalification of the Cultural Centre of Nazaré (Old Fish Auction Market).
Tourism is one of the main activities in Nazaré, and the "Museu do Peixe Seco" – a living museum – will allow a differentiating element of the local culture as a tourist attraction while offering at the same time better working conditions and the creation of new jobs to maintain this custom.
The lighthouse separates the two beaches, which are like day and night: the one in the lower city is urban, and the other one is wild and open to the Atlantic. The ocean has a personality all its own. Both deserve to be among the best beaches in Europe.
The phenomenon of giant waves is due to the Nazaré Canyon, an underwater valley with a depth of about 5,000 metres (16,404 feet) and an extension of 230 kilometres (143 miles). Its funnel shape, narrowing in Playa do Norte, is what causes the waves ideal for extreme surfing.
Where is Nazaré?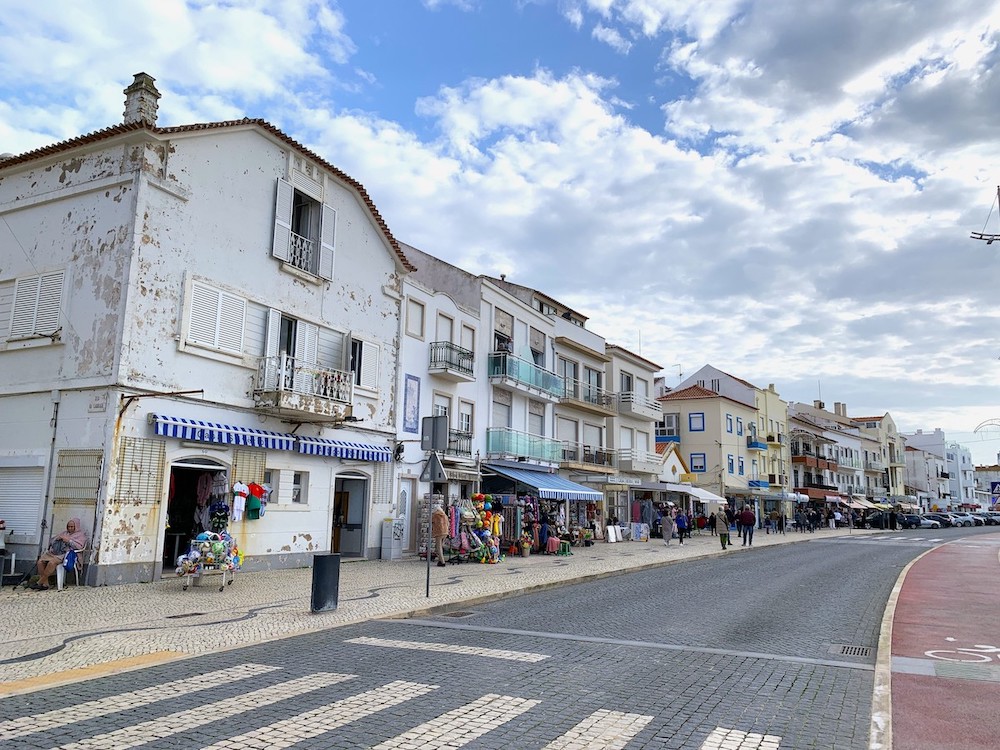 Now that you've heard of this titan on the Atlantic Ocean, you can book a flight and see if life in Nazaré is for you. Great vibe. World-class surfing. English is widely spoken. Elegantly tiled boardwalk. Huge, sandy beach. Friendly people. Impeccably clean streets. If you drop something (which I did), you will be alerted to pick up what has fallen from your pocket by mistake. Whether that was to keep the streets clean or a Good Samaritan act to let me know I may have dropped something precious, I do not know. I do know Nazaré is intriguing, and I would take a hard look at possibly living in this fishing village in Portugal or looking at investment options in the area.
For deep, personal stories of Charlotte's real-life expat lifestyle adventures and interviews with people living your dream, subscribe to Escape Artist Insiders magazine today! 
Photos provided by Charlotte Tweed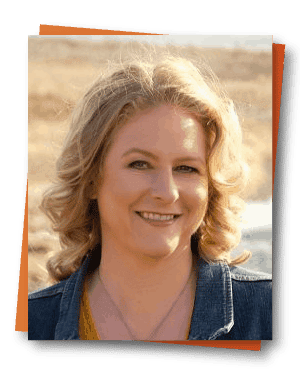 Charlotte Tweed is an adventurous soul with a goal to take you on a journey where you don't just visit—you live it. Graduating with a Travel and Tourism Honours diploma, Charlotte began her expat journey on June 15, 2021. After travelling through multiple countries, Charlotte now calls Mexico home. Reading, writing, and researching the best expat destinations in the world are how she fills her days. As a published author, her mission is to transform your life with expat travel—one destination, one adventure, one story at a time.


Like Our Articles?
Then make sure to check out our Bookstore... we have titles packed full of premium offshore intel. Instant Download - Print off for your private library before the government demands we take these down!