The Kaponay family shares with us their struggles and delights as they worldschool their children and travel the world together.  If you've ever wondered what this journey might look like for you, please continue to read.  Their stories are delightful and inspiring.
A New Beginning
Ten years ago, on a bleak and wet winter's morning, stuck in rush-hour traffic, stressed from the aggressive beep and shove of the near zombie-like automatons pushing their way to work, my wife had an epiphany. It doesn't have to be like this.
She came to an instant realization that the children in the back seat of our SUV were indeed our own. In that moment, she felt deeply just how counter-intuitive it was for her to be fighting through this maelstrom every day, to hand our children off to people, whom, however well-intentioned, were not us, not their parents. In fact, some of their teachers didn't even have children of their own, and yet, we were giving our children, in their most formative years, to them to raise.
This was the realization that effectively changed the entire course of our lives. It was that moment that enabled us as a family to see, become aware of, and appreciate, just how much we wanted to be together as a family, as much as we could, for as long as we could.
Intuition…That Inner Voice of Direction
Many people over the course of our journey of the last ten years have asked us a slew of questions that seemed to boggle their minds about learning together as a family. Questions like, What were our qualifications? Are we teachers? Did we create a curriculum? Do our children go to school online? What will happen during high school? How will they socialize? What will happen when they have to find a job? Let's just take a step back for a moment.
Almost from the instant that we had our children at home as so-called "Homeschoolers", we never saw their journey of learning as separate from our own. So how did we learn? How do we find direction? Well, we listened closely to that inner voice. Our learning was always intuitively guided and led by the inspiration of the places that we found ourselves in, the relevance of the moment, and the level of interest being expressed by our children and ourselves. Inspirational, intuitive, in-the-moment learning. That's how we like to think of it.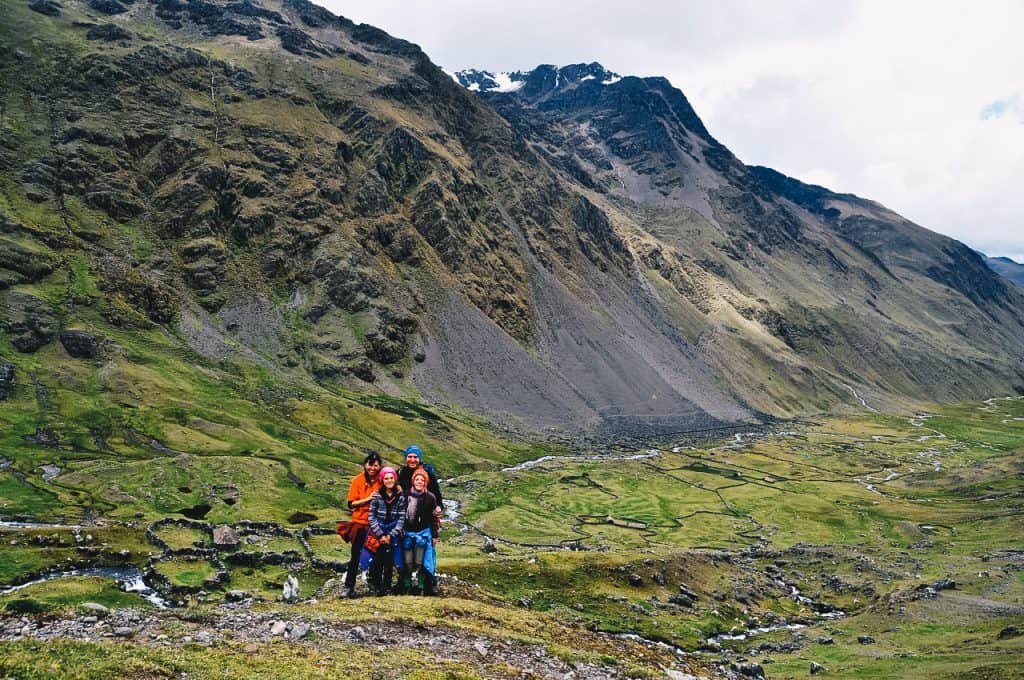 This often means that learning for us is interwoven naturally into the course of the daily activities we immerse ourselves in. For our family, being out in nature, and in particular, the opportunity to take long hikes, in natural surrounds, is something that we all particularly treasure.
This would see us walking 5, 10, 15, even 20 miles at a time. As you walk on journeys like this, the inspiration that you find from your conversations, from the stories that you share and listen to, from the surroundings that you are in, are those in-the-moment gems that stick with you for a lifetime and inspire you to live your story.
Stories and StoryTelling, the Lost art of Learning Together
An experience with the Indigenous people of Australia in 2011, where we were invited by a senior elder of the Anangu Pitjantjara Jankanjara people to live with them for a time, was another significantly impactful piece in our next level of understanding about how we as a family learn best together.
Many of our modern cultures, not all, but most, have forgotten the power of stories and their potential to impact our lives in a highly positive, empowering and even transformative way.
In living with the people of the APY lands, we were gifted the opportunity to see the unifying impact that stories, new and traditional, were having on the people of this community. The opportunity to see this from their perspective, even for just a few meaningful moments, was another course changer in the direction of our lives and learning.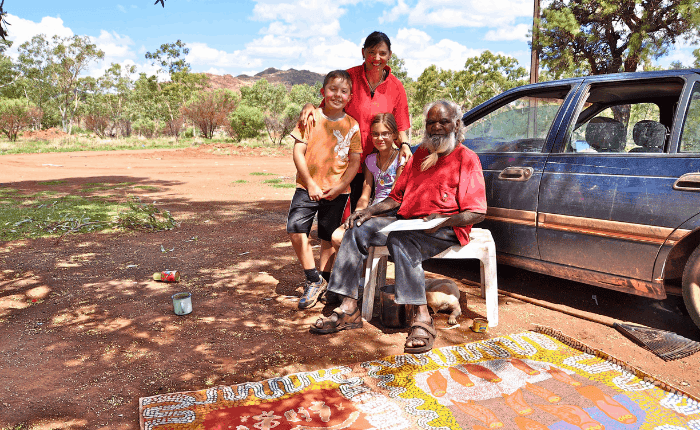 True Inspiration
It was this inspiration perhaps which taught us that together as a family if we developed and told our own stories, if we unified them into a tribal / family story, we would be gifted with a learning experience with enough inspiration to last us a lifetime.
FREE GUIDE! Get Essential Information on Protecting Your Assets
18 STEPS TO IMPLEMENTING YOUR PLAN B
It was on the return journey to our home base in Melbourne, after this significant trip around Australia, that saw us open to the possibilities of the expansion of our learning. Incorporating our deep passion to create projects that bring people together, along with our collective love of travel, we decided to take this journey on the road, without a fixed end-date. This decision would form the basis of our story of learning together that continues up to this present day.
Labour of Love
While this was only 8 years ago, what we were proposing to embark upon was very rare for families to choose. It wasn't enough that we had taken our children out of school two years earlier, but now, we were going to up the investment by embarking on a journey with no end date.

At the time, there were perhaps no more than a handful of families from around the world who were choosing to live this way. More significantly, in our lives, it scared the people we knew a great deal. It scared people we worked with, who we were friends with, and most impactfully, our family. It even ended relationships, perhaps because our choice at the time reflected the fears of the unknown that was being held in the hearts of the people we shared this with.
One such relationship that ended was with a former colleague and someone I considered a friend, who asked me of our project EnergeticXChange, What is your exit strategy? My reply to him of What is your exit strategy for life? while being perhaps a little bold and challenging, summed up the directional change we were actually living in our lives and the impasse to our friendship.
We were no longer willing to invest ourselves and the precious nature of our lives into ventures that were intentionally meaningless, in exchange for a perceived, yet flawed sense of security. There was no need for a safety parachute for us.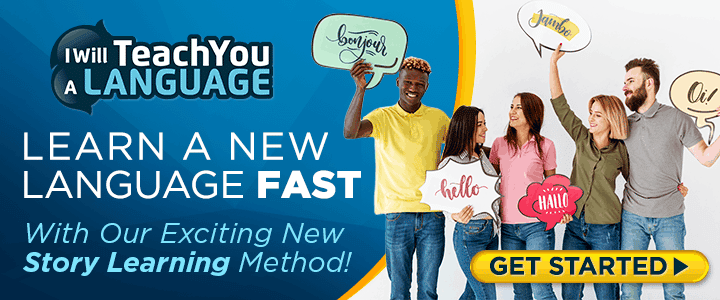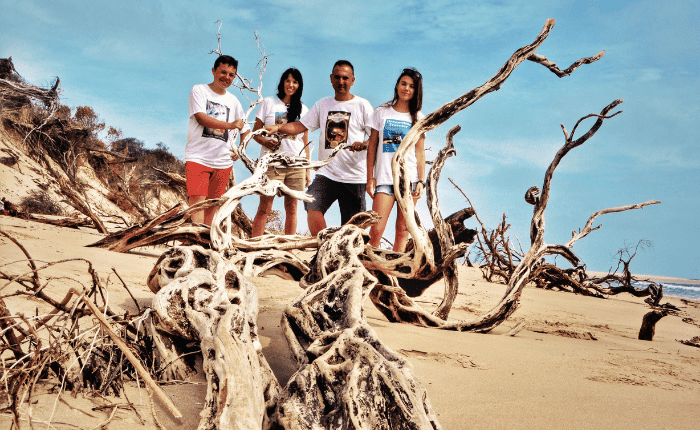 Our learning had now entered a new phase as a family, dedicated to bringing to fruition those Labour of Love ventures that came from our hearts and were made up of our collective family story. We even created our own StoryTelling process. In telling our story, we created a collectively owned process that would serve the learning needs of each family member, while also providing the impetus, energies, and inspirations needed from our collective efforts to make things happen.
Dawn of The New Ventures
Over the course of the next two years, we started and developed projects that were led by our intuition and story, which intended to facilitate the development of communities around the world. This was where needs and offerings would find each other, where people's stories would be used to find meaningful work, where the superpower of our intuition could be utilized through a game we invented to find your direction, and ultimately, where our own journey of learning would lead us to found and develop family ideas as collective business projects of learning.

One such project was founded on a day where our daughter's dreams to visit the heart of Andalusia Spain would converge with her natural love of reading and writing. She had already launched her storytelling site Dreamtime Traveler the year before, where she was sharing her experiences of our travels through her stories, but this day was different.
On this day, our daughter, through this intentional meeting with one of her mentors (an author), and more specifically, his dog, decided without equivocation, at 12 years of age, that she would write her own novel. And so it was.
Over the course of the deep winter that followed, she would pen her debut novel Dawn of the Guardian, a 404 page YA Fantasy Adventure novel that would be published when she was just 14 years old, making her one of the world's youngest authors at the time. This subsequently influenced all our spheres of learning and expanded our skills as a family, as we were all immersed in the world tour of six countries, with over 150 engagements and presentations, including a TEDx Talk over the course of the next 18 months.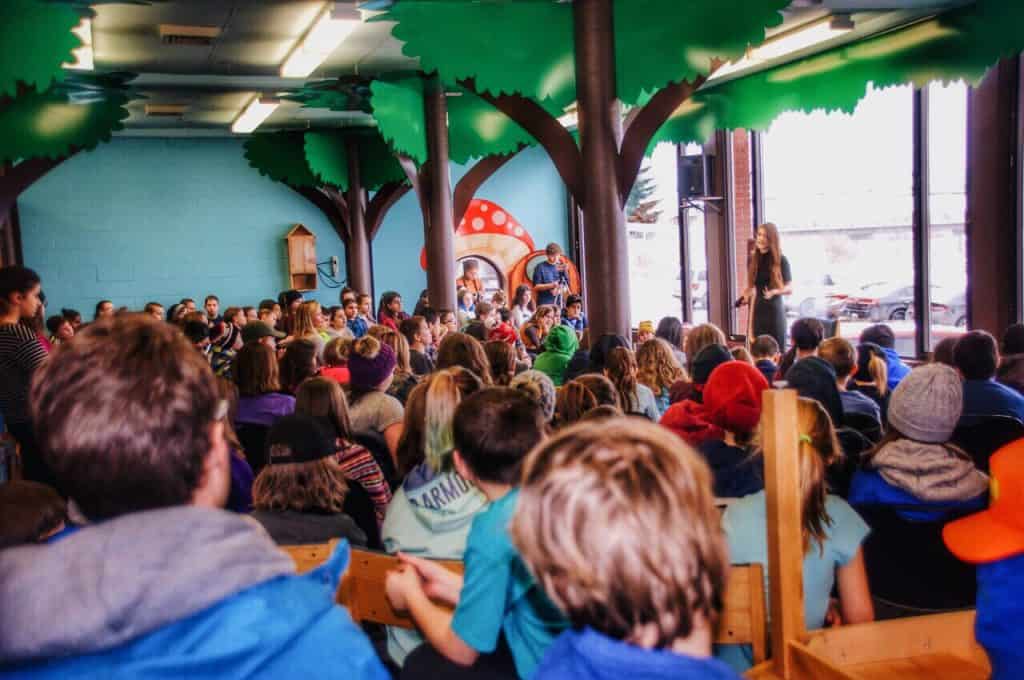 The treasures of this experience saw us so warmly invited into many homeschooling, world schooling, and local communities to share stories, experiences and develop connections and friendships that continue to this day and inspire us to grow.
Over the course of the same period of time, our son was also pursuing his passions for finding us the most cost-effective and convenient modes of transport, travel, and living, which was allowing us as a family of four, to live and travel the world for under $25,000 a year.
Learning Together as a Family
In the years leading up to our travels, one of the key things we learned together as a family, was that apart from being together, there was very little that we needed in terms of extrinsic things. Well before we started our travels, we had sold our home and most of our possessions, which had an incredibly freeing sensation on almost every aspect of our lives.
In fact, it was most likely one of the key factors that allowed us to see the possibilities of being free of burdens that might have otherwise kept us spinning in one place.
It also perhaps cleared an energetic mindset allowing us to learn that it was healthy to let go of the things that no longer served us, which only left more room open for us to consider the things that we treasured the most.
Over the course of this learning, our son kept coming into contact with more and more traveling families who were impressed by his prowess of travel research and the help he was providing them. Soon, he was receiving much encouragement to offer his services as a business, so much so, that in 2016, he approached me with the idea to run a pilot-proof of concept for an end-to-end Travel Concierge Service that he would come to call Destinator Travel. The proof of concept was a hit and his unique Pay-What-You-Feel-It's-Worth model of compensation, empowering his clients to choose the worth of the value of his services to meet their needs, providing a much more generous compensation for his services than he had initially anticipated charging.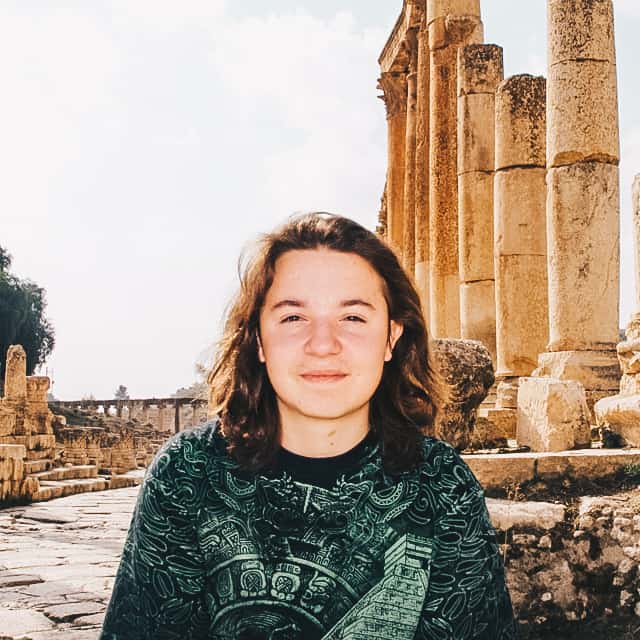 In 2017, at 16 years of age, he officially launched his first business, and it has grown strength-to-strength since that time, where he has now expanded to offer unique culturally immersive, Learn-Serve-Immerse hosted travel experiences.
These are intentionally designed travel experiences for families who wish to make their vacations meaningful opportunities to meet with and learn from the communities they visit. This type of trip provides a form of learning that has the potential to expand and change their viewpoints and possibly even let go of the traditional lenses they have viewed the world with.
This mutual type of learning has the power to transcend the boundaries of the existing views we have of our world while offering the opportunity to learn together through dialogues, cultural interchange, and engagement in a positive, and lasting, impactful manner.
Partnerships and Expanding Communities of Learning
Two years ago, along our travels, we met the Pearce Family and another phase of our learning commenced. We found each other at a family gathering of long-term world traveling families, and while our experiences of life had come from very different backgrounds, our desire to learn and develop as families, especially in how we could deepen our own family connections, could not have been more convergent.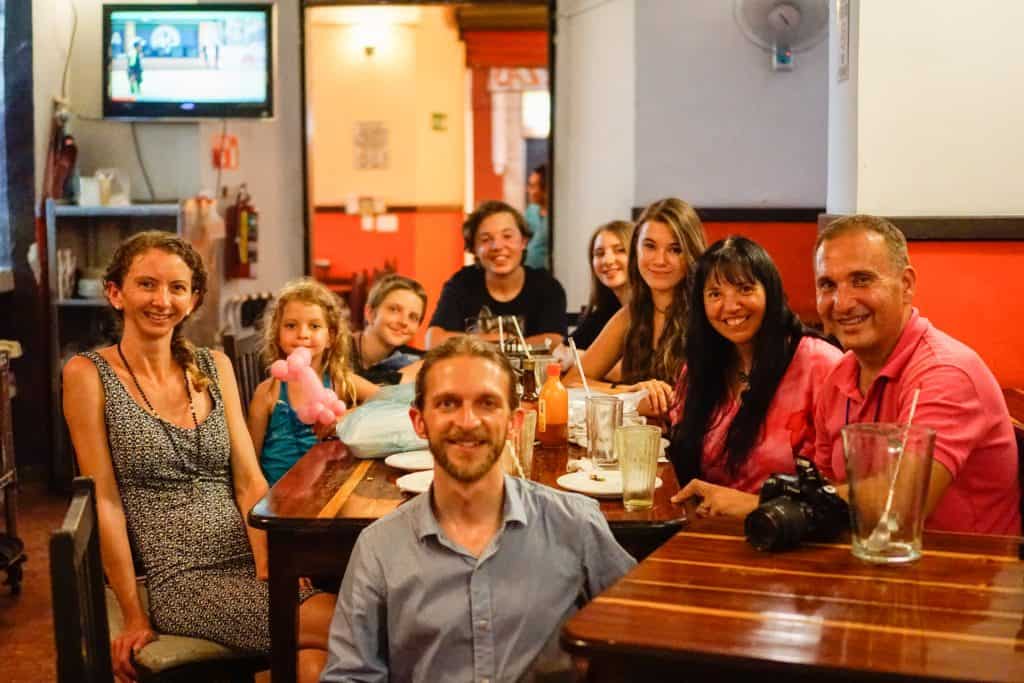 Over a wonderful Pizza dinner in Mexico, we shared stories and visions of how we could create communities of mutual learning. This was where our collective experiences of learning over the course of our journeys would form a framework for other families wishing to live more intentionally, to share an inspirational environment, where they could find their own meaningful paths to be at home with themselves as individuals, at home with their families, and at home in the world, no matter where they choose to live.
This was a declaration of a commitment to learning together with other families, who would join us at our At Home In The World Family Retreats.

This integrated adult and children program of learning, along with a program of culturally immersive experiences and excursions, would form the guided self-direct journeys of learning, using a framework we developed, which is inspired by the practice of mindfulness and intentional living.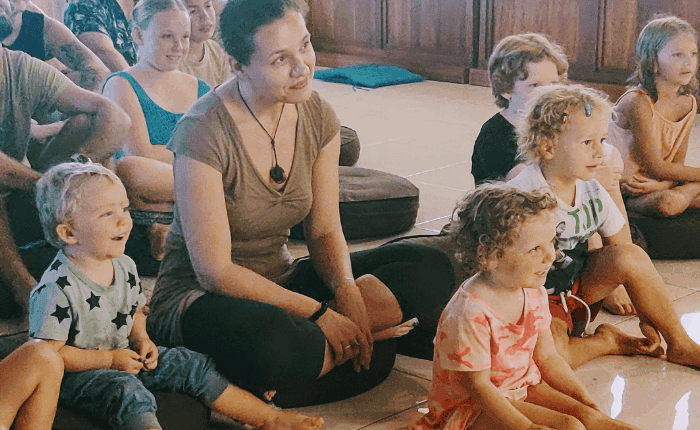 It is our way to invest in families sincerely wishing to deepen their connections through the journeys of learning they take together. This venture has gifted us with the next level of learning that we as a family were seeking. More rewardingly though, it has also created a rich community of families working together to explore and expand the ways in which we can all learn together as families.
This has not ended at the end of our retreats and the work these families have put in has inspired us as a group of families to create projects such as our Mindful Parenting Project, which is an ongoing investment in our commitment to learn together as families.

Most recently, our eight families in Bali intimately experienced an immersion of learning, at the heart of which, pushed us to expand our boundaries of understanding, reset our cultural lenses and create a more clear vision of the intentions and stories our families would tell together on our journeys. We have another seven families who will soon join us in Transylvania (Jul1-14, 2019), where we have room for just one more family to join us on the adventure we will all take together.
The Story Continues
At the heart of it all, this story, which we have come to appreciate, is a never-ending story of learning. As a family, with our children about to approach their 18th birthday, we continue to reinvest in all forms of learning that facilitate the convergence of our collective stories more deeply, more connectedly and more meaningfully.
At an age when many families are sending their children out into the world alone, we as a family are seeking ways in which we can push the envelopes and boundaries of the things that we can achieve together in an even more integrated and holistic way that continues to add value to our relationships and the bonds of our family.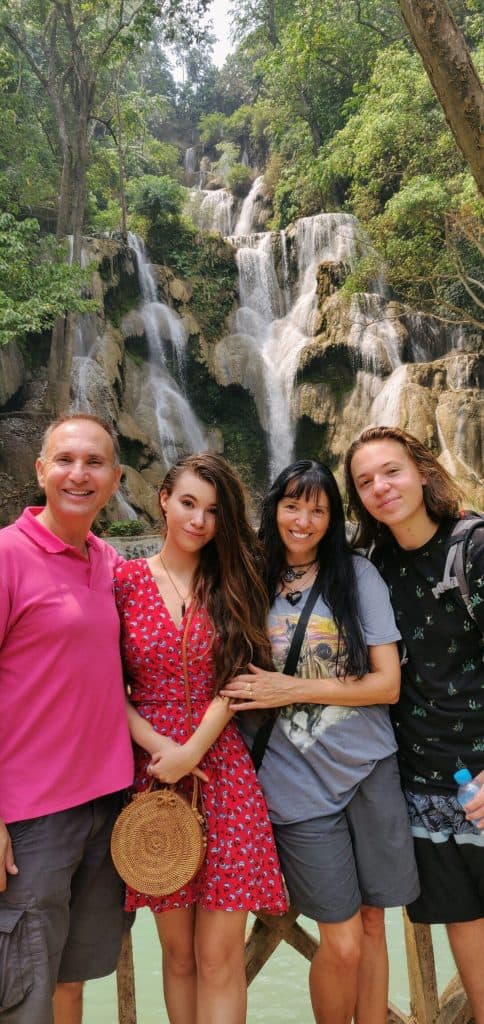 Now, with so many families following, determined to live with intention, mindful of the fact that their time together is so precious that it calls them to live more in-the-moment, we are constantly looking to the ways in which we can give back and learn from the process. This has called us to Co-Found projects with families like the Pearces, Millers, and Sztupovskys, such as the Family Adventure Academy, which aims to give a weekend-long (16th-18th Aug, Seattle, Wa) immersive opportunity of learning to the parents of families intending to travel long-term.
Here, we are seeking to share some of the most valuable experiences of learning that we as families, who have traveled the world long-term, with a collective experience of nearly 40 years have acquired. This too, in the trust that the best experiences of learning are shared together in Common-Unity.
So as a family, as we embark on this next phase of our own learning, we can look back with a deep sense of gratitude and thanks to all the people, places and experiences of learning that have gifted our journey so richly with the realization that together is definitely the most wonderful place to be.
If you want to learn more about how you and your family can travel the world full time check out Family Adventure Academy by clicking here.
About The Author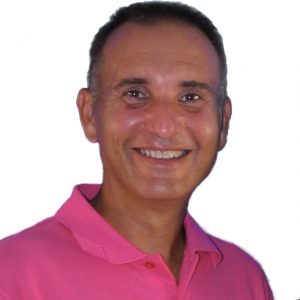 George Kaponay is now in the eighth continuous year of traveling the world with his wife Bobi and their twin – boy/girl teenage children Lalika and Réka.
This journey has brought them closer together as a cohesive and loving family and they value this as one of the greatest rewards they could have in life.
The Kaponays have visited and lived in more than 50 countries on six continents. Learning, fostering greater understanding and empathy between people is key to their ongoing development as a family. George feels a strong passion for helping families realize their greatest strengths and in facilitating the means by which families can find their direction and build and live their own family stories of success.
Together with his wife and their children, over the course of their travels and learnings, they created The Intuition Game, Destinator Travel, Dreamtime Traveler, and Labour of Love, a process to help people find their true direction and see family's, group's or business' ventures come to fruition.
If you haven't had the chance to read The Pearce Family article on How to facilitate your children's heart-led learning, passion, and creativity through world schooling, you can read it HERE

Like Our Articles?
Then make sure to check out our Bookstore... we have titles packed full of premium offshore intel. Instant Download - Print off for your private library before the government demands we take these down!